August 3-4 Killarney to Baie Fine
27.3 miles (3070 miles trip total)
Before we leave Killarney, we need to address the question of how this town settled by a French fur trader got its Irish name. When the post office opened there in 1854, stamps were cancelled with a postmark bearing both its original name of Shebahonang and Killarney. The story goes that Shebahonang reminded Lady Dufferin of Killarney, Ireland, which also has white mountains around its clear lakes. There were no Irish in Killarney, but because Lady Dufferin had clout, the name stuck. (It also trips off the tongue a bit easier than Shebahonang, which I'm sure helped.)
The big news today on the front page of the Toronto Star was George Bush's recess appointment of John Bolton to the United Nations Ambassador post. The first paragraph of the article read "U.S. President George W. Bush installed U.N. critic John Bolton as America's ambassdador to the world organization yesterday in an in-your-face gesture to Congress and the global community." That's how our neighbors see us.
But enough about the news, we are leaving civilization once again -- no internet, no newspapers, no cell phone signals. On our way to Baie Fine we did pass one ugly sign of civilization on Badgeley Island. The island has a mountain in its center, and the top of the mountain has been blown off. Through binoculars, we could see that the flat top was covered with gravel. High grade silica is mined here, and the scars on this mountain made us appreciate the unmined mountains all the more.
Baie Fine (pronounced Bay Finn) is a ten mile long fijord-like finger of clear turquoise water stretched between mountains on both sides. At the end of Baie Fine, there is a very narrow two-mile long channel between heavily wooded shores, leading to a spot called The Pool.
When we emerged from the narrow channel, The Pool opened before us -- a pristine little lake encircled by white mountains.
An island with a modest cottage and a commanding view sits at the head of The Pool. The cottage was owned by Hollywood star Francis Langford, widow of Ralph Evinrude, of boat motor fame. Her 110-foot yacht traversed the narrow channels to bring her to the cottage, and the yacht's generator supplied the power for the island. We heard that Francis Langford died this summer at the age of 92. Her cottage was empty, the yacht nowhere to be seen.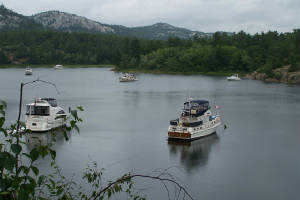 At anchor in BaieFine
Several Looper boats were among the 15 boats at anchor when we got here. We circled around, exploring the anchoring possibilities, and decided to anchore next to CORI, who already had a bow anchor out and a stern line to shore. This was a new anchoring method for us, but we followed their example, and were all secured and ready to explore just as Connie and Rick on CORI were returning from a hike to Topaz Lake.
They liked Topaz Lake so much, they were back to change into bathing suits. We all put on our suits and set out together in our dinghy to hike up to the Lake.
The trail from The Pool up to Topaz Lake is a bit of a steep and rocky climb of less than a mile through sun-dappled third growth woods -- scarcely a pine over a foot in diameter, and lots of deciduous trees. The trail ends on a high rock outcropping, overlooking the clear topaz waters of the lake below.
We scrambled down the rocks for a most welcome swim after our hot and sweaty hike up. Several families were already there, with kids jumping from high rocks into the deep water below. We chose more sedate entry modes. The water was cool and refreshing, but not so cold that it limited our time paddling about. After about an hour, refreshed, we hiked back down to our dinghy, and returned to our boats.
We grilled our dinner, and enjoyed it on the flybridge, watching the sun disappear behind the mountain at our stern. We watched a beaver swimming and grazing on water plants nearby. Just after sunset, Rick returned from fishing, and stopped by to show us two huge Northern Pike he had caught -- and invite us to share in the fish fry tomorrow.
Later, we admired the stars, brilliant above in this spot far from city lights, and we were thankful to be here amid so many natural joys and wonders.
The next morning, we woke to rain, which lasted, on and off, all day. According to the weather radio, the winds that came with the rainstorms were fairly strong, but The Pool was so sheltered we just had little breezes. We slept in, did some boat work, and read our books for hours. Thanks to the weather, Dick finished The Kite Runner in just three days.
The highlight of our day was dinner aboard CORI. Rick pan-fried the Northern Pike he caught yesterday, and it was outstanding, as was our dinner conversation. After dinner, we taught Rick and Connie how to play Rummikub. It was yet another grand evening in the North Channel.