August 10, 2005 Gore Bay to Beardrop Harbour
21.7 miles
The weather forecast called for the storms that began yesterday afternoon and continued through the night to end by early afternoon, and fair weather to follow. The rain cleared by 11, and a bit after noon we were on our way to Beardrop Harbour, in an island group near the north shore,
The fair weather failed to arrive. We hit northwest winds running 15-20 mph and waves of one to two feet as we left the protection of Gore Bay, and the winds and waves increased throughout the afternoon. Since we were crossing a wide span of open water, we had no choice but to keep plowing through until we got to the islands. By the time we got to protected water, the waves were in the four foot range.
It was a relief to anchor in Beardrop. But, we didn't have a chance to turn off our engines before a boat near us radioed that he was concerned with our proximity. We pulled up the anchor -- and it brought up a huge log -- about ten feet long and a foot in diameter! We dropped the anchor to release the log, moved, and tried again. This time we were well-positioned and -- we hoped -- log-free.
We took our dinghy to shore, and hiked up a soft needle path through arborvitae, eastern hemlocks, white pines, and deciduous hardwood trees. The top of the island was rocky, with miniature bogs in rock indentations, and tundra gardens of low-growing plants and colorful lichens on the exposed rock faces. Dwarf Junipers laden with berries clung to the fissures and crevices in the rocks.
We picked some blueberries, took some pictures, watched some birds, and just generally enjoyed scrambling about the rocks exploring the island and its views. A loon called from a cove, over and over, for five long minutes.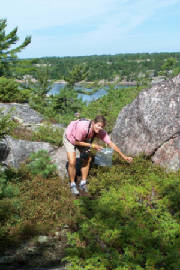 Picking blueberries on Beardrop Island
Do all our rocky island anchorages sound alike to you? To us, each has its own character, drawn from the color of the water, the shapes and colors and size of the rocks, the depth of the channels running into and out of the anchorage, the types of trees and wildflowers, the opportunities to swim or hike or kayak or pick blueberries, and the stuff that comes up on the anchor and chain when we depart. Some anchorages, like this one, feel open and expansive; others, like Baie Fine or Bad River, offer opportunities to tuck away in a spot embraced by sheltering land.
Beardrop shows up on almost every list of favorite North Channel anchorages we have seen, but when we first got here, in windy weather after a tough crossing, we couldn't understand why others rated it as a "not to be missed" spot. It was only after the weather cleared and we hiked the island and took a dinghy ride along the shore that we, too, fell under its spell.
One of our major conclusions from this trip is that weather may not be everything, but it is probably worth 50%, with all other factors sharing the other 50% of influence on perceptions of any cruising experience or destination.
We have had extraordinary weather this summer, and already understand that we will be remembering our time on these Canadian cruising grounds for the rest of our cruising lives. We anticipate the frustration we will feel in being unable to replicate the experience (although we relish having the opportunity to try).
August 11 Beardrop Harbour to Meldrum Bay (on Manitoulin Island)
31.2 miles
Yesterday we crossed from Manitoulin Island to Beardrop in rough waters, and today we crossed back in nearly glassy conditions. We were sporadically plagued by tiny gnats that found their way to us across the windless air, and momentarily wondered if we should be careful what we wish for, but we still concluded that glassy beats rough, hands down (or even hands slapping and waving wildly in defense against bugs).
When it was settled in 1876, the shores of Meldrum Bay were charred and scarred by a recent forest fire, which, while it had aesthetic disadvantages, offered advantages to farmers who had to clear the land.
Fire struck Meldrum Bay again in 1910. tThere was so much smoke that fishermen had to put cowbells on their buoys to find their nets. The lighthouse keeper ran out of coal keeping his steam-powered foghorn blowing day after day to warn ships off the shoals.
We ate dinner at the Meldrum Bay Inn, the only place in town to dine out. It was also the only place in town to buy a drink 100 years ago, which made Meldrum Bay one of the least rowdy of all the mill towns on Manitoulin Island back then. It is still pretty sedate.
Since there wasn't much to do in town, we followed Roxanne's example, and made little Inukshuks from rocks we had collected on our travels through Canada. Authentic Inukshuks have no mortar. We glued ours so they would stay together through all our future boat rocking.
Meldrum Bay was our last stop in Canada. Tomorrow we will head for Drummond Bay, Michigan, where we will check through U.S. Customs and continue our travels, heading south.