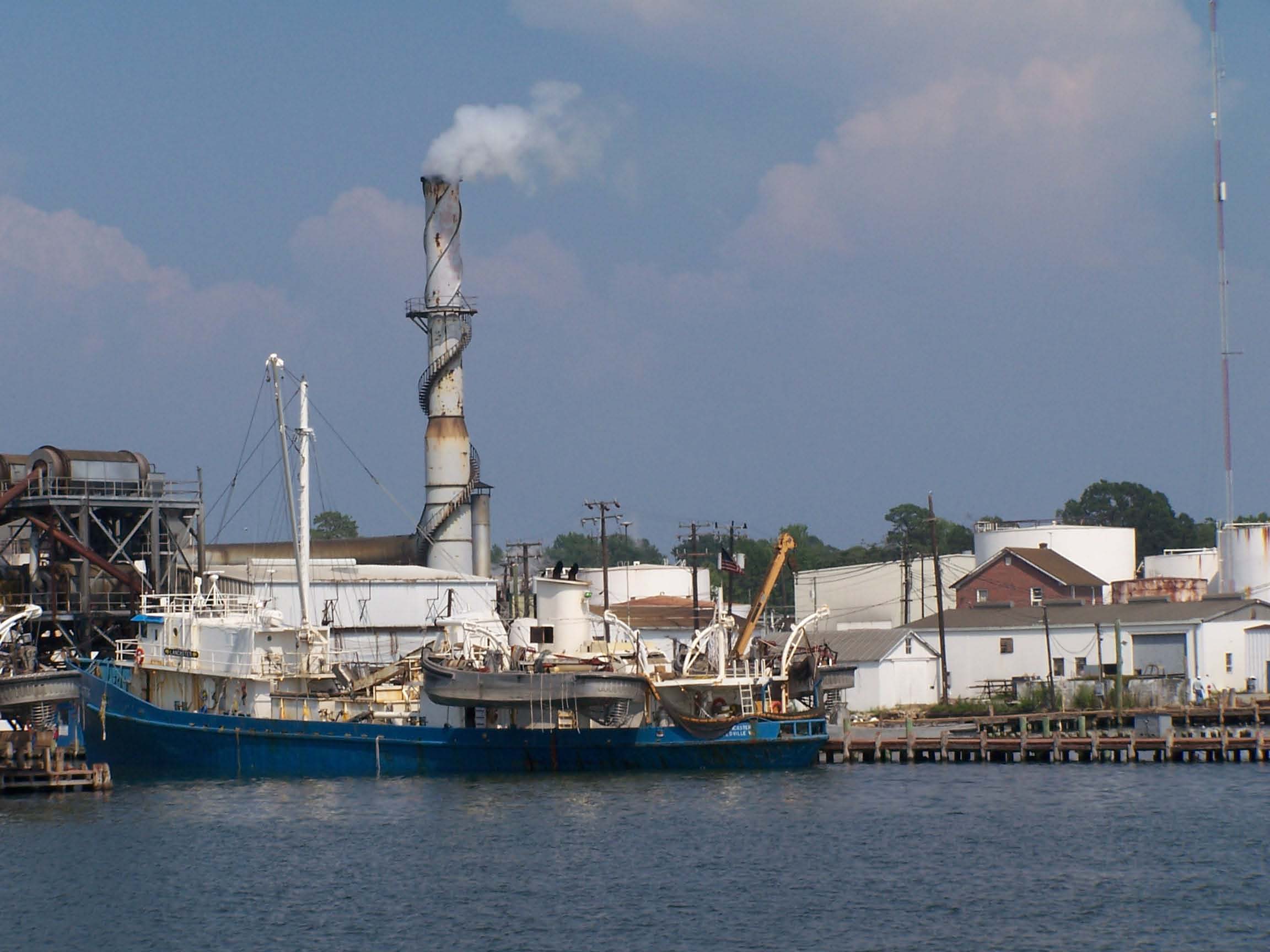 Menhaden Processing Plant
Tuesday, July 31- Wednesday August 1, 2007
Cobb Island, MD to Reedville, VA
56.4 miles
Reedville proudly calls itself "The Town that Fish Built," and as soon as we entered the channel leading to the town, it smelled like some of those original fish were still in town. The aroma of fish was STRONG, and not particularly pleasant, blowing to us on the wind that swept past the "most productive non-governmental fish processing facility in the world".
In 1874, sea captain Elijah Reed purchased over 300 acres of land where the town now lies with the intention of starting a menhaden fishing industry here. Within ten years, there were fifteen plants processing menhaden to make fish oil, meal and fertilizer.
Only one of those plants remains today, but with its production alone, Reedville is one of the largest fishing ports in North America. The plant produces over 250 million pounds of menhaden fish oil per year, which accounts for 40% of all US fish exports. The oil is used for cooking in Europe, and is used in paint, soap and lubricants worldwide. Fish meal is used for pet and farm animal food, as well as fertilizer.
Fortunately, the whole town doesn't smell like fish. Once we got upwind of the plant's steam stack, we couldn't smell a thing.
We anchored in Cockrell Creek, right near Roxanne and Lenny's boat, Summertime. We all hopped into a dinghy to explore the creek, which meanders around to surround the town, so that houses on both sides of Main Street have waterfront views. Lots of other streets jut out on little fingers and points of land to create a remarkable amount of shoreline in a compact space.
We learned all about menhaden fishing at the Reedville Fisherman's Museum, which is one of the best small town maritime museums we have visited (and we have visited many). We watched a film and saw displays that showed us how menhaden are caught. The fish are only about 12-15 inches and a pound at most. They cluster in huge schools that swim close to the surface, so they can be spotted from above. Since the 1950s, menhaden fishing ships have used airplanes to help spot schools of menhaden.
The fishing ships carry two aluminum purse seine boats that are each about 36 feet long. They look like big lifeboats. When they spot a school of menhaden, they drop the purse boats, and the crews in the boats lay out a net between them. They create a big circle with the net, and when they meet to close the circle, they start lifting the net, trapping the fish. Then the ship puts a huge vacuum pipe down into the net and sucks the fish up into the ship's refrigerated hold. Because menhaden don't swim with other fish, they don't have much sorting to do. They can catch up to 300,000 fish in one netting! The ship has capacity to hold 500 tons of fish.
We also enjoyed the museum's exhibits of boats on land and at the dock (where we tied up our dinghies), and a peek into the boat-building shop, full of machine tools and fragrant with freshly shaved wood, where both Dick and Lenny would be spending lots of volunteer time if we lived in Reedville.
Another part of the museum is the William Walker House, the oldest house still standing in town, built in 1875. The house cost $25 and was built in a day. The most intriguing aspect of the house for us was that Miss Margaret, the granddaughter of William Walker, raised her family of six children in this two bedroom zero bathroom house, with no running water and just a wood stove for cooking and a coal stove for heat, and she continued to live there until she moved to a nursing home in 1988.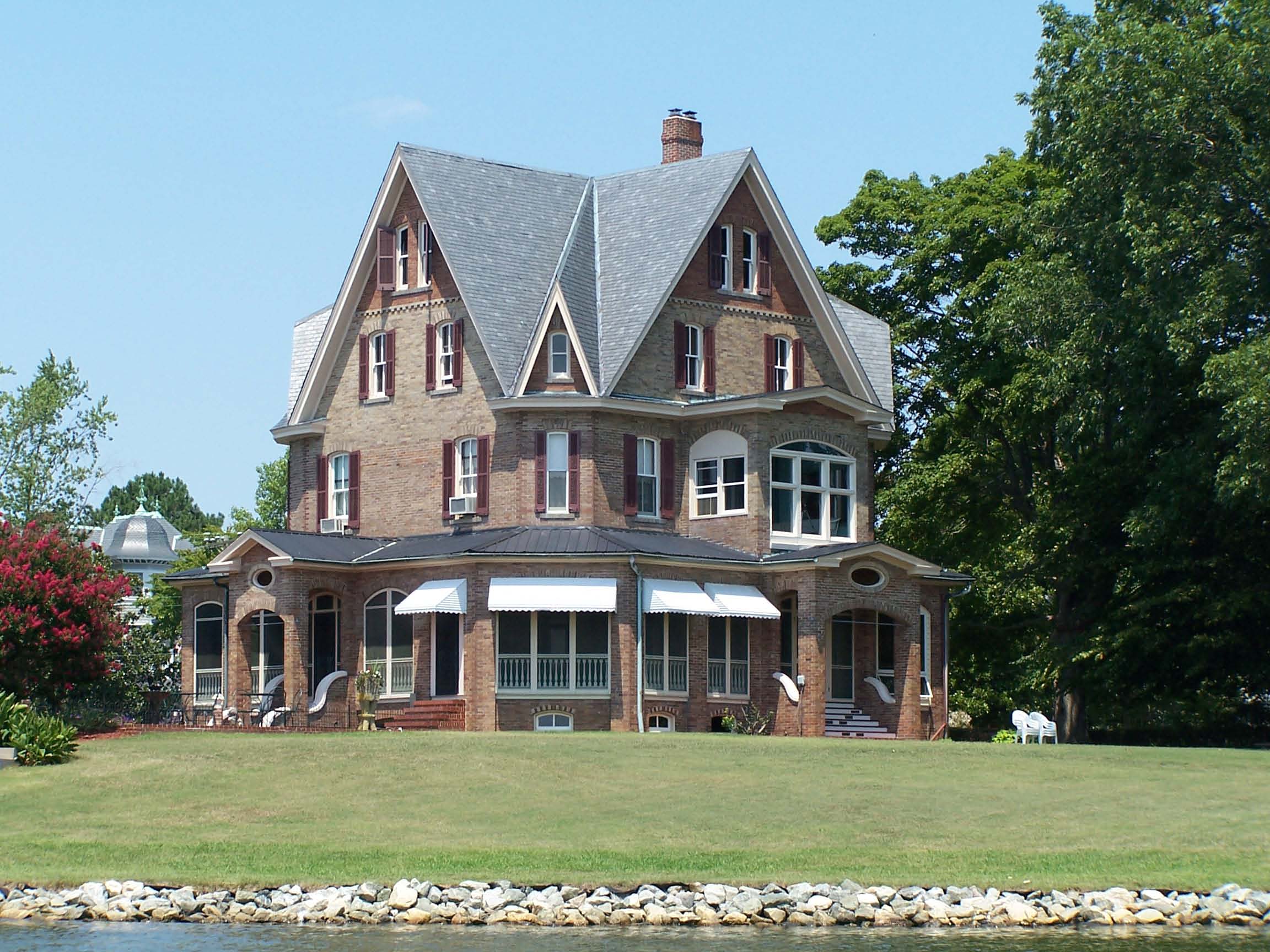 The Gables
There are many beautiful homes throughout the town, a testament to the success of the menhaden industry in the late 1800s to the early 1900s. A well-curated self-guided walking tour of the town highlighted some of the architectural gems.
Thanks to Roxanne, we got to tour the most nautical of all the old homes, guided by the owner of the house, who has lovingly restored it. The house, known as The Gables because it has gables facing all eight directions of a compass rose, was built by a sea captain in 1909. The mast from one of his ships was built into the center of the house, and rises between the third and fourth floor (the crow's nest). Stateroom doors from the ship and a large bookcase from the ship are also built into the house. The woodwork of the stairwell has waves carved into it, and the stone railings on the outside of the house are shaped like waves.
The bricks were specially made for the uniquely shaped house -- some with 45 degree angles, and some with curved edges. They were brought here as ballast, and piled where the house was to be built, and rotated periodically, so that they would weather evenly before they were used.
Everything about this house was ship-shape, and touring it was a highlight of our visit to Reedville.
The final highlight of our stop in Reedville was sharing a couple dozen spicy steamed crabs with Roxanne and Lenny. They knew about a great deli right near where we anchored that steams a mean crab. We ordered our crabs in the morning, and dinghied over to pick them up steamed fresh from the trap that afternoon. They were the best steamed crabs we can remember eating anywhere.
August 2-3, 2007 Reedville to Urbanna, VA
37.2 miles
Urbanna was established as a British port town in 1680, and for most of its colonial years it bustled with tobacco trading activities. The Urbanna Visitor Center is located in a store where tobacco was exchanged for cash and for credit that could be used to purchase imported goods returning on the ships that took the tobacco to England. Dating to 1766, the store is "one of the oldest surviving mercantile structures in America associated with the sale of tobacco." Across the street is the colonial customs house, and up the street not too far is the colonial courthouse built in 1748, when Urbanna became the county seat. A tavern in town built in the 1740s was the site of a Civil War ball for Confederate officers camped around Urbanna, and the story goes that when it was time for refreshments, all they had to serve them was sweet potatoes. This is a town tht has preserved its history.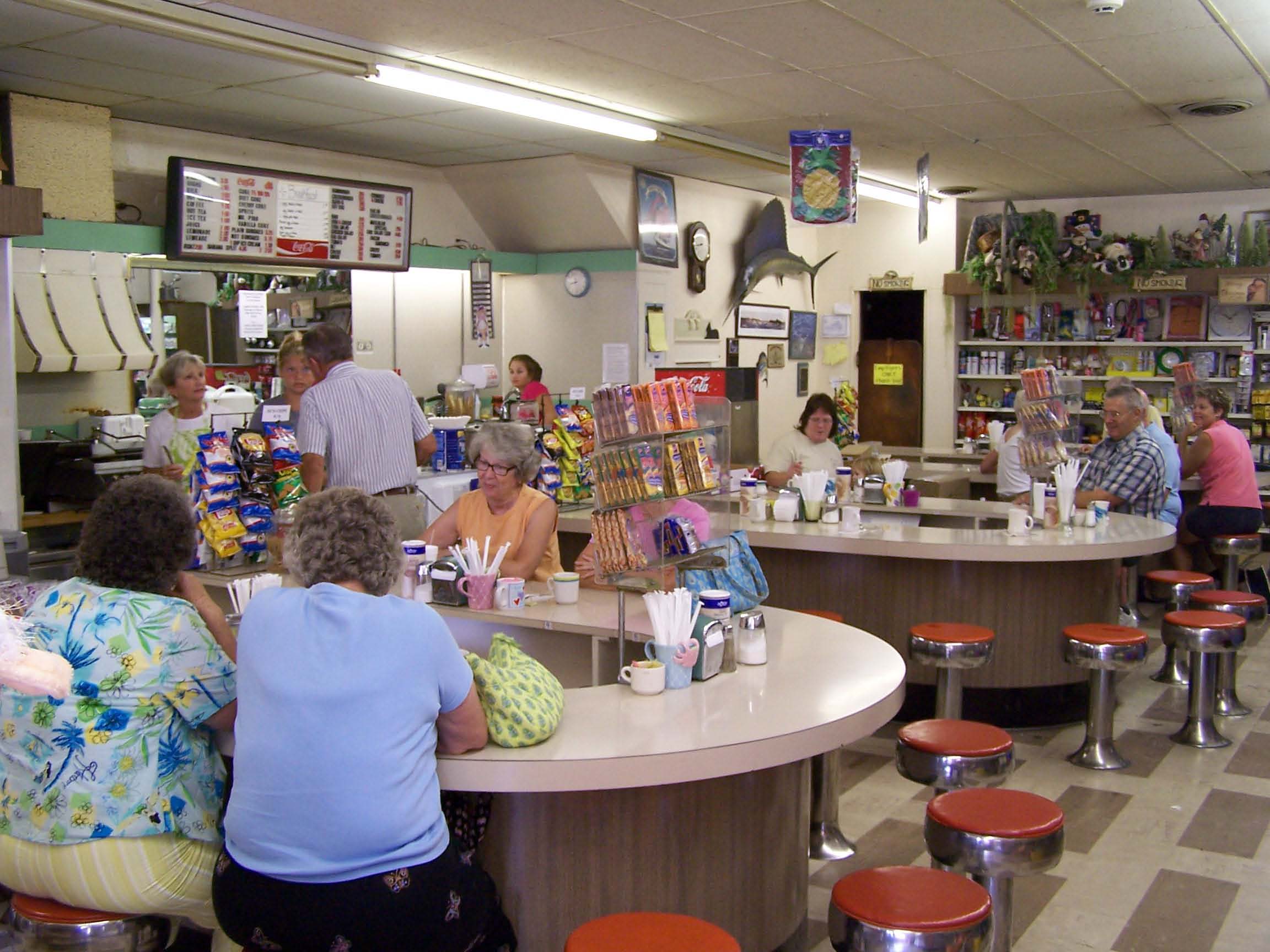 Marshall's Drug Store Lunch Counter
What we appreciated most here, though, was how the people of Urbanna have preserved a 1950s small town friendliness about the place. We ate breakfast and lunch at the counter of Marshall's Drug Store. It has been at least twenty years since any of us have seen a place like this -- the counter curves to form three U shaped seating areas, with worn red vinyl and chrome stools fixed to the floor around the counter. They open for breakfast at 8, and by the time we got there at 8:30, the first U had a cluster of half a dozen women around it drinking their after breakfast coffee, the second U had about eight men in lively conversation, and the third was saved for non-regulars, like us. The men sitting behind us were quick to welcome us and learn where we were from, and we learned from one of them that the men's group and the women's group meet here just about every day. When we asked if the mayor of Urbanna was among the men's breakfast group, they joked that he wasn't smart enough to be part of their morning deliberations -- the evidence that he wasn't smart was that he ran for mayor.
We knew they were smart, because they ate here every morning. Where else could you get two eggs, bacon and toast for $2.99, and all that chatter for free.
One woman feeds the crowds, working at a tiny griddle and counter space not much bigger than Starsong's galley. Her granddaughter waits on customers at the counter. There are no checks -- when you are done eating, you just go to the cash register and tell the cashier what you ate, and she rings you up.
Just down the street from Marshall's Drug Store is Bristow's General Store, built in 1898, still displaying merchandise in the original storefront windows, and piling its stock on ceiling-high shelves reached by rolling ladders behind substantial service counters. We wandered the well-worn wood floors to browse the merchandise -- an odd mix of housewares and gifts, lots of costume jewelry, shoes filed in boxes on those high shelves, and clothing that ranges from dowdy house dresses to trendy beachwear. Roxanne overheard one woman saying she bought a dress for her wedding there, which boggled our minds. We wouldn't be surprised if some of the merchandise has been there for twenty years or more, while some just arrived yesterday. It was a treasure trove.
Around the corner, we stepped into a store called The Garden Club, filled with furniture and accessories and gourmet food inspired by stylish porch and sunroom living. The owner, her mother, and her son and daughter were working in the shop, and we met them all. The son, who went to Virginia Tech, shared a very moving book the students had made to honor the memory of their lost friends, after his mom told us about her emotional experience of trying to contact her son on the day of the massacre.
We were charmed by both the family and the furniture. We left the store with photos and measurements of a few things we hope will be perfect additions to our sunny spaces.
A beautiful buyboat
All this interesting history and unique shopping would have been enough to make Urbanna a great stop, but to top it all off, the town was hosting a buyboat festival while we were there. Buyboats are working boats which would buy crabs, oysters, clams and such directly from the fishermen while they were out on the water, allowing the fishermen to keep working without the interruption of taking their catch to shore. They would also haul produce across the bay. One buyboat could hold about 3500 watermelons or 500 bushels of potatoes.
We dinghied over to see the boats on Saturday morning before we left Urbanna.
There aren't many still working the waters today. Most of the dozen or so buyboats at the festival had been converted from working boats to pleasure craft, and one came from a maritime museum.
An owner welcomed us aboard his 65 foot boat, which was built in 1925. Before he purchased the boat and renovated it, the boat had worked for 75 years in clamming, oystering and fishing trap tending. The pilothouse proudly displayed several plaques and awards the boat had won at recent working boat festivals and races. We could imagine how much loving attention was required to get (and keep) its varnish sparkling, its painted woodwork immaculately shining white, and its interior areas converted from fish storage bins to spic and span cabin space.
Our imagination was aided by the fact that a still working buyboat was in the berth right next to the boat we boarded, and its captain was drinking coffee with our hosts. His boat looked like it was a hard worker that didn't set much stock on appearances. It had rust and stains and peeling paint, dull varnish, and a few missing spindles beneath its rails, but it was very clean. It was equipped with a big winch and a powerful pump on the bow, and the sides of his bow above the deck line were all hinged so they could be pulled up. He uses his boat to transport live oysters for processing, and to seed oyster beds. When he seeds the beds, he hauls a huge load of oyster shells on his bow, opens the sides when he gets to the bed, and blows the shells overboard with a firehose attached to the pump.
We enjoyed walking the docks, admiring the beautiful old boats and chatting with their owners. Then we hopped into our dinghy, headed back to our boats, and were on our way to Deltaville.
Saturday, August 4, 2007 Urbanna to Deltaville
23 miles
The temperatures hit the 90s today, and they are predicted to go higher over the next few days. No more anchoring out until this heat wave is over, and a marina with a swimming pool trumps a marina without one near scenic attractions.
We spent our last day with Lenny and Roxanne at Deltaville Marina, which has a swimming pool and a loaner car. As soon as we docked, we plugged in and revved up our air conditioners.
Then we borrowed the car to visit the nearby Deltaville Maritime Museum (which would be an easy walk or bike ride away under different climactic conditons). We had read about the buyboat the Museum was restoring on a display at the buyboat festival in Urbanna, and we were able to see the work in progress at a dock on the museum grounds. The hull was floating, but just barely, while its pilothouse was on the lawn nearby, painted and varnished and looking all dressed up and ready to go to the party.
After our visit to the museum, we took the car to the grocery store and stocked up on heavy things it is hard to carry in a bike bag and knapsack -- especially 12-packs of soda and other thirst-quenching beverages. The heat is on, and it seems impossible to drink enough to keep hydrated while we are cruising.
When the sun got low in the late afternoon, it was finally bearable to emerge from our air conditioning and go to the pool. We cooled off and enjoyed happy hour with Roxanne and Lenny, retired to our respective boats for quick dinners designed to use up left-overs cluttering our tiny refrigerators, and then reconvened in our air conditioned cabin to finish a spirited game of Mexican Train dominoes we had begun the night before.
We always enjoy spending time with Roxanne and Lenny, and were sorry to part ways with them so soon. We said our good-byes tonight, because Lenny and Roxanne are planning to leave at first light, so they can log as many miles as possible under their boat before the heat becomes unbearable, or afternoon storms roll in. They are eager to be home again, out of this unrelenting heat. As are we. They are two days away, and we are two weeks away.
August 5-6 Deltaville to Salt Ponds
38 miles
A couple days ago we got an e-mail from cruising friends Kerry and Jane Alexander, enquiring where we were, and urging us to come visit Salt Ponds Marina, where they are spending the next few months aboard their boat Diamond Sun. The timing of their message was uncanny -- we had just begun thinking about our cruising plan to home, and Salt Ponds was a perfect next stop after Deltaville.
Before I tell you about Salt Ponds, I have to tell you about one of our most amazing cruising sights, which happened while we were on our way from Deltaville to Salt Ponds. We were in a very open part of the Chesapeake Bay, when Dick spotted about fifty dolphins swimming so far to our starboard side that without binoculars they just looked like dark specks and rough water. With binoculars, we could see that they were swimming in the same direction we were traveling, and frolicking along the way. Over the next half hour, our paths slowly converged, until about thirty of them were swimming and jumping in our wake.
Dick put the boat on autopilot, and we both stood on the back of our flybridge and watched them in awe (looking over our shoulders to the front of the boat every once in a while to be sure there were no other boats or obstacles in our path). After about five minutes or so in our wake, the dolphins fell back, and we kept motoring on, but we felt as though we had experienced a magic moment while we joined the dolphin migration for just a little while.
As we came in to Salt Ponds Marina, Kerry and Jane were monitoring the marina radio channel, and they welcomed us as we approached our slip (conveniently located kitty-corner across the dock from them), they took our lines and helped us dock. Then they gave us a guided tour of the great facilities of this resort marina.
The marina basin is in a marsh-lined salt pond, and the marina office, pools, and restaurant are on a narrow strip of land between the pond marsh and the ocean. A boardwalk beside the boat docks leads along the marsh edge and over a dune to a beach that stretches for miles and miles, lined with homes that are part of a gated community developed at the same time as the marina.
Dick and I took a long walk along the breezy seashore, then met Jane and Kerry at the pool, where we chatted while submerged for at least an hour, until we were all very pruney. The water was 89 degrees, but it still was cooler than the air. A storm was blowing up as we finally emerged from the pool, and the brisk winds on our wet bodies was almost chilling, in a most welcome way.
We got dressed, and piled into Jane and Kerry's car to go to Harpoon Larry's, a spot named one of the "best seafood dives" on the Chesapeake. We concurred with that assessment -- it was a very divey bar, with a big smoking section and a small non-smoking section, both filled with an interesting mix of folks from tattooed youngsters to old folks like us, and it served bargain-priced seafood that was way better than you would expect at a place like that for a price like that.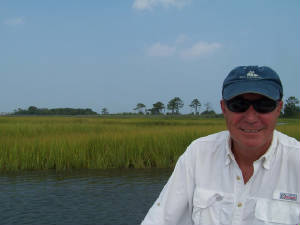 Dick on the tidal creek
On our second day at Salt Ponds, we caught up with our bills and other important mail, worked on the computer (which only gets a good enough signal from the flybridge, making its use a hot job here), and did boat chores until mid-afternoon, when Kerry stopped by to ask if we'd like to take our dinghy to explore a tidal creek with him and Jane. With an adventure in store, we quickly abandoned our chores.
The creek meandered through wide expanses of spring green marsh grass with tiny snails clinging to its blades. Great herons, great blue herons, and yellow-crowned night-herons fished in the shallows. It reminded us of our low-country marshes back home, and made us just a little bit homesick.
We snaked our way about a mile and a half up the creek, then turned around and followed our GPS track back to find our way out of the maze of little rivers through the grass.
Hot from our dinghy adventure in temperatures somewhere in the mid-90s, we headed for the pool, where we soaked and lounged with Kerry and with another cruising couple we met during our two winter stays in Fort Myers -- Sherri and Clyde aboard Morada. We love being surprised by crossing paths with cruisers we have met in distant ports.
After dinner Sherri and Clyde, Kerry and Jane, and we all set up our folding chairs on the dock and told boating stories late into the night. When I say late into the night, you must remember that 9 pm is "boater's midnight."
We have had a wonderful final week in the Chesapeake -- sharing good times and new adventures in interesting ports of call with Roxanne and Lenny first, and then ending with a couple grand days at this beachy resort with our Fort Myers friends.
Now we are ready to head home, eager to see our Savannah friends again, and to resume our grounded life.