Saturday, July 23 Indian Harbour anchorage
(22.9 miles)
We decided to start our explorations of Georgian Bay's 30,000 islands a day early, and left Beacon Bay Marina with Summertime the day before the Flotilla began.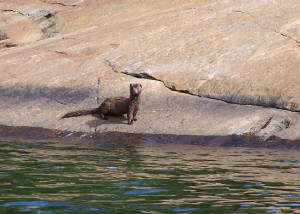 Mink
Since it was a Saturday with sunny skies, ther were lots of crazy pleasure boaters throwing big wakes, so we were glad we had planned a short cruise route.
When we got tot Indian Harbour, we saw a Common Merganser leading a flotilla of 35 nearly grown chicks. We wondered where the rest of the mothers were, and how this one adult got sidled with the responsibility for so many youngsters.
We anchored in Indian Harbour at 1:30. The harbour is nestled between so many tightly packed rocky shored islands that it feels like a little lake. We took a dinghy cruise late in the afternoon and saw two minks gracefully running about the rocks and swimming along the shore.
We were also impressed by the variety of rocks around the Harbour. Some looked like they had flowed in molten waves, then cooled quickly, catching their ripples in freeze frame. Quartz crystals sparkled in veins and big chunks captured in smoother granite rocks. Etched lines showed evidence of a glacier dragging sharp rocks over softer rock below, leaving a trail marker.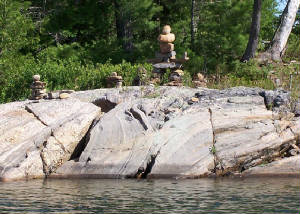 Inukshuk family on Indian Bay
Many cottagers (as folks around here call those who live here seasonally) had piled rocks to make statues along the shore. These statues are Inuit traditional forms called Inukshuks.
Reading in the Saturday Toronto Star, we learned that last week Canadian soldiers placed an Inukshuk and a Maple leaf flag on an Arctic island about the size of a football field located between Canada's Ellesmere Island and Denmark's Greenland.
Both Canada and Denmark claim Hans Island, and they are each performing various activities to assert their sovereignty over the spot -- hoisting flags, landing soldiers, and conducting state visits. Canadian Defense Minister Bill Graham hopped off a helicopter and spent an hour on the island last week, inspecting the flag and Inukshuk, and claiming "I wasn't there to make some big dramatic statement. My act of going there was totally consistent with the fact that Canada has always regareded this island as a part of Canada. . . I was just visiting Hans Island the way I visited other facilities of Canada's."
It's hard to understand why Canada is tussling with Denmark over a big barren rock in the Arctic -- Canada already has thousands of them right here in Georgian Bay.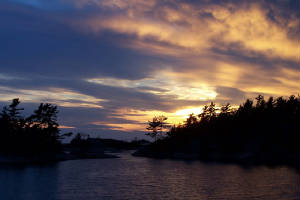 Indian Harbour sunset
Sunday, July 24, 2005 Indian Harbour to Port Rawson Bay anchorage
(20.4 miles)
Since the weather radio predicted storms on the way, we decided to leave Indian Harbour early, and not wait until we heard the radio chatter of the Flotilla on its way.
As luck turned out, we arrived near the docks of Henry's Fish Restaurant just as a squall was approaching and as lunchtime was approaching, too. We tied up, ducked inside, and had Bay burgers all around -- batter-fried pickerel delivered in a basket with fries freshly cut from about half a dozen potatoes. It was our best fish and chips experience yet.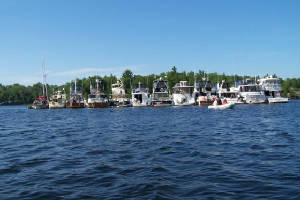 Just as we were finishing lunch, the weather cleared and the flotilla passed by. We caught up and followed them to Port Rawson's Bay, where we all tied up into a long raft of a dozen boats.
Soon after, Ron and Gord demonstrated just how social they are, as they hosted all 24 of us -- plus a couple who stopped by from a boat anchored nearby -- for cocktails aboard Purely Social.
Monday, July 25, 2005 A Very Dinghy Day
Today we all packed our lunches and left our big boats behind, forming a dinghy flotilla to explore the scenic and shallow waters upriver of our anchorage. We traveled at a leisurely pace, taking two hours to reach Moon River Falls, where we beached our dinghies, and scrambled over the rocks ashore to find our perfect picnic spots.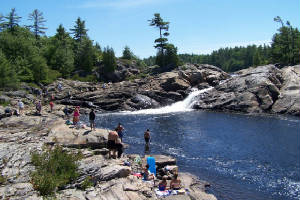 Moon River Falls
We found a spot in the shade where we could watch kids jumping from the cliffs next to the falls into the whitewater below. We weren't tempted to try the jump ourselves, but we did enjoy a cooling dip in the pool below the falls.
On the way back to our anchorage, we stopped at a marina with a little store and an ice cream stand. I couldn't resist getting a Tiger Tail cone (orange ice cream with licorice swirls), since this is a standard Canadian flavor, more common than Cookies and Cream, and it is not to be found anywhere in the United States. When it comes to Tiger Tail, my philosophy is, get it now, because I may never see it again.
July 26, 2005 Port Rawson Bay to Echo Bay
9.1 miles
We woke to a long overdue rainy morning, and left beneath overcast skies in the afternoon. When we got ot Echo Bay, the easily accessed south harbour was crowded with boats, so we decided to venture into the empty north harbor, accessible through a passage scarcely wider than our boats, marked by clear 500mL water bottles tethered to the rocks clearly visible below -- highlighted with paint from the hulls of boats that attempted the channel before us.
We dropped anchor and rafted with Summertime and Purely Social, then lazed the afternoon away reading in the rain, which miraculously cleared shortly before our scheduled 5:30 departure for Henry's Restaurant -- a 2 mile dinghy ride away.
We sat down to our best fish fry ever -- pickerel fried in a puffy light batter, served with fresh cut fries. A couple seaplanes were parked at the docks when we got there, waiting for customers they had brought over from Parry Sound. For $75 per person they offered a scenic round trip plane ride and dinner at Henry's. We thought it was a great deal. Plus, watching them take off provided us with dinner hour entertainment.
We were back to the boat in time to get our kayaks down for a sunset tour of Echo Bay. The sky was full of rosy cirrus clouds glowing brighter and brighter, first reflecting pink speckles on the water, then intensifying, until at 9:15 we were paddling in a sea of brilliant pink. The sunset was burned in our memories, but we had no pictures. We left the camera behind, because we were feeling cautious after dumping a pair of (inexpensive) binoculars in the water during one of our recent kayak jaunts.