July 27, 2005 Echo Bay to Parry Sound
15.6 miles
Parry Bay was named for Rear Admiral Sir William Parry, the famous Arctic explorer, but not because he explored here. The name was bestowed in his honor by Captain J. G. Boulton, who did the original marine survey of this area in 1883-92.
"Decayed timber bottom" notations on our nautical charts for Parry Sound Harbour are a reminder of the area's past as a logging town.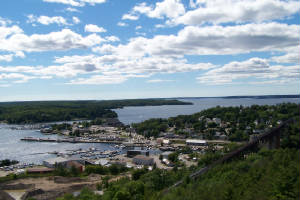 Parry Sound view from the tower
We climbed an observation tower atop a high point overlooking the town and harbour. The tower we climbed replaced a fire tower built in 1927, but rendered useless by 1940, when all the forests it was built to observe had been cut for timber.
Now people climbing the tower can observe how well the forests seem to have grown back in the past 60 years.
However, when we visited the Museum at the foot of the tower and looked at photos of logging operations here, we could see that today's trees are puny by comparison to the trees that were logged here 100 years ago. Then they were often three feet or more in diameter. Today, a white pine over about 18 inches in diameter is unusually big.
We also learned at the Museum how they extracted tannin from the bark of hemlock trees to tan hides, serving the fur traders. That's how they decimated the local stock of hemlock trees in just ten years time.
We enjoyed the town of Parry Sound -- eating lunch on the porch of a cafe bedecked with bright hanging flower pots, walking and bicycling the hilly streets, and visiting our favorite haunts -- a great independent bookstore, a bakery with a dozen different kinds of fresh-baked bread, a well-stocked hardware store, and a big grocery store.
We skipped the Bobby Orr Hall of Fame Museum, even though from the outside it was the newest and flashiest place in town.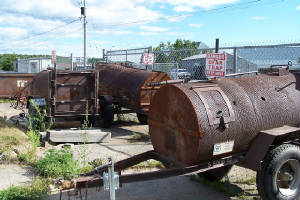 Bear traps
Across the street we saw an interesting sight -- a bunch of bear traps in the parking lot of the Provincial Police Station. We thought that the metal barrels where the bears would be trapped looked pretty small, and a bear cooped up in a space that confining would probably get pretty angry by the time he was finally let out. We wondered how they handled the whole trapping and transporting process, and figured that sedatives were probably involved. We didn't see anyone official around to ask about it.
July 28, 2005 Parry Sound to Killbear Marina
13.6 miles
Killbear Marina is located right beside Killbear Provincial Park, which has beautiful long sandy beaches and lots of wooded areas, which we failed to explore, due to other pressing matters, such as the lack of sufficient electrical power at our slip (which required Dick's diligent follow-up with the marina owner and electrician), and a mid-afternoon cocktail party thrown by the Janzs (which required Gayl's diligent attention and sporadic attendance by Dick between technical sessions).
Due to the electrical difficulties, Dick had the opportunity for extended conversation with Will, the marina owner for the past 18 years. He learned that the transient boater season hereabouts is basically a month long -- from mid-July through mid-August. Cottagers are around for three months tops. Will lives here all year, and spends the winter protecting his assets from damage by cold and ice. He bubbles pressurized air around his dock pilings throughout the winter to keep ice from forming around them.
July 29, 2005 Killbear Marina to Byng Inlet
50.7 miles
Our cruising today was evenly divided between serpentine weaving through narrow channels and rocky bays in the morning and open water cruising in the afternoon. Although the morning offered far more beautiful and interesting scenery, an afternoon of no worries about missing a turn or hitting a rock came as a great relief to all the flotilla captains and their watchful mates.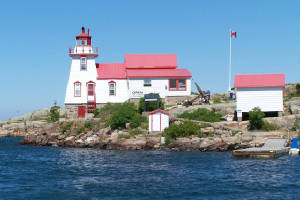 Snug Island Lighthouse
After a long time with no historic lighthouse sightings, this morning we saw three. Far away over the water we could barely see the tower of Red Rock Lighthouse. It was clear that its name came from the island it filled -- a big red rock. Bob Janz told us that one of the past lighthouse keepers was quite a drinker, and made extra cash by leaving the lighthouse untended while he guided freighters into Parry Sound. No one has staffed the house since it was automated in 1977.
The Snug Island Lighthouse is part of a range big ships use to enter Parry Sound. This pretty white house with red trim is a classic Georgian Bay lighthouse style, very similar to the Pointe au Baril Light, which we also saw today. We couldn't learn too much about the history of the Snug Island Light, but we did learn a bit about the Pointe au Baril Light.
Residents near Pointe au Baril put a barrel with a lantern on top of it on the point to help guide boats into the channel -- hence the name Pointe au Baril. A lighthouse was built to replace the barrel and lantern arrangement in 1889. The light is still in service today.
Wright's Marina in Byng Inlet provided docks sheltered from winds and weather, but not from wakes. The quaint American tradition of respecting the area around marina docks as a no wake zone seems not to be followed in Canada.
Before we left Killbear, cruisers who had just come from Byng Inlet told us not to miss the "Pastry Lady" at 5:00. We were on the alert, and when she came down the dock asking if anyone was interested in baked goods, I was first in line at her little red car, waiting eagerly for her to open her trunk and reveal her wares. Within minutes, I and my fellow Loopers cleaned her out of everything she had.
We enjoyed wine and conversation aboard Christiana so much that we opted out of joining the main mass of Loopers on a water taxi excursion to a restaurant five miles upriver. After our wine, we split for dinner, then reconvened with Christiana and Summertime over coffee and our recently purchased desserts. We were glad we opted for a quiet evening at the marina -- and even gladder when the water taxi finally dropped off the chilled crew that had dined out. It was 10:30, windy and about 50 degrees when they got back.