July 30, 2005 Byng Inlet to Bad River Anchorage
30.8 miles
As we made our way from Byng Inlet to Bad River we traversed a twisty course through lots of rocky islands. In one section the islands had long rock fingers stretching far out into the water waiting to grab unwary boats.
In the distance we could see the white quartz mountains of the La Cloche range. The white sparkling between the green trees on the mountain looked like snow from afar.
The Bad River anchorage was a popular spot. About twenty boats were already at anchor by the time we got there. Fortunately, the anchorage bay is roomy, and we found a spot for our flotilla to tuck in. We rafted up with our rear deck party boats clustered together in preparation for a big cocktail gathering with appetizers hearty enough to serve as dinner. While celebrating cocktail hour, our group gave the Janzs and Ron and Gord cards and gift certificates in appreciation for their leadership of our grand Georgian Bay experience.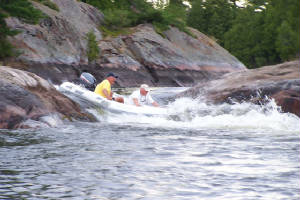 Running the rapids
After our cocktail dinner, Dick and I took a dinghy excursion through the maze of islands in Bad River. We beached our dinghy on an island where we hoped to find blueberries, and gingerly set off to explore. This area is known for its rattlesnakes and bears -- both were seen here the previous day, we heard.
We didn't see any snakes or bears, but we did find blueberries. We picked for about half and hour, until it became clear we were firmly embedded in the wilderness food chain -- the blueberries supported our herbivorous needs and our blood supported the mosquitos' carnivorous needs. The anticipated pleasure of the blueberries could not balance out the immediate pain of the mosquitos, so with a bit over a cup of blueberries between us, we called it quits, got back in the dinghy, and motored off, leaving the mosquitos behind.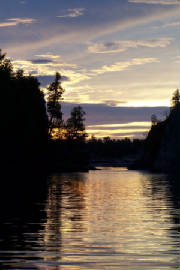 We met Bob Janz on the river, and watched him run some shallow rapids in his dinghy. We decided very quickly that this was not a trick we would try with our equipment, especially since we heard the motor clunk on a rock as the dinghy came down. It was fun to watch, though.
We enjoyed yet another spectacular sunset from the dinghy, and called it a night soon after.
July 31, 2005 A Stormy Day on the Bad River
Our itineraary called for an extra day at the anchorage, which was good, because with high winds and intermittent rain, this was not a good day to travel.
Six men from the group went on a guided fishing expedition, leaving during a brief clearing in the rain. While they were gone, we experienced torrential rains, gusty winds and thunderstorms. We wondered how they were faring. They arrived back late in the afternoon, with tales of wild rides through the rocks, two fish caught and eaten in the best shore lunch of their lives, and a good time had by all.
While they were gone, I made blueberry oatmeal muffins using the berries we picked yesterday. I had one mini-muffin tin, and borrowed two from Roxanne. When I gave back her tin with some muffins, she loaned me a book in return -- about one woman's spiritual voyage circumnavigating the rough cold waters of Lake Superior in a kayak.
It was a perfect book for a stormy day on a boat. Both Dick and I read, and did a bit of planning for our North Channel passage in the coming week.
The weather cleared by the end of the day, so we had dinner on the flybridge, enjoying the view of the tall rock walls surrounding the bay lit by the golden light of the low sun.
We took our kayaks out for a sunset paddle. We paddled against the current of Devil Door Rapids and headed upriver to the rapids Bob had run in his dinghy the day before. We couldn't get up the side rapids you need to traverse to ride down the big rapids, but we enjoyed paddling into the turbulent water below the rapids rock and letting the current push us out.
A couple in a little fishing boat told us they had just seen a black bear around the next bend in the river, so we paddled over, and saw him grazing in a marshy area along the shore. We kept a respectful distance, and enjoyed watching him for about ten minutes. He seemed undisturbed by the audience. He probably has one every night.
August 1, 2005 Bad River to Killarney
40.3 miles
Today is Canada's Civic Holiday. We asked our Canadian hosts what this day celebrated, and they told us the holiday was created because American companies had more holidays than Canadian ones (such as President's Day), so they decided they needed an extra holiday, and it might as well be at a time when people would enjoy it. Voila -- Civic Holiday the first Monday in August.
We broke up our raft of boats and began cruising at 9:30. When we got out to the open waters at the head of the Bad River a half hour later, we found swells of three feet left over from yesterday's storm. It wasn't comfortable, especially when we were crusing in a beam sea, but sunshine and temperatures in the 70s make rough conditions easier to take.
The swells calmed as the morning wore on, and we had yet another beautiful day of cruising. We listened to satellite radio while we rolled along, and heard that in addition to insulation falling off the space shuttle again shortly after launch, today they detected filler was hanging out from between the tiles on the hull of the shuttle. We have thought often about the importance of being able to trust our vessel when operating in an environment where our survival depends on it. We can't understand how any astronaut could trust the space shuttle, or how NASA could deem it "spaceworthy."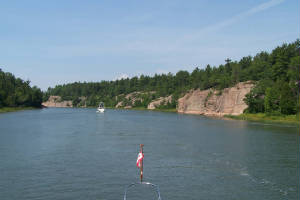 Collins Inlet Cruising
By mid-day we were out of open waters and into scenic sheltered bays and rivers again. Collins Inlet provided some of our most beautiful cruising yet. The Inlet looks like a river running between steep cliffs of warm pink granite. Second growth pines and ancient dwarf cedars cling to crevices in the rocks. Yellow-grren stalks of wild rice grow in coves along the shore.
We saw several beaver lodges. We passed the remains of an old sawmill, and several ice fishing shacks pulled up on shore. There were just a few isolated cottages along the inlet. Perhaps 100 years ago this land was stripped by loggers, but today it has grown back to be a place of wild beauty.
When we emerged from the inlet, the landscape was dramatically different from the landscape where we entered it. When we got to more open water beyond the inlet, we could see mountains rising behind the sheer pink cliffs of the shore. The La Cloche mountains, which we have been seeing in the distance for several days, were now nearby. The smooth-topped mountains are white quartz, contrasting with the dark green pines that cover them to create yet another awe-inspiring view.
Killarney lies in a short and narrow inlet, sheltered from the waves and winds of the open waters of the Bay. It was known as Shebahonaning, meaning "narrow channel" in 1820 when fur trader Etienne Augustin de la Morandiere settled here and established his fur trading post. Soon after, he raised crops anbd brought cattle here.
By the mid-1800s, this was a commercial fishing area, and there were three large fish packing houses here in the 1950s. Elecricity didn't get here until 1951, and Killarney was accessible only by boat until 1962. So, it should come as no surprise that cell phone coverage has not made it here yet. They do have wi-fi, though.
We stayed at the Sportsman's Inn Marina, which has docks on both sides of the inlet, and a water taxi they call the Sportsman's Fairy, Tinkerbell, which operates from sunrise to 2 a.m. shuttling boaters back and forth around the marina facilities.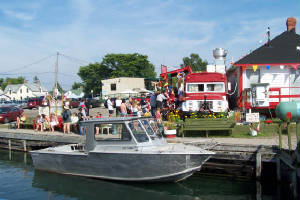 Mr. Perch
We had fish and chips at Mr. Perch, a Georgian Bay landmark red bus which does over $2 million business in its short summer season. We liked our whitefish dinner so much that we bought fresh fish fillets at the fish market next door to the bus to grill up ourselves later.
We walked a wilderness trail on the side of the inlet across from the marina. The trail was a combination of rough rocks and soft pine-needles. It wound through pine forests, bogs and wetlands. When we were joined by one of our Loopers who is also a birder, Dick headed back to the boat, while Carol and I continued at a very slow pace, watching birds and picking berries. Hours later, I returned to Starsong with a little bag of raspberries and blueberries, and one bird to add to our trip list -- the bay-breasted warbler.
In the afternoon, we checked out the little Killarney Museum, reprovisioned at the General Store, and then I worked on the website, while Dick did laundry. We ended the day with a dinghy ride into the North Channel to enjoy views of the sun setting behind the mountains.