This section has two pages. If you have already read all of this page (ending with a Key Lime Pie recipe), you can click the link below to go straight to Page 2. There is another link to Page 2 at the bottom of this page, if you want to scroll down and be sure you have read it all.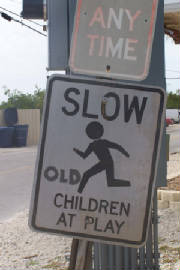 Keys Parting Shots
We took a picture of this sign posted at a blind corner next to the Dockside Lounge, because we thought it captured the spirit of Key West much better than the Conch Republic motto (We secceded where others failed) or the Florida motto (In God We Trust). It certainly is an accurate assessment of the situation on the site where it is posted. We aspire to live up to the promise of this sign as long as we live (along with our other commitments to lifelong learning and being of use).
As we were riding our bicycles along the Overseas Highway, another sign captured our attention, but we failed to get a photo. A Caldwell Banker Realty firm had a massive roadside business sign with those black letters that can be changed on a bulletin section. The message read " 40 YEARS SERVING FLAKEYS." Although we thought that their characterization of the residents of this area might be accurate, we found it a bit disrespectful. What were they thinking? It took a few seconds, but then it registered -- "40 YEARS SERVING FLA KEYS."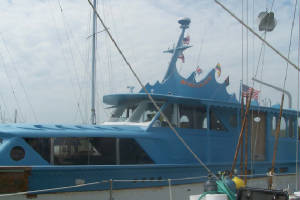 Neptune's Love Palace
We also wanted to capture an image of the most unique vessel docked at Sombrero Dockside. In case you can't read the name in this picture, it is Neptune's Love Palace. In case you cannot tell from the picture, the Palace is a work in progress (as are so many boats). We estimate that it may be a couple decades, or perhaps a couple generations, before this vessel can live up to its name.
And, speaking of love, on several of our bike rides along the Overseas Highway, we passed an intriguing vehicle located in front of the Adult Superstore. Featuring a bright yellow "Emergency Vehicle" decal on its rear bumper, a big yellow emergency light bar on its roof, and an attention-grabbing illustration and Adult Super Center designation on its side, this vehicle stands in front of the Super Center ready to to respond to any x-rated emergency.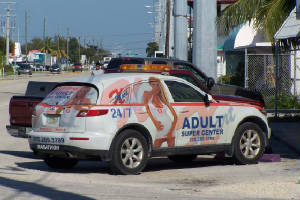 X-rated First Responder
I had to wait a long time to take this picture, because I didn't want to intimidate any of the customers, who I figured wouldn't appreciate having their picture taken with the car. It took longer than you would imagine for the coast to clear.
While waiting, I tryed to imagine what sorts of emergencies this vehicle might respond to. Customers who get themselves into a pickle trying to emulate the moves on a rented DVD and need help getting untangled? Individuals in the mood who need a quick delivery to avoid the inconvenience of getting dressed and going out to the store for their party supplies?
Then there's the ethical question -- If this car came roaring up the road behind you with lights flashing, would you pull over to the shoulder?
March 1, 2007
Marathon to Buttonwood Sound anchorage, Key Largo
64 miles
After hugs and good-byes to our next-boat neighbors, now friends, Peter and Mary Lee, we cast off, with line release help from Peter and several other passing boaters. Docking and undocking with an audience is always a performance. As Dick was at the helm beginning to back away, the jovial fellow ready to release our bow line asked, "When would you like to unplug?"
Ooops. With all the excitement of saying our farewells, we forgot to disconnect our power cord. No worries, our bow line handler quickly unplugged us, and tossed me the end of the power cord, and we left 'em laughing.
We aren't the first who have tried to leave the dock while still plugged in -- our Cincinnati Power Squadron had a traveling trophy they awarded to the most recent member to try to pull away from the dock without disconnecting. The owners of that trophy can't wait to pass it on.
Heading north, we retraced the route we took south. This time, as we passed the beautiful Long Key Viaduct, we could appreciate the effort that went into building it back in 1908. The bridge is built on a series of 180 concrete arches towering 35 feet above the water and stretching for nearly three miles. It calls to mind an ancient Roman aqueduct, and was Flagler's favorite of all the bridges built for his railroad. Ironically, the people riding the railroad couldn't appreciate the beauty of the bridge, since they were atop it -- they could just admire the panoramic views its height afforded them.
We read about the Long Key Viaduct in our book about Flagler's railroad, and we saw a model illustrating step-by-step how it was constructed in the museum on Pigeon Key. As many as 800 men worked on the bridge at once, and the bakery in Long Key Camp made 1,000 loaves of bread each day to feed those hungry workers.
We cruised for nearly eight hours beneath mostly sunny skies to get to our anchorage for the night, in Buttonwood Sound off Key Largo. The water was so clear I could watch the anchor drop to the sandy bottom. We spent a couple hours just enjoying the breeze, the 80 degree temperature and the tropical view as we gently bobbed at anchor.
Not too long ago Key Largo was called Rock Harbor. It was named after the 1948 movie starring Humphrey Bogart and Lauren Bacall. The stars never came to Rock Harbor for the filming -- all their work was done on a Hollywood set. A remote crew came here to take a few atmosphere shots, and that was enough to inspire some visionary real estate developers to change the name of the town to match the movie. They convinced the postal authorities, and in 1952 life imitated art as Rock Harbor became Key Largo.
Just before sunset, we took our dinghy in to shore, and docked at Snook's, a big lavendar waterfront restaurant with a massive beach bar beneath a thatched roof, and dining tables spread over the dock and a broad swath of what looks at first like a sandy beach, but turns out to be a cement slab the size of a basketball court covered in a layer of sand a few inches thick -- just enough sand to make you feel like you are eating on the beach, but not enough to make it hard to walk or to keep the tables level.
The food was good, the sunset very good, and the entertainment spectacular. While we ate, we listened to a Bahamian with a great voice, a guitar and a dynamite synthesized back-up system. He could play just about anything anyone requested, and the crowd was into baby boomer beach music and a little bit of Motown. The dance floor was crowded, and the place was rocking.
But, the best part was after the singer's first set. The next act was a magician who dressed like a scary biker, and performed his act to the accompaniment of throbbing hard rock music. His name was Michael Trixx, and he began with tricks that involved alcoholic beverages -- making beers appear and disappear, pouring a beer into a glass that seemed to float in the air, making drinks appear in empty shot glasses and turning the glasses into whole bottles of liquor -- all the while appearing to take swigs of all his props. He levitated a table, he did knot tricks and scarf tricks, all the while dancing and mouthing the words to his music. His finale was a set of fire tricks -- eating fire, setting fire to his arm, throwing fire and juggling it. He was a wondrous magician and a superb showman, with a persona and style we have never seen in a magician before.
Thinking back on it, I don't like hard rock music, and Michael's biker attire and personal grooming style were not attractive (that's putting him in the most positive light -- Dick's word is "repulsive"), he acted like a low life with ADD, yet he had me enthralled -- must be magic.
We dinghied back to the boat by the light of a full moon. We didn't need a flashlight -- the moon was so bright we could see our shadows. Our last night in the Keys was some enchanted evening.
Friday, March 2, 2007
Key Largo to Maule Lake anchorage (North Miami Beach)
67 miles
With a south wind behind us and sunny skies above us, we had another beautiful cruising day. Our course took us through Biscayne Bay, where we once again enjoyed watching sailboats from the Olympic Training Center. On our way south, we wrote about the unusual community of Stiltsville that stands in the shallows of Biscayne Bay, and we told the story of an exciting battle at the Cape Florida light. If you missed those Biscayne Bay highlights, you might want to click on the link below.
Click here to see some Biscayne Bay highlights from January 30.
Soon after leaving Biscayne Bay we passed the port of Miami, where the docked cruise ships made us feel as inconsequential as a gnat buzzing around an elephant. We were impressed to see what looked like very challenging climbing walls on the top decks of two of the cruise ships.
Not too much further along the ICW, in a pretty narrow section, we were surprised to see a magnificent frigatebird diving right in front of our boat for a fish. We admired his red breeding plumage pouch, and were fascinated to get a close-up look at how he used his long tail as a navigation instrument.
We stopped for the night in Maule Lake. We felt like we had found a secret lake, since to get there we traveled a long way down a narrow canal, lined on both sides with condos. Boats were docked along the cement wall at one side of the canal. When we finally reached the end of the canal, the expanse of the lake opened before us. The lake was roughly round, a little over a quarter mile in diameter by our estimate, and it was surrounded by low-rise condos and houses. High rise condominium towers loomed behind the lakeshore buildings. When it got dark, all the lights were beautiful to behold.
Saturday, March 3, 2007
North Miami Beach to Palm Beach
47 miles
It took us eight hours to go 47 miles, because there were 14 bridges that had to be raised so we could pass through, and almost all of them only opened twice in an hour, on schedule. On the way down, Dick developed a detailed plan to optimize our timing to make the bridges, and it worked perfectly. On the way back, we repeated the plan in reverse, and it worked well once again, but it still gets tedious waiting for bridges. It is especially bad to wait on weekends, because, while we are idling near a bridge waiting for it to open, all the weekend yahoos in their fast boats that are low enough to get through the bridge go flying by rocking us wildly in their wake.
The weather was sunny with temperatures in the 80s, so there were plenty of party boaters out. While we poked along, we had plenty of interesting people watching. I am wondering why among the under 25-year-old set it is the fashion for women to wear thong bikinis that leave very little skin covered while it is the fashion for young men to wear very baggy swim trunks that go down to their knees. This seems very inequitable. The only men you see wearing little Speedo bathing suits (which I think of as a make equivalent to a bikini) are old French Canadian men with big beer bellies. All that time waiting for bridges gave me plenty of time to analyze and philosophise about the behavior and the attire of our fellow boaters.
The very bright spot of our day was our visit with Dad and June. We got to spend a few days with them on the way down, but since we are in a hurry to get home, we just had an evening with them on the way back.
It was just an evening, but we packed a lot of action into our time together, beginning with Early Bird dinner at the Grumpy Grouper. Then we went back to Dad and June's for a busy night. We did our laundry while sharing a computer slide show travelogue of our adventures, and eating a Key Lime Pie we made to share a taste of the Keys with them. Our next-boat neighbor at Sombrero Dockside, Peter, gave us the recipe for the pie, and we have included it in the blue box below so you can try it, too.
On the way back to the boat, I ran into the grocery store to reprovision, while Dick and Dad and June sat in the car. Just as I started for the exit door after checking out, the lights went out and the doors slammed shut. It was a few seconds until the emergency lights came on, and it registered that the power was out. It was a dramatic moment. With employee assistance, I escaped the store, glad I had completed my purchase seconds before the power outage. Dick was right at the door, ready to come to the rescue. As we looked around, it seemed that the power was out as far as we could see. Just as we were worrying that Dad and June would have to sleep in the lobby of their condo without power for the elevator, the power was restored. We could all rest easy.
Dad and June dropped us off at our dock, and we returned to the boat with clean clothes, full bellies, and enough provisions to get us the rest of the way home.
Click here to continue to Page 2 (after you check out the recipe below).