March 4, 2007
Palm Beach to Fort Pierce
67.8 miles
The wind changed overnight from south to north, but it was still 68 degrees when we shoved off -- not bad, we thought. As the day wore on and the winds picked up to 20 miles per hour, and the sun failed to shine consistently, we both went below to dig deep into our drawers to find the jeans we hadn't worn in weeks. We even put on socks to keep warm.
So, the weather wasn't making us happy. And, our luck with the bridges didn't contribute to a cheery mood either. We had six bridges with scheduled openings that we needed to have raised for us today. Our bad luck began with the second bridge. We purposely slowed down after passing through the first bridge, to time our arrival to the second bridge at about five minutes before its opening time. When we got near the bridge and called for an opening, the tender told us that her next opening would be in 20 minutes. The opening schedule had changed since the last time we went through, little more than a month ago! So we sat and waited and Dick stewed, knowing that if we had just gone our normal speed from the first bridge, like most boaters who don't plan ahead as thoroughly as he does, we would have made the opening.
When we got to our fourth bridge, the tender radioed us to say that he had to delay his opening, because he just got a call from the police that an ambulance would be needing to cross. The delay turned out to be ten minutes. After the first five minutes, Dick was once again rumbling and grumbling, knowing that we would miss the next opening of the following bridge, due to our delay at this one. He didn't take much solace from the hot chocolate I made while we were waiting, or from my observation that we were lucky to be waiting for the ambulance, and not in it.
To recap -- we are chilly, the north wind is howling at 20 mph, whipping up little white cap chop, we've had a little bridge frustration. The thought of anchoring out, bobbing in the chop and huddling inside the cabin with the generator rumbling to run our heaters is just too depressing. So, we give ourselves something to look forward to at the end of the day -- we make a reservation at the Fort Pierce City Marina.
Fort Pierce was a new port for us. Since it was nearly 6 p.m. when we got tied up and ready to go ashore, we didn't have a lot of time to explore the town. And, we quickly learned not many places are open after 6 p.m. on a Sunday night in Fort Pierce.
Even so, we left Fort Pierce with two very distinctive memories.
The first was of its aroma. Fort Pierce smells like orange juice -- fresh, delicious refreshing orange juice blows in the wind. As the aroma got stronger, we found ourselves beside a Natalie's Orange Juice processing plant. Natalie's -- our favorite fresh squeezed!
Looking more closely, I saw a dingy tanker truck at the loading dock with a pipe leading to it from the factory. Yuck -- I'd rather drink from the shiny truck that delivered our diesel fuel in Fort Lauderdale! As disillusionment set in, Dick assured me it was possible that the tanker was receiving waste products from the processing. I am holding onto that image.
The second memorable aspect of the town is its murals. They can be found all over town, on virtually every street. Our favorite one is a train engine emerging from a tunnel, painted on a wall next to the railroad tracks. At night, the headlight on the engine shines bright. The title of the mural is "Night Train." Other murals depict historic events or scenes, and some are just works of art, changing blank walls into architectural fantasies. The mural celebrating the town's centennial is undated, but otherwise quite elaborate. We wish they had put an historic marker next to it to interpret it for us, but since the mural includes a train and oranges, we figure that the railroad has probably been shipping oranges from here for a long time, and the smell of oranges is an established part of the town's character.
Goodbye, Fort Pierce, when we drink our orange juice we will think of you.
March 5, 2007
Fort Pierce to Titusville
88.8 miles
We knew we had a long day ahead of us when we started, but when our starboard engine started losing power shortly after noon, our day turned longer.
Dick quickly hypothesized that all our bouncing around had stirred up gunk from the bottom of our fuel tanks, clogging the fuel filter, and starving the engine. As we were looking at the chart, deciding where we might stop so Dick could go down in the engine room and check things out, the engine died, pretty much making the decision for us. Fortunately, we were in a section of the waterway with deep enough water for us to just pull out of the channel on the power of one engine, and drop anchor. Dick went below, changed the filters on both engines, and we winched up the anchor and were on our way -- all within less than half and hour. We felt like the pit crew at the Indianapolis Speedway.
We held our breath, but the engines purred all the rest of the afternoon, verifying that the problem was in fact the filter, and nothing more serious.
Throughout the day we had many visits from dolphins who swam and jumped in our wake, amusing themselves and us in the process.
We made it to Titusville Municipal Marina just before dark, and got off the boat just long enough to register at the marina office and buy a pint of ice cream there. We were beat.
Since we didn't get off the boat this time, if you want to learn more about Titusville, including the Kennedy Space Center, click here to check out another time we visited and stayed a while.
March 6, 2007
Titusville to Palm Coast Marina
76.2 miles
The stretch we covered today is my favorite cruising of the entire route from Savannah to Florida. We traveled on narrow rivers and canals cut through mangroves and marshland, and crossed the broad Mosquito Lagoon, a mecca for shore birds and waders.
I virtually abandoned my Kokoru puzzle book all day to scan the shore, sky and water for birds. Dick managed to keep his eye on our nautical charts and all the water hazards and marks, and to sight birds of interest, as well. By the end of the day, we had seen 33 different species of birds, including dozens of roeseate spoonbills, at least a hundred loons, and just about all of the egrets and herons that hang out anywhere in Florida. (Actually, we saw far more than 33 species of birds, but we could only identify 33 -- the rest were too small or too fleeting to see from a moving rocking boat. On the water, Dick doesn't brake for birds, unless he is in a kayak or dinghy.)
Given how plentiful the beautiful white Snowy and Great Egrets are today, it is hard to believe that one hundred years ago, the Audubon Society estimated that there were only 250 Snowys and 1400 Greats in all of Florida, Georgia, South and North Carolina. The problem was that their feathers were popular hat decorations, especially the lacey flowing breeding plumage they develop this time of year. Back then, breeding plumage feathers sold for $32 per ounce -- twice the price of gold. And you know how light feathers are -- to get an ounce of feathers, a hunter had to kill four adult birds.
Fortunately, the breeding plumage-trimmed hats became popular with prostitutes (appropriate, if you think about it) before all the birds were killed off. Once that happened, no woman of good breeding would wear a hat with breeding plumage, and the fad died while the birds lived happily ever after.
Our travels today also took us past the stately Ponce de Leon Inlet Light. Check the blue box below to learn more about this notable light.
We stayed at Palm Coast Marina, a new stop for us. We believe Palm Coast is a testament to the Disneyfication of Florida. From our limited perspective, Palm Coast seems to be a town made up of multiple candy-colored high-rise condo resorts with fantasy landscaping around their swimming pools. We got an inexpensive berth for Starsong there only because the resort where we stayed was under construction.
Just up the road a couple blocks from our resort was the European Village Resort. The woman who checked us in to the marina told us it was a "must see" experience. "Have you ever been to a European Village?" she asked us. "It is just like a European Village," she promised.
I will admit we were a little skeptical, but when we walked through the archway on the side of the hotel and condo complex surrounding the village . . . our skepticism was fully validated. An oldies radio station that broadcasts from the Village was blaring from loudspeakers throughout the pseudo-brick courtyard in the center of the Village. The architecture of the storefronts and of the facades of the condo buildings that rose above them was a very sanitized version of a European Village, perhaps, but the fact that we couldn't really tell if it was supposed to be a French, a British, or a German Village would be the first clue that it really wasn't much like a real European Village. Nonetheless, we managed to suspend our disbelief and get into the spirit of an American tourist in a foreign land, shopping till we dropped, then eating safe and comfortable foreign food -- pizza.
March 7, 2006
Palm Coast to Fernandina
86.6 miles
We were off the dock at 6:40, anticipating a long day, but the tide was with us almost all the way, and we averaged 9.2 miles per hour travel speed, possibly a new speed record for us. Given all the different inlets we passed and tidal creeks and rivers we traveled, we could never have planned the day to hit so many helpful currents.
The tides were with us, the temperature hit 78 by noon, and Florida Petroleum in Fernandina had a good price on fuel -- it was our lucky day. We were fueled up and tied up at the Fernandina Marina before 5 pm., and we had time for a walk around town before everything closed up.
The weather report sounds like we will have good weather the next couple days, so we will probably make it home. Lucky, lucky, lucky.
March 8, 2007
Fernandina to Duplin River Anchorage
69.8 miles
We have been to Fernanadina so many times that we have our morning ritual down -- while Dick readies the boat for departure, I skip down the main street to the Amelia Island Coffee Company, which opens at 7 a.m., to get lattes and breakfast sweets to consume after we cast off. If we leave after 8:30, we get a New York Times with our coffee.
We were off the dock at 7:25, with lattes and muffins on the flybridge, getting our news from the satellite radio.
We had to pass through five sounds today. Our two morning sounds were glassy smooth, but as the winds built to 20 mph by mid-afternoon, the coastal waters built to a healthy chop. We rocked a bit, but it was hardly worth mentioning. We did wonder what it would be like tomorrow, though, if these winds kept up, as the weather radio predicted they would.
As we passed Cumberland Island, we scanned the shore for the little wild horses that often graze there. This time, we didn't see any horses, but we did learn more about them from one of our cruising guides. The horses are known as "marsh tackies," because they graze the salt marshes on the island. They are descendents of work horses brought to this country by Spanish explorers. The horses are small, because they were bred to be that way, so they could fit into the available space in the ships the Spaniards sailed from Europe to here. According to our cruise guide, recent blood typing studies done on the Cumberland Island horses links them to a line of Spanish horses that is 400 years old.
We picked our way through the crab traps in the Duplin River until we got to a relatively trap-free zone, where we dropped anchor at 3:15. We have just 50 miles to go tomorrow, and we will be home.
March 9, 2007
Duplin River anchorage to Delegal Creek Marina -- HOME
51.4 miles
We hauled anchor at 7:20. We needed to get an early start so we could navigate the channel into our marina before mid-tide at 2:30 or so. The entrance channel was supposed to be dredged while we were gone, but work hasn't even begun. This flexible approach to time is the one aspect of life in the South that sticks in our craw.
The day was overcast, and the wind blew at a steady 20 mph, with heavier gusts as we got into unprotected areas like the open water ocean sounds. After passing through our first sound of the day, Sapelo Sound, where waves were two to three feet, and the winds howled at us, we removed the American flag from our stern, because we feared its fierce flapping would snap the flagpole.
St. Catherine's Sound was even worse, as the wave crests were a bit higher and closer together. We were rocking so hard we had to hold on to the bar at our helm station to keep our balance. The spray washed over our flybridge windshield. We never felt unsafe or overly uncomfortable, but we did discuss the question of whether we would be traveling today if it wasn't for the oysters calling to us in Savannah.
We tied up at the gas dock in Delegal Marina. The wind and tide were so strong that we couldn't fight against them to get into our slip. (Dick did give it one try, and just barely avoided gouging our prow -- he merely slammed into a forgiving piling as he was executing evasive maneuvers.)
So, yes, we did make it home in time for the Oyster Roast.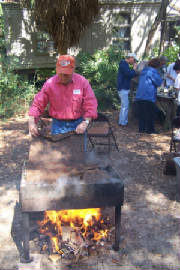 March 10
The Oyster Roast
Here's our host Bob Paddison roasting a batch of oysters. He told us that his neighbor just grabs oysters from the marsh out back of their house when he has a roast, but Bob gets his from South Carolina, because he prefers their salinity and tenderness. Bob is an oyster connoisseur.
He bought six bushels of South Carolina oysters to feed the fifty people at the roast. When you take into account that some of the people there didn't even like oysters, that meant everyone who did like them could eat as many as they could shuck. I spent at least an hour at the shucking table, and there were oyster fanatics who started way before me, and left the table much later.
To roast the oysters, Bob spreads them on an iron plate over a roaring wood fire. Then he covers them with damp burlap sacks. The trick is to roast them just long enough to get the shells to open a wee bit, but not long enough for the shells to really open, because then the oysters are overcooked and lose their juice and tenderness. Bob has the timing down perfect.
While Bob attentively roasted the oysters, his friend, who was hosing the next batch down to eliminate excess marsh mud, would periodically stop to pry open a few raw oysters and feed them to Bob like a mother bird feeding her open-mouthed baby bird.
When the oysters are roasted to perfection, someone shovels them off the grill plate and dumps them on the eating table (which is a big sheet of plywood with a hole cut in its center on a couple saw horses). The table is surrounded by eager oyster eaters wearing a gardening glove on one hand and wielding an oyster knife in the other. The oysters are in clumps, so eating them requires some attention to detail -- you need to be sure you don't miss a little shell in the mass of oysters. I think the littlest ones are the tastiest, but some people don't even bother with them.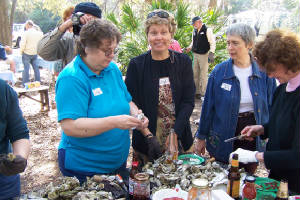 Resting a moment at the oyster shucking table
There is a wheelbarrow under the hole in the table to catch the shells people toss into the hole as they finish them off. When the shells start to mound high in the barrow, someone whisks it away, and dumps the contents on a huge shell pile next to the house. We hear that pile really starts to smell in the next couple weeks after an oyster roast. That's the fault of those people who don't eat the littlest oysters. I'm sure I didn't leave a thing but the shells from the oysters I shucked and picked -- my shells don't smell.
When the shell pile grows to gargantuan proportions, they call the Department of Natural Resources to bring their truck and haul it away. The DNR uses the shells to seed new oyster beds.
Did I mention that the Oyster Roast is a covered dish event? Someone even brought a gas grill and made burgers and hot dogs. There were also more than plenty of home made desserts. We whiled away the afternoon catching up with all that has happened since we left for the Keys, renewing our new friendships and eating, eating, eating.
We agreed that the Oyster Roast was an event more than worthy of the extra long cruising days we put in to get home for it.