This section has four pages. Click the link directly below, or at the bottom of this page to go to Page 2 -- Marathon. There also is a link directly to the second and third pages of Marathon adventures on this page, directly below this section.

Click here to go to Page 2 -- Marathon.
Click here to go to a second page of Marathon adventures, beginnning February 9.
Click here to go to our Marathon final days.
January 29, 2007
Fort Lauderdale to Dinner Key Anchorage (off Coconut Grove)
33.3 miles
We had a 9:30 appointment to meet a diesel fuel truck along the river wall just ten minutes downriver from the Marina. Being punctual sorts, we shoved off from our slip just before 9 a.m. As luck would have it, just as we rounded the bend in the river before a railroad bridge that is always open, except when a train is coming, the bridge was closing. We congratulated ourselves for leaving so early, and idled, waiting for the train. A fuel barge on the river ahead of us pulled over and tied up at dockside pilings to wait, which should have been a clue to us about the length of the wait. Half an hour later, the train finally came, and it was a long one, pulled at what seemed an agonizingly slow pace by three engines.
The train finally cleared and the bridge rose at 9:27, and a shiny fuel truck was waiting for us at our meeting spot when we arrived five minutes late. The driver couldn't have been more affable. We were the only ones who were concerned about being late. We keep forgetting we are in the land of southern time.
Having fuel delivered to us was a first. We felt pampered -- like we were getting room service or a house call. Best of all, our delivered diesel fuel cost less than fuel from a marina pump. Don't look for this trend to extend to the auto world -- we think that special delivery is made possible by economies of scale. Our fill-up was 240 gallons (and our tanks were only half empty at the time).
A 10 mph north wind at our back pushed us along beneath sunny skies with temperatures hovering at about 70 degrees. In other words, we enjoyed yet another glorious cruising day as we made our way to Biscayne Bay.
It was also perfect weather for sailing, and as we approached our Dinner Key anchorage, we came upon a race course being run by over a dozen 49ers. The U.S. Olympic Sailing Team training center is located here. We paused to watch the crews round a mark and deploy their spinnakers, then haul them in as they rounded the next mark. The precision of their moves -- not a bit of wind spilled, the spinnaker gone in two seconds -- was awe-inspiring to see at close quarters.
January 30, 2006
Dinner Key to Boca Chita Key
17 miles
Since we had such a short route to travel today, we took our dinghy into the public dinghy dock in the morning and wandered around the town of Coconut Grove, a Miami outpost. We had a fancy breakfast at a trendy sidewalk cafe, then made a provisioning stop at a huge Whole Foods Market, where I got a fabulous assorted sushi roll lunch, among other culinary treats.
The Miami City Hall is on the waterfront near the dinghy dock. From 1934 until 1945, the city hall building was the terminal for Pan American Airlines' Latin American seaplane fleet. Pan Am called the planes "Flying Clippers," and a popular form of recreation back in the day was to bring a picnic to Dinner Key and watch the planes take off for exotic destinations.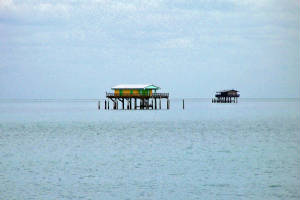 Stiltsville house
When we left at nearly 1 p.m., we were excited to see that another sailing race was forming out on the Bay. But, when we got to the race course, the Tornado Catamarans were all just milling about, coaches in motor craft hanging at their sides. The wind was very light, so we figured that they were waiting to see if it would build before trying to race. This race was an international event -- from the sails on the boats we could see there were participants from Canada, France, Great Britain, Portugal, Spain, Russia, Denmark and Germany, as well as the US. We hung around the edges for about a half hour, but gave up on the possibility of a race anytime soon, and cruised on.
Our course took us past the historic Cape Florida Light. For a dramatic story from the light's history, check the blue box at the bottom of the page.
Just off Cape Florida, in sight of the Light is the unique community of Stiltsville, a cluster of less than a dozen homes built on stilts in the bay waters far from shore. They began as fishing shacks and private clubs, and eventually became private homes. They have survived numerous tropical storms and hurricanes, but now are endangered by the National Park Service, which extended its boundary to encompass the community, and wants to remove it. Attempts to protect it by getting it on the Register of Historic Places have been unsuccessful, and it seems its days may be numbered. If we were making the decision, we'd put it on the Register -- we have seen no place like it anywhere other than Tangier Island in the Chesapeake Bay. This is one time that we have a bone to pick with the National Park Service.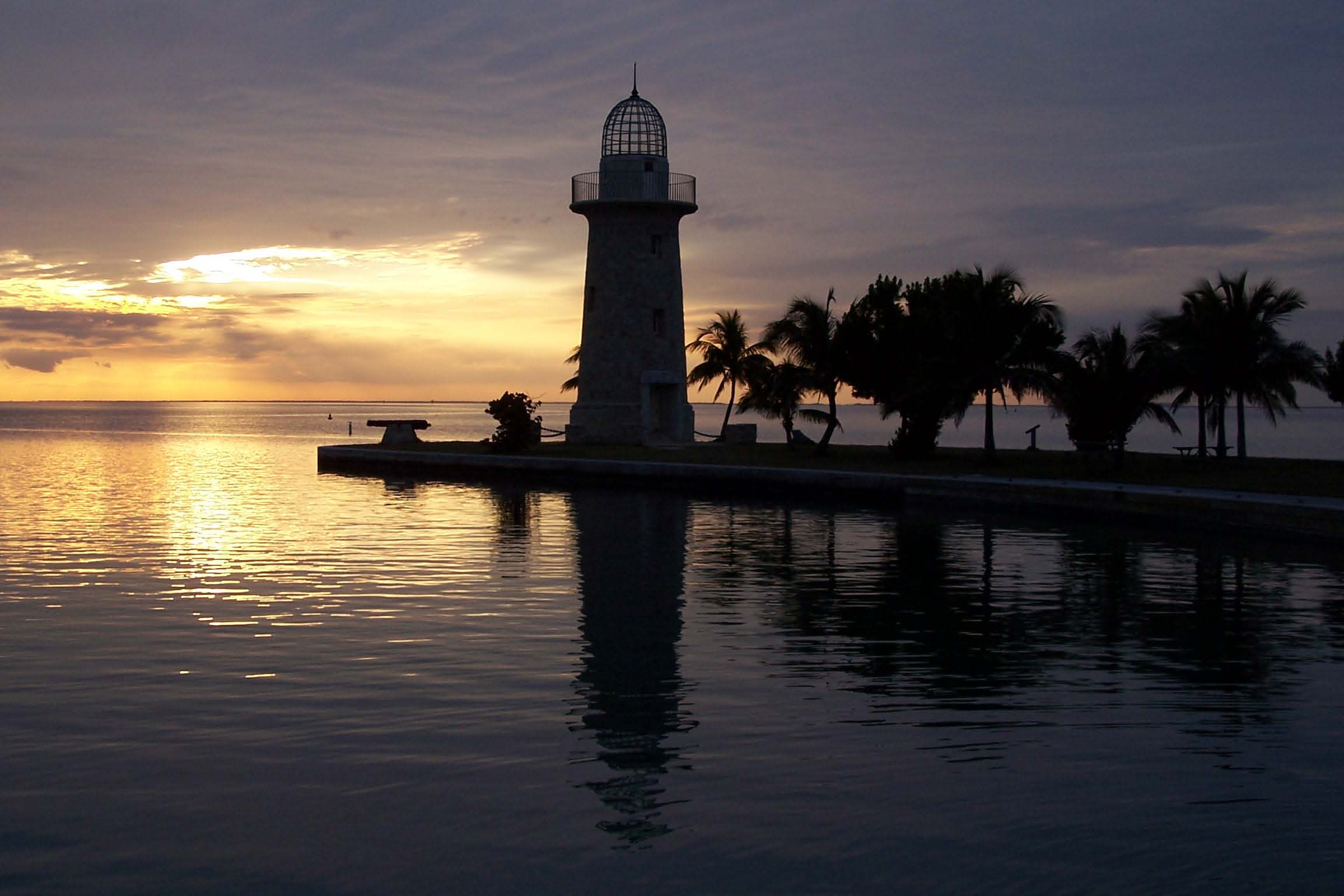 Boca Chita Tower
We couldn't stay mad at the park service too long, though, because we were both enchanted and fascinated by our stay at Boca Chita Key, part of Biscayne National Park -- the same National Park that was expanded to encompass Stiltsville.
Mark Honeywell, founder of Honeywell Heating Controls, puchased the 32-acre Key in 1937, and set about building a grand boat harbor with a beautiful lighthouse to guide his yacht in at night. He planned to develop his island into a tropical paradise get-away for personal enjoyment and corporate entertainment. At the time he was President of the "Committee of 100," a social club for industrialists of stature. From what little we know, we are thinking of the Committee as something of a successor to the Jekyll Island Club.
Honeywell stopped construction in 1939, after his wife Olive died from complications of a fall she took on the island. He sold it in 1945.
The island's signature structure, the 65 foot coral rock light tower, was extinguished soon after it was completed, never to be lit again. It seems that Honeywell neglected to clear this "uncharted aid to navigation" with the Bureau of Lighthouses. They nixed the light, but let him keep the tower.
The National Park system acquired the island in 1985, and maintains the boat harbor and its bulkhead for the convenience of visiting boaters. We strolled a path that circumnavigated the island, reading park curatorial signs along the way and picking up a few little shells on the island's tiny beach. We could see Miami's skyline twenty miles across the water.
Two Looper boats were tied up behind us, and we chatted a bit with them and other boaters on the island. Mostly, though, we just relaxed and enjoyed our brief stay on this little tropical paradise.
January 31, 2007
Boca Chita Key to Islamorada
56.6 miles
We knew we were in the Keys when we got to Boca Chita, because the tiny island beach was strewn with more coral fragments than shells. We knew we were in the Keys when we got to Islamorada, because there was a floating pink Cadillac parked at the dock near the Tiki Bar.
We watched our anchor drop all the way down to the pure white sand bottom just six feet beneath us off Islamorada, then took our dinghy into the shallows at the Key's edge. A waterfront bar called Lorelei's had a dinghy dock for patrons, so we tied up there, and had Happy Hour drinks while listening to live beach music, watching the sun sink and checking out the locals, including a leather-skinned woman with a grey ponytail stretching below her waist wearing a Swamp Guide's Ball tee shirt. Judging from the many hugs and kisses she exchanged with all the fishermen at the bar, we think she may have been the Queen of the Ball, or at least Miss Congeniality.
After observing that all the food at Lorelei's was fried and served in a plastic basket, we decided to take a walk about Islamorada and find dinner elsewhere. We were sorry we had left the camera on the boat. In addition to the floating pink Cadillac, we saw a larger than life mermaid bedecked with strategically placed silver-dollar-size sequins, roadside cottages in colors beyond Crayola's wildest imagination, and other intriguing island ephemera.
We stopped into a World Wide Sportsman store, which was like a Bass Pro on steroids. The centerpiece of the store was the "sister ship" to Ernest Hemingway's fishing boat Pilar. Stairs at its side allowed us to board the boat, which was covered with pictures of Ernest Hemingway fishing with celebrities and holding up his trophy catches. The store also had a mega-aquarium tank filled with indigenous fish. It had huge resort fashion sections for both men and women, plus lots of water sport clothing for men. Fishing artwork would seem to be a narrow niche market, but this store had it covered.
We ended up walking a long way in the opposite direction from Worldwide Sportsman to get to Bentley's, a restaurant our cruising guide gushed over as a winner of countless "people's choice" awards. We knew we were in for a treat from the minute we walked in and saw a daily specials board with over twenty offerings and smelled the mouth-watering aromas of fish cooked with garlic and lemon and onions and butter. Our dinner was well worth the extra walk. Actually, it was probably a good thing we had the extra walk, since we ate so much and so well.
By the time we got back to our dinghy, it was after 9 p.m. We had come ashore prepared with portable running lights for the dinghy and a flashlight to help find our way back to the boat. It turned out we didn't need our flashlight at all. A full moon high above shone so bright that we cast moon shadows, and the water flashed silver for us all the way back to Starsong.



Cape Florida Light
The Cape Florida light is a classic slender white tower topped by a black lantern room. When it was first lit in 1825, it was a 65 foot tower with wooden stairs, although today it stands 95 feet in height.
In 1836 a band of Seminoles attacked the tower. The keeper and his family had already evacuated, but the assistant keeper and a handyman were there, and they barricaded themselves in the tower. When the Seminoles set fire to the tower door, they raced up the stairs with muskets and a powder keg. The fire spread to a 225 gallon oil tank, and began burning the stairs. The heat increased, and the keeper and handyman were forced out onto the two-foot wide iron balcony atop the tower, where they became targets for the Seminoles' bullets.
The handyman was killed and the keeper wounded. With his clothes afire, in a final act of desperation he threw the powder keg into the flames. The resulting explosion destroyed what was left of the staircase, lessening the heat on the balcony, and turning the Seminoles' attention to burning down the keeper's house.
Meanwhile, hearing the explosion, a Navy ship set course to investigate. When it arrived the next morning, the Seminoles were gone, the keeper's house burned, and the injured assistant keeper stranded 65 feet above the ground.
The quick-thinking Navy captain fired twine from his musket, and the assistant keeper caught it and used it to haul a heavier rope up the tower. Two member of the Naval crew then climbed the rope to rescue him.
Rebuilding efforts were delayed for over ten years,due to Seminole hostility. When the lighthouse was finally rebuilt in 1847 it had an iron stairway.
The light was extinguished in 1878, when a new offshore light replaced it. By 1920, the Cape Florida coastline had eroded so much that the tower, originally built 100 feet inland, was only ten feet from the water's edge. The tower was neglected, efforts to get it declared an historic landmark were rejected, and the tower seemed doomed, until news editor Bill Baggs spearheaded a campaign to save it, and the state cabinet eventually responded by purchasing the land around the light and making a park named for Baggs, which opened in 1967. Eleven years later -- 100 years after the Cape Florida Light was extinguished -- it was relit on July 4, 1978.