Traffic has backed up on the Tombigbee Waterway. After the devastation of this year's hurricane season so far, no one, including us, is in any hurry to get to the Gulf before the season has run its course. Marinas along the Tombigbee are full of boats who have come up from the Gulf for protection from storm surges, and downbound boats holding up a while to be sure Wilma's mess is cleaned up before they continue to their winter berths.
We are spending a week or so in Florence before continuing down the Tombigbee with our traveling companions. Jim and Ellie are going home to Nashville to take care of some business, and have invited us to join them there. We are renting a car here and seeing some local sights before traveling to Nashville for a visit. Then we will all be on our way South to the Gulf.
There are three pages to this section. Click the links below to go straight to page 2 or page 3, if you have already read this page.
Click here to go straight to page 2.

October 25, 2005 Joe Wheeler State Park to Florence, Alabama
21 miles
With only 21 miles to go, we expected to have a short day, and get into Florence well before noon. We were anxious to get there because our friends Roxanne and Lenny on Summertime were docked there waiting for us. They were on their way upriver to Chattanooga, and we were on our way downriver, but we would have one day to reconnect before continuing on our separate ways.
We experienced our first delay when we called the Wheeler Lock, and the lockmaster told us she was working a barge and tow through, so our lockage down wouldn't be for another 45 minutes or so. We were a bit surprised to hear a woman's voice on the radio -- this was the first woman lockmaster we have come across in the United States. We delayed our departure, got to the lock 45 minutes later and locked through on schedule.
Then, when we got to Wilson Lock, the biggest lock of our trip, the lockmaster told us he, too, was working a tow, and the wait there would be over two hours as he made multiple lockages to get all the barges and the tow up. We rafted up with Geminellie, tied to an auxillary lock wall to wait, and wait.
We listened to our satellite radio as we waited, and learned that Rosa Parks died yesterday at the age of 92. December 1 will be the fiftieth anniversary of the day in 1955 that she refused to give up her seat to a white man on a bus in Montgomery, Alabama. Her arrest for this offense was a landmark event in sparking the Civil Rights Movement in this country. She was a shy woman with a sense of dignity and purpose, and her simple act of protest against injustice showed that one person who takes a stand for what she believes is right can change history. She was a native of Alabama, but after her arrest she lost her job, as did her husband, and they moved to Detroit, where she has lived ever since.
There have been many regrettable chapters in the history of this state.
Wilson lock
After we had been waiting nearly three hours, the lockmaster finally called the six waiting pleasure boats to enter the lock, and took us down 93 feet in just 18 minutes. When he opened the front gates at the end of the lockage, we were staring at a three wide "12 pack" barge load waiting to go in. We squeezed out around the edge of the barges, then watched the towboat masterfully push his load into the lock with what looked like six inches to spare to either side.
We finally got to Mystic Harbor Marina in Florence, Alabama, at a little after 3 p.m., and Roxanne and Lenny were waiting to grab our lines and help us tie up. We just couldn't get enough of them. It was great to catch up, share adventures, and just spend a little time together again.
Roxanne and Lenny and our current cruising contingent all got together for cocktails aboard Geminellie, then we all piled into the marina loaner van and headed out for Mexican food. Our convivial group of cruising friends old and new enjoyed a most festive evening together.
Wednesday, October 26, 2005 A Roadtrip to Johnsonville, TN
Dick and I drove Jim and Ellie to their car at Pebble Isle Marina, near New Johnsonville, Tennessee. From there, they drove home to Nashville, and we drove back to Florence, a round trip distance of about 230 miles.
Our journey took us north through small towns and rural areas, on roads twisting over rocky ridges, past white frosted cotton fields, dairy farms and vast swaths of unsettled woodlands. As we got closer to Pebble Isle, the scenery looked familiar (we saw signs for Loretta Lynn's Ranch), and we realized we had traveled this roller coaster roadway back when we stayed at Cuba Landing Marina and used their loaner van to go out to dinner and get groceries at the nearest town, which turned out to be 25 miles away from the marina. That was the day we first met Frank and Karen on Maine Course, who shared the van ride with us.
Along the way, Jim and Ellie introduced us to two key elements of Tennessee culinary culture. When we made a rest stop at a Shell gas station, they introduced us to fried pies. Across from the cash register was a rack full of what looked like pancakes folded in half wrapped up in plastic wrap. The guy behind the cash register said he made them fresh this morning. We bought a couple peach fried pies, and our taste test revealed that the crust, which was saturated with cooking oil, tasted like a cross between a crepe and soggy pie crust, and the filling was a puree which tasted more like dried apricots than peaches. Although it doesn't sound good, it had so much of those magic ingredients of fat and sugar that it actually tasted pretty good, as long as you didn't compare it to a real pie.
We also learned about a genre of Tennessee eating establishments referred to as "meat and threes." These are restaurants that let you mix and match your meal by choosing one meat and three sides from the menu. Usually the meat choices include fried chicken and meatloaf, and the sides include mashed potatoes, collard greens, fried apples, and green beans cooked with pork. The meal always includes bread, corn bread if you are lucky, and the price is around $5-6. We had lunch at a meat and three restaurant, and realized we have enjoyed meals at many small town meat and threes in Tennessee, but just didn't know they were part of a regional genre, like the New York diner and the Chesapeake crab house.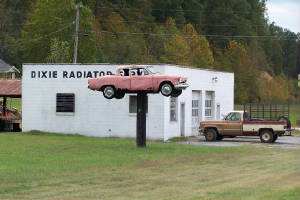 A scenic roadside view in Tennessee
Before dropping Ellie and Jim off at their car, we stopped at the Johnsonville State Historic Park just about half mile away from the marina. We wrote about the battle of Johnsonville back when we passed this area by boat on October 3. The Battle of Johnsonville was the only military engagement where a cavalry force defeated a naval force. We read a little more about the battle and the history of the now drowned town of Johnsonville on historic markers in this beautiful park.
Johnsonville was a prosperous river-rail transfer point for about forty years after the War Between the States, but flooding stopped its growth in the early 1900s. Somewhat ironically, the TVA bought up Johnsonville and flooded it out of existence as part of its dam project intended to control flooding and generate power. A town called New Johnsonville was built on higher ground not too far away.
On the way back we amused ourselves by finding road signs with misspellings (Pumkin Creek, Little Possom Creek) and unusual place names (Ulcer Hollow). A close reading of road signs in this state puts drivers in danger of succumbing to Tennessee hillbilly or redneck stereotypes.