Sunday, October 30, 2005 A Field Trip to Huntsville
We missed a chance to visit the Space and Rocket Center in Huntsville on our way downriver, because the water was too low for us to get into the marina nearby. Since we had a car here in Florence, and Huntsville was only around 50 miles away, we piled in the car with Frank and Karen for a field trip there today.
Our travels took us past miles and miles of cotton fields -- some unpicked and others mowed down, with semi-truck size rectangular blocks of packed cotton covered with tarps waiting to be hauled for processing. White cottonball scraps were caught in the weeds at the edges of the highway median and shoulder like so much litter.
It is not by chance that the Space and Rocket Center resides in Huntsville. The aerospace industry is the engine that has driven Huntsville's growth for the past thirty years or so. In 1950, Werner von Braun and his team of German scientists joined U.S. rocketry specialists at the Redstone Arsenel in Huntsville to design and build missiles for the Cold War effort. Seven years later, when the Russians demonstrated their superiority in space exploration by launching Sputnik before we could get a satellite into space, the government finally gave von Braun's team approval to use their missile technology to launch a satellite, and just three months later their Jupiter-C rocket successfully carried our first orbiting satellite into space.
The National Aeronautics and Space Administration was created in 1958, and in 1960 the George C. Marshall Space Flight Center in Huntsville was charged with providing launch vehicles for NASA's space exploration projects. The Space and Rocket Center tells the stories of space exploration through real and reproduced full-size rockets, extensive exhibits of space mission artifacts, an IMAX domed theatre, and lots of hands-on experiential activities.
We learned a lot of interesting new facts about rocket development and early space exploration from an enthusiastic tour guide. The Mercury spacecraft was the first to take an astronaut into space. The Mercury trainer/simulator on display looked very small, and our tour guide told us that the maximum astronaut size for the capsule was less than six feet tall and less than 153 pounds. She also told us another interesting fact about Alan Shepherd, the first man in space. When he was all strapped in and they were about to count down for his launch, he found himself in need of a restroom. Since they couldn't stop all the systems and let him out, mission control told him to just wet his pants, which turned out to be pretty uncomfortable for him, since he was lying on his back with his feet in the air at the time. This little incident earned him the flight handle "Wetback," and inspired the use of "collection devices" for all future space flights.
We saw a replica of the lunar rover, and learned that it travels at the same speed as our boat. The seats on the rover are aluminum lawn chairs with plastic webbing seats. We wondered how much the government mark-up was for those chairs, available at any Wal-mart.
We approached an exhibit pod that was moving about like a giant cocktail shaker, and was billed as a Mars lander simulator. A video introduction by Apollo 17 Commander Gene Cernan, the last American to step on the moon, compared this simulator to the one he and his crew practiced in before going to the moon. He promised we would hear, see and feel what future astronauts may very well hear, see and feel when they land on Mars. When the simulator stopped shaking, a family with two kids who looked to be about five and seven years old emerged, and under my intense interrogation swore that none of them felt sick, and it was fun.
With this assurance, we got into the simulator, and over the course of our experience inside learned that NASA's scientists believe that there is a big roller coaster on Mars, with tracks that go into tunnels with flashing lights and maybe take you into some other dimension before you land safely back on the red planet. This was news to us, and would probably be news to Gene Cernan if he ever had the chance to ride in the simulator.
We learned lots more, but after about four hours, we ran out of steam and headed back to Florence.
When we got back, we found that some of our Looper friends had arrived while we were gone. Patience, Vagabond, and Rosetta, were all on the docks, and they told us we were just in time for cocktail hour. As we were sharing cocktail hour, Options came in just before dark.
We passed Options as we were leaving Chattanooga and they were on their way there, and we talked to them on the radio, but this was our first chance to catch up on their adventures since we cruised with them in the North Channel. Mary told me about a stow-away rat that boarded their boat in Hale's Bar or Chattanooga. Their unwelcome guest met his demise in a trap they set in the engine room shortly after detecting his presence there and in the galley, where he seemed to have a taste for RyKrisp.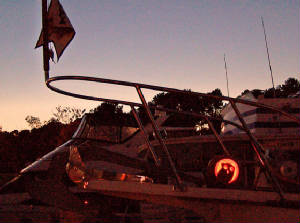 Monday, October 31, 2005 Happy Halloween in Florence
We spent a quiet day aboard the boat.
Dick fixed our autopilot, which hasn't worked since the boat was hauled in Beaufort, South Carolina last spring. He long ago figured that a wire for the autopilot probably got dislodged when workers were replacing our defective depthfinder, but until today he hadn't been able to trace the problem wire in the big tangle of electronics cables and wires stretching through Starsong. He crawled into the little storage space beneath our upper helm station and systematically tested and sorted every wire he could find, and finally found the mystery wire. Autopilot will make the long cruises across Mobile Bay and the Gulf much more comfortable for Dick, relieving him from hours of holding course at the wheel in open water.
In the afternoon, I took a birding walk with Carol from Vagabond. We didn't see any unusual birds, but we enjoyed a walk and talk in the park on a beautiful fall day.
As evening fell, we lit our carved pumpkin and put it on our bow pulpit, then joined Frank and Karen for a wonderful dinner aboard Main Course.
Dick's repair to our autopilot was today's trick, and dinner on Maine Course was our treat -- all in all a perfect Halloween day.
November 1-3 A roadtrip to Nashville and back
We traveled to Nashville to visit Jim and Ellie at home, and bring them back to their boat in Florence.
Nashville is 145 miles away from Florence, so we needed to start our trip with solid sustenace, and, fortunately, we found a Krispy Kreme shop on the way out of town. We were only two steps inside the door when the woman behind the counter offered us "samples" - two classic donuts she pulled off the conveyor belt fresh from the glazing waterfall, still hot and airy light. What a way to start the day! We made short work of our samples, and walked out with coffee and a few more donuts to fuel us on our way.
We found our way to Jim and Ellie's country estate just north of Nashville at a little bit after noon. Their home is set far back from a rural road, and has beautiful views of fields, woods or their pond from every spacious room.
After settling us into our comfy guest room furnished with great antiques (both Jim and Ellie owned antique malls in past lives), and orienting us to Nashville's best scenic attractions, Jim and Ellie set us loose to explore the town, while they headed off to appointments and business engagements.
We began our visit with a Trolley Tour, which provided a great overview of the history of the town, and ended with a bang -- literally. We learned many facts about Nashville, from the rediculous (Playboy's 2005 Playmate of the Year lives here in a gated community of $1 million dollar plus homes) to the sublime (the Ingram family, whose name we have seen on the most well-maintained tows on the Ohio/Tennessee River system, has donated $43 million dollars for a new Symphony Hall that is under construction and slated to open in 2006). We saw the Country Music Hall of Fame, which has windows arranged like black piano keys, and a Cadillac tail fin swoop incorporated in its design.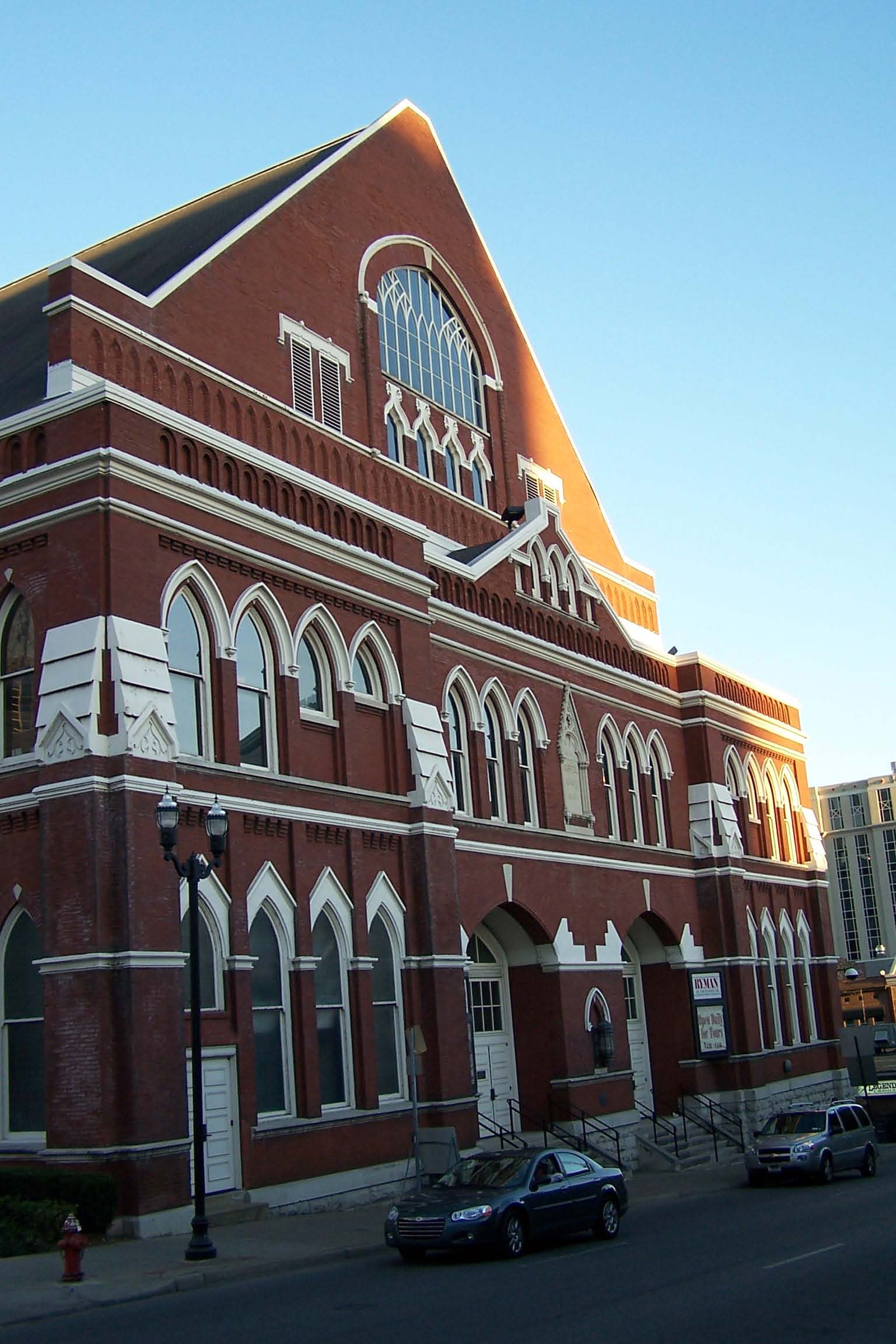 Ryman Theater, home of the Grand Ole Opry
We also learned about the history of the Ryman Theater, where we had tickets to see the Grand Ole Opry tonight. Thomas Ryman was so impressed by a revival preacher he heard in Nashville that he spent ten years raising the money to build him a grand church, originally called the Union Gospel Tabernacle. In 1943, the church became the home of the Grand Ole Opry, and it remained the Opry's home until 1971, when a new Opry house opened that was just 100 seats short of twice the Ryman Theater's size. Now the Ryman Theater is just the winter home of the Opry. We felt fortunate to be there on the first day of the Opry's winter season, so we could see the Opry in its original setting (even though that meant we had to sit on hard church pews instead of the cushy seats in the new Opry house).
The Grand Ole Opry is the longest running show in the history of radio. In October it marked its 80 year anniversary on the air. In all that time the Opry has only missed two weeks -- during World War II and during a flu epidemic.
We interrupt this description of the Grand Ole Opry in the same abrupt manner that our tour was interrupted about the time our guide was about to get into the details of the exact replica of the Parthenon that Nashville built to celebrate its centennial in 1896. Our mini-bus and a mini-truck were both traveling in opposite directions precariously situated over the center line of the road. Their side-view mirrors met with a crash, and we sat in the middle of the road waiting for the police, threatening to cause another accident as rush hour traffic drove around us. After waiting 20 minutes, our driver finally got another bus to pick us up and take us back to the spot where we began the tour. We have no idea how much longer he waited or how much we missed.
Thanks to Jim and Ellie's son-in-law, who is a manager at the Opryland Hotel, we had extraordinary seats for the Opry, which packed eight acts into two hours, with brief commercials between the acts to allow time for one act to clear off the stage and another to bring out all their gear and connect it up with clockwork speed. We saw Grand Ole Opry legends Porter Waggoner, Bill Anderson, and the Osborne Brothers, who sang the Tennessee state song "Rocky Top," and a really bad song of theirs they claimed Kentucky adopted in 1992. We will have to research that one for authenticity. We also heard some younger singers with fabulous voices who we imagine are country music legends in the making.
When we got back to Jim and Ellie's after the show, they were waiting up for us, and we sat around the fire recounting our adventures until we realized how exhausted we were, and dragged ourselves to bed.
After sharing breakfast with Jim and Ellie, we headed out for another day of sightseeing around Nashville.
We began at the Gaylord Opryland Hotel, which is an extraordinary world unto itself under glass. The indoor courtyard areas of the hotel are divided into sections -- a river delta area so big that a tour boat floats through it, a cascades section with lots of waterfalls surrounded by tropical vegetation and tiki huts that would make you swear you were in Hawaii, and a conservatory with colorful flowers around its pools and fountains. Thousands of hotel rooms surround the various environments, and the expanses of glass above are so vast and so high that it is easy to forget you are inside. Everywhere we strolled throughout the hotel complex, workers were busy installing elaborate Christmas decorations while uniformed members of all our nation's services who were having a military surgeons' convention at the hotel were chatting in the many pleasant break-out areas around the hotel.
Delta River tour boat
We were most fascinated by the Delta River inside the hotel. We read a plaque along the River Walk that said on July 28, 1996, they had a "Blending of the Waters" ceremony to dedicate the river. During that ceremony, they blended water from 1700 sites around the world into the Delta River. A series of plaques listed all the sites, and they included just about every body of water we have traveled on our Loop -- Lake Okeechobee, the ICW, Chesapeake Bay, the Hudson River, Lake Champlain; the St. Lawrence, Rideau, and Ottawa Rivers, and the North Channel in Canada; all the rivers we have traveled south, and even lots of our side-trip rivers and anchorages along the way. We couldn't think of a body of water of any size we had traveled that they missed. Talk about major bodies of water -- they even included water from the duckpond of the Peabody Hotel in Memphis! (Rochester readers will be happy to know that the Genesee River and Lake Ontario were in the blend.)
Then we were on our way downtown, for a stroll through artful displays of fresh produce and colorful mums at the Farmer's Market, and lunch there on a patio overlooking Bicentennial Park.
After lunch we walked over to the park, and read a most interesting timeline presentation of the area's history on black granite walls along its perimeter. We learned way too much to share here, but here a just a couple of the most interesting ones. Tennessee got its nickname "The volunteer State in 1848, when over 30,000 men responded to the call for 2,800 men to join the Mexican War troops. Tennessee cast the deciding vote for the ratification of the 19th amendment giving women the right to vote in 1920. (Kingsport readers will also be proud to know that the timeline includes another important historic episode in 1920 -- "Tennessee Eastman Corporation (later Eastman Chemical Company) began operations in Kingport to produce methanol for Eastman Kodak Company film.")
The Tennessee Capitol building stands high on a hill above the park. It was designed by William Strickland, a Philadelphia architect who also designed the tower of Phildelphia's Independence Hall. Perhaps that is why a replica of the Liberty Bell stands among the many statues commemorating Tennessee heroes on the grounds of the Capitol building. Ironically, this great symbol of freedom is not far from a plaque telling how slaves and convicts quarried and transported the limestone used to build the Capitol from 1845 to 1859.
Geocache hunting took us on a good long walk about downtown, where we learned some more history (the Marathon Motor Car was manufactured here 1914-18, and the plant is still standing), and saw some great statues and memorials we would have otherwise overlooked. By about 4, we were done in, and we headed back to Jim and Ellie's to relax.
We had a quiet evening at home together by the fire, and turned in early, knowing tomorrow we had a long drive back to Florence.
When we got back to Florence, boats were weighing in at the end of the first phase of a bass fishing tournament. Anglers from across the nation had been preparing for the tournament -- finding their spots and testing their lures -- since we first arrived here a week before the tournament began. The first place prize was $50,000 cash and a $50,000 fishing boat. Altogether, the prizes totaled $1,000,000.
Dick and Frank went over to the awards tent to catch the action. The field was whittled from 200 to the top ten finalists, and there were lots of camera crews there to capture this great moment in the annals of bass fishing history.