Friday, October 28 Frank Lloyd Wright and W.C. Handy in Florence
Today we visited two homes in Florence that were as different in every way as two homes in a single city could be. One was Stanley and Mildred Rosenbaum's house, designed for the site by Frank Lloyd Wright in 1939. The other was a two-room log cabin where the Father of the Blues, W.C. Handy, grew up in the last part of the nineteenth century.
The Rosenbaum House
The Rosenbaum House was a wedding gift to Stanley and Mildred from Stanley's father, who owned several movie theatres in town. It was, and still is, the only home designed by Frank Lloyd Wright in Alabama. It was built on a lot across the street from Stanley's parents' traditional English Tudor home, offset on the lot to preserve his parents' view of the river.
At the time the house was built, Wright was committed to the principle that the masses should be able to afford well-designed and liveable homes. His answer to the challenge was what he called the Usonian home, and he designed many of them. They were modular designs with open floor plans, lots of windows, a door to the outside in every room, cement floors with steam heat pipes through them to provide radiant heat, and functional fireplaces to supplement the steam heat. They had flat roofs that tended to leak, his signature celestory windows and indirect lighting. He used natural materials inside and out (in this case bricks, concrete and cypress wood) to eliminate the need for painting and to create an intimate relationship between the house exterior, interior and the environment. Also, because he didn't trust his clients' taste, Wright built much of the furniture in his Usonion houses. He attached it to a wall so it couldn't be moved whenever he could, and he specified each piece of furniture's location when it couldn't practically be bolted down. He didn't like floor or window coverings.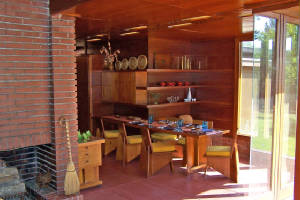 The Rosenbaum house is a classic Usonian home. It was built for $9,500, ($2,000 over budget) in 1939. Ten years later, when the Rosenbaum family had three sons and another on the way, Wright designed them an addition that fit seamlessly on the original house. Mildred lived in the house until 1999, when she sold it to the city of Florence for $75,000. The city had to spend $700,000 to restore the house. Roof leaks and termites had taken a terrible toll. The pictures of the restoration are most impressive.
The house reminded us of a boat. The original kitchen was about the size and lay-out of Starsong's galley. When the addition was built, the old kitchen became a wet bar/butler's pantry. The master and guest room beds are on low platforms attached to the wall and floor so they do not move, and the four boys' beds are bunks stacked on one wall, just like boat bunks. We really wondered about that boys' room -- it had no door, and no window treatments on the big window that made up one wall of the room. Privacy was not an option. The boys each had a wooden sea chest for all their stuff, plus one six inch wide sock drawer, one slightly larger underwear drawer and one general clothing drawer in the built-in dresser. Everyone had their own territory, but that territory was pretty skimpy.
We also were fascinated by Wright's furniture, fashioned of plywood. Dick drew me a picture of an end table he made in eighth grade shop class that looked very much like Wright's table, except Dick made his with good wood. The lines of the furniture were simple and attractive, but plywood? We think Wright was taking the affordable to everyone concept a little too far. Also, although we couldn't sit on the furniture, just by looking we judged that it might not be all that comfortable. It wouldn't be the first Wright design that put form over function.
We agreed that much as we both admire homes designed by Frank Lloyd Wright, we could never have worked with him. We read some stories including interviews with Wright done shortly after the Rosenbaum house was finished. He called them perfect clients, by which we think he meant that they provided minimal direction. Dick figured that within five minutes of meeting Wright and starting to talk to him about a project, he would fire us for having too many of our own ideas, and for wanting a bit of durability and functionality along with the spectacular design.
W.C. Handy House and Museum
W. C. Handy was born in Florence in 1873. He was interested in music from an early age, but his father, a Methodist minister, discouraged him from studying it. He saved up his money from jobs for months until he had enough to buy himself a guitar, and when he proudly brought it home to show his parents, his father insisted that he return it to the store. He said he couldn't return it, and his father told him that if he couldn't return it he could trade it for a Webster's Dictionary, which is what he did.
When he was old enough to leave his parents' house, he pursued a musical career, and when he returned to Florence to perform with Mahara's Minstrel Band in 1896, his parents attended the show and enjoyed it. In 1909, his composition The Memphis Blues was the first Blues piece published. Later, he wrote his most famous piece, The St. Louis Blues. Today, Handy is known as the Father of the Blues, and the W.C. Handy House and Museum in Florence holds his treasures and tells his stories. The museum's docent gave us an exceptional tour, and we realized that the Rosenbaum House and the Handy House did have one thing in common -- exceptional docents bringing their histories to life.
We ended the day with a little celebration of Frank's 60th birthday. We had Frank and Karen over for beer margaritas and birthday festivities, then all went out to dinner at Rickatoni's, where Frank wouldn't let us embarrass him with a birthday serenade by the wait staff.
Saturday, October 29 Bicycling Around Florence
We spent the morning catching up on chores and boat projects, then rewarded ourselves with a bike ride in the afternoon.
Dick put on his plumber's hat and messed around with our sanitation system. Back in the spring we had to disable our systems that pump waste overboard before entering Lake Champlain. Because we are Clean Boaters (meaning we obey rules against pumping waste overboard in inland waters), we never bothered to put the systems back together again, and truth be known, the pump never really worked before Dick took the system apart anyway. We hope to get to the Bahamas in the spring, and pump-out facilities are rare there, so we will need our overboard pumps in working order. It was a messy job, but Dick did it.
We pulled our bikes off the boat and spent the afternoon multi-tasking our recreation -- finding eight geocaches while seeing all 96 houses on the Walking Tour of Historic Florence and getting some exercise on a sunny fall day.
The historic neighborhoods of Florence cover an extensive area, and the homes are lovely. Most were built between 1880 and 1930, and with just a few exceptions the homes in the historic neighborhoods are in mint condition today. From cozy bungalows to stately Georgian Revivals with massive columns and sprawling Queen Annes dripping with gingerbread, we savored all the homes.
The beautiful campus of the University of North Alabama, founded in 1830, was just north of the neighborhoods we toured. Visitors to the campus can't help but notice that the school's mascot is the lion. Statues of lions are scattered throughout the campus. Right in the center of the campus is a massive compound with a cave, a waterfall and a grassy lounging area where a male and a female lion live. People can view them through bars or through windows in a sheltered exhibit area. The lions and their home were a gift from a grateful alumnus. We wondered if the University would have rather just had the cash.