This section has three pages. If you have already read this page (including Leland, plus some facts about Lake Michigan and the state of Michigan), you can click the link below to go direct to Page 2 or Page 3.

August 23, 2005 Petoskey to Charlevoix to Leland
54.4 miles
We set off at 7:15 under overcast skies which orchestrated a dramatic sunrise for us. The next town down the bay from Petoskey was Bay Harbor, a twentieth century version of Harbor Springs. It is an upscale gated waterfront community developed on the site of a reclaimed quarry, featuring homes with big price tags and lots of amenities, but lacking the charm of the homes built near the turn of the last century.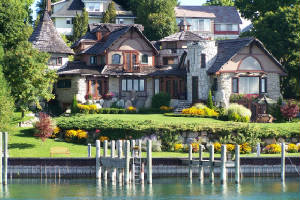 Charlevoix Mushroom House
We detoured to Charlevoix to pick up mail we had ordered forwarded to the marina there. Charlevoix is another pretty port with a charming downtown filled with shops catering to tourists, but we had to be on our way. The town is located on Round Lake, reached by a channel off Lake Michigan which passes beneath a bridge that opens on the hour and half hour. We got into town through the 9:30 opening and left through the 10:00 opening, leaving little time to see the sights.
Charlevoix is famous for its "mushroom houses," cottages with rounded corners and curvy roofs, resembling mushrooms or the houses of elves or gnomes. A few supersized versions of mushroom houses line the north shore of Round Lake, so we were able to at least get a small sample of their unique architecture.
Fishtown
We reached Leland in the early afternoon, leaving us plenty of time to explore the village. Leland was once a big commercial fishing port, and the village has preserved a number of historic fish houses in an area called Fishtown. The fish houses, where fishermen once stored their nets and other equipment and prepared fish for transport, are now little shops.
Leland also has a small downtown shopping and dining district about two blocks long and one street wide. It is smaller and more rustic than Petoskey, but has one of everything we want -- including a restaurant that has been owned and operated by one family for three generations -- the Blue Bird. Based on our dinner, this generation is doing its grandparents proud.



A Few Lake Michigan Facts:
Lake Michigan is 307 miles long,and 118 miles wide at its widest point. Its deepest point is 925 feet deep, but we can tell you there are lots of places way out in the lake where there are shoals that could ground our boat. Some of those shoals are the sites of the 38 lighthouses on the lake. Lake Michigan has 1600 miles of shoreline, and is the only Great Lake whose shoreline is entirely within the borders of the United States. Its shoreline also holds the largest expanse of freshwater sand dunes in the world.
A few Facts about the State of Michigan and its Symbols:
The state bird is the robin, and its flower is the apple blossom. Back in 1997, the state declared the white tail deer its official game mammal. (Remember back in Mackinaw City when we learned that the line of deer hunters waiting for the ferry to cross the Straits of Mackinac could stretch for fifteen miles? Declaring the deer an official state symbol really played to that big constituency.)
The state flag, adopted in 1911, features the state coat of arms on a field of blue, and includes three mottos in Latin. The coat of arms shows a lake with a sun rising over it, and a man with a gun standing on a peninsula waving to the sunrise. An elk on one side and a moose on the other hold the shield, and an eagle stands with spread wings on top of it. The three Latin mottos refer to aspects of the coat of arms. "E pluribus unum" goes with the eagle. "Tuebor," meaning "I will defend," goes with the man with the gun and the arrows in the eagle's talons. "Si Quaeris Peninsulam Amoenam Circumspice" means "If you seek a pleasant peninsula, look around you," and refers to the picture on the shield (and the state, of course).
Michigan actually has a pledge of allegiance to the state flag : I pledge allegiance to the flag of Michigan, and to the state for which it stands, two beautiful peninsulas united by a bridge of steel, where equal opportunity and justice for all is our ideal.
Michigan has two state songs. "My Michigan" was adopted as an official state song in 1937, but is largely forgotten, and its sheet music is only found in rare book collections. The unofficial state song is "Michigan, My Michigan," sung to the tune of "O Tannenbaum," just like the state songs of Florida and Maryland. The original lyrics were written in 1862 after the Civil War battle of Fredericksburg, and revamped lyrics written in 1886 still included Civil War references, such as "No promise unfulfilled; on trust / Thy noble sons have bit the dust. . ." and "I've seen thy maimed, thy halt, thy blind, / I've seen the ones bereft of mind. / To all of them thou art so kind --Michigan, my Michigan."
It's no wonder the state decided they needed a more peaceful version of the song, and called upon Douglas Malloch in 1902 to come up with yet another set of lyrics, which survive to this day. Seeing the state from its waters, this verse sings to us:
Glows fair the bosom of thy lakes,
Michigan, my Michigan.
What melody each river makes,
Michigan, my Michigan.
As to thy lakes thy rivers tend,
Thy exiled ones still to thee send
Devotion that shall never end.
Michigan, my Michigan.