August 24, 2005 Leland to South Manitou Island to Frankfort
55.6 miles
We could see South Manitou Island, 16 miles away, as we left Leland Harbor. The day was sunny, the winds light, and the water calm. Manitou Island is part of Sleeping Bear Dunes National Seashore, interesting for both its natural and maritime history.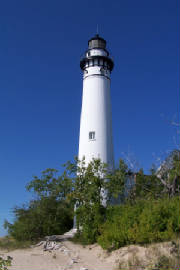 South Manitou Island Light
We anchored in about thirty feet of aquamarine water in a natural harbor lined by sandy beaches. We could see the anchor as it dropped all the way to the sandy bottom. In the 1800s, steamers would stop in this harbor for wood fuel, or as a protected port in storms, when they were traveling the Manitou Passage -- between Chicago, 220 miles to the south, and the northern tip of Lake Michigan .
We went ashore and hiked to the lifesaving station established here in 1901, and to the lighthouse on the island. The current light is actually the third one that has been erected here. The first was built in 1840, the second in 1858, and this one in 1871. The light tower is 100 feet high, and had a passageway connecting it to the keeper's house. Not long after the tower was built, the first steam fog signal on the Lake was installed here. The Coast guard abandoned the light in 1958, but when the National Park Service took over care of the island, they stabilized and partly restored the lighthouse.
Despite a long history of lighthouses here, some 50 ships have gone aground off the island, and it was small comfort that some of them did it on purpose. The ones that grounded intentionally knew they were foundering and wrecked their ships on the island so they could be saved by the crew of the lifesaving station.
After walking about the island a bit, we decided to circumnavigate it by boat. We passed sand dunes up to 440 feet high on the island's west side. We could see where there had been landslides, where water had eroded places, and where wind had carved the dunes. Skeletons of trees that had been covered and killed by blowing sand were exposed as the sand shifted. The dunes face west and southwest, the direction of Lake Michigan's prevailing winds.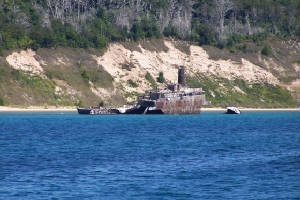 Francisco Morazan wreck
At the south end of the island, we saw the wreck of the Liberian freighter Francisco Morazan, which ran aground in a raging storm on November 29, 1960. By that time, the life saving station was no longer staffed, and the lighthouse had been decommissioned. But three Coast Guard cutters and a helicopter rescued the fifteen people aboard the freighter, and the remains of the ship serve as a reminder not to gamble with the weather on Lake Michigan.
The island was so interesting and its beaches so beautiful that we would have liked to stay there overnight, but the wind was from the east, rather than its prevailing west to southwest direction, and it was blowing straight into the harbor. We had to move on.
When we got to the harbor for the town of Frankfort, located on Betsie Lake, there were already four other boats flying Looper burgees at anchor. That called for a Looper cocktail party, and Roy and Elvie from Roy El' invited us all over to share stories and news. The calamity stories are accumulating, and we are thankful to have enjoyed mostly fair weather, mostly good health, and always safe harbors when we needed them. Others have not been so fortunate.
We learned that Polly of Pollyanna just shattered her shoulder a few days ago and has to go home for surgery.
We learned that Roy El' got caught in a microburst thunderstorm in Killarney that tossed their boat in six foot waves, dislodging their anchor, unbeknownst to them. They dragged the anchor along the bottom until it snagged the Killarney Marina water line and broke it. Better to snag the water line than the hydro line, but it was a harrowing, and expensive, experience nonetheless.
The Canadian Loopers we met over cocktails were a year late in starting the Loop, because just as they were about to start last year someone sunk their boat. They suspect the sinking was related to the lawsuit they filed against the surveyor, seller and agent involved in selling the boat to them, but no arrests have been made -- yet. In the meantime, they raised the boat, redid the interior, and repaired other water damage, and they are cruising in a "like new" 1987 boat.
Another couple at the cocktail hour, from Etc., was at the Beaufort Rondezvous, but we haven't seen them since, because shortly thereafter they blew their engine in Norfolk, and spent 28 days there while it was being rebuilt.
(Roxanne and Lenny also have a story of ill-fortune aboard Summertime, involving going hard aground at high tide in fog, leaking fuel into the bilge, low tide preventing the listing boat from being towed until the next day, and other attendant miseries, but it doesn't count, because it happened before they were Loopers.)
We had no stories that could compete in magnitude with these tales of unexpected misfortune. And, we hope we never do.
August 25, 2005 Frankfort to Arcadia
12.4 miles/3,519 trip miles
We began our day with a stroll around Frankfort, which we found to be yet another charming little one-street lakeside town. We stopped in the Chamber of Commerce to suggest that the installation of a dinghy dock might encourage more boaters at anchor to visit their town and spend money (we had to scramble up a rocky bank, because the marina owner woudn't let us tie up to any of his many vacant docks), bought pastries at the bakery and five bottles of Marvel Mystery Oil (a fuel additive that Dick swears by) at a deep discount at the "Going Out of Business Sale" at the hardware store, made a quick stop at the grocery, then were back on the boat and ready for our short jaunt to Arcadia.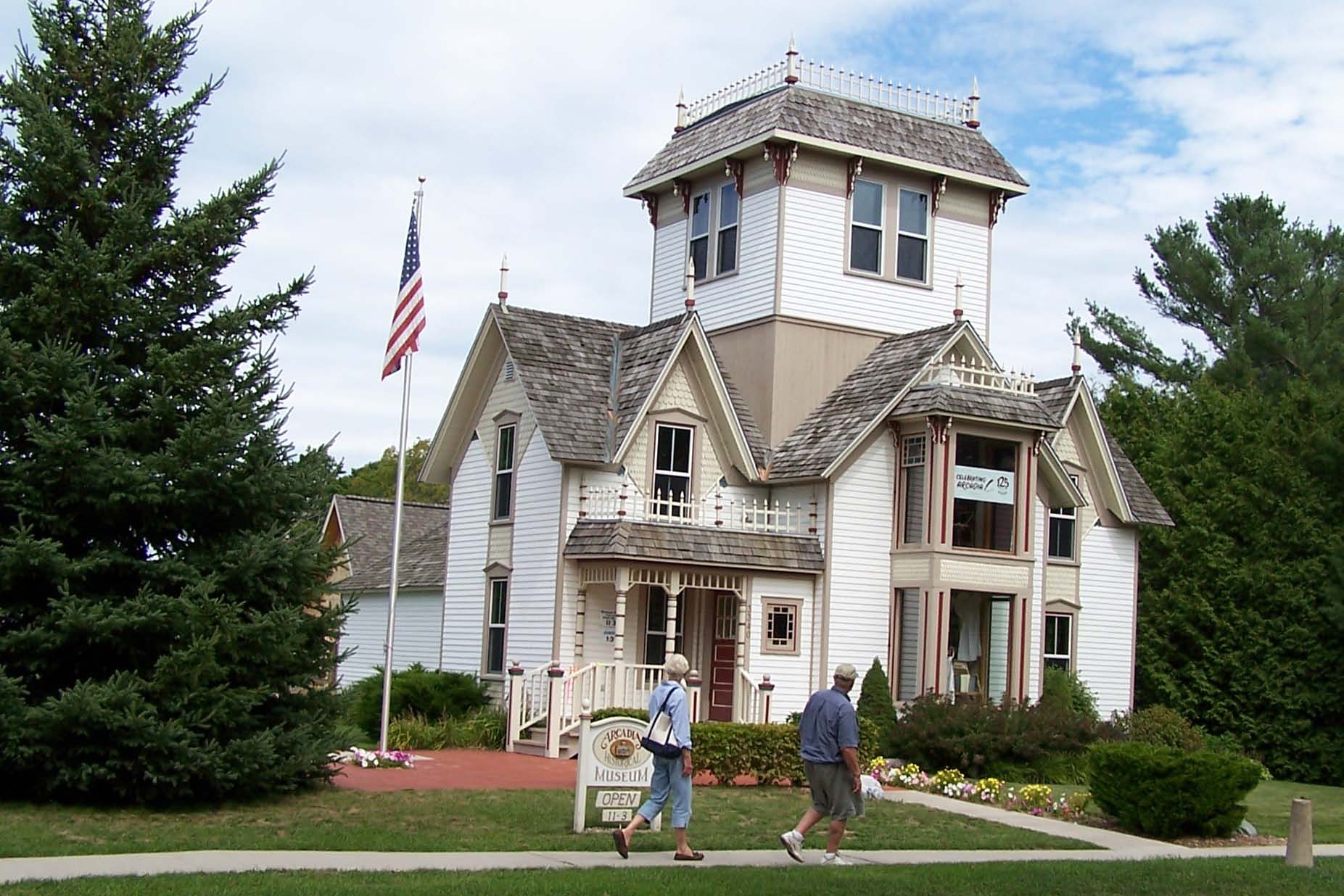 Arcadia History Museum
Arcadia is a town of 600 -- so quiet it doesn't even have a main street or an area you could call downtown. But it does have a history museum, housed in a gingerbread-rich 1884 Victorian home of lumber baron Howard Gilbert. With no tax dollars, government or foundation grants, the local historical society raised the money needed to move the house from atop a hill several miles outside town to a more central location in town and to convert the house to a museum. Volunteers maintain it and its grounds, and staff it. We were impressed that a town of 600 could bolster this much support for a history museum.
Arcadia is celebrating its 125th anniversary this year. Its primary claim to fame is that it was the childhood home of Harriet Quimby, the first American woman to earn a pilot's license, and the first woman to fly solo across the English Channel. A replica of her plum satin flying suit (with ingenious britches that could be transformed into a skirt with a few simple adjustments) was on display in the museum, along the letters, posters, photos, and other artifacts relating to her life.
After visiting the museum, we walked to the beach, a beautiful long expanse of cream-colored sand, with a few pebbly spots where we collected smooth rocks in a rainbow array of colors. The water was so cold that we couldn't wade for more than a few minutes at a time without feeling tingly pain in our feet.
We enjoyed being barefoot so much that we walked back to the boat shoes in-hand. Just minutes after I finished telling Dick a story about a memorable barefoot bee sting of my childhood which inspired me to vigilantly watch the ground before each step today, Dick stepped on a bee and got stung. With the help of hydrocortizone cream from Roxanne and Vioxx from our precious stash, his swelling and itchy hives were gone by morning.