(The Peterborough Lift Lock section was updated July 13. If you read it before, you might want to read it again for the added information -- such as the somewhat different reactions of Gayl and Dick to the lift lock experience.)
July 9, 2005 Peterboro to Lakefield
10.2 miles/2413 Loop total
7 locks/105 Loop total
We got to our first lock before it opened, but we were too late -- there was already a line waiting behind a big tour boat that filled the lock. We watched as the crew took advantage of the high lock walls to clean the tops of all their windows and work their way down as the boat rose in the lock chamber. Then they carried plates heaping with food to the lock crew before leaving for the next lock.
The next lock is one of the famous highlights of the Trent-Severn Waterway -- the Peterborogh Lift Lock.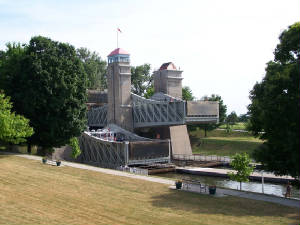 The Peterborough Lift Lock opened on July 9, 1904. We rose in it on July 9, 2005, its 101st anniversary. It was the 100th lock we passed through on our Loop voyage.
At 65 feet, the lock is the highest of the eight hydraulic lift locks in the world, and the only one made of concrete. It took eight years to build, from 1896 to 1904. In other words, it took longer to build this one lock than to build the entire Rideau Canal system.
In this lock, there are two chambers -- and upper chamber and a lower chamber. We pulled our boat into the lower chamber, and boats at the top of the lock wanting to go downstream entered the upper chamber. The doors to the lower and upper chambers were closed, then one foot more water was let into the upper chamber. The added weight of one foot more water caused the upper chamber to move down, pushing the lower chamber up -- like a big see-saw.
Our trip up was fast -- it only took about 90 seconds, and felt like an elevator. The arc of the tie-up wall gave the illusion that the tub we sat in was tilting backward as we rose. I had to keep looking at the waterline on the tub wall for reassurance that we were on a level plane. Looking down to the ground far below from the deck of a boat is an eerie experience. Dick enjoyed it considerably more than I did.
About 4,000 boats go through the locks each year, they say. Tour boats take people from the Peterborough Marina to ride the locks. They go up, then turn around and go back down. I wonder if they only count the tour boats once in their boat count?
After seven locks, we figured we had worked enough for the day, and we tied up at the lock wall in the town of Lakefield at 1:35. Our boat was in the shade of a tree right next to a picnic table, where we decided to have a picnic before walking into town.
When Dick turned on the camera to review our pictures from the morning -- great shots of our ascent in the lift lock plus our best loon close-up shot yet -- the photo images were all just faint shadows on a white background. After many experiments, we determined that our five-month-old Kodak digital camera was indeed broken. We headed into the charming little town of Lakefield in search of a back-up digital camera, but all we could find were disposable ones.
We knew there was a Walmart ten miles back in Peterborough, and we found a cab that would take us there, wait, and bring us back for $30. Since we bought our camera at Walmart in the U.S., we took it with us, just in case we could convince them to exchange it.
Wonder of wonders -- they had the camera in stock (although not on the shelf), they were willing to do an exchange for our defective camera, and their current price for the camera was $120 less than we paid for it, so they gave us a $120 refund. Net, after cabfare and a tip, we have a brand-new camera and $80 in our pocket. All we lost was a day's worth of priceless pictures.
Lakefield had an all-day jazz festival going on while we were there. By the time we finished messing around with the camera caper, it was late in the afternoon. We headed over around dinnertime, stopping along the way to get ice cream cones, just in case they didn't have food available at the festival (they did). We enjoyed two different acts, neither of them jazz. A man our age crooned Cole Porter/Frank Sinatra standards, accompanying himself brilliantly on an electronic piano. Then the Channel Cats played outstanding party music that had half the crowd dancing, and the rest clapping and toe-tapping. We thoroughly enjoyed ourselves, even though we left before the music ended, exhausted from our busy day.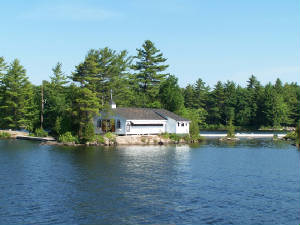 St. Peter's on the Rock Church
Sunday, July 10 Lakefield to Lovesick
16.6 miles, 3 locks
Our journey today took us through a series of lakes,each with a different personality. Katchewanooka was slim and shallow. Clear Lake was four miles long, nearly a mile wide, and deep enough to need no channel markers. Its shores were dense with cottages and boathouses.
Stony Lake was true to its name, with 1128 charted islands peppering its waters. It also sports the charted locations of Devil's Elbow, Hell's Gate, and Hurricane Point. We heard that Steve Martin and Carmen Electra are on Stoney Lake shooting "Cheaper by the Dozen 2," but we didn't see them.
Our favorite sight on Stoney Lake was people going to church at St. Peter's on the Rock, a little white clapboard Anglican church on an island all its own. The church has a small dock where church-goers can tie up. A sign on the dock says "Blessed are they that create no wake."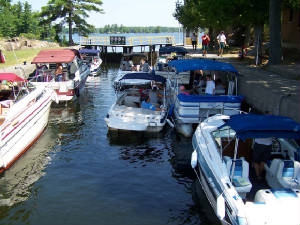 Locking through the popular Lovesick Lock
We picked our way through the tightly packed islands of Lovesick Lake to get to the popular Lovesick Lock, which lies between two islands, and is not accessible by land.
From 1899 until 1965 the Lovesick lockmaster and his family lived on the island next to the lock, without a phone, electricity or indoor plumbing. Now the locktenders come by boat from the next lock.
We were delighted to find there was space available on the lock wall at Lovesick. We tied up, packed a picnic lunch, and walked across the dam to Wolf Island, a big pink granite island that is protected in an undeveloped state as a provincial park. We hiked a bit, found a nice picnic spot on a big lichen-covered shady rock at the water's edge, and enjoyed our lunch (although we spent part of the time eating standing up to avoid aggressive ants).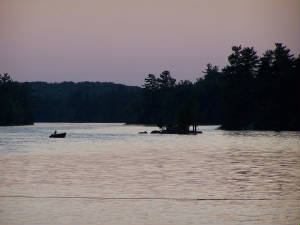 Later in the afternoon we took down our kayaks and went exploring. We followed a couple loons for a while, skirted some lily pad beds, and explored the shoreline of Wolf Island. We found a pretty little cove, where we beached the kayaks, swam and sunned on a rock.
We had dinner up on the flybridge watching the sun sink low in the sky and listening to the loons calling out on the lake.
July 11, 2005 Lovesick to Fenelon Falls
37.5 miles, 2 locks
As we cruised today, we left pink granite island studded lakes behind and headed into limestone-lined lakes with flat ledges at their shores and no islands or boulders poking up to impede the unwary.
We stopped for lunch at busy Bobcaygeon, a shopper's paradise. As we walked the streets in search of a place to fax some papers to Cincinnati, we decided you could buy just about anything there. It was a pleasure just to wander and window shop -- flower baskets lush with bright blooms hung from overy light pole, and every business had flower displays, as well.
We thought about staying overnight, but news of tropical storm remnants heading north dumping huge amounts of rain spurred us to get a few more miles in today while the weather was still balmy.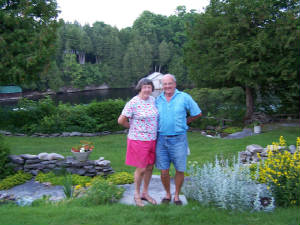 The Hewtons in their cliff-top garden with a view
We made our way to Fenelon Falls, home of cruising friends Barbara and Norman Hewton, who we met while staying in Fort Myers this past winter. They had just arrived home from a "shake down cruise" of their new land yacht RV when we called them from the waterway. They greeted us from their waterside cement dock and patio, helped us dock, tie up and connect to power (air conditioning!), and invited us to join them for a swim in the river. It was the perfect refreshment after a long day of cruising in the sun and temperatures in the 90s.
We went out to dinner at a place popular with the locals, topped it off with ice cream from a great ice cream parlor next door, and then had a little car tour about town with the Hewtons giving us the local lowdown.
We had a wonderful time with the Hewtons. But, best of all, I went to sleep knowing that when we pulled into the Kirkfield Lift Lock the next day, I would not have to stand on the bow of Starsong holding a line to secure the boat, while looking out over the 45 foot drop. Norm had offered to be our Trent-Severn Pilot for the day, and we gladly took him up on his offer.
After you read about Arborvitae below, click here to continue to page 3.