Tuesday, July 24, 2007
The Day of the Dinghy
We couldn't enjoy DC until we resolved the problem of our deflated dinghy. We need our dinghy to go ashore when we anchor out, but even more important to us is that our dinghy is our life raft. We hope we never have to use it for that purpose, but we wouldn't feel comfortable cruising wide water like the Chesapeake without a deployable dinghy.
So, before we did anything else here, Dick got the motor off the dinghy, and we hoisted it onto our rear deck to assess the damage. It turned out the the leaky rubber pontoon was the least of our problems -- the rear transom (where the motor attaches and where we have big rings used to hoist the dinghy) was rotting. Dick noticed the rings were getting wobbly, and then he found he could punch holes in the wood with his screw driver in other places, too.
We came up with options to solve the problem, but needed to find a dinghy sales/service place to move forward. Dick headed up to the yacht club office to seek out yellow pages, where he determined there wasn't any such place in DC. But his good luck kicked in -- the rear commodore of the Yacht Club was there, and told him who he needed to call -- a dinghy sales/repair place in Annapolis. Dick called there, and found they could solve our problem, if he could get the dinghy there. A Club member who overheard his call told Dick he was going to Annapolis in an hour, and would be glad to take Dick and the dinghy along.
Dick left for Annapolis in the morning and came back in the late afternoon with a brand new dinghy much nicer than our old one, which he used as a trade-in. We inflated our new dinghy and did the "some assembly required" part, then put the motor on it and took a little ride around our harbor, which is lined on one side with marinas, and has a park on the other side.
The Capital Yacht Club, where we are staying, requires all of its boats to be navigable, but several of the others do not, so the items in their slips are interesting to see. There are houseboats and little houses built on top of barges the exact width of the boat slip. Then there are creative adaptations of boats that make them homey or more spacious, but make them too top-heavy or unbalanced to take out on the water -- things like a hot tub or patio on the roof, or a tiki hut on the bow.
The cost per month for a slip for boaters with yearly contracts is as little as $300. We figure that if you aren't concerned about running it, you can buy a roomy old boat for less than $100,000. You can't find a place to rent anywhere near DC for as little as your slip and boat payments combined would be here, and it is a twenty minute or less walk away from the Capitol and just about all the major government department buildings downtown. We bet the people who live on the water here love it.
Wednesday, July 25
Now the Fun Begins
Our dinghy troubles behind us, we were ready to set out on some serious exploration of our nation's capital. (I just looked it up -- Capital with an "a" is the seat of government, and Capitol with an "o" is the building. I know I have some previous misspellings here, but going forward, I am committed to getting it right.)
We will be guided in our explorations by geocaches. Downtown DC has a veritable scavenger hunt of virtual caches. There are nearly 30 spots within a roughly one mile radius listed as virtual caches. This means there isn't really anything hidden at these spots, but you can get credit for finding the place if you e-mail the guardian of the cache the answer to a specific question about that spot which only someone who has visited it would know.
We set out with our GPS, several pages of questions, and a map marked with the rough location of all the virtual caches. Our first stop was a hilltop park overlooking our marina. The park was named to honor Benjamin Banneker, a self-taught freed slave who used his mathematical and astronomical skills to survey and plot the original city plan for Washington, DC.
Our next virtual cache location was the tomb of James Smithson, the founder of the Smithsonian Institution. There we learned that Smithson was an English scientist who never set foot in this country when he was alive. No one knows why he willed his fortune to our country, with the request that it be used to further knowledge and education, but there is speculation that he felt underappreciated in his own country. He was originally buried in Italy, but when 75 years after his death the Italians were going to do some kind of construction project in the area where he was buried, our country saw an opportunity to claim his remains. Alexander Graham Bell retrieved what was left of Smithson, and brought him to the United States, where he now lies entombed in a grand sarcophogus in the Smithsonian Castle.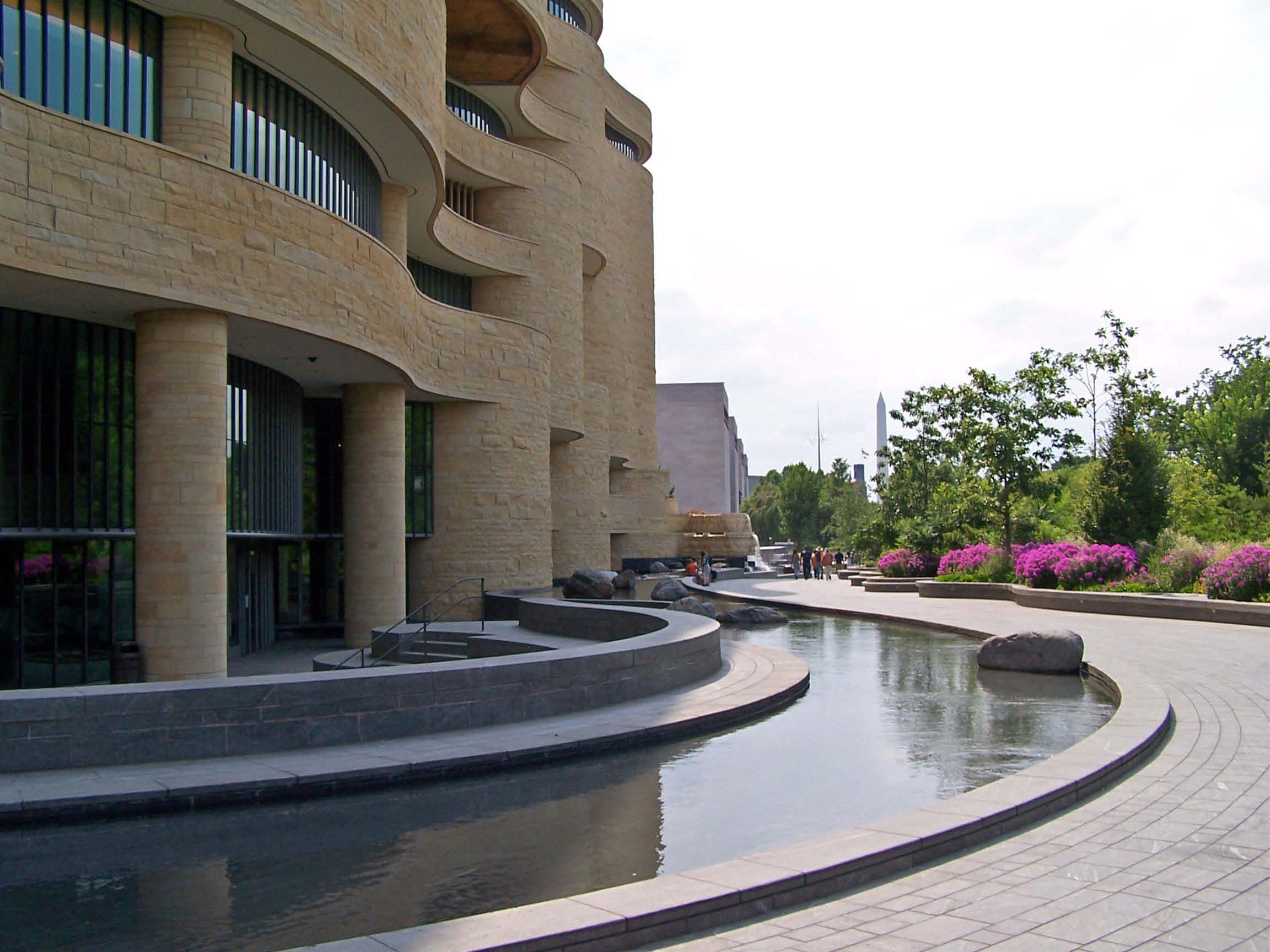 National Museum of the American Indian
Our favorite stop today was the National Museum of the American Indian. The most recently completed Smithsonian Museum, it opened in 2004. Originally, we just went inside to see if they had a cafe, because we wanted a cool place to eat lunch. It turned out that they have the highest rated food of any government building in DC, at least according to the person in line behind us. The cafeteria has five food lines, each with food choices from a different indigenous region of the Americas -- the desert southwest region offers tamales and tex-mex treats and the northwest offers oysters and planked salmon, and so on. So there were literally over a hundred different very appetizing choices from soups and salads to desserts, all prepared with regional flair.
By the time we were done with lunch, we were just fifteen minutes away from the start of a guided tour, and we were getting intrigued with the place, so we decided to do the tour. Our guide was Shirley, a full-blooded Indian with a Navaho mother and Ute father. Her tour was very rich and memorable, because she not only explained the philosophy and main messages of the museum and showed us its highlights, she also seasoned her message with personal experiences and examples from her Navaho community.
The Museum building itself is striking, and Shirley explained its symbolism to us. Representatives from many different tribes planned the Museum together. The Native designer, architect and consultant team incorporated elements in the design that reflect the nature-centered beliefs and spiritual practices shared by our Native people.
Unlike the other Smithsonian Museums on the Mall, its door does not face the mall -- it faces east, to pay homage to the rising sun. It has a stream running along its side in recognition of the importance of water, and there are large gneiss rocks along the walk to the door as a sign of welcome to a visitor. On one side of the building is a garden that has plains wildflowers and forest vegetation, and on the other side are the important indigenous staple crops of corn, beans and squash. The walls of the building are curved and organic like forms in the natural world. Inside, the cardinal directions are marked on the floor, and prisms high above refract the light in patterns that change as the day goes on, and as the seasons change.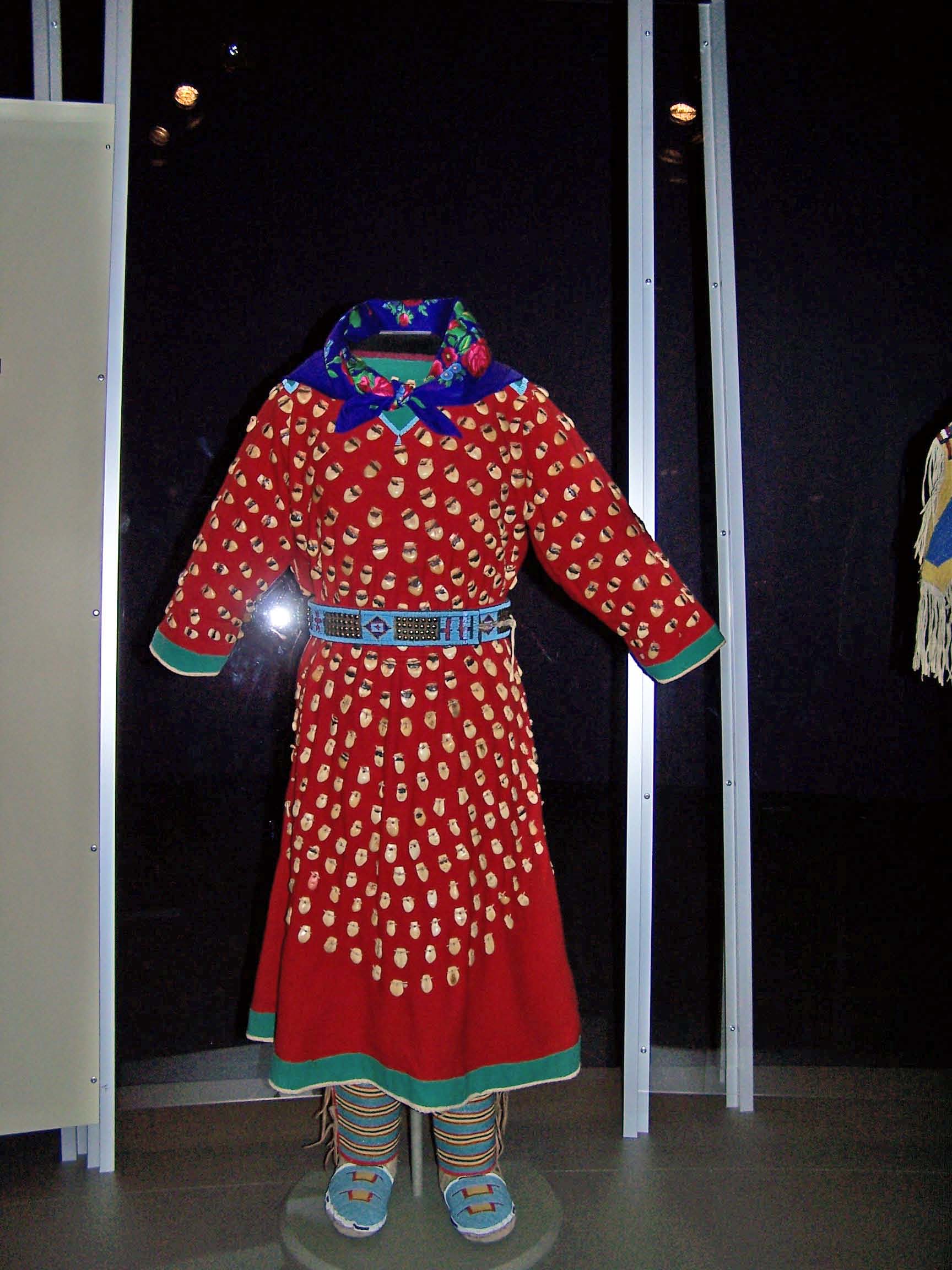 The Museum has a collection of over 800,000 objects of historical, cultural, aesthetic and spiritual significance, all collected by one couple, Mr. and Mrs. George Gustav Heye. Only a tiny portion of the collection is displayed.
We were particulary taken with the clothing and other beautifully beaded items on exhibit. This picture is of a Crow wedding dress decorated with ivory elk's teeth made in the 1890s. Each elk has just two of these special teeth, and boys began saving the teeth of each elk they helped kill from a very young age so that when they found the woman they wanted to marry, they would have many teeth to offer for her wedding dress. Lots of teeth on the dress signifyed a good provider.
Other dresses were adorned with thousands of tiny beads. Dick counted the beads in a small section of one and multiplied to estimate that it had 350,000 beads, sewn to make complex designs with symbolic meanings.
"Sunset Boat" glass sculpture by Dale Chihouly (2006)
We spent hours at this museum where we had just intended to grab lunch and see if the inside architecture was as striking as the outside.
After we tore ourselves away, our caching took us to the Botanic Garden, where we whiled away most of the rest of the day. The outside gardens include patio size plots designed by garden clubs all across the country with flowers and garden decorations that are unique to their area.
When we walked into the conservatory we were greeted by the sound of water fountains splashing in two long blue tile lined pools blending with softly playing notes of the "Moonlight Sonata." The air was cool, and jungle trees towering overhead shaded us.
We enjoyed all the rooms in the conservatory, but our favorite was the orchid room. I am reading The Orchid Thief, by Susan Orlean, and have a greater appreciation for them, and fascination with them, than I had before, when I just admired them for their variety and beauty. The orchid room had orchids of every size, from as big as your baby fingernail to bigger than your whole hand. They were spotted and striped, sometimes both at once, and some just pure unblemishedly monochromatic. There were some that looked like pansies, and tiny yellow ones that could have been miniature daffodils, some with petals that looked like sharp daggers, and some that resembled nothing more than an elegant fairy evening bag. There were so many tucked in little nooks and crannies everywhere that we kept discovering another one each time we were about to move on.
It takes seven years for an orchid to bloom. You have to be very patient to breed and collect them, so it's clearly not a hobby for us. But, we are very attentive admirers.
Thursday, July 26, 2007
Our Thirteen Mile Walking Tour of DC
One of the most popular tours in the city is the tour of the Bureau of Printing and Engraving, the place where our paper money is printed. We got up early, stopped at Starbucks for lattes, donuts and a newspaper, and made our way to the spot where people line up for their tour tickets. We got there at 7:10, and there were already other about 20 other people waiting for the ticket booth to open at 8:00. Like us, they had read that tickets for the day often sell out within an hour of the booth's opening.
Fortunately, the line stretched along a comfortable stone wall, where we sat and enjoyed our breakfast and newspaper. The time passed quickly by, and we were able to get tickets for the first tour, at 9:00.
The tour began with a film that described the process of engraving, printing and "monetizing" our paper (actually 25% linen and 75% cotton) money. Then a guide took us upstairs to an elevated walkway where we could look down through plexiglass to see money being manufactured below. The bills are printed on sheets of 32, which are cut down to sheets of 16 partway through the printing process, and in the very end cut into individual bills. The presses, which engrave the bill with 20 to 35 tons of pressure, turn out $400,000,000 to $696,000,000 each day. It was a strangely exhilarating feeling watching all that money coming to life beneath us.
Most of the work is done by machine, with just a few people on the floor feeding the sheets of paper and ink into the presses, others pulling the finished bills off and packing them up. A few inspectors do visual spot checks of the money.
It looks like pretty boring work. The workers amuse themselves by non-verbal communication with the tourists. They also print up extra signs to supplement the official explanatory signs made for the tour. One of their signs said, "Think how I feel -- I printed my lifetime salary in a few minutes."
After the tour, we measured ourselves on a wall chart that told us our height in $100 bills. I am about $1,585,000 tall and Dick is $1,640,000. (If you want to know how tall you are, you can take your height in inches and multiply by $23,300.)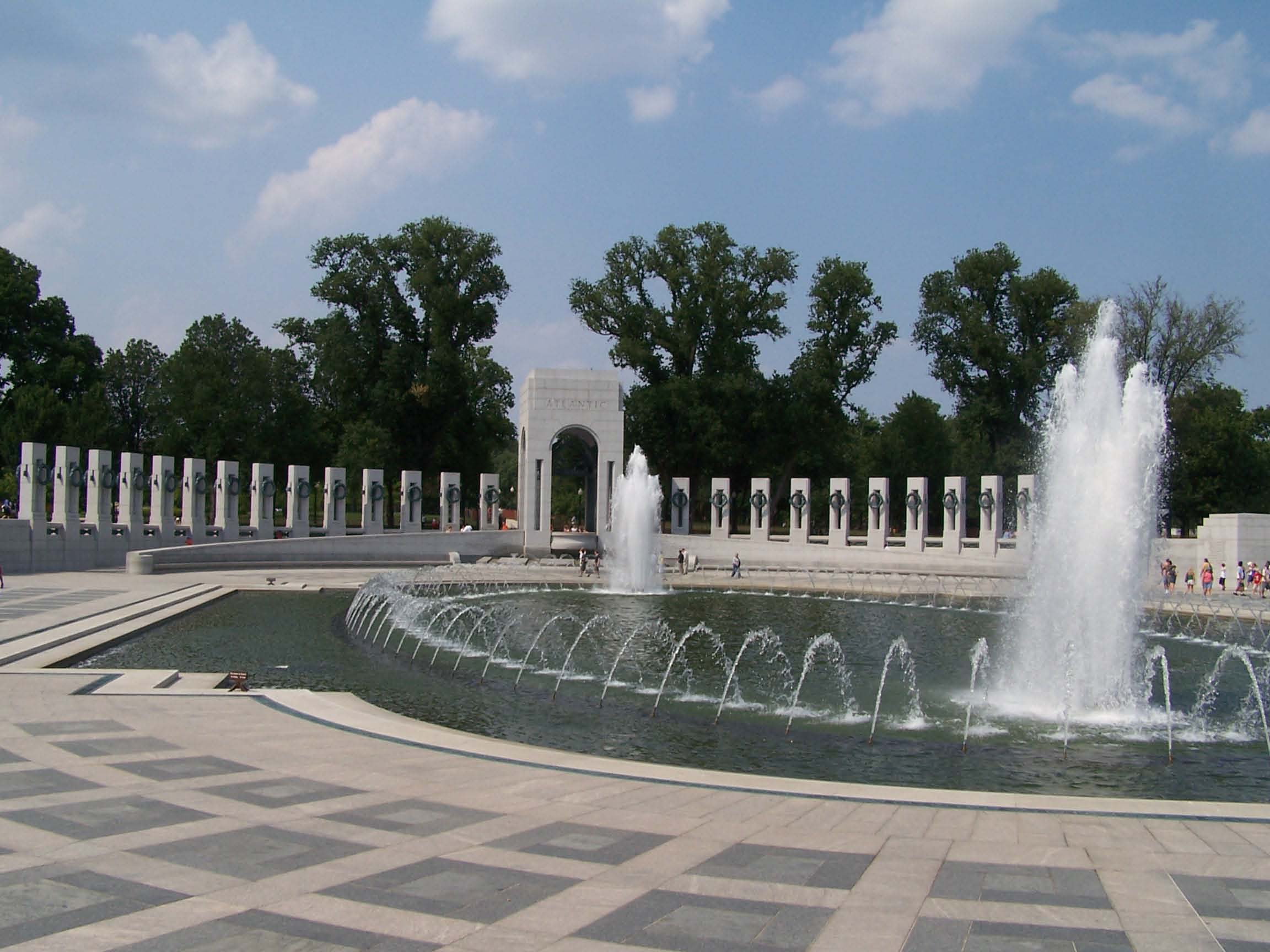 WWII Memorial
After the tour was over, we set out on a search for caches that took us to 17 interesting spots throughout the DC area. We found the first cherry trees planted here, a grove of gnarled trees, many with gaping holes in their trunks and branches sagging to the ground looking like ancient bonzai trees grown to full size. The trees were a gift from Japan in 1912. We visited an island garden commemorating the members of the Constitutional Convention. We read the markers around an old lock keeper's house to learn that the Washington City Canal, a branch of the Chesapeake and Ohio Canal, used to run where Constitution Avenue now lies.
We think we visited every war memorial in the city, including the newest memorial, honoring our men and women who served during the Second World War. The memorial has a massive central courtyard with a pool holding large fountains of water rising into the air like geysers. At each end are monumental arched entryways labeled Atlantic and Pacific,with eagles holding wreaths poised in flight at the top of each archway. Arrayed around the entryways are 56 stately columns, each inscribed with the name of a state or territory. This is the first time we have seen states divided this way, rather than by north and south, and we aren't astute enough to figure out the significance of dividing us up into those two teams for this war. George Bush dedicated the memorial in 2004.
We visited the Lincoln and Jefferson Memorials, and a Presidential Memorial that has a much larger footprint than either one of them, but is a hidden treasure, unknown to most tourists, including us, until our GPS brought us here. The Franklin Delano Roosevelt Monument is located along the tidal basin, like the Lincoln and Jefferson Memorials, but it is built to blend into a grove of shade trees which obscure it from view until you are right upon it. The memorial is built of a warm red stone, and has four outdoor "rooms," each about the size of half a football field. Each room stands for one of FDR's four terms, and has quotations from speeches or fireside chats incised in stone on its walls, and each has a waterfall or quiet pool, along with some statuary. There's even one statue of Eleanor wearing her sturdy high heel oxfords and a cloth coat that is shorter than her dress.
One of the quotes that we thought to be an ironic choice was, "We must scrupulously guard the civil rights and civil liberties of all our citizens, whatever their background. We must remember that any oppression, any injustice, any hatred is a wedge designed to attack our civilization." FDR was the President who signed the orders to inter over 120,000 people of Japanese heritage, including over 70,000 American citizens, depriving them of their civil rights.
This was a good reminder to us that memorials are meant to honor and glorify, and not to provide full disclosure.
We learned more about the Civil Rights history of the Lincoln Memorial when we visited the Department of the Interior Museum. We knew that it was the gathering point for hundreds of thousands during the 1963 March on Washington, when Martin Luther King, Jr. made his "I Have a Dream" speech there. But, years earlier, in 1939, the Daughters of the American Revolution banned Marian Anderson from performing at Constitution Hall because she was black, and the first Secretary of the Interior invited her to sing at the Lincoln Memorial, where 75,000 people, black and white, came to hear her sing.
The Department of the Interior Museum also provided a counterpoint, or a complement, to the National Museum of the American Indian, since the Department of the Interior houses the Bureau of Indian Affairs -- the trustee of the 53,000,000 acres of land being held in trust for Indians, and the administrator of Indian assistance programs. A large section of the museum tells the Indian story from the government point of view.
There is even an Indian Artisan Shop in the Department of the Interior, started back in the 1930s when the head of the Department feared that government policies encouraging assimilation might result in the eradication of traditional Native art forms. He wanted to provide a sales outlet to encourage artisans to continue their work. The store has been in continuous operation in the same spot ever since it began, although to shop there today, you have to know it is there, go through a metal detector, and have your bags searched, provide an ID, sign in, and get a badge. We doubt the sales volume of this shop could have any significant impact on the livelihood of native artisans.
By the time we were done searching for caches, and stopping to see interesting sights along the way to those caches, our GPS told us we had walked nearly thirteen miles, our feet were weary and our heads were reeling with all the new things we learned today.