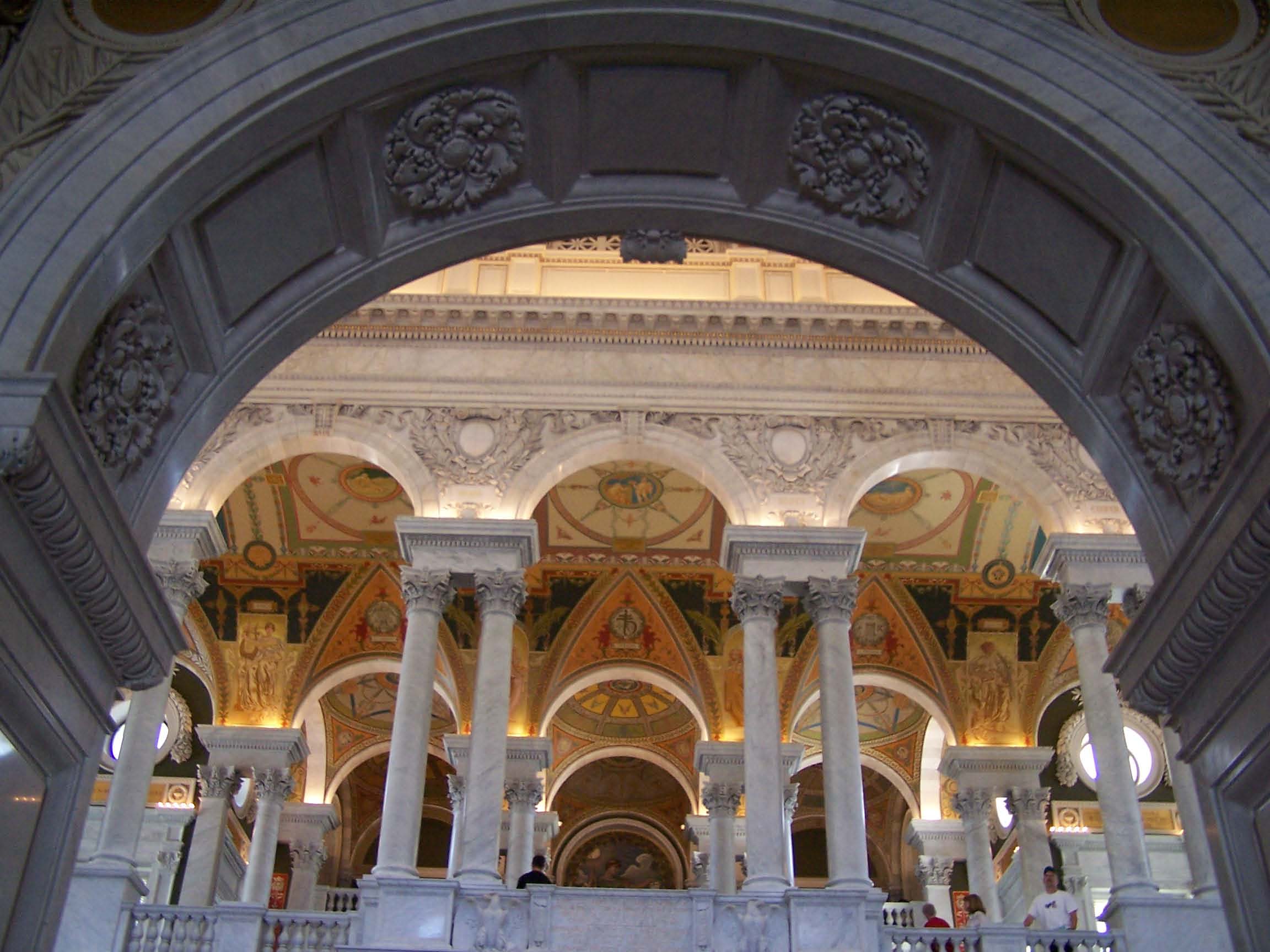 Library of Congress
Friday, July 27, 2007
Avowed bibliophiles, our trip to DC wouldn't be complete without a visit to the Library of Congress. Built in 1897, the Library is an Italian Renaissance cathedral to knowledge. From its floor, covered in tiny mosaic tiles arranged in elaborate designs, to its massive stained glass skylight soaring over 100 feet above, every surface of the Library of Congress public area is decorated and adorned, covered with colorful murals and gilded literary references, statues of cherubs and busts of famous authors.
The Library is even laid out like a cathedral, with its main reading room at the apex of the cross. The main reading room is a fantasy space -- a soaring ocagonal wood paneled tower with elegant working tables on the ground floor and tall slits in each wall exposing story upon story of endless shelves of books with sliding ladders on tracks standing ready to retrieve the ones on the highest shelves.
We never touched a single book.
The experience of being there was awe-inspiring because of the grandeur of the space, and because the immensity of the Library's collection is beyond comprehension. The Library of Congress receives two copies of every single thing that is copyrighted in the United States, which averages out to 20,000 items every day, or something every four seconds. The Library doesn't just have books -- it holds records, CDs, maps, films, posters, a couple Stradivari violins, the contents of Lincoln's pockets when he was assasinated (his spectacles are held together with a string at one of the temples where he lost a screw), and other interesting ephemera.
We saw the Gutenburg Bible and the hand-inscribed and illuminated original from which it was copied. We saw George Washington's school copybook, displaying artistic penmanship as well as his early interest in math and surveying. We keep running into explorer John Smith, and he was here -- his map of the Chesapeake Bay, based on the 1608 surveying expedition he took in his shallop, was on display; as were records from the Virginia Company of Maryland, the commercial venture that resulted in the founding of Jamestown.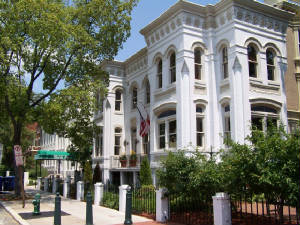 Florida House
After our visit to the library, on our way to the Renwick Gallery, we noticed a beautiful rowhouse with an awning emblazoned with the words "Florida House." A plaque proclaimed it an embassy for Florida residents. Since we are officially Florida residents, we rang the bell to check it out. A friendly young woman opened the door, offered us a glass of orange juice, and invited us to make ourselves at home in the nicely appointed living room or parlor.
We drank our juice and had a little chat with our ambassador. We learned that this is the only state embassy in DC. It didn't take us long to figure out that this place is probably mostly used by Florida politicians and lobbyists for political entertaining, even though it is officially administered by a non-profit non-partisan organization with a staff of three people. After we finished our orange juice, we nabbed an extremely helpful fact packet for Florida visitors with detailed information about DC points of interest, and continued on our way to the Renwick.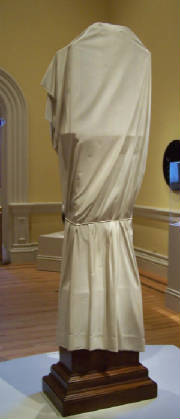 The Ghost Clock
The Renwick is a small museum of American art. It has one truly amazing piece, called "The Ghost Clock." It looks like an old grandfather clock covered with a sheet. Upon very close inspection, the fabric turns out to be carved wood, so finely detailed that you can see the texture of the threads and the creases of seams in the wood.
We were fascinated by "The Ghost Clock," so Dick researched the artist, Wendell Castle, on the internet. The clock is part of a series of thirteen clocks Castle did, and it is the only one that is not a working clock. Castle is considered the originator of the art furniture movement, and the work he displays on his website is spectacular. We just read in the New York Times online that Wendell Castle is the designer of the 500,000th Steinway, which will be unveiled next week. The design is a secret, but the company has revealed that it is "a rather unusual shape for a piano."
We stopped in at the Daughters of the American Revolution Museum, which had an exhibit on bedrooms and bedroom clothing over the past several hundred years, and made a quick stop in the Corcoran Gallery.
Then we headed back to the boat to get ready for the Barbecue cook-off at the Capital Yacht Club. Two club members vyed for the most votes for their pork barbecue. One prepared Eastern Barbecue, and one South Carolina Barbecue. Diners were encouraged to vote for their favorite, and the cooks enthusiastically campaigned for their votes. No one monitored the ballot box, and we suspect some tampering and ballot stuffing may have occurred.
We enjoyed our barbecue and sides and strawberry shortcake, but most of all we enjoyed conversation with our dinner companions -- a couple who lived aboard their boat at the Capitol Yacht Club for nine years, but now live ashore in a blissfully boatless state.
Saturday, July 28, 2007
We began our day at the Capital Yacht Club's Saturday morning Breakfast Club, where we feasted on eggs and bacon and pancakes with fresh fruit and real maple syrup, and pineapple upside-down-cake with whipped cream for dessert.
Then, we were off to the Air and Space Museum, where, as luck would have it, we arrived three minutes before the one free Planetarium Show they offer each day. We were able to find seats, and settled back for a great show. We were astounded when throughout the program our emcee asked the audience to chime up with answers to questions about what a light or pattern on the dome was, and, invariably a chorus of kids would respond, "Jupiter" or "Venus" or whatever the correct answer might be. The kids were always right, and adults, including us, hardly ever knew enough to even venture a guess.
The National Museum of American History is closed for renovations, but its 150 most popular artifacts are on display in the Air and Space Museum. That exhibit was our next stop. There were lots of clothes there -- the top hat Abe Lincoln wore the night he was assassinated, Dorothy's ruby slippers from The Wizard of Oz, Mr. Rogers' sweater, Jackie Onassis' inaugural gown, Marilyn Monroe's elbow-length white gloves and Mohammed Ali's boxing gloves. We saw Archie Bunker's saggy armchair, Kermit the Frog, and R2D2 and C3PO from Star Wars. It was a fun exhibit, built with the items people want to see, rather than what curators think they should see.
Since we had such a big breakfast, we didn't have to waste any time eating lunch, so we could just keep exploring the museum with no interruptions.
Our next treat was a tour of the Air and Space Museum guided by a commercial rated woman pilot. The Air and Space Museum is the most visited museum in the world, with eight to ten million visitors yearly. All of the artifacts they exhibit are real, and all are donated. The museum has a unique relationship with NASA, which builds two of all its space craft, in case something goes wrong with the first one at the last minute. If nothing goes wrong, they donate the extra one to the Air and Space Museum. We saw the Wright Brothers' plane that flew at Kitty Hawk, one of Amelia Earhart's planes, the plane Charles Lindberg flew solo across the Atlantic, the fastest plane that ever flew -- it went 7000 miles per hour, and lots of space craft.
Our guide was outstanding, and we left the museum with a sense of wonder at how far and how fast we have come in riding the skies and exploring the heavens since Wilbur and Orville figured out how to fly just a little over 100 years ago.
Sunday, July 29
It's our last day, and we are no longer taking the road less traveled. We are going to only two museums, and they are museums we have enjoyed before.
Our first goal was to pop in to the National Museum of Natural History, just to see the gems and minerals. Apparently, we weren't the only ones to go there with that intention, because the museum won't let you do that. They have roped off the entrance to the gem and mineral hall, and have guard posted to make sure you don't skip the line. They route you through exhibits on asteroids and meteorites and plate techtonics and radioactive dating before you get to the gems and minerals.
We knew our schedule was blown when they did that to us. Even though we just "skimmed" the information in the halls we weren't intending to see, it still took us an hour to get through them, because there was so much stuff there that was just too interestng to pass up. When we finally got to the gems and minerals, we savored and admired them at a more leisurely pace than the crowds around us who were intent on getting to the Hope Diamond.
Actually, I think the more intriguing diamond is the largest uncut diamond in the collection, a white diamond twice the size of the blue Hope Diamond. The curatorial card for the big diamond says only that it was owned by a Ziegfield dancer and is of unknown provenance. Doesn't it make you wonder how a Ziegfield girl came into a diamond too big to wear as jewelry?
After ogling all the luscious jewels, we were on our way to the main event, the National Gallery of Art, where we spent the rest of the day, departing just fifteen minutes before they closed at 6 pm. We took a docent-guided tour of American art highlights (and highlights are all they have on exhibit, since the American Art Gallery is under renovation).
Then we armed ourselves with an audio guide and the "Director's Tour," a list of about 150 European masterpieces in the Gallery's collection, and we set out to enjoy and appreciate as much of the museum's expansive collection as we could in a short afternoon's time. Getting lost in an art museum is one of our favorite ways to while away an afternoon, and we couldn't think of a better way to spend our last day in DC.
Monday, July 30, 2007
Washington, DC to Cobb Island Anchorage
77.9 miles
We left DC at 6:45, knowing we had a long day of cruising ahead of us and knowing afternoon thundershowers were likely.
It was plane commuter rush hour at Washington National Airport as we cruised by, and we counted less than a minute's time between planes taking off from the runway beside us. A couple times it seemed that a plane had not even gotten to the end of the runway to take off when a landing plane would be in its final approach. We enjoyed our noisy front row seat on all the airport action.
Other than the early morning airplanes, we didn't have much excitement today. The skies were hazy, so we had poor visibility of the shoreline, the water was calm and winds light. It was good napping weather.
We anchored in a sheltered cove next to Cobb Island at 3 pm, and at 3:30 a thunderstorm rolled in, right on schedule. Lucky again, we missed the worst of it.
This was not a sight-seeing stop. Cobb Island is just across the Potomac from Colonial Beach, where we stopped on our way north, and it is not a tourist destination or historic site. After our frenetic week in DC trying to take in as much as possible, we enjoyed an afternoon of reading and beading and relaxing aboard.