Friday, July 13, 2007 Baltimore to Langford Creek Anchorage (off the Chester River)
41.7 miles
We arrived in Baltimore on a hazy humid day, and when we left today it was clear and sunny, probably very much like the weather conditions on the day that Francis Scott Key was straining to see the flag flying over Fort McHenry. This morning, when we got to the star-spangled buoy marking the spot where the the British boat holding McHenry was anchored during the battle, we could see the fort clearly.
But, we couldn't see the flag. The flag that was flying this morning was miniscule, less than a tenth of the size of the huge replica flag we helped raise over the fort when we visited. We think the rangers must fly a very small flag overnight, so that if a sudden storm hits at 3 am, no one has to be rousted from bed to wrestle down the flag.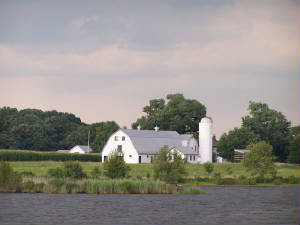 Langford Creek Farm
We found the perfect spot to anchor up Langford Creek at about 1 p.m. We were in a sheltered spot with a view of several stately old homes and a white dairy barn with corn fields beyond it afar, and trees along the shore nearby.
Our cruising guide told us that sea nettles don't normally make their way up this creek, and we saw a family swimming at a tiny beach near our boat, so we donned our suits and jumped in for a refreshing swim. Dick grabbed a scrubbie and circumnavigated the boat with it to clean the scum accumulated along Starsong's waterline. I just floated, until Dick felt like things were biting him, at which time I hopped out quickly. We still aren't sure what got him, but they left little welts. No more swimming in the Chesapeake for us, no matter what the cruise guides say.
Mike and Peggy arrived a couple hours after we did, and after they anchored and got settled, we all hopped in their dinghy for an exploratory ride around the creek. The wind was brisk, and there was quite a chop, so Peggy and I, sitting up front, got pretty wet, but nothing washed over the bow to bite us. By the time we began heading back to the boats, the wind and waves were beginning to die down.
We enjoyed a quiet rural night, the sky full of stars, and the water so flat we hardly knew we were on a boat.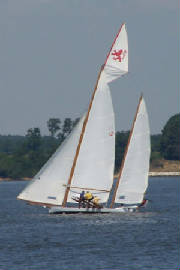 Log canoe racing
Saturday, July 14 A Day at the Races
We came to Langford Creek to watch log canoe races scheduled to happen from 10-2 today. A log canoe is a Chesapeake Bay sailboat, originally developed as a workboat, but now renowned as a racing boat. The original canoes were dugouts, formed from three to nine logs joined lenthwise, then carved to form a shallow hull. Two masts held the sails that powered the boat. In 1885, clubs formed around the bay to race log canoes, and the tradition continues today.
We woke to only the slightest breeze, and as ten o'clock approached, the wind had not increased much. We wondered whether the races would be canceled, but as we neared the course, we could see the log canoes being towed from the marina and docks where they had spent the night. Each boat had about a dozen crew members aboard. One, like a coxswain, sat on a seat mounted far off the stern of the boat, where she could watch the sails and direct the crew on how to trim them. On windy days, most of the rest of the crew members scramble out on long planks inserted in slots on the high side of the boat to keep it from heeling too far over. It is not uncommon for crew members to fall in the water and be fished out by chase boats. We knew we would probably miss that drama today.
It wasn't a great sailing day, but there was enough wind to race. Mike and Pegge joined us on Starsong, and we cruised around the course, staying close enough to get a good look at the boats and their crews, but far enough away that we didn't disturb the race. We were incensed at the people in fast motorboats throwing big wakes that passed by the log canoes seemingly oblivious of the effect of their big wakes on the shallow-sided sailboats. It looked like they could be swamped pretty easily.
Pegge and Mike and Dick are all seasoned sailboat racers -- their thoughts on strategy and keen observations on the race's progress provided for a lively time on our observation deck.
After the race, we moved to an anchorage on the Corsica River, just on the other side of the Chester River from Langford Creek. Mike jumped in the water with a scrubbie pad to clean Avalon's bottom, and emerged from the river with welts where he got attacked by some invisible scourge in the water, worse than the scourge Dick suffered in Langford Creek yesterday. No one else went in the water after that.
We all piled in Mike and Pegge's dinghy for a sight-seeing trip to Centreville, where we found that very few places downtown were open on Saturday. This was our big clue that Centreville has not been discovered as a resort town (yet). The Acme was open, though, so we reprovisioned, and headed back to our dinghy.
The main street from the waterfront through town has a number of homes that date back over 100 years, and one gracious pillared plantation home, Chesterfield, that lies on property patented in the 1600s. It was a pretty walk, and after being at anchor since yesterday, walking felt like a therapeutic act. The fact that no ice cream store was open to counter the therapeutic effects of our exercise was probably a positive aspect of the town, although it didn't seem like it at the time.
Sunday, July 15, 2007 Corsica River to Annapolis (Spa Creek Anchorage)
31.5 miles
John Smith's Voyage Comes Alive
We voyaged beneath sunny skies on calm seas, until we got near Annapolis, when we encountered rough seas churned up by all the Sunday boaters with big motors.
Sandy Point Shoal Light
About an hour away from Annapolis, we passed a notable lighthouse, the Sandy Point Shoal Light, erected in 1883. The lighthouse is a 24 foot square three story dwelling on top of a sturdy caisson. Because the corners of the house are truncated, it looks octagonal from some angles. The first floor of the house has a 7x11 kitchen with a pantry, and a 9x19 living room with a fireplace. Upstairs there are three bedrooms, with a watch room on the third level, and the lantern room up above.
Like the Smith Point Light (which we wrote about earlier in our Chesapeake Chronicles), the Sandy Point Shoal Light was auctioned off in 2006. A lucky bidder got it for $250,000, which is a steal for a three bedroom waterfront home around here.
We set anchor in Spa Creek, which runs through a posh neighborhood of mostly early twentieth century upper middle class homes on small lots with mature trees and dazzling gardens. Many of the streets through the neighborhood dead-end at the creek, and all of the dead-ends have a dinghy dock that boaters are free to use.
We are anchored between a forested park bluff on one shore, and the opposite shore lined with docks holding immaculate boats, and beautifully landscaped lawns and gardens rising beyond the docks to elegant homes designed to enjoy their water views.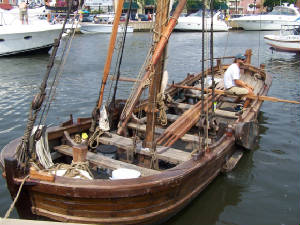 Replica of John Smith's Shallop
We hopped in our dinghy, picked up Pegge and Mike, who were anchored just up the creek from us, and we dinghyed to a nearby neighborhood dock. We tied up there, and enjoyed a walk into town, where the historic highlight of our visit to Annapolis awaited us.
When we got to the downtown waterfront, docked there was a replica of the 28-foot shallop Captain John Smith and his crew sailed as they explored the Chesapeake Bay. The shallop was built in Chestertown (which we visited by bicycle while docked in Rock Hall), and it is on a four month tour of the Chesapeake, visiting places John Smith explored during his 1608 expedition from Jamestown (which we visited during Bike Virginia).
We met two members of the shallop's twelve member crew of naturalists, sailors and educators, and learned more about their life afloat. The boat has sails and oars -- no engines. When there is no wind, they row. It is an open boat, so when it is time to sleep, they find a flat place ashore and ask the landowner if they can pitch their tents there. They look forward to some of their destinations, where interested townspeople have made arrangements to house them in comfort.
The crew began training together in April, and they have been sailing and rowing their way around the Chesapeake and its major tributary rivers since May 12, when they left Jamestowne. They will go all the way to the mouth of the Susquehanna at the far north end of the Bay by July 21, then head south, finishing in Jamestowne September 8. By the time they are done, they will have explored ten major river systems and 21 ports.
They claim that the crew gets along amazingly well, and have had no arguments since they started.
They had a tent set up on the wharf with educational exhibit panels inside. One of the crew stood in the boat answering questions about their life aboard, and explaining their mission -- to educate us about the history and the (endangered) ecology of the Chesapeake Bay, while another crew member inside the tent did the same, using the visual aids on the tent panel exhibits.
They told us that the rest of the crew was breaking camp over on Back Creek (the next creek over from Spa Creek), and they were going to take the shallop over to meet them later this afternoon. They planned to load up and catch a favorable wind and tide starting at 6 pm, crossing the Chesapeake overnight and arriving at Rock Hall tomorrow. We could understand why in that open boat they would prefer night travel to sailing in the heat of the day. And, with light winds predicted the next day, night sailing would definitely be preferable to day rowing!
Monday, July 16, 2007 Annapolis
Annapolis is full of note-worthy landmarks and historic sites -- the Naval Academy, the oldest state house in the country still in use (briefly our nation's capital), and neighborhoods with homes and businesses dating back to the 1700s.
But, we didn't do any historic walking tours or landmark visits today. We saw them all last time we were here. If you haven't visited those spots with us before, you might want to click the link below for a whirlwind tour of the Annapolis no tourist should miss.
Click here to see highlights from our last visit to Annapolis.
Downtown Annapolis
We are visiting Annapolis in mid-July this year, and were here in mid-May when we visited during our Loop Cruise in 2005. One of the most noticeable differences in the town this visit is that there are flowers everywhere we go -- in baskets hanging from lightpoles, in window boxes, and leaping in colorful mixtures from huge planters along every street. Many of the dead-end streets with dinghy docks at their ends have pocket parks with tiny gardens, the wider streets have medians or traffic islands planted with a profusion of flowers. The flowers add a festive air to the town, and soften up the hard edges of all the brick and masonry on the streets, sidewalks and buildings.
Today we are doing an eating, drinking, shopping tour of Annapolis, beginning with a big belly busting breakfast at Chick and Ruth's, famous for the autographed photos of celebrities and politicians who have eaten there hanging on the walls (our table was beneath a photo of Brooke Shields, and next to a photo of Janet Reno).
Shortly after we finished breakfast, Mike's cousin called to say she was going to be in Annapolis, and wanted to get together for an early lunch. Since we had just finished a breakfast guaranteed to carry us through dinner about an hour before our lunch get-together, we just drank beer and enjoyed convivial conversation while Mike's cousin and her husband ate.
We walked a long way to the outskirts of town in search of a geocache which I mis-mapped (oops), but fortunately, after our big breakfast and post-breakfast beers, we were all feeling the need for a good long walk anyway. Also, fortunately, we found it. It is always an especially big disappointment to walk a long way to an unfindable cache. To its credit, the cache did take us to a part of Annapolis we hadn't seen before. Now we just need to wait and see if we all successfully avoided the poison ivy guarding the cache.
Back in town, we made our ritual visits to the marine supply store and the excellently stocked hardware store, where we admired a beautifully crafted weathervane with a great blue heron in flight at its top. We couldn't figure out where we would mount a weather vane on our house, so we had to pass it up. We peeked into other shops that caught our eye, including a glass shop with festive blown glass balloons and a fanciful hanging glass sculpture that looked like a Chihouly clone in the window.
After we about wore ourselves out tramping through the shopping district, we went back to our boats to rest up for dinner, which turned out to be yet another eating extravaganza, followed by a trip to the ice cream store, which was sort of on the way back to the boat.
We have to leave town before our clothes don't fit anymore.