July 17 Annapolis to Oxford
36.4 miles
We couldn't leave Annapolis without one last big greasy breakfast with Mike and Pegge at Chick and Ruth's. This time we were there at the right time to participate in the restaurant's famous morning Pledge of Allegiance. At 9:30 on weekends and 8:30 on weekdays, the owner of the restaurant turns on a PA system and invites everyone in the restaurant to rise (cooks and wait staff included), face the flag, and join him in saying the pledge. It feels just like being back in school.
During breakfast we had one of those mystic boating connection moments when Mike mentioned Carl on Ceilidh, and we realized Mike and Pegge had cruised up the east coast with Carl and Madonna for three months just before we cruised with Carl and Madonna for a couple wonderful months in Canada. No matter how many times we discover another thread that connects our boating friends with each other and with us, we continue to be amazed at how tightly and intricately the web of floating friendships is woven.
After breakfast we hopped in the dinghy and zipped back to our boats, where we had just about half an hour to get organized, raise our anchors, and motor over to the bridge in time to catch the 10:00 opening. Not far after we passed through the bridge, we parted ways, with Avalon heading back to Rock Hall, and Starsong cruising to Oxford.
We tied up in Oxford at a little after 2 pm. Oxford is one of the oldest towns in Maryland, founded in 1683. Until the American Revolution, Oxford and Annapolis were the only ports of entry for all of Maryland, and Oxford prospered as an international shipping center surrounded by wealthy tobacco plantations.
Although it is no longer a shipping center, its waterfront location is still vital to the town's success. It is a boat building and yachting center, with about as many boats as people. Even its most modest waterfront porperties sell for over a million dollars. The country's oldest privately operated ferry, begun in 1683, still runs between Oxford and Bellevue. Through its history the ferry has been powered by sail, sculling, rowing, steam, and modern diesel engines.
Friends Roxanne and Lenny (who cruised with us and Carl and Madonna in the summer of 2005) came by car to meet us at 4 pm. Oxford is the home port for Summertime, Roxanne and Lenny's boat, and they had lots of local knowledge to share about this charming little village that claims a population of just over 700 people. We shared cocktails at a picnic table at their ten boat yacht club, then had a fabulous dinner at their favorite local restaurant, and returned to Starsong for a little Rummikub. We cut our usual endless rounds of play short, because Roxanne had to leave to catch a plane to California at 4 am tomorrow.
We parted with plans to meet again at the end of this month, to cruise the southern part of the Bay together.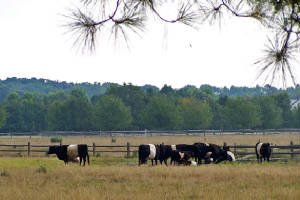 Oreo cows
July 18, 2007 A Bicycle Tour to Easton and Back
Easton is the county seat of Talbot County, and boasts the huge population of 13,000. We couldn't get there by boat, but from Oxford it was an easy ten mile bicycle ride on a roadside bike path almost as wide as the car lane. The ride took us past corn and soybean fields and a glorious field of colorful zinnias sandwiched between two large fields of bright yellow sunflowers.
We also stopped to admire a herd of oreo cows -- black with a white stripe in their middle. They were grazing in the sun when we rode out to Easton, and lolling in the shade when we rode back.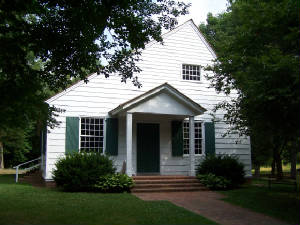 Third Haven Meeting House 1684
The oldest building in town is Old Third Haven Meeting House, a Quaker meeting house built in 1682-84. It is "the oldest frame building dedicated to religious meetings in America," according to Easton's Points of Interest Tour. As you have no doubt noticed, we are always alert to claims of being oldest, biggest, world famous and the like. We think this "oldest" claim is a good demonstration of the principle that with the creative use of enough modifiers anyone can craft an impressive claim to fame.
Regardless of how "-est" worthy the claim may be, the meeting house is certifiably old, and looks it, with massive exposed wood beams in the ceiling and walls, and unfinished floors polished by many feet over hundreds of years. The congregation leaves the doors unlocked with just a sign reminding visitors to close the door behind them as they go.
One of the newer buildings in town is the Walmart, which we unwittingly were led to in search of a geocache. We were incensed that a cache hider living in a town with so much history would choose to hide a cache in the smokers break area of the Easton Walmart. (And even more incensed that we never could retrieve the cache, because smokers were always sitting on top of it.)
The town looks to have had a prosperous history, with many large homes built during the 1700s, 1800s, and early 1900s. We enjoyed riding up and down the streets admiring the homes and their colorful gardens.
We lunched in a restaurant clearly favored by the local ladies who lunch. We were a bit underdressed compared to the society crowd. Dick came back from washing his hands before lunch to report he saw a photograph of VP Cheney and Warmonger Rumsfeld eating there. The food was so good even that didn't spoil my appetite. (Buddies Cheney and Rumsfeld both have homes less than ten miles from Easton, near St. Michaels -- you never know who you'll run into around here.)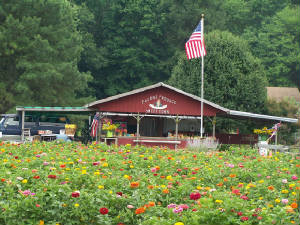 Zinnia field and produce stand
We rode back to Oxford shortly after lunch. The temperature was in the 90s, and the humidity spongey. Although we had laundry to do, we couldn't wait to cool off in the pool. Fortunately, the laundry room here is just steps away from the pool deck, so we swam between cycles.
After cooling in the pool, we rode our bikes to the Wednesday afternoon farmer's market, where we picked up produce and a pie, then continued on to a waterfront restaurant for steamed crabs.
We felt a bit steamy ourselves riding back to the boat after dinner. The heat and humidity hardly abated with the sinking of the sun. We are glad to be plugged in on a dock with all three air conditioning units running on a day like today.
Tomorrow we will be back to the anchor again.
Thursday, July 19, 2007 Oxford to Solomons Island
39.1 miles
We are back on the hook in Solomons, our favorite reprovisioning spot on the Chesapeake. On our way north, we took the road less traveled here, trying to avoid the weekend hubbub by anchoring in Old House Cove on Mill Creek (June 30). This time we are in Solomons on a week day, so we aren't concerned about crowds. We are anchored on Back Creek, which is like parking on Main Street. We are about as far up the creek as a boat our size can go, and, most important, since our main goal here is to reprovision, we are about two minutes ride from the dinghy dock that is closest to our favorite gourmet grocery store.
Just as we were about to head to the store this afternoon, the sky blackened and a squall whipped in, nearly blowing one of our window covers off its snaps, and soaking us in seconds as we scurried about trying to get all our hatches and windows closed, and all our loose items secured. Some wind gusts probably exceeded 50 mph, but we weren't venturing outside to measure them.
The weather radio, which was bleating out warnings and urging people to go to their basements, reported damaging winds up to 80 mph nearby. Dick had the generator turned on so we could run our air conditioning, since the boat quickly became stifling in the heat as we closed it up against the rain. Then he turned on the engines, fearing we might drag our anchor. He watched out the rain-lashed windows and followed the track of our boat on the GPS screen to try to discern if the anchor was holding fast, even though the boat was moving around pretty wildly on its chain as the wind shifted. Think untrained puppy on a sixty foot leash, and you get the idea.
All held fast, and the worst of it was over in about fifteen minutes. We were on our way to the grocery just an hour or so behind schedule, and didn't have to don our foul weather gear the whole trip.
We spent the late afternoon and evening enjoying the cooler weather the storm blew in.