Friday, June 29 Hampton to Horn Harbor
33.4 miles
The life of our fuel filters has gone from about 120 hours to little more than twelve hours lately. The thought of having our engine conk out from fuel starvation in the middle of a shipping lane in the Chesapeake is somewhat disturbing to us, and since none of Dick's other possible solutions have resolved the problem, we are reduced to going with the expensive option that requires special equipment handled by a "professional."
If you have been reading our logs for any time now, you have probably guessed that we approach marine mechanic "professionals" with some skepticism. To earn the right to have the "quotation marks" removed from the title, a professional simply has to exhibit a modicum of expertise that exceeds Dick's knowledge of the problem at hand. Anyone who has less expertise than Gayl deserves to be thrown off the boat.
In this case, our "professional" only escaped being thrown off the boat because he came with fancy equipment that we needed to get the job done. When he failed to figure out that he had a leak in his hose pumping fuel out of our tank, and failed to realize this was a problem in getting the job accomplished (both observations made by Gayl, as well as Dick), Dick diagnosed the problem with the system and took action (using his own materials) to make it airtight. Gayl's role in the process was to repeatedly handle the inefficiently pumping bubble-filled hose and make astute comments like, "This is making me crazy," thus dramatically reducing the time Dick was patient to wait for the "professional" to recognize and solve the problem himself.
One bright spot of the morning was that a fellow boater we met on the Loop in 2005 dropped by to say hello. Ed Zellers and his wife Shirley live in Hampton, and recognized our boat while strolling the neighborhood. Ed was on his way to get some boat parts, and gave Dick a lift to the marine supply, where Dick stocked up on more fuel filters, just in case (our "professional" did not inspire confidence).
After about five hours of cleansing the fuel left in our tanks, we moved to the fuel dock to fill up with what we hoped was clean fuel to further dilute whatever dirty stuff might be left in the tanks. The pump was one of the slowest we have encountered -- it took us over an hour to get just 200 gallons of fuel.
We finally got on our way at 2:30, just about the time the clouds started building for the predicted afternoon scattered thundershowers. Luck was once again with us -- we managed to dodge all but a few little smatterings of scattered showers, and we saw a new life bird -- Wilson's Storm Petrel. Storm petrels are usually found offshore, but these were in the wide southern part of the Bay, where we couldn't see the shore, and maybe neither could they.
It was 6:45 when we finally got to our anchorage in Horn Harbor, a sheltered little cove on the west side of the Bay, surrounded by woods and marsh, a few cottages and a very modest marina. While not highly populated with people, Horn Harbor is a very popular destination for sea nettles. The water around our boat looked like a half price sale in a bridal gown outlet, with hordes of diaphonous white jellies pulsing gracefully by, trailing their veils of stinging tentacles.
No swimming after a hot day on the Chesapeake.
Saturday, June 30 Horn Harbor to Old House Cove in Solomons
80.9 miles
We have a long day planned, because the weather report for the next few days sounds like it might get windy and rough, and we want to be sure we get to Rock Hall in time for the fireworks, and the start of our reservation at Haven Harbour, on July 3.
An hour after hauling up our anchor, we passed Wolf Trap Light, an octagonal red brick lighthouse standing nearly three miles from shore marking the edge of Wolf Trap Spit Shoal, where the English merchant ship HMS Wolfe went aground in 1619.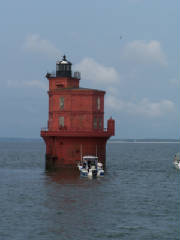 Wolf Trap Light
Thus, the shoal it marks was recognized as a hazard to navigation for centuries before this light was erected. In the early 1800s light ships were anchored there to mark the spot, and after the Civil War a lighthouse built on pilings marked the spot for a while, until in a hard winter ice floes ripped it from its pilings and carried it twenty miles down the Bay, where it was found still floating, but barely.
The lighthouse that is here today was first lit in 1894, and it was automated in 1971. In researching the light, I found a website by a lighthouse lover named Ann who interviewed a keeper assigned to Wolf Trap Light in the 1950s. His stories of life on an offshore light were fascinating to me.
The keepers worked 28 days on and six days off, and spent most of their time painting and cleaning. Cleaning was very important -- especially the roof, since rain gutters captured water and drained it into the lighthouse water tanks, and no one liked the thought of drinking water tainted by bird droppings.
Speaking of water tanks, this keeper reported that he had heard stories about surprise inspections at other offshore lights when an unauthorized woman was present. The place they hid the woman was in their water tank in the basement. This keeper was worried about the water quality when they pulled her out.
He said the Coast Guard delivered water and heavy supplies in their big boats, but the keepers had to use a small boat kept on the light to get groceries and personal items from town. Getting the small boat launched was a challenge in rough seas, because the waves would toss the boat against the lighthouse as the keeper was trying to lower it. This keeper, who had no wife or family in town while he served on the light, complained that often one of his co-workers would go ashore for groceries and then determine that the weather was too rough to return, conveniently staying with family ashore until the weather cleared.
Nearly four hours after passing Wolf Trap light, we passed its sister light -- Smith Point Light. It was built to the same specifications as Wolf Trap Light, and is painted white instead of red. In 2005 the GSA decided to auction a few lights off to the highest bidder, and David McNally of Winona, Minnesota picked up Smith Point Light for $170,000. He owns it, but has to preserve Coast Guard access to the light. Otherwise he can use it however he likes as the ultimate waterfront property -- no obstructions to water views from any window in the place.
We set anchor in Old House Cove in Solomons, Maryland shortly after 5 pm. We hopped in our dinghy to take a scenic ride along Solomons' winding creeks, lined with marinas, private docks and anchorages holding hundreds and hundreds of sailboats. We tied up at a dinghy dock and made a quick provisioning stop to the exceptional gourmet grocery store we remembered from our last visit here. Then we returned to the boat for a quiet evening in the cove.
Sunday, July 1, 2007 Solomons to Baby Owl Cove on Broad Creek
38.8 miles
The writing in our ship's log for today looks in places like a first grader helped us document our voyage. Trying to write in three to four foot waves presents a challenge.
Fortunately, the waves were variable, and the really bad spots didn't last more than about half an hour. We got used to two to three footers, and pressed on. We might have turned back or altered our destination if we didn't have a rondezvous with great boating friends awaiting us in Baby Owl Cove.
We cruised with Roxanne and Lenny Nelson in July and August 2005, when we were all doing the Loop. Their boat, Summertime, is berthed in Oxford on the Chesapeake. They had been planning to cruise in Canada this summer, and we were disappointed that we wouldn't be able to see them in the Chesapeake, but their plans changed, and when they called us yesterday to see if we could arrange to get together in an anchorage near Oxford, we jumped at the chance.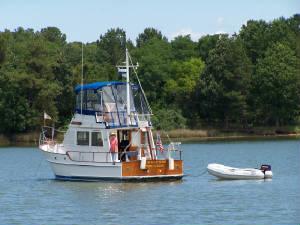 Summertime Welcomes Us to Baby Owl Cove
Baby Owl Cove was a beautiful rural spot, sheltered from the big winds whipping up the bay. Roxanne and Lenny gave us a warm welcome to their little piece of home port paradise, and dinghied over to join us for lunch. After our boater's naps, we all got together again for Happy Hour Rummikub, dinner, and more Rummikub after dinner. We have enjoyed many hours of Rummikub with Roxanne and Lenny, and always look forward to the tournaments we know will accompany our reunions.
Roxanne and Lenny had to get back home, so they couldn't join us as we continued north, but they left us with many suggestions for places to see and things to do along the way, and, most importantly, given the weather, they provided local knowledge about an inside passage north that would keep us out of the heavy winds and growing waves on the open Bay.
We are all hoping to get together again when we are near Oxford again on our way South.
Monday, July 2 Baby Owl Cove to St. Michaels and on to the Wye River
44.2 miles
The solitude of our quiet anchorage was broken at first light as trotline crabbers arrived to circle the cove, setting and checking their trotlines. We had wondered at our luck in finding a cove with no crab traps to limit our anchoring possibilities, and now we knew why. Trotline crabbers have a very long line with hundreds of hooks attached to it. They bait the hooks with pieces of eel, then put the line in a box full of salt to preserve the eel. A machine feeds out the line as they slowly move forward. When the crabber returns, his machine slowly reels in the line, while the crabber stands ready with a net to grab the crabs holding onto the eel pieces as they are raised near the surface.
Because they move so slowly as they work, the trotliners didn't awaken us with their wakes, or even with the sound of their engines, but a few of them had their marine radios tuned to a waterman's chat channel at high volume, so they could hear over the sound of their engines and machinery, and that was loud enough to break our slumber.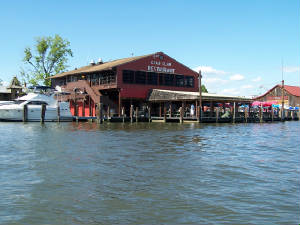 The Crab Claw
We raised our anchor and bid Roxanne and Lenny farewell at 8 am, and we were on our way to St. Michael's, one of the most popular cruising destinations on the Chesapeake. We took an inside route, avoiding the turbulence of the open waters of the Bay, and we dropped our anchor off St. Michael's at noon, just in time for lunch.
We could see our destination from the anchorage -- The Crab Claw. After all these days of watching the watermen pull blue crabs from the bay, we couldn't put off eating them any longer. We dinghied to shore, and headed straight for The Crab Claw, where we shared a dozen perfectly spiced Blue Crabs -- not hot enough to make our lips burn, but plenty hot enough to make a tall beverage go down easy and to create a yearning for ice cream after lunch.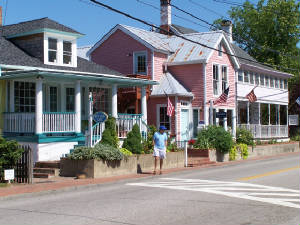 Downtown St. Micheals Shops
After lunch we roamed the narrow streets of tiny watermen's houses, and explored the quaint shops on the main street through town. We located Roxanne's favorite jewelry store, The Silver Lining, where I found an irresistable pair of silver earrings. Then we found an irresistable ice cream store, where we got sundaes.
We could have spent hours longer there, and another day we probably will. But, we had to head back to Starsong, because we planned to anchor in a more sheltered and less crowded anchorage tonight.
Our anchor was up at 5 pm, and we turned into the Wye East River at 6. The river is beautifully rural, with impressive homes on large lots interspersed with stretches of woodlands, marsh, cornfields and farmhouses.
We cruised the river a bit, checking out possible anchorages, and decided to anchor in Dividing Creek, where there were already five boats anchored. We found a little crook in the creek where we looked at wooded creek banks in either direction, and could look out the mouth of the creek across the river to see cornfields. Our anchor was down at 6:30, and we were on our flybridge enjoying the natural beauty that surrounded us, while reading until we lost the sun. A great blue heron had a favorite fishing spot on a snag near us, and it was so quiet we could hear the fish belly flopping.