July 3 Fireworks!
The towns around the Chesapeake coordinate their fireworks displays so fireworks fans can enjoy the local shows night after night during the week. The St. Michaels display was June 30, Oxford July 1, Rock Hall shoots theirs off tonight, and Chestertown, just twelve miles up the road from Rock Hall, has their show on July 4. Kent Narrows even has a show on July 5.
The Rock Hall fireworks are set to patriotic music, and they are shot from barges in a bay which is across a narrow isthmus from our marina. When we docked, the dockhand told us our berth was a perfect spot for watching the fireworks. We were concerned about missing the music, but as luck would have it, the wind was blowing in the right direction to carry the sound to us -- we could hear the pre-show music just fine. So, we set up our private viewing stand on the flybridge, and enjoyed the show, which had lots of different kinds of fireworks, some unusual shapes and colors, and many creative juxtapositions of sky art and music.
Somewhere around the beginning of Kate Smith singing "God Bless America," a bit more than half an hour into the show, it began to rain a bit, and we just moved our chairs back a bit under our bimini froof, and continued to enjoy the fireworks. As Kate was just hitting her stride, preparing for the big climax, the fireworks petered out. We figured maybe it was raining harder over there, and the fireworks got rained out, or there was a problem with the fireworks getting wet and not lighting correctly.
After waiting about five minutes, I got ready for bed. My head wasn't on the pillow more than a minute when the music started up again, and the fireworks continued as if there hadn't been a 25 minute gap. The big finale came at the end of "God Bless America," so we didn't have long to wait. But, unlike any other fireworks show we have seen, the music continued after the finale (Boogy Woogy Bugle Boy) and there were encore fireworks.
We thought the long intermission was weird, but otherwise we judged it a spectacular show. It wasn't until the next day, standing in line at the American Legion Hall, that we learned the rest of the fireworks story.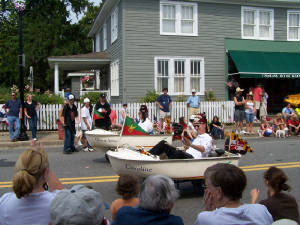 Shriner Parade Boats
July 4 Celebrating Independence Day the Small Town Way
We began our day with the All You Can Eat Breakfast at the American Legion Hall. We knew it would be good when we walked in the door and saw the hall filled with policemen and firemen, and lots of residents dressed up in red, white and blue starred and striped clothing.
The buffet offered pancakes, biscuits and gravy and creamed chipped beef, scrambled eggs, scrapple, and bacon, home made hash browns, juices and coffee. There was plenty of food, and there were plenty of people there to eat it.
While standing in line, we got to talking with the folks around us, who recognized us as out-of-towners. They were talking about the fireworks, and we learned that the gap in the show was due to ground fireworks -- falling embers started a brush fire on shore. The fire boats had to get it under control and douse it before the show could go on. Folks who were watching from the right spots around the bay got an extra show.
After breakfast, we dashed up to the finish line of the annual "Rock Hall Flat Five" five mile race, but were too late to see our friend Mike from Avalon cross the finish line. He came in fourth of all the racers, but was disappointed because last year he came in third. He beat lots and lots of racers half his age and less, and 99% of people in his (our) age bracket would be happy just to run five miles at any pace, but Mike is working against his own higher standard. We understand.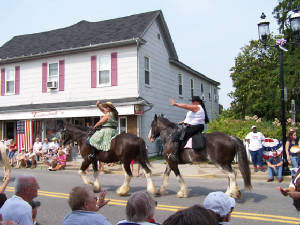 Draft horses at work in the parade
The sidewalks were lined with chairs three or four rows thick for the parade. Mike and Peggy and we found a couple benches in the shade in front of a shop. We were in the back row, but we weren't risking skin cancer from UV rays. The kids all sat in the front row and on the curb, and we soon figured out why. It seemed that those participating in the parade were required to throw things at the spectators. The most common thing thrown was candy, but the people on the float sponsored by the ice cream parlor threw popsicles, another float threw beach balls, some threw Mardi Gras necklaces, and others foam insulator sleeves for a soda or beer can. The girls softball league float was filled with primary school girls filling and discharging massive super soaker guns into the crowd.
We saw all the uniformed folks from the pancake breakfast driving their fire trucks or marching or riding in the parade. If there had been a fire anywhere within a thirty mile radius of Rock Hall during the parade, it is hard to believe there would be a truck left in a firehouse anywhere to answer the call.
The shriners from this area have miniature boats they drive in parades. And one of the town's patriarchal watermen was in the parade riding in his boat, being towed on a boat trailer.
After the parade, we listened to a Dixieland Jazz concert in a small park lined with little shops and a museum chronicling the glory of a now gone local amusement park.
American Legion pancakes; a parade with politicians and beauty queens, home-made floats, and lots of fire engines; and a concert in the park. What more could anyone want for a perfect Fourth of July?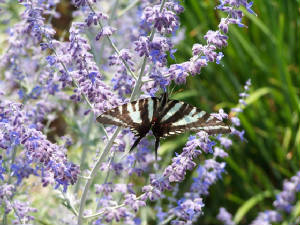 Zebra Swallowtail on Russian Sage
July 6 Butterflies!
We joined Peggy and Mike for a bike ride picnic at the Eastern Neck National Wildlife Refuge. We started our ride with a stop at the Bay Leaf, a gourmet deli on Main Street in Rock Hall that makes great sandwiches. Then we continued our ride on rural roads lined with corn and soy fields.
We stopped just to find a geocache just before the bridge to the Refuge. Fortunately, it was an easy find, so we didn't have to introduce Mike and Peggy to the agony of defeat involved in the sport.
The refuge has six miles of trails, and lots of recreational areas to choose from in its 2285 acres, but the most intriguing area to us was its butterfly garden. The garden itself was a huge expanse of colorful and fragrant beds of mostly native plants growing in profusion. We saw about twenty different varieties of butterflies, but the most plentiful were zebra swallowtails. There were thousands of them flying all about us and nectaring in swarms on the butterfly bush right beside the shaded porch steps where we ate our lunch.
After lunch we walked out on a point and looked across the Bay to the Baltimore Bay bridge.
By the time we got back to the marina, we had tallied up over 18 miles on our bikes, and it was after 4 pm. We all changed into our bathing suits and hightailed it to the pool for happy hour. Haven Harbour has two pools, one just for adults that has plenty of shade and plenty of places to sit and relax. After our cool and restful respite today, a late afternoon trip to the pool turned into a daily ritual for the remainder of our sunny stay at Haven Harbour. We stayed for hours, until hunger drove us home for dinner.
Saturday, July 7 Local Color
We have been cruising for over a month, and I needed a haircut badly. A haircut in a strange port is always a risk, but in Rock Hall I had local knowledge, thanks to Peggy, who I am now walking with every morning at 7:30. When she's in Rock Hall, she always has her hair cut by Tracie at Styles Unlimited (the only shop in town). I followed Peggy's lead, and got an appointment for today.
Tracie was born in Rock Hall and has lived here all her life, except for a brief stint up the road twelve miles in Chestertown. She had a prize-winning float in the Fourth of July Parade. I asked her about it, and she was most proud that all she had to purchase for the float was a couple sheets of posterboard. All the rest of the stuff -- including a decorated tiki hut, a big fake palm tree and a dinghy with seven American Girl dolls with hands raised holding little American flags -- she had on hand. I congratulated her on winning a judge's trophy for "Most Patriotic," and she just laughed and said that you had to have a very poor entry not to win a trophy. The awards ceremony was nearly as long as the parade, with many categories.
I got a great cut for just $15. The last time I got a $15 cut was when we were looping in 2005, and I got my hair cut in Penetaguishene in Canada's Georgian Bay. My cuts back home cost more than twice as much, and aren't as good.
In the afternoon, we walked up to the Rock Hall Museum, two rooms in a former primary school, which also houses the town library and police station. We had a delightful personal tour of the museum, led by Dorothy McKinney, who comes from a family of watermen.
Her grandfather was a waterman, and her grandmother regaled her with stories of their life. One story she shared with us was of when her grandfather was taking his forty ton winter fish haul across the bay to sell it in Baltimore. He was caught in a Nor'easter and lost half his haul, but they still had a good winter. Her grandmother said that with the money from that haul they put a porch and a garage on the house.
Her uncles, "the Glenn brothers," were among Rock Hall's famous decoy makers. The museum displays some of their decoys, as well as many articles and books on decoys heralding the quality of Rock Hall's decoy carvers. At first their work was actually used in the water by hunters, but they soon became collector's items, and the only time they were put in water was for the float test in decoy carving tournament judging. One of the heralded decoy carvers was also a barber, who combined his decoy carving studio with his barber shop to create what looked like a very cluttered environment. Information we read in the display led us to believe that the only way he passed the annual inspection to get his license renewed was because he cut the hair of all the influential politicians in the area.
Like so many of the small museums we have enjoyed along the way, the Rock Hall Museum had an eclectic collection of whatever the townspeople wanted to donate. Lots of townspeople made ship models, as well as the decoys, to help tell the story of the town and its close relationship with the water. Then there were the flea market items -- old brownie and girl scout uniforms and vases and crockery. We were particularly fascinated by the framed full page obituary for Punkin, the "town dog" in the 50s. He accompanied his owner, school teacher and principal Hilda Hill, to school every day and "provided moral support to the children when they got their shots," as well as patrolling the playground. He made his rounds of Main Street daily, and had regular stops for treats at various businesses. No human could ask for a warmer or more laudatory (or longer)obituary than the one given to Punkin.
After our museum tour, we hopped on the Rock Hall trolley for a ride around town. Our driver TJ, a retired Army Ranger, talked non-stop throughout the ride, but he didn't cover a lot of history. Mostly he provided colorful commentary on events and people around town, and about himself. We were unfortunate enough to share the trolley with a dozen very inebriated bar hoppers ranging in age from about 40 to 70. They were loud and boisterous and pretty lewd in their running commentary. Clearly, they had started their pub crawl hours before we first saw them. The bar hoppers sat together in the back of the trolley, and parents with kids sat as far to the front as possible, keeping their kids facing forward, sometimes even putting their hands over the kids' ears. To our driver's credit, he changed his route and made unscheduled stops to get the bar hoppers off the trolley as quickly as possible after they got on.
After we did a full loop and a half to get back to our marina, we sat by the pool for a couple hours talking with Mike and Peggy, and Al and Ann -- live-aboards who were in Marathon this past winter when we were there.
Our $5 trolley fare was good all day, so when we finally wrenched ourselves away from the pool, we decided to hop the trolley to the newest waterfront restaurant in Rock Hall, a place everyone is talking about called the Harbor Shack. What makes it special is that it serves Mexican food in addition to the usual steamed crabs and fried seafood options of most waterfront restaurants around here. In fact, it is the only place in town for Mexican food. It seems to be a winning combination.
Casual is the byword for dining in Rock Hall -- as our trolley driver told us there is only one restaurant in town where you have to dress for dinner, and dressing for dinner just means you have to wear a shirt and shoes. (We aren't eating at the fancy place, even though it is right next to our marina, because along with a shirt and shoes you need to bring a lot of money.)
Sunday, July 8 Our Chestertown Bike Tour
We had read a lot about Chestertown in our cruising guides and in tourist brochures whe have picked up along the Chesapeake, and we thought about cruising 25 miles up the Chester River to get there. Then we figured out that it is only 12 miles from Rock Hall by bicycle, and an excursion was born.
Just like our Eastern Neck Ride, our Chestertown ride began with a stop at the Bay Leaf, where we consumed skim lattes and pastries to give us the energy we needed to be on our way. Then we set out along Route 20, a busy two-lane highway with a wide bike path along its shoulder the whole twelve miles from Rock Hall to Chestertown. Main Street in Rock Hall is part of Route 20, and a historic marker there says that it is part of the first road cut in Kent County in 1675. George Washington is known to have traversed the road at least eight times, and it is the route Tench Tilghman traveled from Virginia to Philadelphia to inform the Continental Congress of Cornwallis' surrender during the Revolutionary War. A lot of history passed beneath our bike tires.
Route 20 was lined with large fields of corn and soybeans, old farm houses, a few new manor houses, and then new suburbs as we neared Chestertown.
Our favorite part of our visit to Chestertown was a self-guided architectural walking tour we did of the town using a brochure we picked up on our visit to the Rock Hall Museum. It was one of the best self-guided walking tours we have ever done, with 24 stops, most dating to the 1700s, each curated with a full paragraph of historic perspective and information about its interesting architectural features. The historic district where we did our walking tour stretches from the Chester Riverfront for about five blocks, and is three or four blocks wide. We not only enjoyed the houses on the tour, but we also admired the other beautiful homes, many of them small rowhouses with beautiful little gardens and colorful planters, on the tour route.
We had lunch at a charming cafe with gourmet sandwiches right in the heart of the historic district. After lunch we tried to do a gallery hop, using a map showing 17 art galleries in historic downtown, but we found that most of the places were closed on Sunday. If Chestertown was a tourist town, they would never close their galleries on the Sunday after the Fourth of July, so it must not be a tourist town.
It may not be a tourist town, but it is a college town, and proud of it. Washington College, founded 1782, was the first college chartered in America after the signing of the Declaration of Independence. Knowing the college would be named for him, George Washington himself gave the largest gift to the campaign to raise the funds necessary to charter the school.
We thought of the road from the historic downtown area out to the college as passing through the "new" historic district. Instead of homes built in the 1700s, this road was lined with impressive high Victorian houses built in the late 1800s. My favorite was a big white Queen Anne with lots of trim the color of the inside of a conch shell. It looked like a rich little girl's fantasy dollhouse blown up life size. Across the street was a house with creepy gothic lines, painted deep maroon and teal with a touch of gold.
After riding that stunning road to get to it, the college itself was a disappointment. If the original buildings were still standing, we missed them, or they were very undistinguished. The campus was pretty, but it didn't have a regal patina of age like William and Mary, which we admired during our Bike Virginia tour.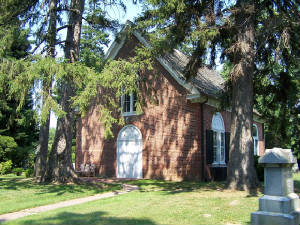 St. Paul's Episcopal Church
We took a different road back from Chestertown, a narrow two lane road with no bike path that wiggled and rose and fell through the countryside, and passed through old growth forest so dense it formed a canopy over us for several refreshing stretches. We were thankful for the trees, because our bike thermometer registered 99 degrees when we were in the sun. We hardly saw a car the whole way -- it was a very serene rural route.
The highlight of our return trip was a stop at St. Paul's Episcopal Church. The church was founded in 1693, and the building where the congregation meets today was built in 1713. The church is surrounded by a sprawling cemetery with marked graves dating back to the 1700s. Rock Hall native Talulah Bankhead is buried there, but we didn't come across here grave.
We filled our water bottles with the church garden hose, and were on our way back to Haven Harbour, where a dip in the pool was the perfect way to end what turned out to be a 31 mile ride.
Monday, July 9 Our last day in Rock Hall
Since this was our last day, lots of our time was spent preparing to depart for new port and anchorages. While I did my early morning walk with Peggy, Dick did several loads of laundry and tidied up the boat. While I messed around trying to catch up our web page, he did a deep cleaning of the shower, that involved pulling up the teak lattice floor and thoroughly scrubbing subfloor, pump screens, and such -- not your simple home shower cleaning operation.
Dick also spent part of the morning down in the engine room with Hank, a very experienced marine mechanic he hired to adjust the valves of our engine. (We aren't having engine problems -- this is just scheduled maintenance.) Here's a direct quote from Hank (I was working on the website up in the air-conditioned cabin while the guys were buried below in the steamy engine room, so I had a pen handy to transcribe Hank's words):
"In all my years, I don't think I've ever seen a pair of Fords this clean. That sure is a credit to you."
When he was finished, he said, "That's the quickest valve job I've ever done."
With all this evidence of Dick's superior cleaning skills, is it any wonder that I defer to his expertise when cleaning tasks arise?
We enjoyed one last early evening at the pool with Mike and Peggy. When hunger finally drove us to leave poolside, we sought a restaurant recommendation from the local boaters left in the pool, and learned that it was our lucky day -- all entrees are half price at the Bay Wolf on Mondays. Local boaters can always be counted upon to know where cheap drinks and nightly specials can be found.
We had a wonderful meal, topped off by a (full price) warm blackberry cobbler topped with vanilla ice cream. Let's just say we left Rock Hall with a good taste in our mouths.