Monday, June 4 Skidaway Island to Beaufort, SC
61.7 miles, 7:43 hours
We have visited Beaufort by land and water many times -- it is just a little over an hour away from home by land and a day away by water, after all. We have toured the town by horse drawn carriage, by bicycle and on foot. We have spent hours perusing its fine bookstores, and have eaten in most of its better restaurants. We even have rituals we perform at every visit: (1) we eat an evening waffle cone from the ice cream parlor just three minutes' walk from the marina and (2)we consume a latte and a sweet treat on the flybridge as we cruise away. So, we didn't expect our stop at Beaufort to offer any surprises.
We should have known better.
Within minutes of leaving Starsong we had a Beaufort surprise as we ran into Pegge and Mike McLaughlin, previously aboard Bahama Banks and now aboard Avalon. We met them two years ago, and then saw them again in Marathon in February. We had them aboard for a little cocktail hour to catch up.
We will probably see them again along the way, because they, too, are destined for the Chesapeake Bay. The parallel universe magic of cruising has begun.
The computer is being a bit tempermental, and getting this posted is turning into a major midnight oil production, as the server or the satellite or the gremlins in space are causing whole chunks of typed copy to disappear into another dimension of the universe.
But, I just looked back to one of my early postings on this webpage for Beaufort, and it was brimming with facts. As I recall, I just about got writer's cramp taking notes off all the historical markers, and my pen could hardly keep pace with our walking tour guide.. If you are interested in learing more about beautiful Beaufort -- filming location for Forrest Gump and home of Pat Conroy, you can click on the link below.
Click here to learn more about Beaufort.
Low Country Low Humor
We saw this sign in the window of one of our favorite little breakfast spots in Beaufort (we didn't eat there this time):
"I'd rather hunt with Dick Cheney than ride with Ted Kennedy."
Tuesday, June 5, 2007 Beaufort to Isle of Palms, SC
78.5 miles, 8:40 hours
I failed to note yesterday that Dick performed a masterful docking maneuver, parallel parking Starsong between two behemoth boats, with a mere six inches or so to spare both front and back. He was aided somewhat by a 15-20 mph wind pushing us against the dock.
This morning, that same wind was blowing, causing us a bit of concern about our ability to depart the dock as gracefully as we tucked in yesterday. We got our ritual departure lattes and sweets, Dick analyzed the conditions and created an exit strategy, then we called Mike to provide dockside spotting and back-up. Such a team -- we sprung off without kissing either of our neighboring boats -- a good thing, since I noticed someone intently watching our maneuvers through the slats of the blinds of the boat in front of us.
Mike and Pegge decided not to leave Beaufort, since the weather forecast called for possibly severe thunderstorms, incuding the chance of damaging hail, this afternoon. We decided to go ahead, because, as Dick reminded me, that is the normal marine forecast for summertime around here.
The day began sunny and clear, we saw our first daily dolphins a little after 8 am, and we enjoyed a glorious morning of low country cruising. The clouds started building a little after 1 pm, and the approaching lightning and rumbling thunder by 2:30 was enough to prompt us to check the marine weather forecast.
It wasn't exactly encouraging -- there was a severe thunderstorm watch until 8 pm, with hail possible tonight. So, we battened our hatches, got our unnecessary electronics unplugged, and rushed along at 9 mph hoping to get to our marina before the downpour began. For a while we followed close behind a sailboat, figuring their mast would be a good lightning rod to divert the danger from us.
We dodged the storms, with just a few spatterings and smatterings of drops hitting us, while dark clouds passed over. Then, ten minutes after we tied up at the marina dock, the skies opened, loosing a torrential downpour.
Undeterred, we waited out the rain, then off-loaded our bikes with a goal of circumnavigating the Isle of Palms between rainstorms. Isle of Palms is about ten miles north of Charleston, via the ICW. We chose to stop here rather than Charleston, since the tidal currents around the Charleston Marinas can get wicked, and they will be at their worst about the time we plan to depart tomorrow. Besides, we have been to Charleston several times, and Isle of Palms never.
We circumnavigated the island in about an hour, including our stops to look at interesting stuff. Our odometers read a little over ten miles. About half the island is the Wild Dunes Resort, a gated beach community with a couple golf courses and a tennis club.
We learned a little island history from a brochure. The island has been a summer get-away since the late nineteenth century. An amusement park built here in 1912 had one of the earliest Ferris wheels. The island was only accessible by ferry and boat until1946, when the government constructed an access road and hired a developer to build low-cost housing for World War II veterans here.
Some of that housing is still standing, we think, but there's no low-cost housing being constructed here anymore. Outside the gates of Wild Dunes, the mix of totally tatty beach shacks and ultra-stylish megamansions side-by-side is a zoning nightmare. Inside the gates lies a little island paradise. We did find trouble in paradise along one stretch of beach where all that stands between several condo buildings and the lapping waves at high tide is a wall of massive sandbags against the condo foundations. A man who has lived there for fifteen years told us that the beach erosion is cyclical, and he has seen it like this twice before. The sand has always washed back eventually. If I lived there, I would find it hard to keep faith alive. I would keep my flood insurance policy with me at all times -- don't leave home without it.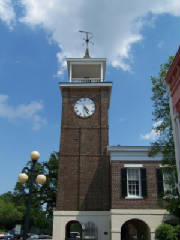 Georgetown Rice Museum Clock Tower - built 1845
June 6, 2007
Isle of Palms to Georgetown, SC
53.8 miles, 5:42 hours
Within an hour of leaving the dock we saw our first daily dolphins. I heard a splash off our starboard side, and found two small dolphins jumping in our wake and doing half flip turns to show us their pink bellies.
More plentiful than dolphins today were alligators. We saw them swimming and sunning, and they were often close enough to look in the eye, as we cruised through narrow channels cut in the vast lowland marshes. Our most unusual alligator sighting was one about ten feet long, floating on his back, dead in the water.
We also passed miles and miles of dikes and floodgates built in the 1700s and 1800s to control water levels in rice fields cleared and cultivated by slave labor. Before the Civil War, this part of South Carolina supplied 80% of the country's rice. But, after the War, when the rice plantations could no longer use slave labor, and the fields were too swampy for mechanized cultivation, the rice business died.
Many of the rice fields live on, though, as private hunting grounds and national wildlife refuges. The floodgates are used to control water levels for optimal duck attraction, and the wild rice is great game bird food.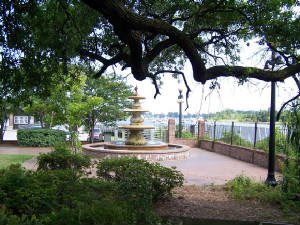 Georgetown waterfront fountain
We reached Georgetown in the early afternoon, so we had pelnty of time to enjoy the town. Our first stop was the Kudzu Bakery, which we remembered from our last visit as a paradise of pastries and specialty breads. When we got there at 3 pm, there were only two loaves of bread to choose from -- both French. The rest of the baked goods were slim pickings, too. If you have been reading our logs for any time at all, you know things must have been in a truly sorry state for us to walk out of there with just our big baguette.
Our next destination was the Kaminsky House, an imposing riverfront home dating to 1769, where we planned to take the 4 pm house tour. Again, we were out of luck -- three docents have strepped throat, and the only remaining well one had done three tours in a row, was losing her voice, and had to cancel the last tour.
We did our own little walking tour, enjoying the riverfront boardwalk, which passes lots of little cafes and bars and shops, and is lined with planters that have an eclectic mix of vegetation in them -- flowers, herbs, vegetables, little trees -- no two are anywhere near alike, and some are downright amusing.
The boardwalk also has numerous plaques citing points of interest and providing historical perspective. Georgetown was built on "Carolina gold" rice, named for its color as well as its economic impact. The white folks who owned the plantations that grew it were rich beyond measure. The black folks who worked the fields were 85% of the population, but since they were property, they didn't really count as population at the time.
Today, Georgetown Steel and International Paper are the town's economic bulwarks. Commercial fishing activity adds local color.
A publication we picked up at our marina had a front page article claiming that the Pew Charitable Trust has "hijacked fisheries management" using "paid-for science and a well-oiled media machine." The article accuses the Pew Chritable Trust of disseminating misinformation disguised as science in order to influence Congressional debate about legislation to further limit fishing -- beyond limits that already are driving many commercial fishermen to abandon the profession. As long-time Public Radio listeners, we have often heard the name of the Pew Charitable Trust uttered as a supporter of programming we respect. We'll have to listen more carefully to what they are supporting next time, but in the meantime, we stopped off at a shrimp dock warehouse to buy a pound fresh off the boat to support the local fishermen (and our pursuit of seafood happiness).