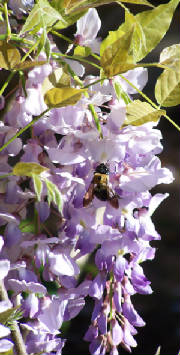 Bee on Wisteria
The first thing you need to know about Beaufort, South Carolina, is how to pronounce it. Approximating the locals, it sounds like Byoo-fert--Beau pronounced like the first syllable of beautiful. Pronunciation is important, because up in North Carolina, there's another Beaufort, pronounced with a long O on the first syllable--Beau pronounced like the first syllable of bowline.
We heard that down here in South Carolina, everyone called this town "Beautiful Beaufort," then created a sort of contraction of the two words by the unique pronunciation of the first syllable. While we suspect the story is apocryphal, it is believable. We have visited Beaufort many times, in different seasons, and have always admired its gracious antebellum homes set amid live oaks and palmettos, with wrought iron and stone fences surrounding intimate gardens that have something green happening all year round. Right now, azeleas and dogwoods are in bloom, wisteria are hanging heavy and abuzz with bees, early climbing roses and a few late camellias are in their splendor. Beautiful Beaufort, indeed.
A Bit of Beaufort History
Beaufort has a wonderfully rich and intriguing history. The first European landed here in 1514. Pedro Salazar was searching for Indians to work Spain's Caribbean cane fields. He found them, then sent a boat to pick them up. Luring the Indians aboard under the pretense of offering them a tour, the Spaniards then spirited them away, never to be seen here again. That little deception sort of set up the pattern for Indian European relations for the next few centuries.
French Huguenots arrived here in 1560 to escape persecution by the Catholics back in France, but they were woefully unprepared for the rigors of life here, and didn't last long. England claimed Carolina in 1629, sent colonists to Charles Town (now Charleston) in 1669, and decided they needed a buffer between their colony and those aggressive Spaniards in St. Augustine. So, they imported a bunch of Scottish felons to live here.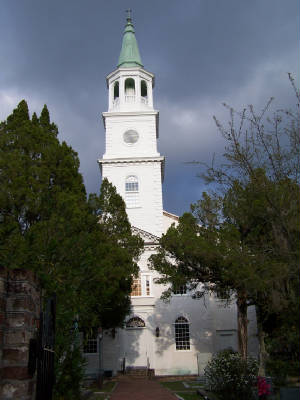 St. Helena Episcopal Church--built 1724
The town of Beaufort was officially incorporated in 1711, and the Yemassee Indians murdered all the settlers and burned the town to the ground four years later.
Undaunted, the British came back to establish rice and indigo plantations, and by 1750 Beaufort was very prosperous indeed. The British government wasn't just taxing tea in Boston--they were levying hefty taxes on the products of the plantations here, and in 1779, the Revolution came to Beaufort. The town was evenly divided between Tories and Patriots. You know how it all turned out in the end, but did you know that South Carolina hosted more battles and lost more people than any other colony in the Revolution?
Beaufort rose to prominence once again from 1790 to 1850, when England's mills just couldn't get enough Sea Island cotton, which only grew in the rich sea island soil, and yielded thread with a smoothness akin to silk. While ordinary cotton grown in other parts of the south sold for sixty cents a pound, Sea Island cotton fetched six dollars a pound. Beaufort became the most wealthy, and some would argue the most cultured, city in America.
The plantation owners with their elegant summer homes in Beaufort also had the most to lose from Federal government actions that threatened the plantation system. So, it should come as no surprise that the articles of secession were penned in the imposing Greek Revival home of a prominent Beaufort resident and United States Senator Edmund Rhett.
So why is the town still standing, rather than being burned by marauding Union troops? Every white person, but one, fled the town three days before union troops arrived. So, with no one to fight, the Union Army instead used the town as headquarters for their blockade operations, and put 33 of the mansions to use as hospitals. They ripped the pews out of St. Helena Church, and put gravestones from the cemetery that surrounds it to use as operating tables.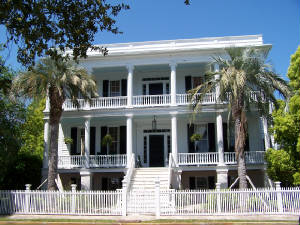 What Union troops didn't do, a few pre-teens did in 1907. While sneaking a smoke in a stable, the boys started a fire that burned several blocks of the town. Then there were the hurricanes . . .
Undaunted, the town still boasts lots of beautiful homes, churches, and cemeteries with stories dating back to before the Revolution. Horse-drawn carriages with guides telling those stories roll through the historic district all day long.
Pat Conroy lived here from 1970-1973, and the stories he tells in his books capture the soul of Beaufort, and the low country islands around it. (His house here is on the market for $950,000.) You can see places around town where they filmed parts of his stories --The Great Santini and Prince of Tides-- as well as The Big Chill, Forrest Gump.
Now, the American Great Loop Cruisers Association is front page news in The Beaufort Gazette. We are making history as the first water-based convention to gather here. Although we may be serious business to Beaufort, our little convention burst into its most uproarious laughter of the evening upon hearing the first seven words of the newspaper article: "Thirty luxury yachts have converged on Beaufort. . . " Although we appreciate the luxury of being able to embark on this adventure, precious few of us think of our boats as luxury yachts, what with their demands for our constant attentions and ministerings to their needs, not to mention their pokey pace. Luxury yachts are those massive exotic breeds that fly past, rocking us in their massive wakes as heedless paid captains rush to deliver them to somebody really rich. We just don't identify.
What We Did In Beaufort Before the Rondezvous Began on Monday, April 11
We arrived at Marsh Harbor Boat Yard mid-day Friday, April 8. The greeting party of no-see-ums was out in full force to welcome us back.
We quickly unloaded our rental car, then dashed off to Hilton Head Island, about an hour away, to pick up teak folding furniture for our flybridge that we had seen in a World Mart store in Cincinnati, but knew we had no hope of trundling down to South Carolina in our little car. Luck was with us, once again, as the Hilton Head Island World Mart store opened just two weeks ago, had the furniture we wanted in stock, and agreed to save it for us until we arrived. We stuffed two folding armchairs, chair cushions, a folding table, a pillow, and miscellaneous brightly colored potholders, tea towels, and sundry impulse purchases in the car, and made our way back to Marsh Harbor.
As we hauled our new purchases up to the flybridge, and set about zipping our isinglass panels back onto our bimini, we realized that three of the bimini zippers were broken, and the metal frame that supports the bimini was out of alignment. Our first impulse, of course, was to blame the staff of the boat yard. We figured out how to cobble things together by sewing the bottom ends of the zippers shut, but were still stewing about the carelessness of the yard workers and their failure to 'fess up, when the following day, as we were exchanging the usual weather adventure stories with some fellow boaters, we learned that while we were in Cincinnati, there were 60 mph winds, with gusts up to 80 mph buffeting our boat in Marsh Harbor.
In a moment of profound insight, we realized we were lucky that the only damage to our boat was a few broken zippers.
Saturday morning, we got the car back to Enterprise and the boat prepared to leave in time to make high tide in the morning. It was a short run to Downtown Marina of Beaufort, and we were on the dock and ready to explore by noon.
We went for a long walk to enjoy a warm and sunny day about town, then decided to spend the late afternoon just sitting on our newly furnished flybridge enjoying cool drinks and good books in the pleasant breeze. Our plans were foiled, when we saw a brochure for a walking tour of Beaufort that sounded too good to pass up. The last tour of the day was 6 pm. We put our feet up for a little over an hour, then were back in walking mode again.
No one else showed up, and we ended up having a private tour. Our guide, Jon Sharp, was a spectacular speaker and scholar, and an entertainer to boot. We owe the history section that begins this page to him.
In our travels on Friday, a headline on the front page of the Beaufort Gazette had caught our eye --
CACHING FLAK
Lawmakers try to limit geocaching
We bought the paper and learned that the Beaufort representative to the South Carolina Legislature has introduced a bill which would criminalize the act of geocaching in cemeteries, archaeological sites and historic properties. She is grossly overreacting to the behavior of a few disrespectul cachers, in our opinion, and is attacking the problem in the wrong way. Would she eliminate school group visits to these sites, based on the bad behavior of a few school kids?
As we dreaded, when we checked the list of local caches on
www.geocaching.com
, most of the caches we have found during past visits to Beaufort are no longer there. A wonderful way to discover local history outside the box of carriage and walking tours is now endangered.
Not knowing how much longer we would be able to enjoy the sport around here, on Sunday morning we set out on our bikes in search of a few caches remaining around town. While we were searching for the first cache in a little median park at the confluence of a couple roads heavily traveled by people on their way to church dressed to the nines, a car stopped, the driver rolled down his window, and asked if we were geocaching. Dick told him we were. As luck would have it, the man, Tommy Logan, proudly told Dick that he was the one who brought the indecencies of geocaching to the attention of the local State Representative. Dick and Tommy had a little debate about the merits of geocaching, and parted by shaking hands and agreeing to disagree.
Although we would like to believe that Tommy Logan might think differently about geocachers after having such a civilized conversation with such a mature and almost Republican individual as Dick, we have to admit that our case was pretty much doomed from the start, since Tommy was all dressed up and going to church, while we were spending the Lord's Day riding around on our bikes in exceedingly casual attire.
We found two out of three of the caches we searched for, bringing our trip total to 64.
When we got back to Starsong, we found that our boating friends Helen and Ted Brown had come in to the marina while we were gone. We invited them over to Starsong for dinner, and had a grand time catching up with each other and sharing stories. Helen and Ted had to press on north early Monday, so Helen could catch a plane in Myrtle Beach later in the week, but they are doing the Loop, and we know we will have the pleasant surprise of running into them along the way again.
AGLCA Rondezvous
April 11-14, 2005
This is an event so great it deserves its own page.
Click here to read about the AGLCA Rondezvous.
What We Did In Beaufort After the Rondezvous
The rondezvous was over on Thursday, April 14, and we planned to head north for Charleston on Friday. When we listened to the weather predictions for Friday, we decided that we didn't want to leave in 25-30 mph north winds. So, we stayed another day.
We already had rented a car for Thursday afternoon, so that Dick could take our wind-damaged bimini down to our wonderful canvas wizard in Hilton Head for repairs. We decided to just extend the car rental for 24 hours so we could drive over to Parris Island Friday morning to see Marine Corps Boot Camp graduation ceremonies. Bill and Ruth, new boating friends we met at the rondezvous, joined us.
Parris Island is the next island over from Beaufort, just a 15 minute drive, but we left the marina over an hour early, to leave time to wait in the long line of cars at the Depot gate, clear security, walk to the parade ground and find seats.
We managed to do all those things with time to spare, leaving us time to talk with the people in front of us, whose daughter was graduating. We learned that recruits go to Parris Island for three tough months, then they go to combat school, and then on to specialized training. After all that, they get their orders.
A word about the weather--it was as predicted. Chilly north winds blowing hard. I was wearing a turtleneck, a heavy sweater, and my light winter weight jacket. Some people in the stands even had blankets. The poor Marines were wearing the designated "uniform of the day"-- with short sleeve shirts. What does it take to let them wear jackets?
The graduation ceremony included a marching band, color guard, six platoons of men graduates and two platoons of women. The ceremony adhered to a long-standing tradition, and reinforced the Marines' core values of honor, courage, and commitment, as well as the elite status each one of the graduates had achieved by becoming a Marine. The speeches were short, and the time spent parading was long. To me, it was a little like watching cricket or some other game with rules that are not easy for a simple bystander to understand. Although the rules for all the shouted commands and raised and lowered swords were not clear to me, I knew that everyone out on the field was working very hard to play by all the rules and do it with perfection.
One rule I did get was that if your had blows off, you cannot stoop to pick it up. Given the weather conditions, quite a few hats blew off. The hatless ones continued about their marching, and when they came to rest, designated staff members picked up the hats and very firmly replaced them. Even then, the people wearing the hats were not allowed to touch them to make adjustments. In some cases, I worried about whether a graduate would be able to see enough to march, but there were no collisions.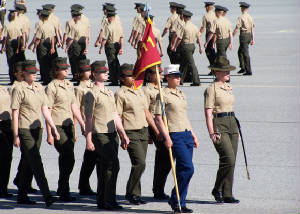 Even though we didn't know any of the graduates, it was a moving experience to be there. We knew they had been through a lot over the past three months (Dick and Bill, with memories of their Army and Navy experiences respectively, could identify with the challenges they faced), we saw and heard how proud and supportive their families and friends all around us were, and all that patriotic music and marching and veneration of the flag stirs some patriotism.
For me, the most moving time was when the ranks of graduates passed by closely enough that we could see their faces, and I thought that at this time, with this war, these really young people had all volunteered to put themselves in harm's way. The next time I see them could be on the news.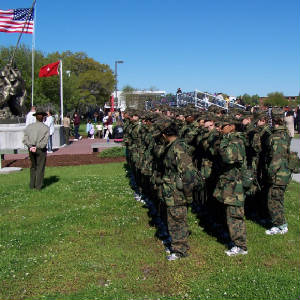 As we were returning to our car, we saw a platoon of women in training getting ready to go out for some sort of exercise. They were allowed to wear jackets. They also were wearing packs, belts with two canteens, and had big fat books in the cargo pockets on the legs of their pants. I commented that at least they were allowed to have jackets for this weather. Bill said, "By this afternoon, they'll be sweating like pigs."
The few, the proud.