Sunday, January 14, 2007
Skidaway Island to St. Simon's Island (GA)
79.4 miles
We slept on the boat Saturday night, so we could get a pre-sunrise start on Sunday.
The sky at the horizon was just beginning to change from charcoal to lavender as we were making our final departure preparations -- setting up our navigation computer on the flybridge, disconnecting our electrical cord from shore power, and rearranging dock lines to slip off easily. We had not yet started the engines when I heard the familiar pfft of dolphins exhaling. I stopped to watch two dolphins lazily swimming nearby. As Dick started our engines, they came closer, as if to investigate which of the boats in their territory was about to depart.
We took our dolphin send-off as an omen of good fortune for our journey.
We didn't have long to wait for our first good fortune -- the sunrise offered a glorious peach and golden sky behind pillows of deep purple clouds. The water was mirror smooth, and the temperature already in the 60s even before the sun began to warm the air. It was perfect cruising weather.
Our next stroke of luck occurred when I was driving the boat from the upper helm station while Dick worked in the cabin below. He chanced to glance at the depth finder and noticed it read four and a half feet. This caused him some consternation, since Starsong draws four and a half feet. He raced up top to check the chart plotter, which confirmed that I was steering us into a shoal, and he performed a slight correction. We never actually touched bottom, no harsh words were spoken, and Dick's heart rate eventually returned to normal without medical intervention. Lucky indeed!
As we were nearing our marina on St. Simon's Island, we heard Roy-El radio the marina for docking instructions. We shared a a pleasant cocktail hour with Roy and Elvie aboard Roy-El when we were anchored in a harbor on Lake Michigan in the summer of 2005. Like us, they finished the Loop in 2005.
After we docked, Elvie came down to visit, and we caught up on how we had each been spending life after the Loop. Although it has been eight months since we last lived aboard in earnest, it feels as though we are jumping right back in where we left, with familiar faces greeting us at our very first stop along the way.
Our adventure is off to a grand start.
Monday, January 15, 2007
St. Simon's Island to Fernandina, Florida
41.5 miles
Golden Isles Marina is memorable, because the marina staff arrives before sunrise every morning, and leaves massive freshly baked muffins and a copy of the day's Atlanta Journal Constitution at the cabin door of every boat. As Dick revved the engines, I grabbed a couple cups of coffee from the dockmaster's hut, and then we were on our way, enjoying our muffins and coffee from the flybridge while watching yet another eye candy sunrise.
The crabbers were out tending their traps, each followed by a retinue of pelicans hoping to feast on their spoils. Shrimp trawlers dragged nets from their long outstretched arms, as hundreds of gulls perched on their rigging. Just a few feet outside the channel, a man in waders fished just thigh-deep in water, reminding us to keep close watch on our chart plotter. (Did I mention that since my little steering problem yesterday, Dick has only been letting me drive in open water?) We watched another man in heavy rubber boots clambering over oyster beds exposed by the receding tide, collecting oysters in big plastic buckets.
We arrived in Fernandina just a bit after noon, so we had plenty of time to enjoy the town. Since the weather was a near record high temperature in the 70s under a cloudless blue sky, we decided to ride our bicycles to the beach, and hunt for sharks' teeth. According to the promotional literature at the Visitor's Bureau, the beach is just loaded with sharks' teeth. To read the brochures, you would think you could can hardly walk the beach without stepping on them. (You would also think you might meet a pirate or strike buried treasure while digging the moat for your sand castle, but that's another story.)
Anyway, the last time we visited the beach here, we couldn't find a single tooth. This time, Dick sought expert advice from a marina staff member, who assured him she had found hundreds of shark's teeth, and told him just where to look.
We slathered on lots of sun screen, took a big plastic bag to carry all our beach booty, and set out on our quest. Hours later, I had a bunch of little shells with holes in them suitable for use in future beach jewelry creations, and not a single shark's tooth. Dick had several objects he hoped might be shark's teeth, but they didn't really look like the ones we had seen for sale in the stores. Come to think of it, if the shark's teeth really were that easy to find on the beach, why would so many stores be selling them? Wouldn't people just pick them up off the beach for free? In hindsight, it's a little embarrassing that we missed this clue to the true prevalence of sharks' teeth in the wild here.
When we got back to the marina and Dick showed his collection to the helpful dockhand, she broke the news to him gently -- all he had were shell fragments, not a single shark's tooth.
We may have been unsuccessful in our quest, but we did have a tranquil afternoon at the seashore, watching the waves roll, digging in the sand, and basking in the warmth of the sun.
We went to our favorite little funky fish store next to the trawler docks to pick up dinner. The salts who work there take pride in being characters. When we got there, a grandmother was in the shop with three granddaughters, who were commenting on the smell. One of the fish mongers pulled a gas mask off the shelf and offered it to her. She refused to wear it. He went to the back room, got a live blue crab, extended it to the girls from a very long set of tongs, and asked them if they wanted to play with it. This set them running screaming from the store. We merely purchased a pound of shrimp fresh off the boat, and were on our way.
If you are interested in learning more about Fernandina, a charming town with interesting history, you might want to click one of the links in the blue space below. You will get to a page which includes Fernandina -- you just may have to scroll down the page a little to find it.
Wednesday, January 16, 2007
Fernandina to St. Augustine
61.1 miles
Amelia Island Coffee opens at 7 a.m., and I was one of the first customers of the day. Unfortunately, I even beat the New York Times delivery man. I grabbed lattes and cinnamon rolls, and got back to the boat just in time to handle the lines as we left the dock. We breakfasted on the flybridge while we cruised past lowcountry marshland beneath yet another cloudless sky.
We know these perfect cruising days can't last, and the weather radio predicts we will have our first rude awakening tomorrow. With north winds projected to blow at 25 mph with gale force gusts, and a 60% chance of rain, we figure we will be stuck in port -- and St. Augustine is a perfect port to be stuck in. (If you want to know why, click the St. Augustine link below to check it out.)
The highlight of our cruise today was watching a stunt pilot doing death defying tricks in his single engine plane directly above us. He made huge loops, spiraled and corkscrewed both up and down, stalled in every position possible, and moved from stunt to stunt so quickly that we couldn't imagine how he kept track of where the ground was. I was getting sick to my stomach just watching him.
Now the church bells are chiming 5 pm, cocktail hour has officially begun, we have reservations for dinner tonight at our favorite St. Augustine restaurant (Columbia), and we already have dinner plans for tomorrow with Loopers aboard Signature III. They were berthed in front of us last night and are next to us tonight -- another floating friendship is born
.
Thursday, January 17, 2007
A stormy day in St. Augustine
As predicted, the gale force winds blew, the whitecaps rolled in, the temperature dropped, rain fell horizontally, and leaving port was not an option. We did venture over to the historic Casa Monica Hotel for lattes and a New York Times to go, but we scurried back to the boat with them, cuddling the cups for warmth.
As we huddled inside our warm cabin looking out over the churning water beyond the dock, we noticed flashig lights in the anchorage, and quickly realized a boat was sinking in the turbulent waters. We rushed out with our binoculars, and learned from an ocean rescue worker on the dock that the people aboard were safe. We later learned that when the tidal current and the wind were in opposition, the boat's hard dinghy pummeled the side of the boat with such force that it broke a hole in the hull. After that, the boat went down fast, but the anchorage was so shallow that when it rested on the bottom, the cabin and mast remained above the waterline. The drama continued as the boat was pushed by the waves toward a beautiful sailboat anchored nearby. We watched in horror as it seemed that the waves were pounding the bow of the sailboat against the side of the sunken trawler. Eventually the owners of the sailboat showed up to move it -- but we never heard whether it suffered any damage from its brush with tragedy.
We didn't venture far brom the boat until 5 pm, when we donned our raingear and dashed next door to Signature III for cocktails with Linda and Al. We had intended to get in a game of dominoes before dinner, but got so busy talking that we never got around to it. We braved the wind and rain to walk to La Pentola (The Saucepan in Italian), a restaurant recommended by Al and Linda's local friends. We were glad we had arranged yesterday to go to dinner together today, because otherwise, the weather would have driven us to hole up in our boats and eat dinner from cans, missing an evening of fine food and great conversation with kindred spirits.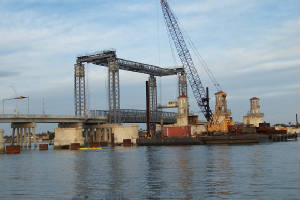 Bridge of Lions remains in foreground, "temporary" bridge in background
Before we leave St. Augustine, we have to remark upon the mind-boggling construction project underway on the historic landmark 1920s Spanish style Bridge of Lions that crosses the ICW just north of the city marina. The Department of Transportation recently declared the bridge "structurally deficient and functionlly obsolete." Consequently, it has been virtually disassembled, and a modern new bridge has been built within a hundred feet of it. The old bridge is being meticulously reconstructed to be just like it was before, only structurally stable, and when it is finished the new bridge will be demolished. Yes, the new bridge has lots of sturdy looking concrete pilings, a wide roadway, and an elevator-style drawbridge that looks quite dependable, but it was only designed to last for eight years, and it is destined for destruction so that it will not overshadow the original bridge.
On one hand, this seems like the best plan from an aesthetic standpoint, but the pragmatist in me keeps nagging that it seems wasteful to wreck a perfectly good bridge after just a few years. Couldn't they just keep it around for backup?
You can click the St. Augustine link below to see a picture of the beautiful Bridge of Lions as it looked before this construction project (albeit in fog and rain). You can also see and read about a bunch of other scenic treasures of St. Augustine that we visited in sunnier days.
January 17, 2007
St. Augustine to New Smyrna Beach
67.9 bone-chilling miles
We woke to battleship grey skies with a chilly north wind blowing spitty rain about. It was an ugly day, but good enough to be on our way -- clutching our coffee cups to keep our hands warm.
As we headed south, the wind blew on the back of our necks and swirled around our feet. I put up my hood. Then I put on socks. Dick went below for a heavier jacket and brought up a blanket for me to wrap around my legs. I made cocoa. We ate soup. But, that persistent north wind kept sucking the heat out of us until we decided to abandon our plan to anchor that night, in favor of a marina where we could plug in and turn on the heat.
We ended up at the municipal marina in New Smyrna Beach, a new port for us.
When we hopped off the boat to explore the town, our history lesson began right across the street, where a massive coquina foundation was the centerpiece of a pocket park. We learned that in 1768 Dr. Andrew Turnbull led 1300 Minorcans, Greeks and Italians to establish what was then the largest British colony in North America. He named it New Smyrna after his wife's birthplace in Asia Minor. The coquina foundation is all that remains of Turnbull Palace, a grand residence Dr. Turnbull began constructing in 1770, but never completed, because his colony disintegrated in 1777, and the 600 surviving colonists moved to St. Augustine.
Upon this ill-fated foundation a fellow named Ambrose Hall built his home in 1805. Political radicals destroyed it seven years later. In 1830 Thomas P. Stamps built a home on the foundation, and Indians burned it down six years later. John Sheldon built his home and hotel on the foundation in 1854, but -- you guessed it -- the Yankees burned it down during the Civil War. The historic marker claims it was rebuilt after the Civil War, but since all that remains now is the foundation, some disaster must have befallen it yet again.
We enjoyed a bit of a brisk walk about New Smyrna Beach. The first street we walked along to get from the marina into the center of town had red, white and blue lines painted down its center, rather than a yellow line. We passed an Olympic venue quality shuffleboard facility, with 17 meticulously groomed courts. On the main street, the shops seemed stuck in time in the 1960s -- the pharmacy had a soda fountain with a long counter, and the shop fronts had a patina of authentic age -- they hadn't been redone to create some kind of Disney Main Street image. We could tell the ladies in town were avid scrap bookers, beaders, and painters of ceramic doo-dads, based on the prime main street real estate devoted to these pursuits. This was a downtown for mature residents first, and tourists a distant second. If the weather had been better, we would have hopped on our bikes and explored further -- we thought New Smyrna was an intriguing place.