January 26, 2007
South Palm Beach to Fort Lauderdale
34.1 miles and 15 bridge openings in 6 hours!
We have been dreading this day since the beginning of the trip, because coordinating our timing to make it through bridges that open on a fixed schedule, usually only a couple times each hour, is a real planning challenge. And, sitting in one spot in a narrow channel waiting half a hour for a bridge to open is a real patience challenge. Dick used our cruising guides to make a detailed cruising plan, including the names of all the bridges, the times they opened, and the distance between them, and he executed the plan perfectly. Still, it ended up taking us over six hours to go just 34 miles.
In between bridges, we had plenty to keep us ogling along the way. Soon after we departed our marina we passed Briny Breezes, the trailer park that has been in the national news lately, as the 450 trailer owners there have finally, after much debate, decided to sell out to a developer for about a million dollars apiece. As we looked at all those trailers set so close together that there was hardly room to park a car between them, we realized that this was clearly an example of the whole being greater than the sum of its parts. The idea that anyone would buy one of those trailers for a million dollars is ludicrous, but at today's stratospheric pricing, hundreds of buyers will jump on the opportunity to buy a condo priced at well over a million dollars in a waterfront high rise. At least that's what the developer of the Briny Breezes project is counting on.
Based on all the building along the waterway, rumors of a housing bubble bursting seem not to have reached these shores.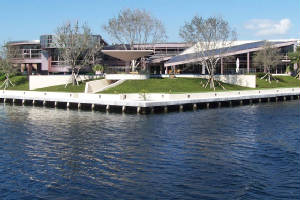 A Disneyland home on the Waterway
Boca Raton was a hot bed of charming bungaloes being torn down to make way for monstrous castles. I find it ironic that the town has somehow managed to make its name stand for opulence, when in fact it is Spanish for "Rat's Mouth." Early explorers so named it because of the treacherous rocks that guarded its bay.
The further south we got, the more extraordinary and extravagant the homes became. I've included on that looked to us like a contemporary art museum. Another looked like a Spanish mission that could house a whole town within its walls. A Persian castle, a Greco-Roman library, many Carribean hotels complete with infinity pools and fake rock and waterfall landscaping -- the waterway is lined with a veritable Disney World of larger than life fantasy homes. And, we are still trying to answer the persistent question of real estate here: "Who are the people living here?" (Even more mind-boggling is the question, "If this is their second home, what does their first home look like?")
Saturday, January 27-Sunday, January 28, 2007
Fort Lauderdale
"The Venice of America" OR
"Yachting Capital of the World"
Most cities struggle to come up with one positive brand identity they can capture in a nickname. Fort Lauderdale is so outstanding that is has two, and it lives up to both.
It earned the nickname "The Venice of America" from all its canals -- now totaling some 270 miles worth, compared to a mere 45 in Venice Italy. Italianate architecture is also very big here.
Fort Lauderdale is the yachting capital of the United States, if not the world, because more floating snowbirds flock here than any other city in Florida. There are also at least 17,000 resident boats registered here, and the tally is rising daily as new waterfront condos with dock and marina facilities come on line.
Our boat is berthed at a city marina in a riverfront park along the New River, which runs through downtown Fort Lauderdale. We can hop off our boat and walk along the scenic Riverwalk to a nearby historic district, shops and restaurants, a performing arts center and a science museum with an IMAX Theatre.
The riverfront park was the site of a charity fundraiser rubber duck race on Saturday. The race organizers had sold 20,000 rubber ducks for $5 apiece and loaded them into a huge dump truck. They set up a race course in the river, had food and drink and tee shirt concessions and plenty of volunteers coordinating race day activities. There's just one small detail they didn't have covered. They probably didn't realize that the river is tidal, and they scheduled the race for slack tide. (We knew about slack tide, because we schduled our arrival the previous day to coincide with it so that we would not have to fight the tidal current to get into our boat slip.)
Imagine this: the dump truck bed rises majectically, and 20,000 rubber ducks are ejected into the river before the expectant crowd. Then . . . they just sit there. Several kids on surfboards paddle onto the course and try to push the ducks along with the edge of their boards. They pick up ducks and toss them ahead. A few kayakers swat at the mass of ducks with their paddles. Their efforts are pitiful, given the scale of the task -- less than a dozen people vs. 20,000 rubber ducks, now being pushed backward by the wind.
The story has a happy ending, of course. Heroic firefighters in their pumper boat come to the rescue with a fire hose, which they blast at the ducks to get them moving along. Those ducks fly!
The winner of the race got super bowl tickets. The loser got six sessions with a personal trainer to get in better shape for next year's race.
A Little Fort Lauderdale History
The city of Fort Lauderdale has a short history -- no one but Seminoles showed any interest in settling here until after Henry Flagler extended his railroad here in 1896. The area's first hotel, the New River Inn, was built in 1908, and it operated as a hotel until 1955, serving lots of famous people, including Grover Cleveland and Henry Ford. It now houses a history museum, where we roamed the exhibits and took a walking tour. What follows are just a few highlights of what we learned.
The New River was once the deepest river in the world, up to 200 feet in some places. That changed shortly after 1906, when Governor Napoleon Bonapart Broward dredged a canal from the river to the Everglades. He had a grand vision that he could drain the Everglades to produce farmland. His attempt failed -- fortunately for us, but unfortunately for 3,000 gullible midwesterners.
Fort Lauderdale experienced its first land boom in 1911 when a shady developer, Richard Bolles, sent a bunch of salesmen to the rural midwest to sell South Florida land. Each signed contract entitled the buyer to an Everglades farm and a lot in Progresso, an optimistically named suburb north of Fort Lauderdale. Most of the 3,000 buyers arrived to find their farms were under water. Bolles was indicted for mail fraud, but the case against him was dismissed. Perhaps he got off easy, because he was a friend (or co-conspirator?) with the governor.
In the 1890s, before he was governor, Napoleon used his ocean-going tug to smuggle guns to Cuban rebels in the 1890s. Did this guy spend his whole life looking for opprtunities to live up to his name?
The museum also had an exhibit on Marjory Stoneman Douglas. In 1915 she became the first female reporter for her father's newspaper, The Miami Herald, but she was best known for her work later in life as a champion of the Everglades. Her book, The Everglades: River of Grass, was the the first book to portray the Everglades as a river. Everglades National Park was established in 1947, the same year as her book was published. The exhibit had many quotes from her book. This is my favorite:
To be a friend to the Everglades is not necessarily to spend time wandering around out there. It is too buggy and too wet. I suppose we have the kind of friendship that doesn't depend on constant physical contact.
In 1993 when she was 103, Bill Clinton awarded her the Presidential Medal of Freedom, the highest honor a civilian can receive. Calling her the "Grandmother of the Glades," he lauded her efforts to protect the fragile ecosystem of the Everglades.
That award was impressive, but the most impressive thing about her was that she lived in South Florida without any air conditioning in her house until the last ten years of her life -- from age 98-108!