Thursday, June 15, 2006
Delegal Creek Marina (at The Landings on Skidaway Island) to
Harbour Town Marina (at Sea Pines Resort on Hilton Head Island)
41 miles
Our first stop, Hilton Head Island, was the place where we began our life afloat. During our visits to Hilton Head while we were prepping Starsong for her big journey, we sampled many of the local resorts and attractions by car. When it came time to decide where to visit by boat, our vote was unanimous for Harbour Town, the Marina Village in Sea Pines Resort.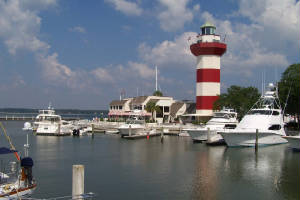 Harbour Town Light
The entrance to the marina basin is marked by a red and white striped lighthouse that has become a landmark and an icon for the entire island in the 36 years since it was built in 1970. It is hard to believe that islanders once nicknamed it "Fraser's Folly," thinking that Charles Fraser, the resort developer, was overreaching when he had it built. Fraser, a visionary and a brilliant marketer, understood that tourists were drawn to lighthouses like bugs to porch lights, so his lighthouse was an aid to commercialization, rather than an aid to navigation.
Today the lighthouse is a museum, and tourists line up to pay $2 to climb its 110 steps to admire the view from the top (and enjoy the breeze, which is most welcome after all those non-air conditioned steps). Dick grabbed the camera and ran up the steps to get a picture when we noticed the light was pefect on the way to dinner. I chose to just go to the restaurant, tell them to hold our reservation, and sip a cool drink while waiting for him to come down and show me his pictures.
But, before dinner we had a few hours to explore the island. Guided by a multi-stage geocache hunt, we biked and hiked through the 605 acre Sea Pines Forest Preserve. We walked along a trail constructed on an ante-bellum rice dike, built by slaves in the 1840s. We were sobered by the thought of slaves digging in the mucky swamp in the sweltering heat of a 93% humidity summer day like today, being bitten by no-see-ums and malaria-bearing mosquitos, and remaining vigilant for snakes and alligators. After the extensive dike system was completed, the rich swampland inside the dikes was flooded and emptied with the tides to grow rice.
In another section of the Preserve we walked on a boardwalk through a boggy enchanted forest. Yet another trail took us to a circular mound of oyster shells 140 feet in diameter and about three feet high. It was made by native people about 4,000 years ago, and archeaologists believe that they held ceremonies inside the ring.
The Forest Preserve was a wonderful surprise, offering many history and natural history lessons well-curated by signs along its scenic paths. And, as is so often the case in our explorations of nature trails in resort locations, we scarcely saw another soul along the way.
June 16-17 Hilton Head Island to Beaufort, SC
28.1 miles
We began our day with a leisurely bicycle ride to breakfast, which we consumed while reading the New York Times at Dunston's, a gourmet deli in Sea Pines Resort. After breakfast, we hopped back on our bikes and followed geocaching clues to the ruins of a home built in 1790 by a sea captain known as "Saucy Jack" Stoney. The home was burned shortly after the Civil War, but enough remnants of its tabby walls remain to provide clues to its past size and appearance. Remnants of slave quarters and troop quarters from the War were also curated near the home site.
There were plenty more interesting places to go and things to do at Sea Pines, but we figured we ought to be on our way to Beaufort, another of our favorite ports of call. It is easy to leave when we know that we can come back often once we are living in Savannah.
On past visits we have explored historic Beaufort by carriage tour, walking tour, geocaching, bicycling, and just walking about. To learn more about this charming old town, you might want to click the link below that will take you to our April 8-15 visit, including lots of historic stories and some pictures that give a bit of a feel for the genteel character of the place.
Click here to explore Beaufort.
This trip we decided to explore Port Royal, a short bike ride south of Beaufort. Port Royal claims to be the site of the first European settlement in "the New World," predating Jamestown by 45 years and St. Augustine by three years.
Port Royal Sound is the deepest natural harbor on the Atlantic Coast. That deep harbor and a rail line connecting Port Royal to Augusta gave residents of the town visions of surpassing Atlanta as a hub of commerce and culture after the War Between the States. Accordingly, when Edgar Nichols laid out the town at the end of Reconstruction, the street names reflected its worldly aspirations -- Paris, Madrid, London and Casablanca all had a street named for them.
Unlike Beaufort, very few of the buildings constructed in Port Royal in the 1800s remain today. Maybe all the gentry of Port Royal didn't abandon the town and leave it for the Union Troops to use and enjoy, as they did in Beaufort. Maybe hurricanes hit this town harder. Or maybe it never reached the grandeur of Beaufort in the first place.
Port Royal looks like a working class town, with homes of fishermen, workers from the Blue Channel Crab Cannery and overflow military personnel from nearby Parris Island. We saw an area where small wooden barracks houses moved from the base were being rehabbed with a vision of creating an upscale development.
Enthusiastic members of the local historical society had just started a guided tour of the historic district via golf cart when we visited. Two native sons (one the son of Port Royal's first fire chief) drove us around town in a wheezy gas-powered golf cart that threatened to stall out at every stop, and starteld us with its gunshot-like backfire. Mike and Cameron gave us the lowdown on the town and all its notable homes and businesses, including lots of asbestos-shingled shotgun box ranches from the 50s (that would be the 1950s) that sell for nearly half a million dollars now that everyone is pinning their hopes on a plan to turn the run-down port into a resort community and tourist magnet. A few trendy shops and eateries are moving in. Rehabbers are at work on turning shabby to chic. If that port project happens, we won't recognize the place in five years.
This was by far the most personal historic tour we have ever taken -- we saw both of our tour guides' homes and their parents' homes, and got flagged down by a young girl holding a bird that had fallen from its nest -- she wanted advice and to borrow a ladder to put it back. Our guides shared stories (even some juicy gossip) about the town's colorful residents, and its ghosts. Folks waved and said "hey" as we passed.
We felt as though that gasping relic of a golf cart was a time machine taking us to a place that time forgot for the past twenty or thirty years. We kind of hope that port deal doesn't go through, because we fear Port Royal will enter a time warp that will transform it into a town of "tear downs," and its blue collar charm will be lost forever.
Our favorite find in town was an eight foot tall red buoy displayed as a monument in the Fraternal Order of Police Memorial Park. The plaque at the memorial told the buoy's amazing story. Sometime around April 20, 1970, it broke loose from its mooring in Port Royal Sound. One year and one day later it showed up off the coast of Scotland -- 6000 miles away. It was returned to Charleston in 1973 at a cost of $92.06 or 1.5 cents per mile.
The plaque does not say why it was sent to Charleston, but we think it must be because it came by ship, and Charleston Harbor is a more active port than Port Royal these days. We don't know where the buoy spent the next 19 years, but in 1992, it wa placed in this park, where its light now burns to commemorate all the fallen police officers in this country. (The connection between a wayward marine navigation device and police is unclear, but it does call attention to the little memorial park, which would otherwise be a drive-by.)