This section has two pages. Click the link below to go straight to Carrabelle, if you have read all about our two days in Apalachicola, or read to the bottom of the page and click the link down there to continue to Carrabelle.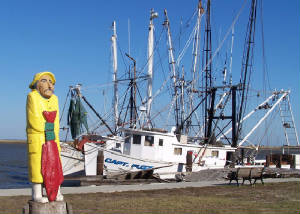 Apalachicola waterfront
Monday, November 21, 2005 Panama City to Apalachicola
61.6 miles today/6004 total Loop miles
Just as the weather forecast predicted, we woke to rain and big gusty winds. But, the bay didn't look too bad, the wind would be behind us, and if we could just tough it through a little over an hour on East Bay, we would be in sheltered waters the rest of the way to Apalachicola.
As we stood at the pump-out in the middle of a blinding squall dumping on us like a waterfall, the wizened old marina guy looked at us skeptically and commented that it wasn't looking too good to go out today, and we both thought at the same time, how far we have come since we started the Loop and wouldn't even think of leaving on a day like this.
About the time we finished pumping out, the rain let up enough that we could see, and we watched Main Course head out the channel, bobbing about wildly. We followed behind, wondering whether we would be forced to turn back when we got out into the wide open spaces of the bay. Amazingly, the water settled down to one to two foot swells, and a 20-25 mile per hour wind just pushed us along.
As the day wore on, the wind blew the rain clouds away, and the sun started breaking through. We were passing through narrow cuts, creeks and rivers, so we didn't have any waves to contend with, but we noticed the trees along the shore were bending way over. We figured it would be prudent to check the weather radio to get an update, and heard that the winds in Apalachicola were blowing at 26 mph, with gusts clocked to 40 mph. About that time, Ellie phoned Main Course to be sure we were okay, since the waves in Panama City were eight feet high and washing over the marina breakwater. The wind there was so strong that the marina staff told them not to try to move their boat.
The manager of Deep Water Marina hailed us on our radio at 2:45 to check on our progress. This was a first for us. Usually, we hail and hail a marina before we can rouse someone to answer. Never before has a marina called us. The manager told us how to get in, and promised to have plenty of hands on the dock to get our lines and secure us in the wind. He was exceptionally helpful, and when we finally docked, we found out why -- he lives aboard a big sailboat that's actually seaworthy. He understands how boats work, and the information boaters need to get safely ashore, because he's a boater himself. (He is also quite bright, or at least enjoys using flashy vocabulary words in sentences, as we noticed when he told us that the "diminutive" town of Apalachicola has a "plethora" of restaurants, and he could make recommendations based on our dining "predilections.")
We think we and Main Course got the last two available slips in Apalachicola. Boats are backing up here and in our next stop, Carrabelle, because the weather has been stormy and seas rough for over a week now, and the next leg of the journey south is in the open waters of the Gulf of Mexico.
Deep Water Marine shower house
Our marina was a pretty rustic place, with several rusty shrimp boats in various states of repair scattered about its grounds. The shower was in a shed that looked like a little outhouse on stilts, and it drained through the floorboards to create a big puddle on the sand beneath it. There was no laundry, no pump-out, no ship's store or other amenities, but the docks were secure, the view of marshes from our stern was serene, and everything we needed was within walking distance. Actually, we found the place kind of charming and authentic. And, like so many charming and authentic aspects of the booming Florida waterfront, it is not long for this world. The marina manager told us it had been sold to a condo developer.
We walked into town with Frank and Karen. We checked out the menus of four or five restaurants, inspected an old-fashioned soda fountain (but resisted the urge to sample its wares), browsed a little book store, and called the proprietor of a local print shop when we walked by and noticed that the lights were off and no one was inside, but the door with the "CLOSED" sign on it was wide open. Dick told the woman who answered that we didn't take much. Later another merchant told us the couple who own the print shop are in their nineties.
We decided that our dining predilection was for contemporary South American food, and had a grand dinner at Tamara's.
Tuesday, November 22, 2005 Apalachicola
We took a morning walk over to the Apalachicola National Estuarine Research Reserve nature center. When we got there at about 11:30, we found a sign on the door informing us the exhibits inside would be closed from 11:30 until 1:30, so we had to settle for a walk along the reserve nature trail. It began in a hardwood forest and extended via a boardwalk through a cypress swamp and a marsh-grass covered wetland.
We learned that the Apalachicola River feeds Apalachicola Bay with an average of sixteen billion gallons of fresh water daily. The Bay is an estuary, meaning simply that it is a spot where fresh and salt water mix. Small organisms in the bay depend on seasonal floods to transport dead plant material from the river floodplain. They feed on that dead plant material, bigger organisms feed on the small organisms, and up the aquatic food chain we feed on the oysters, shrimp, and fish that are abundant in the healthy estuary.
Unfortunately, as we were to learn later in the day when we tried to order oysters on the half shell, the specialty of the house at Papa Joe's Oyster Bar, the Bay is not healthy right now, and oyster harvesting is prohibited. A red tide has plagued Apalachicola Bay since July, leaving many seafood workers out of work. Reading the local paper, we learned that oysters from Louisiana and Texas are now being imported here for processing, which puts some workers back on the job, but makes the local oystermen angry, because the same health standards are not being applied to the imported oysters as are applied to the local oysters.
Although the town is clearly trying to become a resort haven, commercial fishing still looks to be a significant driver of its economy. We saw at least 100 large commercial trawlers parked along the piers near the estuary center and along Scipio Creek near our marina. We passed a half dozen fish packing, distribution and processing operations as we walked from the marina into town.
Now that waterfront real estate is skyrocketing in value, and regulations seem to be making it harder for watermen to make a living from the sea, we wonder how many will just hang up their nets, sell their property and retire, taking a part of the charm and authenticity of the town with them.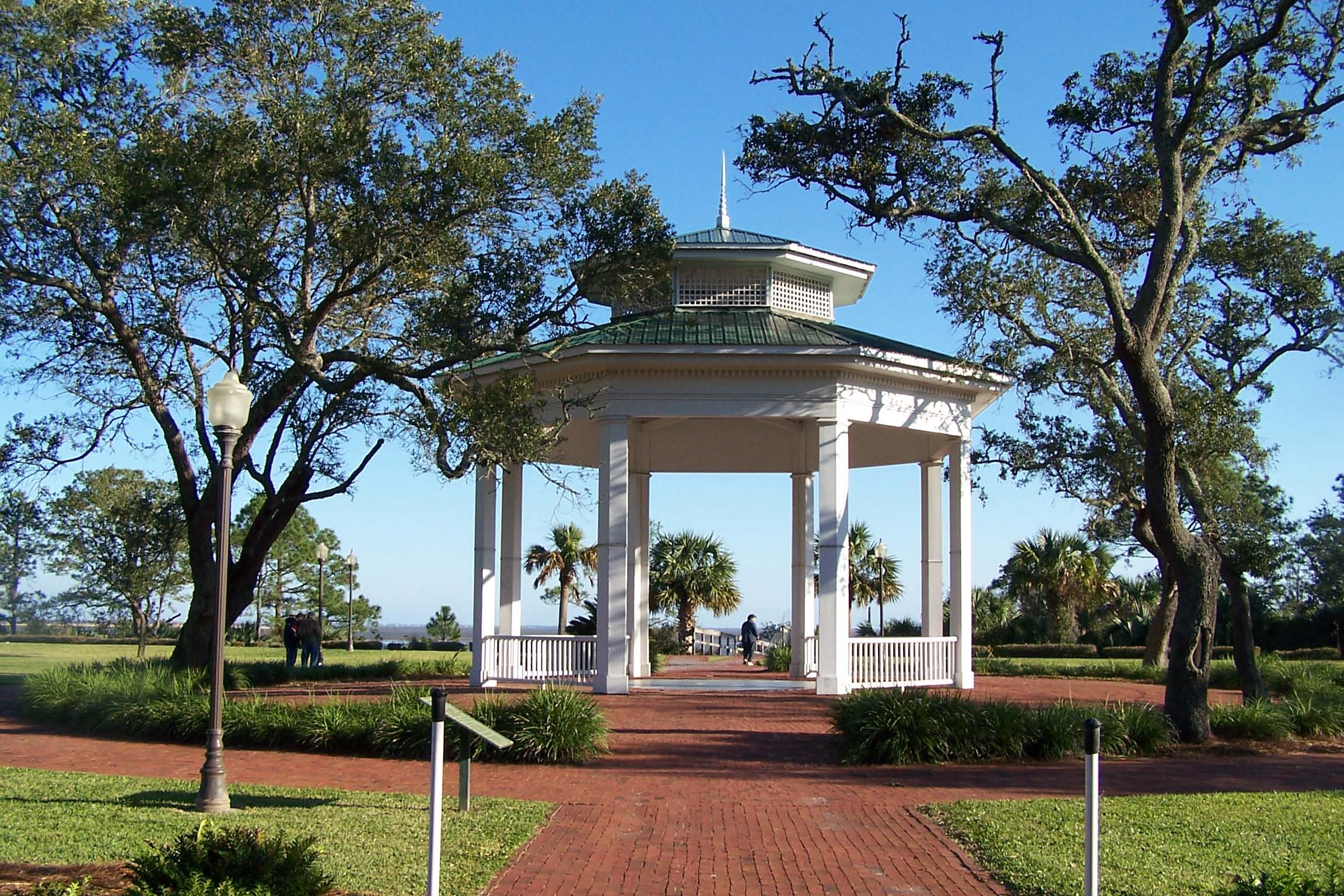 Lafayette Park
Between a disastrous fire in 1900 that started in a kitchen and spread to destroy 70 buildings downtown, and "progress" that led many historic buildings to fall into disrepair and desintegration, there are precious few buildings from the 1800s remaining in Apalachicola. We followed a walking tour through town to learn a little more about Apalachicola's history. In 1838, the Apalachicola Land Company built 47 identical brick and granite three story warehouses for cotton along the river. Only two remain intact today. Signs and new construction along the warehouse row area indicate that developers have a vision of making a cotton exchange-themed area of shops, restaurants, condos and an inn there.
We passed Fort Coombs Armory, built in 1905 and said by locals to be the oldest building continuously used by a U.S. National Guard Company.
We strolled through pretty historic neighborhoods of houses dating from the early 1900s. Beautifully restored Arts and Crafts-style cottages with impeccable landscaping alternated with vintage homes sporting rusty tin roofs and porches overflowing with trash and appliances. A two bedroom two bath cottage in good repair in the historic district goes for $750,000, unless it has a water view, which will jack the price up over a million, as we learned by perusing real estate magazines.
We admired the lovely waterfront Lafayette Park, where people from the historic district walk their dogs and have weddings beneath the music pagoda, which is a modern-day reproduction of the original built in the mid-1800s. We found a geocache hidden there, and walked out a long boardwalk that used to lead to a very large and elaborate dock. The dock now lies in many pieces in a tousled heap along the shoreline. It was the only hurricane damage we saw in the residential part of the historic district.
We were enjoying exploring about, but it was getting late, so we headed to the Piggly Wiggly, and carried our groceries the twelve blocks back to the boat, giving us about a half hour after we got everything stowed to put our feet up and rest before walking to dinner at Papa Joe's with Frank and Karen, where we were disappointed we couldn't get local oysters, but had a fine meal just the same. Whew! Another very full day.