Wednesday, November 23, 2005 Apalachicola to Carrabelle
29.9 miles
Our three and a half hour trip to Carrabelle took us over smooth water all the way. We saw our first daily dolphins within minutes of leaving the marina, and enjoyed a few more visits from playful dolphins throughout the day.
Our challenge began when we got to Carrabelle, and the wind started to pick up just as we were getting ready to dock. Dick read the current and the wind perfectly and slipped us right into our spot, which the dockmaster swore was two feet wider than our beam. We heard the unmistakable squeal of our brass rub rails being polished by the wood pilings as our boat came to a halt with its nose far from the front of the slip. We hailed the marina, backed out and tried another slip which the dockmaster swore was wide enough, but again turned out to be a couple feet narrower than his dock chart dimensions. On our third try, we got a slip with two inches on each side of the boat -- no room for fenders, but enough room to get tied up. We were just grateful to have a snug berth for the night, as the wind was by now about 20 mph and still building.
At cocktail hour, we sat in rockers on the porch of C Quarters, our marina, and got caught up on all the local happenings from boaters who had been laid up here a while, and from Russell, a friendly, entertaining and, of course, extremely knowledgable Towboat U.S. Captain. Plenty of people are waiting for the right weather to make the crossing, and some have been waiting for quite some time. Weather reports for the next few days are not promising, with 20-25 mph winds pushing big waves out in open waters. Russell advises against going out for a while -- he doesn't need the business.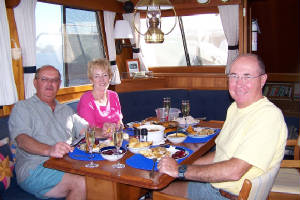 Thanksgiving on Starsong
Thursday, November 24 Happy Thanksgiving in Carrabelle
Thanksgiving was a perfect Florida day shoreside -- temperatures in the high 70s, a cloudless blue sky, a refreshing breeze rustling the palm fronds and keeping us from feeling too hot in the sun. We put aside our impatience to move on, since the refreshing breezes were pushing five to eight foot waves out on the ocean, and we just enjoyed the day.
Coordinating the preparing, cooking, and serving of all the big things (like turkey) and little things (like gravy and rolls) that go into Thanksgiving dinner in a small galley with a tiny stove and no excess dishware was a challenge. We prepared our stuffing and put it in a six pound turkey breast, which just about filled our little boat oven. We cooked up a green bean casserole in the microwave and browned the top in the oven as the turkey came out. Karen brought a buttery rich sweet potato casserole with marshmallows and pecans. We used all our dishes and all our counter space, juggled our cooking devices, and managed to turn out a full-blown Thanksgiving dinner just fine with some help from our friends.
As a very special Florida touch for our Thanksgiving celebration, Frank bought stone crab claws fresh off the boat for our first course. The crabber came in on Wednesday night, took orders while he unloaded his boat, and brought the cooked claws back on Thanksgiving morning. He gave everyone picking up their claws lessons in how to crack them open, and Frank passed the wisdom on to us. We were quick studies in claw cracking, sampled crab claws both hot and cold with two different sauces Frank prepared, and declared all the options delicious.
We began our meal with a champagne toast to our friendship and all we have to be thankful for on our journey, and we finished it with pumpkin pie and whipped cream. In between, we enjoyed sharing food and fellowship in prodigious quantities, as we have for countless meals together over the past seven weeks. We missed sharing Thanksgiving dinner with our families this year, but are thankful to have found such good friends to share our good times along the way.
November 24 - 29
Day after Day after Day in Carrabelle
After our Thanksgiving dinner, we lumbered down the road to The Moorings, a more upscale marina upriver from our marina, C Quarters -- you can think of The Moorings as "A Quarters." There we found Looper friends Frank and Rona on Crazy Horse, and Carol and Chuck on Vagabond. They had been hanging out in Carrabelle for a week or so, and were eager to go, but pessimistic about the chances of finding an opening in the weather.
Rona told us the story of a delivery captain they met at the Moorings whose clients further south along the coast refused to wait for his delivery, and demanded that he depart in five to eight foot waves. He went, and another boat impatient to go followed him out, looking for safety in numbers, but finding misery loves company. The following boat was carrying a dinghy on its roof that bounced itself loose in the big waves. As it crashed about, the dinghy's motor chopped holes in the boat's roof. The boaters were helpless to do anything to secure the dinghy, because the water was too rough for them to venture out and climb up on their roof.
Rona took us up to the luxurious Moorings Boater's Lounge, where a computer was tuned in to the weather underground site, and a few despondent cruisers were gathered around the screen watching an animated sequence showing predicted wave heights in the Gulf for the next couple days. Sections colored pink were 1-2 foot waves, turqouise stood for 2-4, and the darker the blues got, the higher the waves. The screen was dancing with deep hues of blue, and a precious few pink accents near shore.
But, weather can change quickly. The next day, the sun shone and the winds were calm. We figured if only we had gotten up early at 5 a.m. and looked at the weather map, we could have made the run over to Steinhatchee. We walked over to the very salty coffee house, and started talking with the cruiser behind us in line, who was going to head for Crystal River on an overnight run with several other boats leaving at 4 p.m. We sat down together and discussed our options.
There are basically two strategies for doing the crossing. One is to get it over as quickly as possible, by doing a long run of 140-185 miles south across open water directly from Carrabelle to Crystal River or Tarpon Springs. It takes a boat our size 16 -20 hours to make this crossing. Because winds and waves usually diminish at night and you want to leave and arrive at port during daylight hours, boats following this strategy spend most of their passage traveling in the dark, leaving in the afternoon and arriving the following morning. The positive aspects of this strategy are that it gets the crossing over quickly and it eliminates concerns about cruising in shallow water. The bad aspects are that once you get out there, if bad weather comes up, you have no choice but to ride it out, and you will be riding it out in the dark, where you can't see the waves before they hit you.
The other strategy, which we favor, is to do the Big Bend in a minimum of three jumps of 70-90 miles each -- from Carrabelle to Steinhatchee to Cedar Key to Tarpon Springs. After Tarpon Springs, the rest of the journey is back in sheltered waters. The advantages of this strategy are that you can do each leg in the daylight hours and you stay closer to shore. Since the wind is often from the north, being close to shore means the waves haven't been building for miles and miles before they get a whack at your boat. The disadvantage of the strategy is that it takes three days to do what cruisers folloing the first strategy can do in one or two days. It could take a lot longer than three days, if you get stalled by weather between legs. Also, getting in and out of the ports involves traversing shallow waters, and depending on the tides and how much water the wind might have blown out of the bays, there is some risk of going aground or being trapped until high tide.
Although it wasn't our preferred strategy, we were tempted to join the overnight cruisers. If we didn't go, we might be here for a week or more, based on long-range weather forecasts and stories we heard from veteran crossers.
We went back to our computer to look at the weather data again, and were a bit concerned about the chance of waves building after midnight. We consulted the experts. Russell the Towboat U.S. captain who has boated here all his life said, "You can go if you want to get bounced around." The Moorings expert said, "Go. It will be calm all night," and so did the resident expert at C Quarters. We decided not to go.
We waved to Frank and Rona and wished them luck as they passed with the little flotilla. We kept wondering if we should have made the move, as the weather continued calm into the evening, and the buoy wave readings way out in the Gulf were a foot and a half.
Anticipating that the calm weather could continue into the next day, we prepared for an early morning departure before we went to bed. When we got up at 5 a.m., the weather and wave forecast continued to look good, but we felt more wind than we would expect, based on the weather forecast. If it was this windy so early in the morning onshore, what might it build to later this afternoon out on the water? As Dick and Frank were conferring on the stay or go decision, we heard two captains at The Moorings on the VHF radio having a similar discussion about the disconcerting winds, and deciding not to venture out. We, too, decided to stay put, hoping we would not regret our decision.
Later that day as we were wandering around The Moorings, we ran into a cruiser who had heard from Frank and Rona at 7 a.m. that morning. Based on the weather reports we had seen, we figured they had a great crossing, and we were happy for them. But, we were wrong. Frank said all was well for them until midnight, but then the winds picked up and they had a rough ride in waves he estimated were up to eight feet. It was disconcerting and disorienting not to be able to see the waves coming, but to just get clobbered out of nowhere. Frank's call reassured his friends that the flotilla had made it safely, but not at all comfortably, across the treacherous open water, and it ended with a warning not to head out today, regardless of how rosy the forecast might look. Any doubts we had about being too cautious or missing an opportunity quickly evaporated away.
Carrabelle "Highlights"
After a week here, we feel like we know Carrabelle well. (Actually, we knew it well after just a day or two -- additional days just provided confirming data.) There is no discernible historic district, no remaining evidence of its glory days as a lumber town in the late 1800s to early 1900s when sawmills and lumberyards lined its shores. The residential areas that are more than five years old feature a mix of double-wide mobile homes and cement block homes with old car and boat parts guarded by mean dogs in their chain-link fenced yards.
There is plenty of new construction along the waterfront. Popsicle homes (pastel-sided boxes three stories high and one room wide perched atop sticks in the sand) go for over a million dollars, and unimaginative condos three lots back from the water go for just a bit less. One luxury condo development being built in the shade of a tall highway bridge over the Carrabelle River had a long pipe over a foot in diameter running along its edge with smaller pipes running into the sand at about two foot intervals pumping water out of the ground to be carried away by the big pipe. We didn't think this was a good sign.
We didn't see many new homes or condos with stratospheric prices that actually looked like anyone lived in them, even though signs claimed they were "going fast." But, clearly, someone is buying real estate around here. We counted at least a dozen real estate offices in town -- real estate offices outnumber all the other merchants around here put together.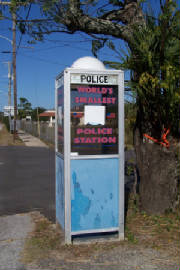 World's Smallest Police Station
Carrabelle's one claim to fame is what it calls the "World's Smallest Police Station." It looks like a 60s era phone booth with no phone, which is exactly what it is. In the 60s, the Carrabelle Police had a call box with a police phone inside that tourists used to make illegal long distance calls. They moved their phone to this phone booth so police would have protection from the elements when they used the phone and to curtail the illegal phone calls. Why they thought moving the police phone to a phone booth would deter tourists from using it illegally is a mystery. The problems only increased -- vandals ripped phones from the booth, sportsmen used it for target practice, a pickup truck ran into it and knocked it over. A tourist even tried to get a gas station attendant to help him load it into his vehicle so he could take it back to Tennessee as a souvenir.
The World's Smallest Police Station still stands proudly across the street from the Carrabelle Chamber of Commerce, albeit without a phone inside.
Our favorite part of town was Carrabelle Junction, the very comfortable (you might even call it authentically rustic) coffee shop where we spent many relaxing mornings drinking lattes and reading the Tallahassee Democrat. The same cast of locals hung out there just about everyday, and the same engaging aging hippie prepared and served the coffee and food. The regulars had their favorite tables, and we had ours (by the front window, where we could watch the action out front at the sidewalk cafe tables, as well as inside). We usually ran into other stranded boaters we knew, and hung around comparing notes, which made us feel like temporary locals.



"All good stories come out of unhappiness. People who are happy and successful have no stories to tell."
These are the words of Garrison Keilor, one of our favorite story-tellers. He is right -- a least in regard to stories of the Big Bend crossing. The stories we remember, the ones that haunt us, the ones we share over and over again all come out of some other cruiser's misery and unhappiness. They are cautionary tales with plenty of dramatic tension.
Our goal is to have no stories to tell of our Big Bend Crossing.