There are two pages to this section. You can read all the way to the bottom of this long page and click the link to go to Page 2 at the bottom of this page, or, if you have already read this page, click the link below to go straight to Page 2.
Click here to go directly to Page 2 (Destin and points east).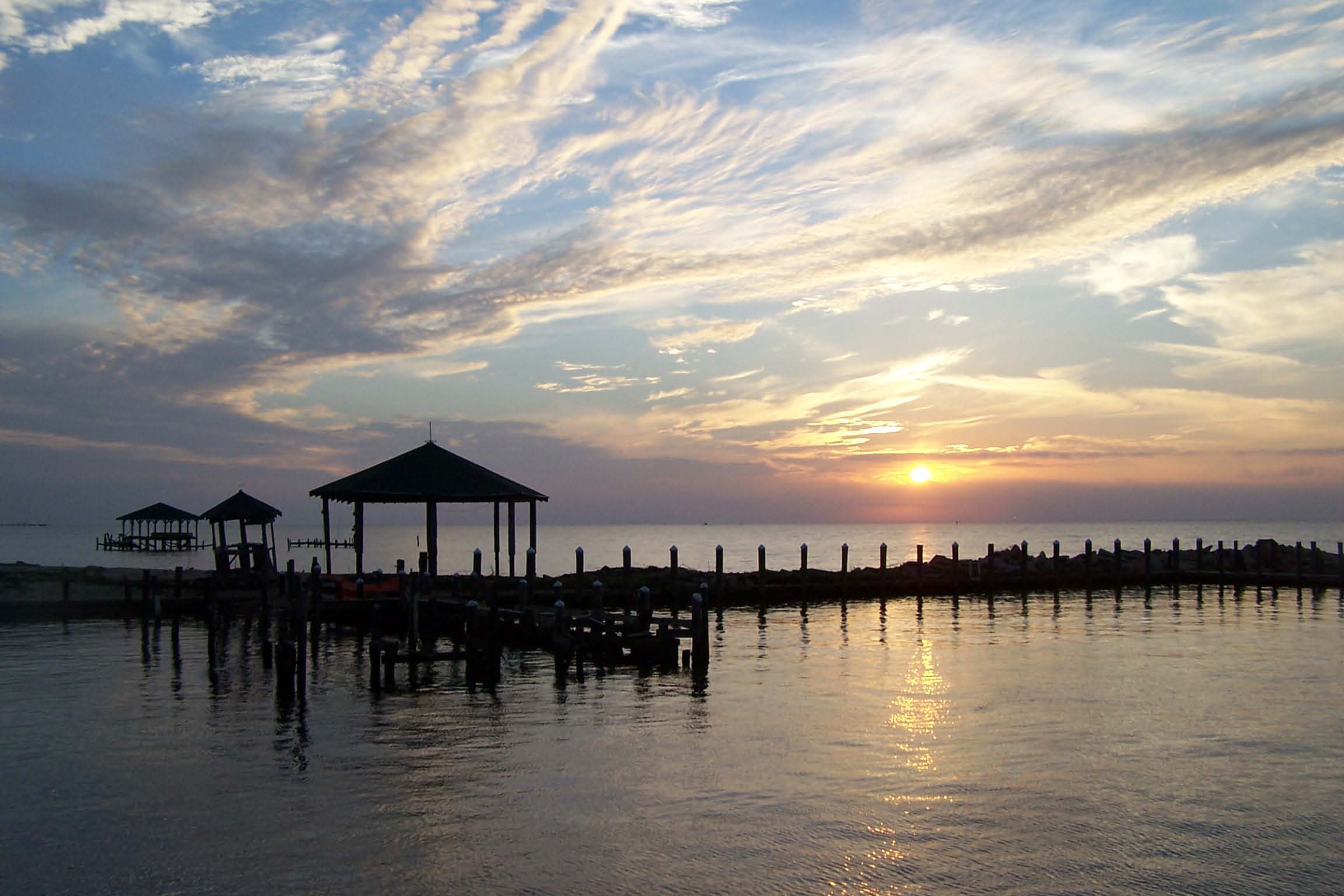 Fairhope sunset (off Starsong's port side)
Monday, November 14 Fairhope, AL
Dick and I enjoyed a morning walk along the marina docks, into its boatyard crowded with vessels awaiting post-hurricane repairs. Pictures on the marina bulletin board documented Katrina's devastation, with sailboats strewn throughout the parking lot, docks and boats that managed to stay in the water in a tangled mess, and water five feet deep in the marina offices. One of the cinderblock work buildings in the boatyard had a massive bite taken out of its corner -- something really heavy must have been pounded into it to drive a hole that big in concrete.
Past the boatyard we found a quay of shrimping boats, their nets held aloft on tall poles that come down like wings as they fish.
We wandered up the road that leads to the marina -- Seacliff Drive. Meticulously landscaped estates on a cliff high above Mobile Bay line one side of the street, and more modest homes tucked in the woods and wilds overlooking a navigable creek are on the other side. Given the erosion we saw on the cliffs as we motored in, and the elaborate earth-control systems the home-owners are installing to keep the cliffs from falling away beneath their homes, the creek-side homes seem like the better investment right now.
After our walk we squeezed into the loaner car with Geminellie, Main Course, and Kathy, a Looper from another boat. It was a blessedly short drive into the resort town of Fairhope. We haven't been in a town like this since we were cruising the shore of Lake Michigan -- several little cappucino shops, a couple independent book stores, boutiques with bright resortwear in the windows, fancy kitchenware and gourmet food shops, gift shops with cute names filled with things you don't need but can't resist, art galleries, and antique stores with exquisite treasures instead of flea market finds. Dick even found me a Sunday New York Times!
There were bright flower plantings on every corner and around the bases of the trees that lined the curb. The sidewalks were brick, with hundreds of pavers with messages from the town's citizens who donated them. It was a feast for the senses.
We were intrigued by some of the uniquely Southern merchandise we found in our browsing about. The hot book for the holidays down here is Christmas in the South, or If You Can't Fry It, Spraypaint It Gold, by David Barnette. And, no Southern sportsman's Christmas tree is complete without a few strings of "Jingle Bells Shotgun Shells" -- real shotgun shell Christmas tree lights that come 20 red and green shells to a string. We picked up a $9 bottle of raspberry chipotle sauce that makes a killer appetizer when poured over cream cheese to make a cracker spread.
Later that day we would all pile in the car for a provisioning run to a Super Walmart outside of town. We fervently hope the Walmart doesn't run any of those charming shops in town out of business, but we must admit we are coming to appreciate the predictable selection (albeit no $9 condiments), and one-stop convenience of the Super Walmarts we have frequented along the Loop .
Back on the boat, within minutes of skimming around the first section of the New York Times, I came upon an obituary for a woman whose life journey connected with ours, although we had never heard of her until today.
Ruth Clement Bond died at age 101 on October 24, the day we docked at Joe Wheeler State Park. She was known for designing a series of quilts known as the T.V.A. Quilts, because they were sewn by the wives of African American workers building the Tennessee Valley Authority Dams. She was a university professor when she married and traveled where her husband's career with the T.V.A. took them. He was sent to Alabama to supervise Black workers on the Wheeler Dam, and they lived in a segregated village built near the dam for workers and their families.
While her husband trained the dam builders, she did her own training program with the wives. Many had previously been sharecroppers, and were managing family income for the first time. Ruth helped them fix up their homes, and she designed inspirational quilts celebrating Black Americans' expanded opportunities under the new Deal, which the women quilted.
Her quilts were a dramatic departure from the traditional block and applique quilts that came before her. Hers were art quilts, designed at a time when quilting was an act of utility or fine craftsmanship, rather than art. They featured bold silhouettes of Black people in dramatic poses. One quilt, which the women called "Black Power," featured a black fist holding a red lightning bolt, symbolizing the T.V.A.'s goal of providing electricity to the previously unserved rural areas where they lived.
We were there -- at the spot where Ruth Bond made American art quilting history -- on the day that she passed away.
Tuesday, November 15 Fairhope, AL to Pensacola, FL
64.3 miles
We left Fairhope a day earlier than we had planned to move on, because the NOAA weather forecast called for bad weather to blow in. We figured we would be trapped somewhere for a few days with 30 mile per hour winds blowing at us from the north. Because strong north winds can blow water out of Mobile Bay, and our boats didn't have a lot of excess water under them in Fairhope, it was time to move on. We knew we made a good decision when we later heard that tides in Mobile Bay were running a foot below normal.
Fortunately the tide and the wind were both running in the same direction when we left, so during our three hour trip across Mobile Bay the waves never built above a foot. That's not to say we had a pleasant passage. The skies were overcast, the wind was strong, and we passed through intermittent showers and a squall on the Bay, with increasing rain and squalls throughout the rest of our day cruising more protected waters.
When we entered the ICW from Mobile Bay, the most playful dolphins we have seen yet greeted us by standing straight up in the water and doing back flips. As we got nearer, they surfed our bow wake and our side wake. They swam just under the water in our side wake, then came up to do small jumps as they caught a breath, occaisionally adding a corkscrew backflip to their play.
About an hour later I heard a persistent slapping sound on our starboard side, and looked to see if I had forgotten to take in a fender of if the wind was blowing something overboard. It turned out to be a dolphin doing backflips beside us. The same thing happened several more times throughout the afternoon, brightening an otherwise dreary grey and rainy day.
Condos are being built along the ICW at a frenetic pace. There were signs advertising condo developments under construction in the shade of a massive expressway overpass and beneath tall power line frames. Even the greatest landscape architect of all time would be hard pressed to come up with a plan to make these spots attractive.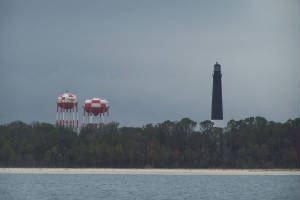 Pensacola Lighthouse
As we approached Pensacola we saw our first real lighthouse since Lake Michigan -- the Pensacola Light. The Federal Government designated Pensacola as a Naval Base in 1824, and authorized the construction of the first lighthouse on the Gulf Coast to mark the Base entrance channel. The original light was only 30 feet tall, barely visible through trees around it. It was soon recognized as inadequate for such an important site.
It was replaced with the current lighthouse, painted distinctively black on top and white on the bottom, in 1859. The brick light tower is 171 feet high -- the fourth tallest brick lighthouse in the country. The dwelling at its base was built as a duplex to accommodate the familes of two keepers in separate quarters.
During the Civil War the Confederate Army took over the lighthouse, and used it as a lookout tower. When they evacuated Pensacola, the Confederate troops burned many government buildings and supplies in the Naval Yard, but they left the lighthouse undamaged.
Although it sits on the Pensacola Naval Air Station property, the lighthouse is maintained by the Coast Guard today.
By the time we docked at 4:35, we all felt we had been through a very long day. The weather system we fought our way through to get here was past, though, and the evening was pleasant, so we all walked to a waterfront fine dining seafood restaurant for dinner. We sat on their open air patio beneath a full moon so bright it made the water look luminescent (perhaps I should say "luna-escent"), and enjoyed a fleeting experience of tropical paradise before the north winds came while we slept, bringing record low temperatures in their wake.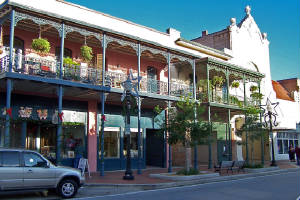 Palafox District architecture
November 16-17 Pensacola
We waited out the high winds tied up snug in the Palafox Marina in Pensacola, well-sheltered by tall cement breakwaters and sea walls.
Dick and I bundled up in our winter jackets and gloves to walk into the Palafox Historic District downtown for coffee and pastries. The district has many beautiful buildings dating back to the early 1900s when the city experienced a business boom based on the mistaken notion that the Panama Canal would make Pensacola an international trade center. The district has a distinctive Spanish character, and a number of buildings feature lacy ironwork columns, balconies and trim painted in dramatic colors.
Next we explored the Seville Historic District, the oldest section of town. Our first stop was Historic Pensacola Village, where we had our own private guided walking tour through the city's early history.
Pensacola Village is a collection of thirteen buildings constructed from the late 1700s to early 1900s, spread over several blocks. Interpreters in period dress perform activities from daily life during their time in history. We watched an interpreter start a fire using flint, a metal striker, a charred cloth to catch the spark, and a puff of flax fibers to build a flame. We were interested to learn that this elaborate process with plenty of opportunities to get burned was typically a child's chore.
Our guide led us through a simple four-room house furnished as it might have been in the 1820s, and later took us in a lovely Victorian home built in 1871. He apologized for the modern furnishings (such as a big screen television with speakers in all corners of the living room) mixed in with the authentic Victorian antiques. It seems that this is the home of the President of Western Florida University. If I was taking that President's job, I think I would try to negotiate away the clause in the contract that says I have to let strangers wander through my house while I'm away at work. (I must say that I am also extremely impressed with how neat and tidy the President keeps his house.)
We learned that the flags of five nations have flown over Pensacola. It was first settled in 1559 by Spaniards, but the settlement was blown away by a hurricane soon after, and although the Spaniards claimed the land, they didn't do much here for a couple hundred more years. The French briefly interrupted Spain's reign, 1719-1723, then the land returned to Spain for about 40 years, until the British got it in 1763 under the terms of the Treaty of Paris. The British held onto it for 20 years before Spain got it back again in 1783. The United States flag was raised over Pensacola from 1821 until 1861, when the Confederate flag flew for a couple years. The United States flag has flown here ever since.
The Industrial Museum in the historic village had exhibits that traced how early residents of Pensacola used, and in some cases used up, the rich natural resources of the area to fuel the region's growth. Pensacola had many thriving brick production facilities that used the natural clay deposits in the banks along the shoreline, until the clay deposits were depleted in the 1880s. The city was surrounded by thousands of acres of pine forest that supported sawmills and the production of rosin, pitch and turpentine for naval use, for about 50 years or so, starting in the mid-1800s. It was heralded as the "Red Snapper Capital of the World" from the 1880s to the 1930s, when the declining fish population made red snapper too expensive to harvest.
The next day we enjoyed the fruits of Pensacola's modern fishing industry when we rode our bikes to Joe Patti's seafood complex just a couple miles from our boat. The business was begun by Italian immigrant Joe Patti in the 1930s. He fished during the evening, and his wife sold his catch during the day while he slept. A memoir on the wall of the shop written by the Pattis' children claims that their parents were so poor in those days that they shared a single pair of shoes, which Joe wore while fishing and his wife wore while working in their little shop.
Today the Joe Patti complex includes a massive fish store, a gourmet food shop, and a deli-style fish restaurant. We began our visit with lunch in the restaurant, which was doing a brisk business. Everything was oustanding -- tender melt-in-your-mouth fried oysters, perfectly fried very fresh shrimp, spicy seafood gumbo and slightly sweet hush puppies. We shared everything and had a wonderful meal for a bargain basement price.
Our next stop was the airplane hanger-size fish store, with what seemed like a football field length of cases with over 30 different types of fish and shellfish on ice. They offered whole fish, fillets, fish eggs, and all sorts of fish parts we would have no idea how to prepare, like fish cheeks. Across the aisle, a row of freezers held all sorts of prepared foods -- chowders and bisques, jumbalayas and etouffees, fish stuffed with crab or shrimp, crab cakes, and lots more. It made us wish our boat freezer was empty. We put a crab and lobster bisque and a couple Cajun main courses in our basket before going next door to the gourmet food section, which was packed full of cheeses, dips, all kinds of olives, fresh sushi (and all the ingredients needed to make your own sushi), sauces and spices, and intriguing prepared foods from around the world. Just looking was a treat, but, mindful of our limited available storage space, we just got a few things -- a Japanese squid salad, Greek stuffed grape leaves, and Key lime juice Dick will use to make a Key lime pie eventually.
That was the fun part of our day. Before we went to Joe Patti's we bundled up to ride our bikes seven miles round trip in the morning wind and cold to buy a pump and a bunch of other supplies at West Marine. Fortunately, it was the best West Marine store we have ever visited, with employees who actually knew their merchandise, understood boating, and enthusiastically shared local knowlege (which is how we ended up having that great lunch at Joe Patti's restaurant).
After Joe Patti's, Dick spent the afternoon laboring the bowels of the boat (literally), replacing our macerator pump and trying to diagnose our sewage system's idiosyncrasies. When he figured out late in the afternoon that we needed another part to fix the system, Dick called West Marine, and one of the employees drove to the marina to drop off the part after he got off work. That's service far beyond the call of duty, and we were mighty appreciative.
We ended the day with dinner aboard Geminellie, sharing tales of our day's adventures with our cruising friends. Jim, Ellie, Frank and Karen had spent a most interesting afternoon exploring the museum at the Naval Air Station, home of the Blue Angels. We put that field trip on our list of things to do next time we are around here again.