Friday, November 18 Pensacola to Destin
48.2 miles
We pushed off the dock at 8 a.m., driving from our lower helm station, because just the thought of sitting up top with 42 degree air and 20 mph winds at our back made us shiver.
With the wind behind us as we made our way across Pensacola Bay, our passage was much smoother than we expected. We just surfed along for a couple hours until we got to protected waters, where wind and waves were not an issue. The winds were predicted to diminish over the course of the day, and they did. By the time we got to Choctawatchee Bay, the last bit of open water we had to cross to get to Destin, we had a comfortable ride in.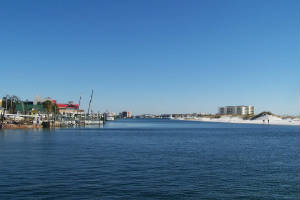 Destin
As we approached Destin, we were impressed by the color of the sand -- absolutely sugar white. The Harbor Walk Marina lies along a channel that runs behind a long sand bar with gently sloping dunes and wisps of sea grass. The shore across the channel from the pristene dunes was lined with sport fish charter docks, high rise condo construction sites, beach restaurants and marinas. We slowly motored up the narrow and none too deep channel to get to the marina, where we found ourselves the only cruisers in a sea of sport fishing craft.
If it had been a warm day, we would have been tempted to let our dinghy down and cross over the channel to wander around and explore the lovely sand bar. It was so cold that the dinghy was partially deflated, and taking off our shoes to walk in the sand posed a frostbite risk, so we settled for a walk over to the strip mall across the six lane highway that ran in front of the marina. We eyed art in a gallery specializing in marine subjects with prices beginning at $1,500 and going into the stratosphere. Then we checked out an antique mall, and that pretty much exhausted everything of interest to see in Destin. At least it was everything of interest that we could get to on foot with that big busy highway without sidewalks cutting us off.
When we got back Jim told us about an interesting experience he just had while trying to fuel up. The young fellow working at the marina started the pump to fill Geminellie's tanks, but then just turned off the pump promptly at 5 p.m., his quitting time, well before Jim was done pumping. He probably lost a couple hundred dollars in sales (which we know didn't bother him because he clearly felt he had no stake in the marina's success). We couldn't help contrasting his behavior with that of the West Marine employee who delivered a part to us on his own time after work last night.
Our group of six cruisers went to dinner at Molly Maguire's Pub, where an estimated $350,000 in one dollar bills hang from the ceiling and the walls. It seems that Molly stuck her first tip to the wall of her original establishment in Pensacola, and her customers followed suit by affixing signed dollar bills to her walls there. The tradition was continued in this much bigger place, and Molly now has a half million dollar nest egg in dollar bills hanging in her two restaurants.
One last piece of Destin trivia -- Jaws was filmed on location just past our marina.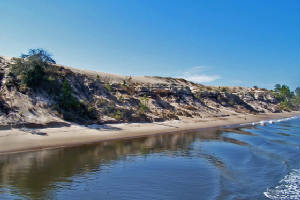 ICW Grand Canyon
Saturday, November 19, 2005 Destin to Panama City Marina
64.5 miles
Our cruise from Destin to Panama City took us through Florida's man-made Grand Canyon -- a long stretch of the ICW that cuts right down the middle of tall (for Florida) sand dunes and cliffs on either shore. Some find it boring, but they just aren't tuned in to looking for the bald eagles who make their home here. We saw two regal adult bald eagles and an immature eagle that hadn't developed its white head feathers yet.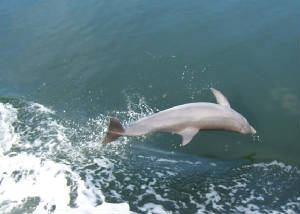 As if that wasn't enough excitement for one day, shortly after we emerged from the cut into more open bay water (which was glassy smooth), we came upon lots of dolphins who played in our wake. After many tries, I finally got a good picture of a dolphin jumping. It was a thrill just to sit on our side deck within about six feet of the dolphins and watch them glide smoothly just below the surface, then pop up right next to me and jump for joy. (Although I can't say if they were jumping for their own joy, they sure brought us joy.)
We also saw at least ten loons today, now in their drab winter plumage. The last time we saw loons was up in Michigan, in their fancy summer feathers. We never saw them flying down here or resting along the way. We wonder how they got here before us without a trace of their passage.
Sunday, November 20 A Day in Panama City
There isn't a whole lot to do in Panama City on a Sunday. Most of the stores and restaurants are closed. But, we did find a great spot for breakfast -- when Dick called to see if they were open, the very cheerful woman at Bayou Joe's said, "We're open, and we're saving a table just for you." We donned our winter jackets and were on our way.
Bayou Joe's is located in what can best be described as an authentically rustic beach shack at the end of a very rickety wooden pier. The restaurant is on a none too stable base itself -- each time someone walked by our table, we shook as though an earthquake had just hit. We had a great view of a quaint harbor, which, if signs along the shore are to be believed, will soon be surrounded by high rise condos that render it no longer quaint.
After lingering with Frank and Karen over very big breakfasts, we headed back to our boats for a day of boat chores. We changed our oil, did all our laundry, and got almost caught up on our website and other Internet-dependent activities. As the day went on, rain clouds rolled in, bringing cold showers.
Kathy, the Looper we met in Fairhope when she squeezed into the loaner car and rode into town with us, came into Panama City in the midst of rain squalls. When we talked with her later, she said that she and her husband had planned to stay just one more day in Fairhope -- the day we left to beat the bad weather. Instead, they got trapped in the marina for five days, because the winds blew so much water out of Mobile Bay their boat was aground, and they couldn't move it. When the winds subsided enouth that they finally got enough water back to move, they had a terrible vibration in one of their engines. The marina had a travel lift, so they hauled the boat out to check what might have happened while they were sitting on the bottom. They found a big piece of canvas wrapped around their propeller. It had probably blown off another boat during the hurricane and just sunk to the bottom waiting for its opportunity to wreak havoc.
After we heard Kathy's story, we were all the more certain we had made the right decision in leaving Fairhope a day earlier than we planned, in weather a bit less pleasant than we preferred.
This was our last day cruising with Jim and Ellie, who are leaving Geminellie in Panama City while they spend Thanksgiving with family in Northern Michigan. Meanwhile, Main Course and Starsong are continuing south, and not at all certain where they will be spending Thanksgiving.
We had planned to all walk to dinner at a nice Italian restaurant in town, but abandoned that plan due to the terrible weather, and Ellie's offer to make a big batch of spaghetti instead. It was probably better to share our last meal together for while on Geminellie's rear deck, the site of so many warm memories of fine food and fellowship we have shared along the way.
We will miss Ellie and Jim as we continue along without them, but are happy that our winter quarters are near enough that we will all be able to get together again after the holidays are over and we settle into our relaxing Florida winter routines.