September 3, 2005 Saugatuck to St. Joseph
46.3 miles
We got an early start to try to beat the building winds on Lake Michigan. Sunrise was 7:11, and we were on our way down the mist-shrouded Kalamazoo River by 7:30. Half an hour later, we emerged from the breakwater onto a flat lake. Sunny skies and pleasant waters remained for our whole voyage to St. Joseph.
It was a classic "Be careful what you wish for" day. With no wind, we had literally thousands of little gnats and hundreds of little flies hitchhiking aboard. I took frequent breaks from my knitting to swat the pesky things (knit one row, swat 30 bugs, knit one, swat 30 . . .) At the end of the day we had a sizeable pile of bug carcasses on the flybridge.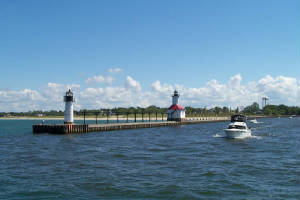 St. Joseph North Pierhead Lights
We passed two lights on St. Joseph's north pierhead. The outer light sits atop a 35 foot cast iron tower, and was first lit in 1906. The inner light was lit one year later, and is 57 feet high. Together the two lights create a range -- approaching vessels can line them up to head straight into the St. Joe River.
As we made our way up the river, we were greeted by the festive scene of at least 100 sailboats rafted six deep along the river wall. They were participating in a Labor Day Weekend city to city sailing regatta.
Mindful of fuel shortages and price hikes predicted based on Hurricane Katrina damage, we filled up at Pier 33 Marina in St. Joe, where the price was thirty cents a gallon less than the Saugatuck price, and ten cents less than we paid a couple weeks ago in Petoskey.
Without television reception aboard, our images of Katrina have been formed by satellite radio coverage and newspaper accounts. Until our lunch at Wally's in Saugatuck, we had not seen footage of Katrina's devastation or thought much about its impact on us. The stories of human suffering, violence, and loss -- and the inadequacy of any response to a tragedy of such magnitude -- weighed heavy on our minds and in our hearts.
Then, when we saw video coverage capturing the physical reality, we started to think more about what we might find when we near the homestretch of our voyage where the Tennessee Tombigbee empties into the Gulf at Mobile. And, the hurricane season is still young.
St. Joe is a great town -- a place where working people live year-round, rather than a resort or vacation destination. It reminds me of Rochester in a lot of ways -- a whole section of little houses along the lakeshore built by immigrants 100 years ago and showing no signs of gentrification today, a "historic district" that looks just like the neighborhood where my mom grew up, and a beach like Charlotte Beach where the river empties into the lake.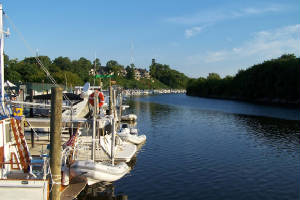 Pier 33 slips stretching far as the eye can see
The river is narrow, and the slips for Pier 33 Marina line both sides. During this Labor Day weekend, traffic on the river was heavy . . . and LOUD. Cigarette boat engines idled so loudly that we couldn't hear each other as the ones in slips across from us were warming up or others were passing by. Personal watercraft and lots of pleasure boats with women in bikinis sitting up high strutting their stuff paraded up and down the river to see and be seen.
We searched for several geocaches that took us on a bike ride to the beach -- a beautiful long and wide expanse of cream-colored sand that stretches along both sides of the river breakwater.
We strolled along the bluff park at the edge of town where there is a flea market antique sale every Sunday, and we enjoyed looking at all the vendors' wares. The bluff is also lined with memorial statues -- for war dead, police, fire fighters, and the poet Ben King, who was born here in the mid-1800s, and immortalized the River St. Joe in a popular poem. A carrousel mechanical organ, complete with booming drum and cymbals, was playing, providing background music for the fundraising volunteers soliciting donations to rebuild the old carrousel where it used to reside. The music sounded just like I remember from the Charlotte Beach Merry-Go-Round in Rochester. A horse-drawn trolley provided free rides.
We had a farewell dinner with Roxanne and Lenny, then played a few final rounds of Rummikub. They gave us a beautiful hand-made pine needle basket that I had admired while shopping with Roxanne many ports ago, and a card Roxanne made that brought tears to our eyes. We have shared a wonderful friendship afloat.
We hope all goes well with Lenny's medical appointments back home in Delaware, and that they catch up to us along the rivers heading south soon.
We leave St. Joseph with the words of Benjamin Franklin King's poem found on his memorial statue:
Where the bumblebee sips and the clover's in bloom
And the zephyrs come laden with peachblow perfume.
Where the thistledown pauses in search of a rose
And the myrtle and woodbine and wild ivy grows;
Oh give me the spot that I once used to know
By the side of the placid old River St. Joe.
September 5, 2005 Labor Day in Michigan City, Indiana
Our Only Indiana Port
We couldn't have asked for calmer seas for our 37 mile passage to Michigan city, the only Indiana port in our entire Great Loop Route.
The Michigan City Municipal Marina is adjacent to Washington Park, where a big Labor Day Festival was in full swing when we tied up in our slip. Carnival games, rides, fried food options of all kinds from dill pickles to dough, and very loud rock music -- this festival had it all. We could hear the music just fine from our boat a bit less than a quarter of a mile away (which is not to say that the music itself was just fine).
Dick met our Looper friend Ruth Donovan in the marina laundry room, and she and Bill joined us for cocktail hour.
We picked up a couple geocaches before dinner -- we would have done more, but darkness deterred us. Our trip total now stands at 143 caches.
We ate a late dinner aboard, then turned in after listening to a favorable weather forecast for our run to Chicago tomorrow.
Read the important information about Indiana below, then click here to continue to Chicago.