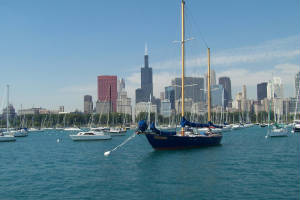 September 6-7 Chicago
We had a fair weather passage to Chicago. We could just make out the top of the Sears Tower on the horizon from 17 miles out, long before the lighthouse came in view. Slowly the rest of the city materialized as we approached, and it was an awe-inspiring sight.
We arrived at our marina shortly after noon, giving us plenty of time to explore that afternoon and the next day. We enjoy Chicago and have visited often, but never by boat. So, we decided to do some things we had never done before, and visit places we hadn't explored before, rather than returning to our favorite spots.
Our Marina was perfectly located, a short walk from Navy Pier (which we didn't visit, although we enjoyed the lights at night), Michigan Avenue, Centennial Park, and a pretty little section of beach.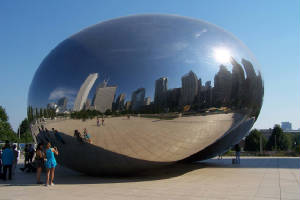 Our favorite contemporary sculpture in Chicago
Our first afternoon we let geocaches be our guide, and wandered about the parks and paths and interesting sites near our boat. We went to the Herald Tribune building, which has hundreds of stones and architectural fragments of notable sites and buildings from around the world embedded in its facade -- from a piece of the ancient Great Wall of China to a twisted piece of metal from the World Trade Center post-9/11. We visited Centennial Park, where we saw a contemporary sculpture that we actually admired -- a highly polished bean-shaped blob that reflected the city around it like a fun house mirror. It was a people magnet. No one who saw it, us included, could stay away. We had to approach, circle, move forward and back, and watch the images of ourselves and the city twist and warp as we moved. We took a path through a riverside park and passed through a tunnel lined with ceramic tiles telling the history of Chicago. We had such an interesting afternoon!
That night, we phoned Bonnie Loach, daughter in-law Bridgit's mother, who moved to a condo in downtown Chicago a week and a half ago. We found that her condo was just a couple blocks from our boat. We had already walked by it earlier that day. She invited us over, and we were wowed by her beautiful views of the city and out over Navy Pier to the lake. Her 9th floor condo is on a corner, with big windows in all the rooms and a wrap-around deck. What a wonderful place to live in such a beautiful and vibrant city. On top of everything else, a beautiful beach is hardly further than just across the street. We know she will love it here.
We began the next morning with a ride along the Chicago Lakefront Bike Path, which stretches for eighteen miles, through numerous parks and along the beach. The path was almost as busy as the rush hour streets, as people in business casual attire rode their bikes to work and more serious road bikers in their bright spandex sprinted; and in-line skaters, joggers and walkers in all shapes and sizes shared the path with the cyclists. We even saw a group of men riding Segways.
We were inspired to ride the path by a series of geocaches hidden along the way. By the time we were done, we had ridden 18 miles, found ten geocaches, and enjoyed lots of grand scenery along with some good exercise.
We never realized Lincoln Park was so big, but we rode miles and miles through it. It began as Lake Park, formed in 1860 from an unused portion of a cemetery. Shortly after Abraham Lincoln's assassination in 1865, it was renamed for him. Early in the park's history a benefactor donated a pair of mute swans, which led to the creation of the Lincoln Park Zoo. Over time, the park acquired more land, and added a conservatory, ballfields, beaches, and playgrounds. It now covers over 1200 acres.
We spent much of the afternoon on the boat, preparing for our trip through the city tomorrow. Chicago has more bridges than any city in the world, and we will pass under many of them tomorrow as we travel the Chicago Sanitary and Ship Canal through the center of the city. Although all the bridges along the Canal are built to open, they do not open for pleasure craft, and rarely open for any other type of craft either. Chicago traffic is bad enough as it is without adding delays for bridge openings to the mix.
Because most of the bridges are lower than our mast, and some are even lower than our canvas bimini top, we have to lower the mast and take down the bimini to pass through the city. Dick washed and treated each of the plastic window panels of the bimini before taking them off and carefully stacking them to avoid scratches. Then we took down the canvas top and folded down the stainless steel bars that support it. We have taken down the mast so often now that it goes very quickly. Dick can almost do the whole process by himself.
We worked so hard we decided to reward ourselves with dinner out. We stopped in at a hotel nearby and, posing as guests, asked the concierge for recommendations. We ate at a very good Italian restaurant, Volare.
Then, on the way back to the boat, we stopped at Fox and Obel, the local grocery, to pick up a few provisions. First on the list was butter. Fox and Obel's butter section included several butters from France, as well as butters from Ireland, Sweden, England, and one labeled generically as "European style." There was goat's milk butter and cultured butter. I got Land o' Lakes Unsalted. Same thing in the oatmeal aisle -- many choices of Scottish and exotic oatmeals in all sorts of fancy rolled and milled and cut forms and impressive packaging. I got the Quaker Quick Oats. No Kraft Macaroni and Cheese, no Cheerios, no Crystal Lite. Clearly, this upscale grocery was out of my league.
We went to bed knowing we would be enjoying fancy Fox and Obel pastries as we made our way through Chicago by boat tomorrow morning.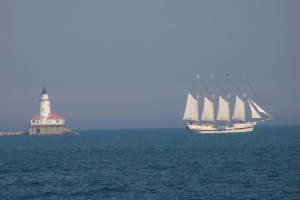 The Chicago Breakwater light is the only surviving lighthouse in Chicago, and one of only two that remain in Illinois. It was built in 1893 to prepare for the Columbian Exposition held here in that year. The lighthouse is 47 feet tall, made of bricks covered by steel plates. The keeper's dwelling was inside. Originally built at the mouth of the river, it was moved to its present location on the Chicago breakwater in 1919. When it was moved to the breakwater, the square buildings at its base were added -- a fog signal building on one side and a boathouse on the other.
It was automated in 1979, and its light still shines a blinking red.