August 16 Mackinaw City to St. James Harbor, Beaver Island
43.2 miles
When we left the dock at Mackinaw City, we immediately entered the Straits of Mackinaw, where Lake Michigan and Lake Huron meet each other and merge their waters. It is notorious for rough conditions, as it is churned by winds and currents where the wide waters of both lakes are pinched into a four mile wide natural channel between them. Today, we had a fair weather passage.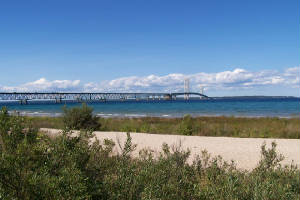 Mackinaw Bridge
The five-mile-long Mackinaw Bridge crosses the Straits of Mackinac, connecting Mackinaw City with St. Ignace in Michigan's Upper Peninsula. When it was built in 1957, it was the longest single-span suspension bridge in the world, and a great engineering triumph. We learned all about its construction in a little museum in the upper level of a Mackinaw City Pizza parlor where we ate lunch. Before the bridge was built, the line of cars waiting for the car ferries during deer hunting season could stretch for fifteen miles!
We arrived at St. James Harbor, at the north end of Beaver Island at 1:30. We dropped our anchor, ate lunch aboard, then set out with Roxanne and Lenny to explore the village of St. James.
We spent a couple fascinating hours at two well-curated museums operated by the local historical society -- a maritime museum in a net shet built in 1904, and a local history musuem in a mid-nineteenth century Mormon printship downtown.
The town and harbor are named for James Jesse Strang, a renegade leader of a Mormon sect who brought his followers here in 1847, shortly after the founder of the Mormon religion, Joseph Smith, was assassinated. Strang claimed to find some copper scriptural plates on Beaver Island, similar to the ones Smith had found in New York State. Skeptics suspected he made the plates himself from an old cooking pot, but for his followers, Strang's translation of the plates and his visions from God reinforced his leadership of a Mormon kingdom on the Island.
In addition to establishing himself as king of Beaver Island, Strang was a brilliant politician, and got himself elected state senator twice. He negotiated a rearrangement of Michigan counties so that his kingdom of St. James replaced Mackinac as the county seat.
All that power eventually went to his head. He started wearing a crimson robe and crown and actively promoting polygamy. When President Millard Fillmore got wind that Strang was claiming God had given all the Great Lakes Islands to him, federal agents rounded up Strang and some of his close aides to bring them to trial. They got off with a hand slap, but many of his followers were disillusioned by this time, and his power base was shaken.
Two of his followers assassinated Strang in 1856 under suspicious circumstances. They escaped to Mackinac on a government ship, were unconditionally released there, and were never prosecuted.
With Strang out of the way, a posse of Irishmen drove the Mormons from the island and took over all their holdings. There is still a strong Irish influence on the island, and many of the descendents of the Irish who drove out the Mormons still live here.
By the mid-1880s, Beaver Island was the largest supplier of fresh-water fish in the country. We are amazed that every place we visit, no matter how small and unassuming it may seem, has some historical claim to being biggest, oldest, first, or best at something. And, most have at least one "world famous" restaurant, attraction, or person who was born there.
Another, more sobering commonality uniting many places we have visited is the exploitation of native people practiced by European settlers. In this case, we learned about Whiskey Point, where the island lighthouse is now located, and where, in the early years, traders exchanged watered-down whiskey for furs and other valuable goods from the Ojibway and Odawa. The recipe for watered-down whiskey called for mixing two gallons common whiskey with thirty gallons water, red pepper and Tobasco to make it fiery, and tobacco to make it intoxicating. It cost six cents per gallon to make, and sold for fifty cents per gallon, or six cents per drink.
One of Beaver Island's other claims to fame is that for ninety years, until 1991, it had one of only two public school systems in the country taught by Dominican Sisters. Today, the school system has nine teachers and 95 students -- the high school class of '05 had four graduates.
August 17 Beaver Island to Harbor Springs, on LittleTraverse Bay
37.3 Miles
We spent nearly five hours cruising in light winds and calm waters to get to Harbor Springs, aptly nicknamed "Naples of the North." The water was clear turquoise, our boat was dwarfed by many of the other boats at the marina, the shops in town catered to people who will drop $100 for a tee shirt or twice that for a bathing suit, and the homes around town were mostly built in the fifty years between 1875 and 1925 when it was a resort for the rich, which it pretty much still is.
Across from us on the dock was an 80 feet yacht hailing from Palm Beach that passed us on the way to Mackinac Island a couple days ago. Back then, a uniformed captain was at the helm, a steward in a white tuxedo was consulting with him, and a couple was dining in their spacious salon. We concluded at the time that even though they were probably visiting the some of the same ports we were, their cruising experience was worlds away (they probably didn't sneak into the Grand Hotel to avoid paying the $10 visitor fee, for example).
The people on the 46 foot yacht next to us kept an identical boat in Florida to avoid the inconvenience of having to move their boat south for the winter, or having to adjust to a different boat when they headed south
Ephraim Shay House
We pulled our bikes off the boat, and rode along the shore road, admiring the elegant Victorian "cottages," and their immaculately maintained gardens. One of the most interesting houses we saw had many sides and was sheathed in steel plates. It was built for Ephraim Shay, inventor of the Shay locomotive, patented in 1881. The gear-drive mechanism of the locomotive gave it good traction and ability to make tight curves, a particular asset in mining and logging operations.
We found a yarn and fiber shop, where I got larger size knitting needles for the scarf project I began in Gore Bay, and abandoned after one hour of unsuccessfully stabbing around with my little needles. After explaining my problem and my hopes that bigger needles would aid my knitting the way big pencils help little kids write, I picked up a helpful tip from the shop owner on how to cast on my stitches so that they would be loose enough for me to push a needle in to stitch my first row. I am now imagining myself stopping in every knitting shop we see along the way to get tips on how to get to the next step of my project. Somehow I had forgotten until now that when I got my Girl Scout sewing badge Mrs. Meyers pretty much held my hands in hers and we stitched the whole swatch for the knitting requirement together. Why I didn't remember this earlier I can't say. But having new experiences and stretching myself is what this trip is all about, isn't it?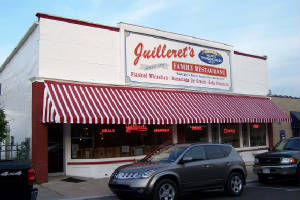 Harbor Springs is a place Dick has visited often in past summers, and we visited some of his favorite culinary spots -- we stopped at Tom's Mom's Cookies for an afternoon snack, and had planked whitefish at Juilleret's for dinner. Juilleret's grills their whitefish on a wooden board, and serves it family style with tomatoes and mashed potatoes piped around the edges. Juilleret's claims to be "Michigan's Oldest Family Run Restaurant," and has been a Harbor Springs institution since 1895. Its popularity shows no signs of waning.
August 18-20 Across the Bay to Petoskey
We rocked through the night in wind-driven waves, and woke to 20 mph winds and whitecaps on the bay. Fortunately, we had only four miles to travel across the bay to Petoskey, where a more sheltered harbor awaited us.
It rained hard for a good chunk of every day we were in Petoskey. But, we agreed that if we had to be trapped in port for weather, Petoskey was a great place to be stuck. It has lots of interesting shops to browse, good restaurants , and a top-notch coffee shop next to a bookstore that sells the New York Times.
Our first order of business when we arrived was lunch at Jesperson's, family owned since 1903, and famous for their pies. This was another mandatory stop on Dick's culinary tour of Northern Michigan, and we all agreed the pies alone were worth a stop in Petoskey (although we couldn't agree on which was best -- cherry berry or peach raspberry).
This weekend, Petoskey was celebrating their Festival on the Bay, with an arts and crafts fair, lots of live music, aa canoe and kayak race, food booths, sunset celebrations, outdoor movies, and other activities planned. Unfortunately, the weather put a bit of a crimp in the festivities, and some events were rained out, but we had a grand time.
Friday night we walked to Bay View, where we had dinner on the terrace of the historic Terrace Inn, then attended a jazz concert by the Ellis Marsalis quartet in the Bay View auditorium. Bay View was founded as a religious camp meeting site in 1875. The auditorium is in a section of Bay View known as the Campus, where Summer Assembly educational and worship programs have been held throughout the colony's history. Today, there are 440 summer cottages in Bay View, and it maintains its focus as a spiritual community "dedicated to providing congenial surroundings for those interested in promoting religion and morality through intellectual and scientific culture." To own a cottage, a person has to apply for membership in the Bay View Association, providing references from his minister, Bay View members, and others, and pass a personal interview. Once approved, Association members are expected to be active participants in the classes and programs offered during Summer Assembly.
Although we didn't see it in writing, it is clear that members are expected to keep their cottages in peak condition. The cottages range in size from tiny to grand, but peeling paint or broken gingerbread trim are hard to find. There are lots of painted ladies with outrageous color schemes, and over-the-top fancy trim details -- it is fun to stroll around the grounds. (We did it on snowshoes last time we were here, and it is even better now, with flowers in bloom, and shutters open.)
Saturday we began the day with the Rotary Pancake Breakfast, served in a tent on the waterfront right by the marina. It's good they had a tent, because it was pouring. Unfortunately, the tent was in an area of low ground. Part of our breakfast entertainment was watching a crew try to dig a trench to divert the water to a spot where they could pump it away. They were no match for the rain.
After breakfast, we played cards with Lenny and Roxanne while it rained. And rained.
We went to lunch at Jesperson's (Dick couldn't leave Petoskey without another piece of their pie), then checked out the arts and crafts show.
The local history museum is right near the marina, in an old train station. We learned about Ernest Hemmingway's connection to Petoskey through a video narrated by his nephew, who still lives in the family cottage on Walloon Lake where Ernest spent childhood summers and honeymooned with the first of his five wives. Another interesting exhibit in the museum told of Petoskey's role in the demise of the Passenger Pigeon. This area was a prime nesting ground for the birds, and during the first week of April 1878, 18,000 pigeons per day were shipped from Petoskey in barrels -- 1.5 million birds were harvested that season. In 1914, the last Passenger Pigeon died in the Cincinnati Zoo.
Later we watched a juggler on the waterfront, got sausages for dinner from a Festival booth, and ate them while watching the sunset and listening to the featured live entertainment, Mitch Ryder and the Detroit Wheels. Music from other artists lasted late into the evening.
August 21-22 Trapped in Petoskey
We got up at 6 a.m. Sunday morning, planning to beat the predicted storms, but they beat us -- high winds and rough seas kept us in port. We hoped to leave Monday, but the weather hadn't calmed down. We like this town, but we are ready to leave.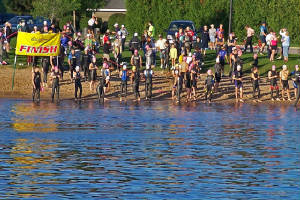 Swimmers gathering for the triathlon start
Sunday morning, (after we fueled up, pumped out, and went about a quarter mile out in the bay, turned around and tied up in our slip again), we watched the swimming leg of a triathlon. The start and finish lines were at a beach between the marina docks and a breakwater, so we had perfect front-row seats. Officials altered the course so that swimmers did not have to swim too far outside the beakwater, because the wave action in the open water was tossing the race monitoring and rescue vehicles too much. Even inside the breakwater, the water was pretty choppy, and it was cold -- Dick's heat gun clocked it at 66 degrees.
About 100 people did the swim, and only three had to be pulled out before the finish line (the first clue they might not make it was they weren't wearing wetsuits). Forget the rest of the race -- to have just finished the swimming leg in this weather was an accomplishment to be proud of.
We whiled away our cool and rainy time reading the Sunday New York Times in Roast and Toast, playing cards with Lenny and Roxanne, and reading. When we hit what we thought was a break in the weather, we hiked off in search of a couple geocaches, only to get soaked in a cloudburst on our way back to the boat. We hosted Looper cocktails aboard Starsong with Roxanne and Lenny, plus Stan and Annie from Kokapelli and Elliot from Letitia.
Monday was more of the same bad boating weather, and more of the same shore-bound activities -- hot coffee and later hot soup at Roast and Toast, reading books and newspapers, catching up on paperwork and bills. We got a whole cherry berry pie from Jesperson's as a self-awarded consolation prize, and had friends over for cocktails to commiserate.
We did learn about another of Petoskey's unique claims to fame. Sunken in 24 feet of water off the waterfront beach here is an eleven foot marble crucifix believed to be the only fresh water underwater shrine in the world. The statue was placed by the local dive club, and is visited by scuba divers in season. In the winter, they dig a hole in the ice so landlubbers can walk out and look down through the clear water to see the shrine. If we had a day of calm water, we'd take our dinghy out to see if we could find the shrine, but, obviously, that little exploration will have to wait for another visit.
The weather is supposed to turn tomorrow. Did I say we are ready to leave?