History Lessons: We had a bus tour of the area on Monday afternoon, and a wine and cheese party at the Penetanguishene Centennial Museum Monday night. We learned a lot of interesting facts about Penetanguishene and the surrounding area.
First -- the name. Penetanguishene is a First Nation name for the area, and it means "land of rolling white sands."
Of course, Samuel de Champlain's name came up again. Two bronze angels marking the portals of Penetanguishene were given to the town in honor of the 300th anniversary of Samuel de Champlain landing near here August 1, 1615, and celebrating the first mass in Ontario on August 12, 1615. Because of the war, the statues were not actually dedicated until six years after the anniversary, in 1921. The angels are mirror images of each other, and one has a plaque written in French, the other in English. They are referred to as the "Angels of Good Intentions," those intentions being to honor both the French and the English heritages of the European settlers in the area.
Missionaries among the Hurons mural in Midland
French Jesuit priests followed soon after Champlain, living among the Hurons and establishing a mission to convert them to Christianity. All went well until the aggressive Iroquois came from the South to seize Huron land. They murdered eight Jesuits, and we don't know how many Hurons. The Jesuit martyrs were made saints in 1930, so this is the 75th anniversary of the year of their canonization.
We visited the Martyr's Shrine in nearby Midland, an important pilgrimage site. The church was built by volunteer shipbuilders in 1925-26. Its ceiling looks like the inside of a canoe, and its walls resemble the inside walls of a Huron longhouse.
This area was an important center of the fur trade. An exhibit at the museum claims there were 10 million beavers in Canada before European contact, and beavers were almost extinct at one point in the 1800s. Fur traders worked hardest in the winter, because the fur of beavers is 15 times longer then, and the pelts fetched much higher prices.
The History Museum is in the restored General Store of Carl Beck, a prosperous owner of vast parcels of timberland, and lumber mills in 19th century Penetanguishene. He was the first in the area to have the brilliant idea of paying his employees with half Dominion currency and half scrip usable only in his general store. He was influential in getting electricity supplied to Penetanguishene -- so he could run his mills long hours.
My haircut: I got my first haircut since we were home in April. Only one person has cut my hair for the past twenty years or so. I had some trepidation about letting a stranger mess with my hair, but, like so many of my concerns on this trip, it was needless. Amanda, the woman who cut my hair has her shop in the basement of her house. Going there reminded me of going to the salon in Emily's house to get my dreaded pixie cuts when I was about six. Amanda even suggested a "modified pixie cut." Although I swore as a child I would never again have a pixie cut after I was old enough to make my own hair styling decisions, boating has increased my risk-taking immeasurably. (And, perhaps the unbearable heat also had an effect on my decision.) I told her to go for it, and she gave me a terrific cut -- the shortest my hair has ever been -- and I love it. It only cost $15 Canadian, which is considerably less than half what I pay for a cut at home. What a country!
Dinghy Poker Run: We participated in our first poker run -- an activity that involves following a course to five marinas, and picking up an envelope with a playing card inside at each stop, all the while attempting to get your competitors as wet as possible. In the end, everyone gathers while the envelopes are opened, and the boat with the best poker hand wins.
Having heard tales of past poker runs from our Fenelon Falls friends the Hewtons, we used our free lunch hour before the race to bicycle into town and pick up super-sized water rifles at a dollar store. We had the best artillery of the event. Unfortunately, the quality of our cards did not measure up to the quality of our armaments.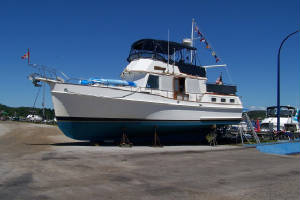 Starsong Ashore
Starsong Goes Ashore: To explain this turn of events, it is probably time for another installment of the "Captain's Corner." However, Dick is so busy doing boat projects, I'm not counting on him finding time to explain in writing. Suffice it to say, Dick noticed a small oil leak from the rear seal of one of our transmissions, and decided to have it repaired here. As long as we were going to do that repair, it made sense to do a few other maintenance tasks that involve the general area of the boat that would be ripped apart during the transmission project. When the mechaniics got into the rip-apart stage, more projects revealed themselves. Before I knew it, Starsong was being hauled out of the water, and I was climbing an aluminum ladder leaned up against the swim platform to get on and off the boat.
While this experience on the surface does not appear to qualify as a Rondezvous Highlight, it was in several ways. First, we had many kind offers of assistance from our cruising comrades -- we could have stayed overnight in the guest cabins of half a dozen boats, and our friends on Cori put the perishables from our freezer in their freezer (because our refrigeration system requires water to cool). Second, the mechanics who did the work here were awesome. Third, we were very glad to find and get the hidden problems fixed before they bit us at a Murphy's Law moment. Finally, it was interesting to learn that when we sleep on our boat bed on land, we get the prone equivalent of sea legs -- it feels very strange to not be rocking.
Georgian Bay Sunset Cruise: In a festive preview of coming attractions, we took three-hour tour boat dinner cruise of Georgian Bay on the last night of the Rondezvous. I think the message we were supposed to take away from this part of the Rondezvous was: If that huge tour boat could get through those narrow channels and rocky waters, it should be a piece of cake for us. And, a corrollary message: If you see that huge tour boat going through those narrow channels, get out of its way.
The islands were windswept and glacier-scoured. We wished we had more grounding in geology, because the unusual forms of some of the islands raised questions we could not answer. Our primary reference -- the Internet -- will be lost to us after tomorrow morning. We may have to resort to making up legends to explain the wonders we don't understand, as those who lived here long before us did.
Etc.: There were lots of other great moments. We met new friends we look forward to seeing as we continue Looping, and met up with other cruising friends we haven't seen for a while. The speakers provided excellent information. The food was outstanding, and the fellowship grand. We learned that Roxanne and Lennie enjoyed lots of the same games we do, and we spent a couple fun evenings playing Rummikub together. I met another looping birder, and we compared notes. I enjoyed morning birdwalks nearby. Dick compared boat navigation and mechanics notes with professionals and amateurs alike.
Karen and Bob Janz, the marina owners, set up a flotilla tour of Georgian Bay for the week following the Rondezvous, so that those who want to can travel in a pack with them to some of their favorite spots. Their flotillas are famous by now, and we are eager to join in the adventure.
A Bonus Day in Penetanguishene: The Rondezvous was over on Thursday, and the flotilla wasn't scheduled to leave until Sunday, so we decided to borrow the marina truck Friday for a trip to a wildlife refuge about ten miles away.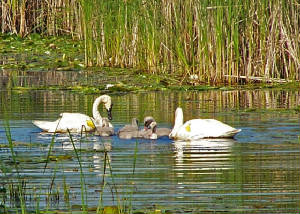 Wye Marsh is known for its efforts to reintroduce the Trumpeter Swan to Ontario. Trumpeter swans are North America's largest waterfowl. They are four feet tall, when standing on the ground, and have a seven foot wingspan.
They were plentiful here before the Europeans arrived, but due to the popularity of their feathers and their meat, they were overhunted, and by 1933 there were only 77 Trumpeters breeding in all of Canada. They were designated an endangered species in 1984, and in 1988, the Wye Marsh began a reintroduction program with one breeding pair of Trumpeter Swans.
Wye marsh now cares for or monitors a third of the estimated 400 wild Trumpeters now in Ontario.
We shared a big canoe with a naturalist guide, who took us through the tranquil and beautiful waters of the marsh. We saw what we came for -- a pair of swans and their four cygnets. Afterward, we wandered the trails around the marsh and looked for other birds. We had a most wonderful morning.
On the way back to the marina, we went to the grocery to provision for our departure tomorrow. Our plan is to leave with Summertime and travel about halfway to the first stop of the Flotilla, where we will anchor out and start enjoying the Georgian Bay a day early. Then, we will meet the rest of the boats on Sunday at the first Flotilla stop -- Frying Pan island.
We have no idea when we will have internet access again -- we have heard that even cell phone signals can be hard to come by in Georgian Bay. We will be in the Bay until August 1, when we get to Killarney, where the Bay ends and the North Channel begins. We look forward to yet another grand adventure.