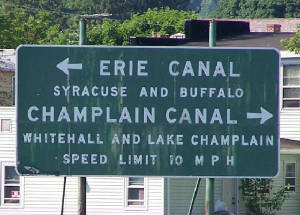 June 7, 2005 Waterford to Fort Edward
37.5 miles
6 locks, up 103 feet
We learned the value of the shade of our bimini top today, as without it we broiled beneath a brilliant sun and temperatures climbed throughout the day. By the time we reached the free wall at Fort Edward our flybridge thermometer read 101, and we were feeling toasted.
Nonetheless, we had a beautiful cruise along the Upper Hudson River, which scarcely resembles its lower portions. The river up here is narrow and more rocky. The water is much shallower, and we had to pay constant attention to channel markers.
Lots of bridges span the river, and all of them are fixed height bridges. That's why we had to take down not only our mast, but also our bimini. Early in our cruising day, we came to the lowest bridge of the trip. At 15 feet, we had to duck our heads to get under it, which was an eerie feeling.
After we were tied up at the wall, we ate lunch at a diner where locals hang out at the counter., We got some advice about what we ought to see in town from a retired pipefitter. He sent us in search of the Old Fort House Museum, located in one of the oldest frame houses in Upstate New York, dating back to 1772. It is called the Old Fort House, because it was built using wood taken from the ruins of Fort Edward. The site of the fort is now just a big depression in a well-kept vacant lot on a residential side street.
A charming elderly historian took us on a tour of the house, and told us its stories. Perhaps its greatest claim to fame is that when it was an inn, George Washington and his party dined there on their way up the river, and then returned for another meal on their way back. The floorboards in the front hall are the originals, so we probably stepped on the same floor as George Washington.
When we got a discounted house tour rate for being AAA members, we asked where the nearest AAA office was, because we wanted to get traveler's checks to use in Canada. We checked the phone book, and it was too far to ride our bikes today, so we gave up on the idea. When our tour was over, another museum volunteer, Roberta, offered to drive us to the nearest AAA Office. She drove us about seven miles each way, providing a guided tour of the area as we passed. Along the way we learned that she is also a deacon of her church and does all sorts of other community service work. She wouldn't accept gas money, so we gave her a donation for the museum.
The kindness of strangers has been a bright beacon shining throughout our travels. We hope that as we make our way we will find opportunities to help others as we have been helped.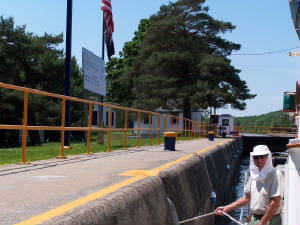 June 8, 2005 Fort Edward to Whitehall, NY
24.7 miles
5 locks: 2 lifts totaling 21' to 140' highest point,
3 drops totaling 43' to 97' Lake Champlain elevation
We started the day with another bargain New York breakfast -- $4 plus tax for two eggs, toast and coffee for each of us. Our original bill was $3.50, but I insisted that they fix it and not charge me the Senior Citizen rate.
After hosing thousands of dead bugs from our decks who had met their deaths overnight flying into the streetlamp above our boat, we were on our way before 9 am.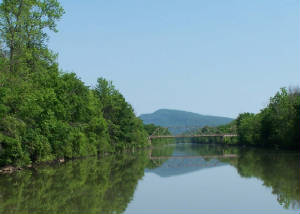 As we traveled north, the hills grew to mountains, and there were more pine trees among the deciduous trees. The Hudson River continued to get shallower and narrower as we traveled up it through the Champlain Canal. Today the majority of our travel was through straight sections where the canal was cut to bypass the Hudson River where it was not navigable.
Because the cuts are deep close to shore, we were able to do some pleasant shoreline birding from the flybridge. I finally saw Baltimore Orioles, and lots of them. The Baltimore Oriole is Maryland's state bird, and one of my favorites. It is colorful like a warbler, but much bigger and easier to spot as it sits high in a tree whistling a merry song. These characteristics make it relatively easy to follow from a moving boat.
We shared our first lock with a survey boat and our last lock with a tour boat, but had all the rest of the locks to ourselves, which made getting in and out very easy and fast. One of our locks was even a virtual geocache. We e-mailed the lock number and information from a sign at the lock to get credit for the cache. This is the first "drive-by" cache we have done from the boat.
It was just 1 pm when we tied up at Lock 12 Marina, right around the corner from the gates of the final lock in the Champlain Canal. We took a little walk about town, and verified that Whitehall was struggling to survive its post-industrial age. A beautiful smokestack with inlaid brick spelling out "Champlain Silk Mill" is all that remains of that business, and shells of other abandoned mills,warehouses and manufacturing facilities line the river banks.
Whitehall bills itself as "Birthplace of the US Navy," because twelve vessels were constructed here in 1776 and used by Benedict Arnold to prevent the British invasion of the colonies.
We are done with low fixed bridges for a while, so we put our mast, bimini top and flybridge enclosure back up again. Within ten minutes, torrential afternoon showers began.
We emerged after the rains for dinner in the marina restaurant overlooking a scene straight from a classic Hudson River School painting. The sun was setting with fiery drama behind a mountain, while blue-grey mist hung over the orange-dappled water below.