Ship John Light
Thursday, May 26-Monday, May 30
Cape May, New Jersey
Where better to spend the last few days of May than Cape May, New Jersey?
Cape May is known for two things -- its abundance of over-the-top Victorian beach architecture and its abundance of birds. We indulged in both to extremes, and still could have stayed for more.
Victorian Architecture
Before we get to Cape May's Victorian architecture, we have to share a picture of a Delaware Bay lighthouse designed in the Second Empire Victorian style. We saw this light on our way from Delaware to Cape May, on the Jersey side of the Bay.
This is the Ship John Light, built in 1877, and named after the ship John, which wrecked 80 years earlier on the shoal that it marks. The lighthouse is at the mouth of the Cohansy River, which was, ironically, our refuge anchorage, should we not have been able to make it out into the wide part of the Delaware Bay.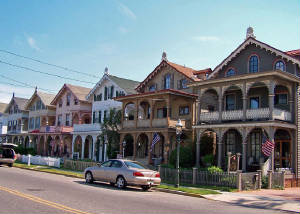 Cape May's famous historic district features big wood frame cottages on tiny lots built in the last half of the nineteenth century. In true Victorian style, most of them feature layers and layers of decoration -- gingerbread trim liberally applied, intricate porch rail designs, highly ornamented eave supports, cupolas, shingles with fancy fish scale and shark's tooth designs -- all painted in festive eye-catching color combinations that bring out the fancy cut and carved details.
We did a two hour audio walking tour featuring commentary on about 75 cottages, plus a smattering of old hotels, rooming houses and dining establishments, to learn more about the often eclectic and whimsical architectural stylings of this grand seaside resort.
Many of the homes have been turned into bed and breakfast inns. Cape May probably has more charming B&B's per square mile than anywhere else in America.
Cape May also has an abundance of sweet treats -- like lots of towns along the shore, it has so many shops purveying fudge, salt water taffy, caramel corn, ice cream, frozen custard, and pizza that it is hard to understand how there can be enough business for all of them to survive. A front page article in the Memorial Day Philadelphia Inquirer entitled "The diet at the Shore is anything but South Beach" helped us understand this phenomenon. Of course our own behavior should have given us a clue. We bought two pounds of fudge to get a pound of salt water taffy free, had soft serve cones, and bought a big bucket of caramel corn (so fresh it was still warm) in two days wandering about the historic district.
We also supported the Cape May Volunteer Fire Department Pancake Breakfast, and a local farmer who had fresh local asparagus and strawberries at his roadside stand. (We dipped the berries in melted chocolate.)
Birds!
Cape May is a haven for birds and birders. It has preserved diverse habitats that attract salt and fresh water birds, ocean and marsh shore birds, nesting and migrating songbirds who like woodlands and fields. There are bird walks led by knowledgable locals in different spots every day of the week.
We were fortunate to be here during a phenomenal natural event that only occurs for three weeks in late May/early June on the shore of the Delaware Bay near Cape May. At this time female horseshoe crabs come up on the shore at high tide to lay their eggs on the sand, and males grab on to the females to hitchhike ashore to fertilize the eggs. A female lays about 80,000 eggs, which are evidently like caviar to birds, because the sections of the beach where the crabs gather to lay their eggs are so thick with thousands of feeding gulls, red knots, sanderlings and sandpipers that you can scarcely see the sand. It is amazing that after this feeding frenzy there are any eggs left to actually hatch into baby crabs!
We did two bird walks sponsored by the Cape May Bird Observatory, and spent a good part of another day driving about to hot spots on the birding map and hunting the birds ourselves.
One of our guided walks was led by Pete Dunne, a nationally recognized birding celebrity who lives here. He had a sharp wit as well as a sharp eye, and dropped all sorts of bird watching philosophy and strategy points into his running commentary on the birds. We have never had a more entertaining guide. All told, we saw over 60 species of birds on Cape May, including several that were additions to our life list. Our total bird species seen during this trip is now 139, and we have finally gotten our bird list page up-to-date.
Cincinnati Friends Aboard
We had our first overnight guests aboard Starsong when friends Jean and Jim visited us on their way home from Williamsburg, Virginia. They stayed for two nights, and we had a grand time exploring and photographing Cape May together in perfect weather.
We had a clambake on our flybridge, thanks to the Lobster House Restaurant next door, which sells a clambake for two in a can -- two live lobsters, and 18 each of littleneck clams, large shrimp and mussels. All you add is water and beer, put the lid on tight and heat it for 25 minutes. We heated up our cans, then enjoyed the views of incoming boats and the setting sun while we ate our shellfish and caught up on all the news from Cincinnati.
It was a joy to see old friends.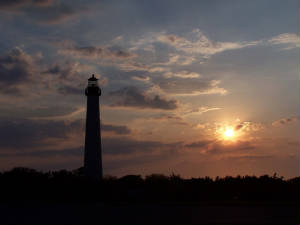 Cape May Light at Sunset
We began this page with a light, and we will end with one. This is the Cape May Light, which was first lit in 1859, and still shines today. The tower is open to the public, and anyone who buys a ticket and can climb the 199 steps to the top is rewarded with panoramic views. It was on our list of things to do, but we just never got around to it (although we went birding on the grounds of the park where it stands on multiple ocaisions).