February 14, 2005 Happy Valentine's Day in Indiantown!
We'll tell you how we got here later, but first, here's how on this Valentine's Day, we stumbled upon a spot in Indiantown that claims a connection to, in their words, "the greatest love story of all time."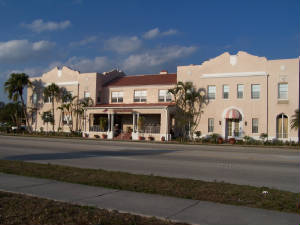 Seminole Inn
The spot is the Seminole Inn, built in 1926 by Solomon Davies Warfield, President of the Seaboard Airline Railways. The Social Hostess presiding over the Inn's gala opening was his niece, Wallis Warfield.
Ten years, two marriages and two divorces later, Wallis married Edward, Prince of Wales. She had already been disowned by her uncle, and, as we all know, Edward lost his rights to the throne over her. But, that didn't stop their marriage from being the highlight of the Palm Beach social scene. It is rumored that when the press and the parties got to be too much for them, the couple escaped to the Seminole Inn.
It still would be a good place to escape today. There is nothing else historical or charming to be seen in town, as far as we can tell from our walk about. So you can escape to the Inn free of distractions, diversions, or the fear of being caught in a crush of tourists or socialites.
Tuesday, February 15, 2005 Clewiston
"Sweetest City In America" and
"Bass Fishing Capital of the World"
We left Indiantown behind at 7:35. The narrow Okeechobee Waterway Canal was smooth, and looked like melted chocolate. The sky was blue with just a wisp of purple gray stretching its length a few feet above the treeline at the horizon. Later we would learn this wisp was the smoke of burning sugarcane.
Along the shore we saw egrets and herons perching and fishing. As our approach disturbed them, great blue herons would stretch their wings and fly low over their reflections across our bow. Just two or three powerful slow wingbeats would carry them to the other shore. Belted kingfishers raced us, with their jerky rapid wingbeats flashing white. Pelicans floated, looking at us quizically.
We went mile after mile, scarcely seeing another boat as the ditch passed through largely uninhabited areas, sometimes glimpsing an orange grove or sugar cane fields beyond the scrub and palmettos at water's edge. We even saw a bald eagle fishing.
"Smoke on the Water"
Scarcely more than an hour after we began our travels in the canal, we entered the Port Mayaca Lock. It took us up one foot and into a different world.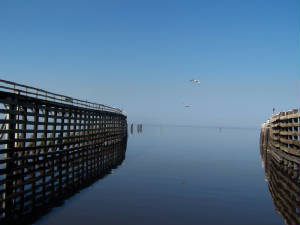 Out of the lock and into the lake.
As the lock doors opened we emerge into Lake Okeechobee. Its brown waters streched smooth as far as we could see with barely a ripple. The sky, the water, and the land edges all blurred in the haze of sugar cane smoke.
As we made our way across the lake we were eerily suspended in space, with no waves beneath us and no distinguishable horizon ahead of us. All that tethered us to our place in the universe was the line we followed on our computer screen setting our course across the water. Eventually, another boat or a navigation mark would come in view, providing a dimension to our floating world.
At one point when we were about five miles from shore, we found ourselves in the midst of a flurry of little black sugar cane streamers 3-6 inches long and about 1/4 inch wide, spiraling down with a motion like maple seed helicopters. We marveled that they could be carried so far out over the lake.
By the end of our voyage across the lake, we would see lots more ash forms, some like confetti, some like little gnats. We and our boat would be covered in a light ash that turned the color of carmelized sugar when it got wet.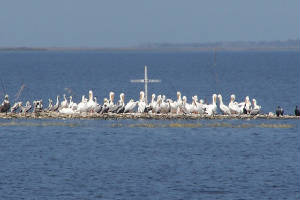 White Pelicans Gather at the Cross
"Sugar in the morning, sugar in the evening. . . "
By now you have probably figured out why Clewiston calls itself the "Sweetest City in America." It's all about sugar. Clewiston is the home of the U.S. Sugar Corporation, which farms over 164,000 acres of sugarcane and produces over 800,000 tons of sugar each year. One of its refineries is in Clewiston. The company owns over 100 miles of railroad track and over 1000 railroad cars to carry its sugarcane from fields stretching over three counties to its refineries.
We learned all this from a visit to the Clewiston History Museum. The Museum's exhibits, housed in one room, are somewhat eclectic and haphazard, resembling a flea market with some explanatory text. In the back room, they have a television and a collection of videos. We watched one video about the history of Clewiston, and one about the agriculture and manufacture of sugar.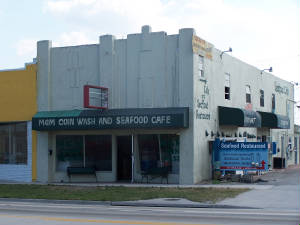 The MGM Coin Wash and Seafood Cafe
The town's history only stretches back to the 1920s. Before then it was pretty much just swamp land. Since the town is so young, some early settlers are still alive to tell their stories. One woman featured on the video said, "When we had to move here, I cried. And I wasn't alone. Everyone who moved here cried. But then they made friends, and it was okay."
We picked up a walking tour of the town from the Museum, and did it on our bicycles. After that tour, I can say that if I had to move to Clewiston in modern times, I would still cry.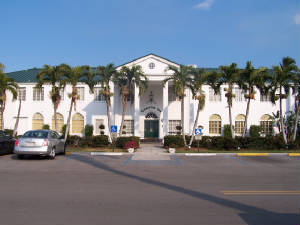 Clewiston Inn
The only historical building in town of any noticeable stature is the Clewiston Inn, built by the U.S. Sugar Corporation in the 30s, and still owned by the corporation. We saw some of their early dinnerware in the museum, custom made the exact color of raw sugar.
We decided to have dinner there to complete our historical day. The Inn has a courtesy van to pick up people from the marina. Also waiting for the van were Roger and Maggie, boaters who have their Albin 28 trailered wherever they decide to explore. We had such an interesting conversation while waiting for the van that we decided to share dinner. The food was unremarkable, but the company was grand.
We really shouldn't leave our discussion of Clewiston without remarking upon its claim to be the bass fishing capital of the world. Unfortunately, we don't know anything about bass fishing. We did notice an extraordinary number of bass boats in the marina and many people out fishing the Okeechobee waters around Clewiston, but we never did actually see a bass.
Wednesday, February 16 La Belle
Today we learned the value of our Great Loop Cruising Association burgee (a burgee is a special flag indicating the identity of a yacht club or association).
When we got to La Belle, we had hoped to find a spot on the city dock, which is centrally located and free, but takes no reservations. When we got to the dock it looked full, so we continued on to find another spot where we could tie up for the night.
We tied up to a rickety floating dock at a city park, where every passing speedboat's wake rocked us against its short pilings with jagged pieces of metal sticking out from them. We were trying to figure out a creative way to stay there without destroying our boat, when Great Loop Cruisers Ted and Helen Brown came zipping up beside us in their dinghy. They said they had seen our burgee as we passed, and they invited us to come join them at the City Dock , where we would have a more sheltered dockage. When we told them we didn't think there was room, they assured us they could make room. With a little rearranging, and some help in docking from Ted and Helen, we tucked ourselves into the City Dock, right next to Ted and Helen's beautiful Albin 43.
The first trawler we fell in love with and tried to buy was an Albin 43, so we knew we were kindred spirits right then.
After we finished our afternoon chores, we sat down with Ted and Helen, comparing notes on anchorages, marinas and life afloat. Time flew by, and who knows how long we would have stayed there talking on their comfortable sundeck if little mosquitos with big appetites hadn't started attacking us viciously, driving us inside our respective boats for the night.
Thursday, February 17, 2005 Fort Myers and Beyond
Both Helen and Ted were up and about long before we got it together to be on our way a little before 8 a.m. on Thursday. The sailboat to our other side was gone before we even got up.
We wanted an early start, because we had a long day of travel ahead of us. First, we had 32 miles to cruise to Fort Myers, completing our crossing from Florida's East Coast to its Gulf Coast. Then we had to travel 150 miles by rental car, to get back to South Palm Beach, our base of operations for visiting the Miami Boat Show.
We left LaBelle in misty fog which got so thick in spots along the way that we reduced our speed from a blazing 9 mph to about 6 mph to give oursleves time to see the shore or other potential obstructions to our smooth progress before we hit them. We hoped this prudent speed reduction was being practiced by other boaters who might be in our vicinity. We never did see another boat under way until after the fog had burned off around 10 a.m.
We were on the dock at Centennial Harbour Marina in Fort Myers at 12:20, packed up and on our way in our rental car at 3 (it would have been an hour earlier, but the driver Enterprise send to pick us up got hopelessly lost and confused), and at dad's place a little before 6:30.
Our land route across Florida paralleled much of our water route, passing through the towns where we had stayed the night, and skirting the southerns shore of Lake Okeechobee. We got a closer look at the burning of the sugar cane, and other processes of planting and harvest of the cane fields. Other than that, it was a pretty barren and uninteresting drive.
Dick remarked that coming across by water at 9 m.p.h, we were fascinated and enjoyed spending hours seeing the sights, while taking essentially the same route by land, going six times as fast, we couldn't get through the boring landscape fast enough. When we did hit a traffic tie-up that reduced our speed to about boat cruising pace, we were at our wit's end. There are no alternative routes.
All that aside, we were happy to get back to dad's place, and to spend a little more time with dad and June before and after our one day stop at the Miami Boat Show.
The show was mind-bogglingly immense. Last year, we only looked at boats at the show, never making it off the docks and over to the Convention Center, where they display all the other stuff you need after you buy your boat. This year we have the boat, and are interested n all that other stuff.
Dick spent hours in the marine electronics area, in search of a waterproof sunlight viewable monitor that we could hook up to our laptop. You would think that just a monitor--not a whole computer, not a navigation system--could be found for less tan $5,000, wouldn't you? Well, it took a lot of doing, but Dick ended up buying a piece of equipment that does much more than a monitor, just to have monitor capability at a price less than the going rate for stand-alone monitors. Go figure.
We had fun browsing all other things nautical, from clothes to furnishings to books and destinations. At the American Great Loop Cruising Association booth we met the Staubs, who wrote the book, Honey, Let's Buy a Boat -- one of the sources of inspiration for our year of adventure. At lunch, we shared a table with boaters from MIchigan, who gave us tips about great spots to see and stay in the northern reaches of our Great Loop Adventures.
After at least five hours of browsing the zillions of acres of offerings spanning three floors of the Convention Center, we were ready to head for the docks. There weren't too many boats that we wanted to see, but we did want to catch up with our friends Grant and David (who we met in Daytona after their boat was forced aground), and we hoped to see Julie, the broker who helped us buy our boat a year ago.
We met both of our objectives. First we found Julie in the Grand Banks area, where they are emphasizing their East Bay this year. Not even a classic in sight. I guess they think everyone already knows what the classics are like.
Then we set off to find Grant and David. David gave us a tour of the DeFever 56, a new design just introduced -- he and Grant have the first one. It is a spectacular vessel, beautifully appointed, with a walk-in engine room to die for and luxurious accomodations for owners and guests alike. We were in awe. After that tour, we were inspired to look at a few other boats in the DeFever 56's class, but we didn't see anything else that wowed us like their dream boat.
We ended up driving back to Palm Beach in rush hour traffic. Dad and June waited for us to get back for dinner, and we went to a great Chinese restaurant, where we regaled them with our boat show adventures while we ate.
This is what my fortune cookie promised:
"You will come to realizations in your life that change you forever."
Yes.