Wednesday, June 20, 2007 Hampton to Smithfield
22.2 miles
We pushed off the Hampton Pier at a little after 7:30, and were in Smithfield by 10:20.
Our first impression -- this place smells like ham! We soon figured out that we were downwind of the Smithfield meat processing plant, but our first impression was a lasting one, because everywhere we wandered throughtout the town, we were reminded that pigs (and peanuts) are the pride of Smithfield.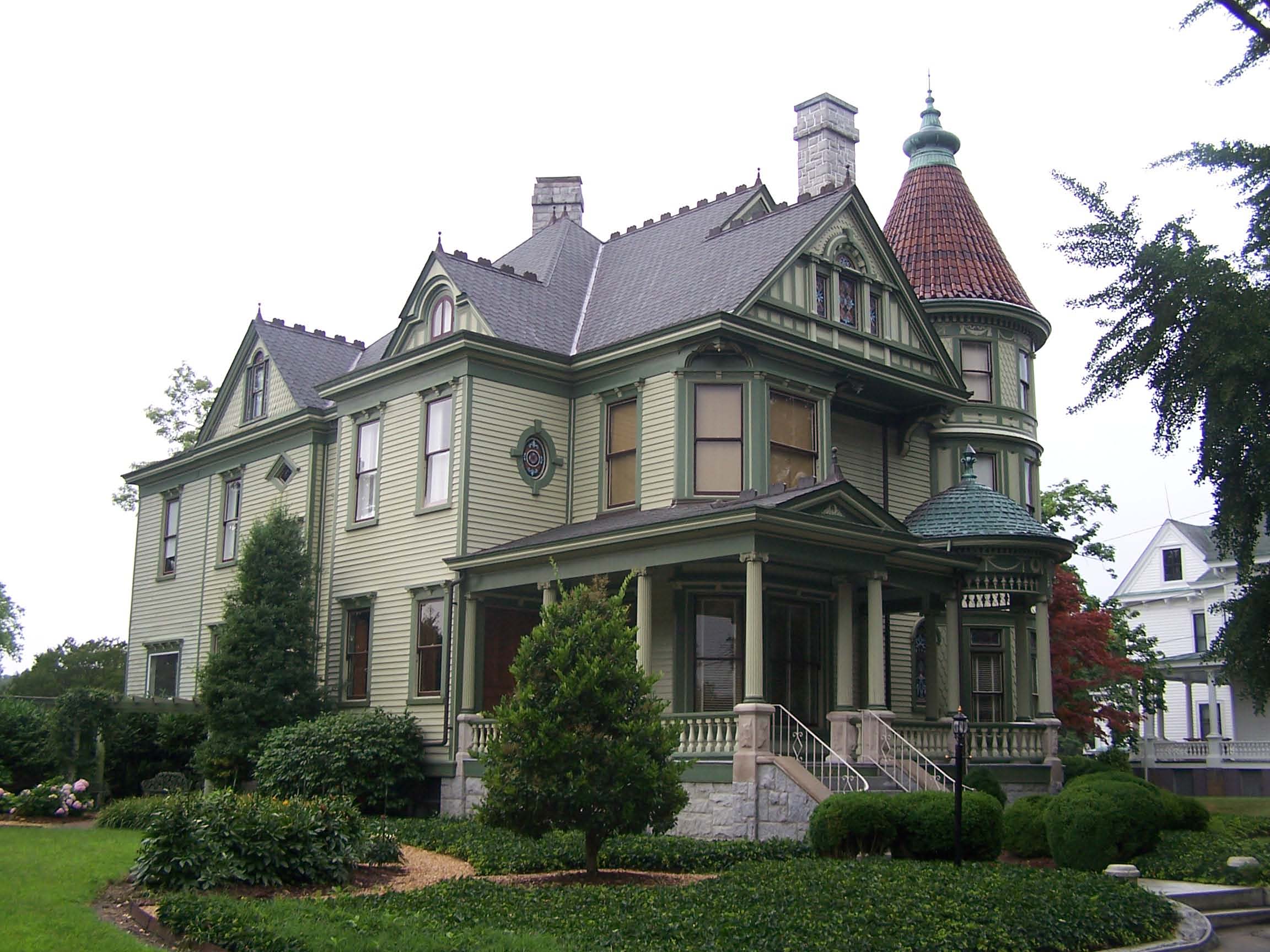 Gwaltney House
Smithfield is on the Pagan River, and dates back to Arthur Smith, who patented 1450 acres here in 1637. Not much happened on his land for over 100 years, until Arthur Smith IV had the land surveyed and a town of four streets and 72 lots laid out in 1750. About a dozen of the houses built in the 1700s are still standing today, and are being lovingly maintained as private residences. Our favorites, though, would have to be the homes built in the Victorian era, into the turn of the 20th century -- the more gingerbread trim and cheery painted lady colors highlighting the trim the better.
The road that led from the marina to the commercial district of Smithville was lined with historic homes, and we had a self-guided walking tour map that gave us a bit of history for many of them. We took photographs of one that is either the most magnificent or the second best (we can't decide for sure) house in town. It is the showiest, anyway -- a sizable Queen Anne with a turret, several large stained glass windows, lots of roof lines, multiple shingle styles, and a big welcoming front porch. The house was built for Pembroke Decatur Gwaltney, who founded the peanut business in Smithfield and later made it big in meat curing.
The house is for sale for just a little over a million dollars -- you can get a lot of house for your money in Smithfield.
The business district of Smithfield is about three blocks long and one street wide -- Main Street. It looks like the business area of town was consolidated within a block or so, but people have just kept buying houses further up and down the street and converting the first floors into little boutiques or art galleries or antique stores.
While I was wandering around one intriguing little shop, Dick got talking with the owner, who moved here 55 years ago as the new 21 year old bride of her farmer husband. She said back then this place was "just pigs, peanuts and mud roads." Before she married her husband, she said she golfed everyday, and didn't know how to do anything else but golf. When she got to the farm, her husband's mother taught her how to do the canning, meat smoking, food gardening -- everything she needed to know to be a farmer's wife.
She told Dick about lots of changes the town had been through -- pointing out the window to buildings that had changed from being one type of business to another. She said, "We even had a movie theater. But, they finally had to close it, because it was so overrun with rats and mice, and they couldn't get rid of them. My husband would want to go to the movies, but I would tell him I couldn't concentrate on the show, because I was too worried about mice running over me. He said I shouldn't let it bother me, because they were more scared of me than I was of them, but I just wouldn't go."
Smithfield Inn
To honor the heritage of the town, we wanted to have a Smithfield ham sandwich for lunch. this didn't limit our lunch options -- every restaurant in town serves their own signature version of a ham sandwich (or biscuit or roll-up). We settled on a gourmet bakery that served their ham sandwiches on any of their six specialty breads, sliced thick and toasted on the grill.
And to celebrate our anniversary, we went to the Smithfield Inn, the place in town where the locals celebrate special occasions (the young woman working at the Visitor Center told us she and her friends went there on prom night, but we didn't have to dress up that much).
The old inn is in a house built in 1752 as a private residence. In 1759, the owner of the house applied for a tavern license, and eventually began operating an inn to serve the stage coaches that passed through between Norfolk and Richmond. The Inn is now a Bed and Breakfast owned by Smithfield Foods and a descendent of a family that had been operating the inn since 1922. I dined on a dish marrying the signature products of Smithfield -- peanut crusted pork medallions. It was grand.
Actually, everything about our day in Smithfield was grand. We are already looking forward to stopping here again on our way back from Hopewell.
June 21, 2007
Up the James River from Smithfield to Hopewell (68.2 miles)
June 28, 2008
Down the James River from Hopewell to Hampton (76.8 miles)
Few cruisers venture up the James River past Smithfield. Anchorages, marinas and interesting stops are scarce along the river. In contrast, the Chesapeake is an alluring alternative, with more serene anchorages, historic sites and quaint towns than a boater could fully explore in a decade of summertime cruising.
We were drawn up the river by Bike Virginia. Dick consulted nautical charts and street map software to find us a marina located just two miles from the start and finish lines of this five day bike tour.
The James River provided more interesting sights than we expected. Perhaps because so much of its shore remains undeveloped, we saw five bald eagles on our trip upstream. We heard a radio report on our downstream passage that there are now 10,000 mating pairs of bald eagles in the lower 48 states. This sounds like a lot, but the signt of one is still rate enough to be a treasured experience for us, and five in a single day is extraordinary.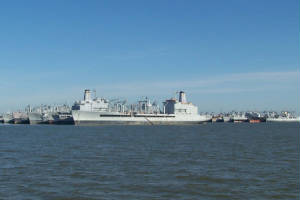 Part of the Ghost Fleet
Just sixteen miles into our cruise, we passed the Ghost Fleet -- 43 (by our count) military ships in varying stages of decay moored shoulder-to-shoulder in several lines. They bear day-glo orange spray painted lines on their fore and aft hulls at the water line, presumably to provide inspectors with a quck check on whether they are sinking.
During the Second World War, the fleet was repaired and fully deployed. The amount of renovation needed to bring some of the vessels in today's Ghost Fleet into sea-worthy condition appears to be in some mind-boggling zillions of dollars range (although some look just as action-ready as anything we saw on the Naval Base piers in Norfolk). They must have some current value, because military patrol boats were hovering around them on our downstream pass, and their anchorage is clearly marked as strictly off-limits.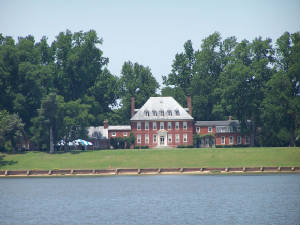 Westover Plantation
Further upstream we passed a series of plantations dating back to the 1700s. The one most visible from the water was Westover Plantation, built in 1730 by William Byrd II. The house is a classic example of Georgian architecture built large. It stands in regal splendor on the banks of the James, with a wide long swath of emerald lawn stretching to the water's edge -- so the house has an unimpeded view of the water, and we have an unimpeded view of it.
Not so for other colonial plantations, hidden in woods or behind elaborate landscaping. Such was the case with Berkley, birthplace of Benjamin Harrison-- three time Governor of Virginia and a signer of the Declaration of Independence, and his son -- our ninth President, William Henry Harrison. All we could see of the house from the water was a path into a terraced boxwood garden and a corner of the brick house and its chimney.
Fortunately, we stopped at Berkley on the final day of Bike Virginia, and we had a chance to tour the house and walk its grounds. In addition to claiming the two Harrisons, the plantation also claims to be the birthplace of bourbon (distilled on the property in 1621) and of Thanksgiving (take that, Plymouth Plantation). Union forces were encamped on the plantation during the Civil War, leading to two other claims to fame -- Lincoln visited to review McClellan's 140,000 soldiers here, and "Taps" was composed here.
A small museum in the basement of the house displays historic relics found on the property, including (this was my favorite label) "Bullets with teeth marks -- used to quiet nerves when arms or legs were being taken off."
Our first sighting of Hopewell (not counting its smelly paper plant) was Appomattox Manor, which stands on a high bluff where the Appomattox and James Rivers meet. General Grant used the house and grounds as a headquarters during the Civil War. Before the bike tour began, Dick and I rode around the historic area, now know as City Point, reading the many signs and plaques to learn about life here during the war. A Union Bakery here turned out 100,000 loaves of bread daily, and was reputed to use the railroad so efficiently to deliver their product that many soldiers received their rations still warm.
We didn't tour Appomattox Manor, or fully scour the grounds to read all the signs, because we figured City Point would be on the Bike Virginia tour. It turned out we were wrong. The most impressive and memorable part of Hopewell that we passed on the Bike Virginia Tour was the Federal Penitentiary. When Dick and I went out walking on our first evening in the marina, we saw a huge number of light poles with very bright lights about a half mile away from where we decided to turn back to the boat. We hypothesized that it was a big shopping mall. The next day, when Dick was talking to the marina manager, who was explaining to him why Hopewell is "the worst city in America," he learned that there is no shopping mall -- what we saw was the penitentiary security lights. In daylight, there is no mistaking it for a shopping mall.
Friday, June 22- Wednesday, June 27
Bike Virginia 2007
We are exploring the Colonial Coast of Virginia -- including Hopewell, Petersburg, Jamestown, Williamsburg and Yorktown. We aren't carrying our computers on our bicycles, and we are not in a reliable service range of our internet provider anyway. To see details of the ride, you can go to the official ride website:
www.bikevirginia.org
. (If you click on the underlined text, you'll go straight to the website.)
We are constructing a log of our Bike Virginia adventures in hindsight, now that we are back on the boat and in internet range. If you would like to see it, click the link below.
Click here to go to the log of our Bike Virginia Adventures.