Saturday, May 6, 2006 St. Augustine to Cumberland Island anchorage
70.0 miles
Cumberland Island is the most beautiful of all of Georgia's Golden Isles. It is 17 miles long, with 35,000 acres, and 90% of it is owned by the National Park Service. A few streets of packed sand canopied by live oaks dripping with Spanish moss run through the island, an endless white beach runs along its eastern shore, and its permanent residents number about 21 -- mostly caretakers for mansions and park rangers. There aren't many tourists around, since the only way to get to the island is by boat, and there are only two places to stay overnight -- a primitive campground and the Greyfield Inn, one of the country's most elegant and exclusive Bed and Breakfast Inns.
Greyfield Inn was built as a "cottage" for one of Thomas Carnegie's children after Thomas purchased the island in 1882. Carnegie heirs still operate the Inn. Probably its most well-known guest was John Kennedy Junior, who had his wedding in the tiny African Methodist Church near the Inn and stayed at the Inn with his wedding guests, because he wanted his wedding to be a very quiet and private affair. Since he was friends of the family and had visited Greyfield often, it was a natural choice for John Junior.
Dick thought about taking our dinghy in for dinner at the Greyfield Inn, and called a couple days in advance to see if we could make a reservation. They could accommodate us for dinner -- the price was $226 plus gratuity. We decided to pass. I dumped all the ingredients for chicken chili into the crock pot in the morning, and by the time we anchored, our dinner was ready, at close to 1/100th of the cost of dinner at the Greyfield Inn.
Loopers Bob and Diane aboard Free Spirit were sharing our anchorage, and we invited them to join us for dinner. We had a grand time getting to know them.
The next morning, we took our dinghy into the Park Service dock and set out to explore the island. The bulletin board had a posting promising a one hour walking tour at 10, and we joined it.
Our Park Ranger tour guide, Rene Noe, has lived on Cumberland Island for 24 years, and is a consummate storyteller. Over the next two hours of our one hour tour, she regaled us with tales of the island's past and present, called upon members of the group from age 5 to 85 to play the roles of major historical figures, and she never lost a single person's attention.
We learned about the Island's early inhabitants, the Timucuans, who commonly exceeded six feet in height (even the women) and sported impressive tattoos. The men were polygamous, and could tell a woman's status by looking at her hair -- available women wore their hair long and unbound, taken women tied their hair to the left or right, and when a woman's spouse died, she cut her hair short to indicate she was in mourning. She became available when her hair grew down to her shoulders again.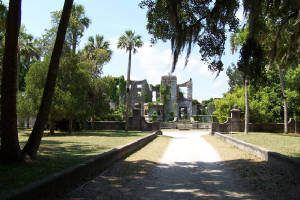 Dungeness ruins
The Timucuans called the island Missoe, which meant Beautiful. When the Spanish established a mission there, they called the island San Pedro. After James Oglethorpe took Chief Tomo-chi-chi and his family to England to visit the Queen, the Chief's son and the young Duke of Cumberland became good friends. After they returned to the island, the chief's son wanted to rename the island Cumberland to honor his new friend, and the British were delighted to cross out San Pedro and write in Cumberland on all of their maps.
Thomas Carnegie bought the island in 1882, and promptly built a massive Victorian mansion he called Dungeness on the site of another mansion called Dungeness, which was so ill-fated that it is hard to understand why Thomas didn't try to come up with another name for his place. The prior Dungeness was begun by Revolutionary War hero General Nathaniel Greene, who died of sunstroke before he could complete it. It was finally completed by his widow and her husband ten years later, and was a happy home until Union troops destroyed it during the War of Northern Aggression.
The Carnegies lived and entertained in their Dungeness in season, on and off, for the next fifty years or so. As Carnegie children grew up and married, Mrs. Carnegie built each one of them a "cottage" nearby.
Thomas' brother Andrew lived a bit more unusual lifestyle -- he promised his mother he would never marry until she died, and he not only kept his word, but he was her constant companion, taking her to all the high society parties he attended. When he did meet an eligible young woman, he was always careful to follow any compliment he paid to her with a compliment for his mother.
Dungeness burned under suspicious circumstances in 1959, shortly after the Carnegie heirs took aggressive action against poachers on the island. The stately ruins of the mansion still provide clues to its past grandeur.
After our tour, we hiked back across the island to our dinghy, hopped back aboard Starsong, and set out on a short afternoon cruise to Jekyll Island.
May 7-8 Cumberland to Jekyll Island
28.5 miles
Jekyll Island is one of our favorite stops along the East Coast. At the tail end of the nineteenth century 53 wealthy industrialists bought the island, and established their own very exclusive private club there. For the next decade or so, about four dozen families who together controlled one sixth of the world's wealth could be found socializing at the Jekyll Island Club in January through March. The rest of the year, the place was shuttered, inhabited by groundskeepers and other support staff. After a few decades, Palm Beach became the place to be seen, and the Jekyll Island Club lost its cache. Eventually all the rich folks abandoned it, and their loss became our gain when the state took over the Island and peons like us could enjoy it.
To learn more about the history of Jekyll Island, click here, and you will jump to our visit there in March, 2005.
Today, the Jekyll Island Club survives as an elegantly relaxed hotel and conference center. The rest of the island is sparsely populated, and has miles and miles of bike and walking paths through palmetto and pine forests, on boardwalks through marshlands and paralleling the beach.
We began the day with lattes and cinnamon rolls on the wide porch of the Jekyll Island Club, overlooking the courtyard fountain splashing crystals in the sun.
Then we set out on our bicycles in search of geocaches hidden all around the island. Our quest took us riding about fifteen miles before the day was through. We stopped for warbler watching at the edge of a little pond, where at least four different varieties of warblers were flitting about. We strolled the nearly deserted beach (where we could have ridden our bikes in the hard-packed sand). We found a few caches, got a little exercise, and enjoyed nature. And, we got back to the boat just in time to take shelter from an afternoon thunderstorm.
And, in a perfect end to a perfect day, our new friends aboard Free Spirit invited us over for a margarita cocktail hour. We enjoyed getting to know them a little better, and had a fascinating discussion with Dianne's sister, Liah, an organizational communication coach and consultant. Dianne and Liah are both attorneys and human dynamos, a great sister act. We just can't get over all the interesting and intriguing people we meet on the water.
Tuesday, May 9 Jekyll Island to Duplin River Anchorage
37.9 miles
Georgia has many tidal rivers flowing into large ocean sounds,which makes for strong currents and big tidal variations in the state's beautiful low country cruising grounds. Our cruising course today took us along winding coastal rivers opening into several ocean sounds -- St. Simons Sound, Buttermilk Sound and Altamaha Sound.
We haven't written about lighthouses in a while, and the St. Simons Island Light has an interesting story. Look to the bottom of this page to read about its haunted history.
We anchored in a quiet spot along the Duplin River, tucked in next to Little Sapelo Island. A forest of crab traps kept us from moving too far up the river, and after we had been anchored a while we watched a waterman as he tended the traps.
Curious dolphins swam around our boat so close that we could hear the crisp pffts as they expelled their breaths when they surfaced.
After night fell, we stood on our bow and listened to the eerie calls of Chuck-Will's-Widows. The calls seemed to come from all directions across the water with a frantic urgency, repeated over and over again, with hardly time for a breath.
Wednesday, May 10, 2006
Duplin River Anchorage to Delegal Creek Marina at The Landings on Skidaway Island
50.5 miles
This was our third visit to The Landings, a private community on Skidaway Island, just south of Savannah. Since our first visit in March, we have been longing to make this 6,500 acre barrier island our home. Live oaks stretch their moss-draped limbs to dapple the light that falls on over forty miles of biking/walking trails winding through The Landings. Low country marshes and 151 lagoons provide tranquil views. The six lushly landscaped golf courses that weave their way through maritime forests and residential areas have been designated Audubon Cooperative Sanctuaries. At low tide, we train our binoculars on the marsh near the marina to watch feral pigs grazing, and shore birds feeding in the shallows.
The homes on the island are tucked in among palm trees and palmettos, stately magnolias, oaks and pines. Fragrant magnolias and camellias are in bloom now, and the air near them is petal-sweet.
Our goal is to find a home in a natural setting on a lagoon here. On our last visit, we missed the chance to put in a bid on our perfect house by less than an hour.
We were still mourning the loss of that house during this visit, comparing every house we saw with that gold standard, no doubt burnished in our memories over time. Then we walked into the home that called to us, and we left memories of the house we lost behind.
May 11-June 14, 2006 The Landings on Skidaway Island and Cincinnati
It took a while, but we secured our house on a lagoon at The Landings. Big windows give us water views from the kitchen, great room, living room and even our bedroom. We have a bit of a view of a marsh and a little tidal creek that feeds our lagoon. Our other windows look out over old growth oaks, palms and thick understory vegetation enhanced by landscaping with native shrubs and plants, so we feel like we are living in our own little nature preserve.
We spent a week and a half tying up the loose ends, all the while staying aboard our boat at Delegal Creek Marina, one of the two marinas on the island. Starsong secured her home on the island before we did.
Every day we walked or rode our bicycles to explore a new part of our new island home. One day, we circumnavigated the island on our bicycles. Another day we took our dinghy up the creek that winds through the marsh to the edge of our property, but the tide was too low to get all the way there. We vowed to launch our kayaks from our backyard and paddle to the marina someday.
We had dinner at each of the four island clubhouses, and spent a couple mornings at the tennis club cafe, eating pastries and drinking coffee while overlooking the action on the courts. There is a dockside cookout at our marina four nights a week, with live music on Saturdays and Sundays, and we enjoyed it, as well.
After we got our house purchase to-do list all checked off, we headed back to Cincinnati to line up a mover and tackle our packing in earnest. We had a garage sale, notable not for its financial success, but for its power to keep us sitting relatively still for five hours straight while we staffed the sale. We enjoyed granddaughter Meredith's ballet recital, her brother Harrison's soccer game, granddaughter Kate's choir concert, and dinners with daughter Megan.
After a couple weeks in Cincinnati, we headed back to Savannah to meet our Cincinnati friends Gail and Robert, who wanted to check out The Landings for themselves. We had a wonderful two days together, and hope that some day they will decide to come be our neighbors here.