Wednesday, May 3, 2006 Cocoa to Daytona anchorage
67.3 miles
We hauled anchor at a bit after 8 a.m, and set off on another day of perfect cruising beneath sunny Wedgewood blue skies with light breezes and temperatures hovering around 80 degrees.
We saw the first of our daily dolphins about an hour after we got under way.
We saw manatees in the Haulover Canal as we approached Mosquito Lagoon, a very wide and very shallow body of water where we enjoy looking for shore birds. We can look far out into the lagoon and see wading birds in water just up to their knees, reminding us how important it is to stay within the dredged channel.
We saw more manatees in Mosquito Lagoon. We haven't seen manatees here before, and think that it must be because our past trips through have been in February and March, when the manatees are still further south.
We also enjoyed training our binoculars on a roseate spoonbill rookery, where we could see lots of adults in their deep rosy red and Barbie pink plumage, and baby roseate spoonbills with pastel pink feathers just out of the nest. The babies were learning to hunt in the shallows by moving their bills back and forth beneath the water to sift for krill. The sight of three spoonbills stretched in flight against the rich blue sky background was breath-taking, and we regretted that we missed catching it in a picture (which would have been award-winning without a doubt).
All day long cabbage white butterflies fluttered across the water. They were especially thick on the lagoon, where we could count over ten a minute. We also saw a bald eagle and a magnificent firgatebird in flight.
Once again the Lagoon gave us a nature lover's dream cruise.
When we got near Daytona, we decided to anchor out beside a sewage treatment plant. It was actually a sort of pretty spot, with all the plant's aeration fountains sending plumes of water into the air, and a line of palm trees screening our view of the treatment infrastructure. Perhaps most importantly, the wind was blowing toward the plant. We figured that as long as the wind didn't do a full 180 degree change, we had the perfect anchorage.
We decided to just take it easy and laze about on the boat. We never even put our dinghy down.
May 4-5, 2006 Daytona to St. Augustine
54.1 miles
We passed 8,000 miles cruising aboard Starsong today!
After five days of anchoring or mooring out, we were ready to indulge in the luxury of a marina berth. And, St. Augustine is one of our favorite Florida ports. The St. Augustine Municipal Marina is adjacent to the town's expansive historic district, with so much to see and do that every time we visit, we come up with a new adventure. And this time was no exception.
(But, before we let ourselves enjoy the town, Dick spent a couple hours washing away all the coffee-colored Lake Okeechobee water discoloring Starsong and the ICW salt spray encrusting her, while I did three loads of laundry.)
When we finished our chores we rewarded ourselves with dinner at Colombia, a Spanish-Cuban restaurant that has become one of our favorite St. Augustine traditions. We shared a pitcher of Sangria and three shellfish-based appetizers for our Tapas dinner.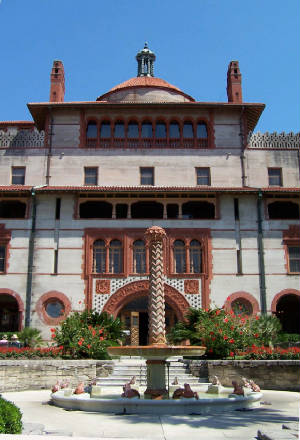 Ponce de Leon Hotel/Flagler College
The highlight of our next day in St. Augustine was a tour of the old Ponce de Leon Hotel, built by Henry Flagler. The hotel is now the centerpiece of the Flagler College Campus, which serves 2,000 students. Our exceptional tour guide was a Junior year Communications major at the College who told us his career aspiration is to be Katie Couric.
The Ponce de Leon Hotel was the first commercial project designed by Carrerra and Hastings, two architects who went on to design other famous buildings. Walking through the Spanish Renaissance Hotel with all of its ornate features and incredible attention to detail, it is hard to believe that two men in their 20s with little experience had the vision and the technical expertise to pull it off. Flagler chose them for this project more for who they knew than what they knew -- Hastings was his minister's son.
The Hotel was constructed in two years -- 1885-1887 -- and at $2.5 million was the most expensive hotel ever built in this country.
It was built of poured concrete, a relatively new building material at the time, without reinforcement. Louis Comfort Tiffany was the chief designer for the hotel's interior, which features 80 of his stained glass windows worth over $35 million. He also designed the light fixtures and chairs. The student dining hall is in the hotel's elegant ball room, still featuring its carved wood paneling, Tiffany windows and light fixtures and an elaborately painted ceiling with angels flying about. The dining hall chairs are replicas of the original Tiffany chairs, though.
Thomas Edison designed the hotel electrical and plumbing systems, and the electricity generating plant that served the hotel. Edison and Flagler were friends.
When the Ponce de Leon was in its heyday, it was only open for "the season" -- January through March. In order to stay at the Ponce, guests had to be on the New York Social Register and had to rent their room for the whole season. Room prices ranged from $6 to $90 per night, but the only room with its own bath when the hotel was first built was Flagler's. It wasn't too long before renovations added baths to the higher priced rooms.
Guests who did not have the money or the social standing to stay at the Ponce could stay at one of the other two elegant hotels Flagler owned in town -- the Alcazar or the Casa Monica. All three were within a block of each other. The Alcazar is now home to a history museum, and has a stunning courtyard garden that is heavily booked for weddings and photo shoots. We ate lunch in the courtyard overlooking the garden. The Casa Monica is still operating as an upscale hotel, and its lobby Starbuck's is where we get our New York Times each morning when we visit St. Augustine.
It is a wonder that these historic treasures have all survived natural disasters, changes in fashion, changes in management and urban renewal. (Flagler's third wife did toy with the idea of demolishing the Ponce de Leon, but gave up on it when she learned how expensive it would be.)
We rounded out our day by bicycling about five miles to an Urgent Care facility, where Dick hoped to get a doctor to prescribe a muscle relaxant to help ease intense back pain from a pinched nerve. As we sat around the waiting area for an extended period of time it became clear that the staff wasn't taking his problem very seriously, knowing that he rode his bike there from the marina. Fortunately, the physician on back-up for Dick's Cincinnati internist called back while we were waiting and agreed to phone in a prescription to a pharmacy a mile or so away from the boat in the opposite direction. So, we canceled our Urgent Care appointment, rode back to the boat, picking up groceries on the way, and then Dick rode to the pharmacy to pick up his prescription.
All the galleries in town were open that night, with entertainment, painter's receptions and other festivities, so after dinner we strolled about, admired some art, and met a few artists.
We declared it a very full day. (Oh, I forgot to mention the geocaches we found and our breakfast with the New York Times in The Bunnery, and our two trips to the post office, where you have to take a number to be served, and . . . as I said, a very full day.)