Our boat hung out in Fort Myers for five months, and most of the time, we hung out there with it. Except when we didn't.

Here's what we did in those five months:
December: We got the boat snugly settled in at Centennial Harbour Marina, joined our friends there for cocktails, a potluck, and a holiday party, and left within three days of our arrival to celebrate the holidays up north.
When we left home in January last year, we figured we would be pressed for time when we got back for the holidays this year, so we left our Christmas decorations up. Thus, we didn't have to spend much of the precious little time we had before Christmas decorating. Great planning, eh? Nonetheless, we crammed a whole lot of shopping, wrapping, and celebrating with family and friends into less than a month, had our white Christmas in Rochester, and were soon on our way back to Fort Myers.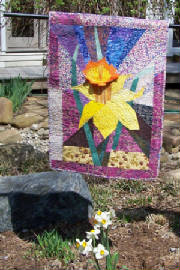 My Daffodil Quilt
January-February: We quickly settled into life as Fort Myers residents. We found an active and activist Unitarian Church where we attended services; joined a 6-week discussion group based on Jimmy Carter's thought-provoking book, Our Endangered Values; marched on Martin Luther King Day; and enjoyed social activities with new kindred spirit friends. We became regulars at the Thursday guided bird walks and lectures at the Ding Darling Preserve. We joined a gym, and went there regularly to work out and stretch out through Yogalates group fitness classes. We enjoyed art and cultural festivals in Centennial Park just about every weekend. We sampled local restaurants on Wednesdays and pot-lucked on Thursdays with our marina friends. We got library cards. And, we got "Save the Dolphins" Florida license plates for our car. After we attended an outstanding quilt show here, I hauled out my sewing machine, and got quilting again. Meanwhile, Dick spent countless hours varnishing our bright work and replacing caulk on our teak decks.
March: We left Starsong behind and drove north along the east coast to explore a few places where we thought we might like to live a more aquatic life. Inspired, we drove back to Cincinnati to prepare our house for sale, and to have appointments with all the people we missed while we were afloat -- our physicians and dentist, my hair dresser, our financial adviser, and our friends and family. We donated 576 books to the Library Book Sale and twenty bags of clothes to Goodwill, filled a dumpster in our driveway in just four days, and exhausted ourselves stripping wallpaper, cleaning and polishing, and boxing up our excess files and books and photos and such that might get in the way of prospective buyers fully appreciating our unique property.
We have no idea how we managed to accumulate all this stuff in the short time we have been married -- which does not bode well for preventing reaccumulation in the future.
We headed back to Fort Myers the last week in March, spent a day or so preparing for Grandson Harrison's spring break visit, and then gave ourselves a little vacation -- a stay at a Bed and Breakfast Inn in the town of Tarpon Springs.
Tarpon Springs was settled by Greek immigrants who fished and dove for sponges in the early years of the twentieth century. Although there is only one sponge diving boat left in town today, lots of boats take tourists out to see diving demonstrations, lots of stores along the sponge docks sell sponges and shells and Greek ephemera, and Greek bakeries sell every kind of baklava a discriminating sweet tooth could crave. Greek men sit around in smoky coffee shops for hours on end, and women go to the Greek Orthodox church where they light candles and sit in pews in the back to chat with each other in Greek and watch the tourists to be sure they don't steal anything.
We had one of our most unusual dining out experiences ever, at a restaurant in an antique shop. It was hard to tell what was for sale and what was restaurant furniture -- lava lamps and other kitschy light sources adorned the tables, which were all different, and stood as islands in a sea of flea market finds. Our waiter was an exeptionally poised twelve-year-old boy, who we saw tossing a football out front with his father after he took our order. Later we learned his father was the chef, his mother the hostess. Our waiter's younger sister and his five-year-old brother were playing games in the shop while we ate. When friends of the parents came in for dinner, the five-year-old hauled out a trophy he won for martial arts that was as tall as he was, and then he proceeded to demonstrate his award-winning kicks. When the friends gave him a remote control car, he sent it weaving in and out among the tables of amused diners. When the kids got tired, they just grabbed a quilt from a store display and laid down on an overstuffed antique sofa in the middle of the restaurant.
The chef proudly told us that all three kids were getting straight As in both regular school and Greek school, which they attend for two hours every day after regular school lets out. The restaurant is only open for dinner on Friday and Saturday night, because he and his wife want to have weeknight evenings free to help with homework. We were charmed by the family, and the food was fabulous, too, prepared and presented as creatively as the restaurant was decorated.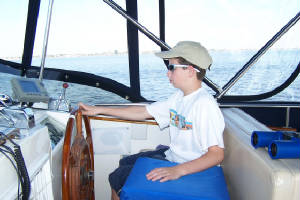 Harrison at the helm
April: The highlight of April was a week we spent having great adventures with our eleven-year-old Grandson Harrison during his Spring Break. We went snorkeling in a mysterious and lovely grotto in the Crystal River searching for manatees, which we never quite found. We spent an exciting hour riding an airboat at 40 mph through the twists and turns of mangroves and grasslands in the Everglades. We snorkeled three different sites in Key Largo, where we saw a shark, barracuda, rays, and lots of colorful fish and beautiful coral. The three of us swam with a trained mother, father and baby dolphin, who used us as their pool toys, pushing us with their noses and pulling us by their dorsal fins, jumping through hoops we held, kissing our hands and faces, and letting us rub their bellies. We cruised over to Cayo Costa, a state park only accessible by boat, spent an afternoon on its pristine beach, and anchored out there overnight.
Harrison kept a detailed journal and a scrapbook of all our experiences, and we were impressed with both his writing and his discipline in never skipping a day or getting behind in his writing.
We put Harrison on the plane to Cincinnati, then quickly followed behind by car. When we got home, we mixed work on the house with visits with family and friends, and ended our time in Cincinnati by listing our house for sale.
But, just before we left, we got a wonderful surprise from Harrison. He brought us four poems he had written and illustrated about our Spring Break adventures, and a DVD he and his dad put together with photos of each of our special experiences set to music (our dolphin swim pictures were set to the theme song from "Flipper").
We drove a rental car back to our boat, detouring along the way to look for a coastal house, and to visit Dad and June in South Palm Beach. We had a wonderful relaxing visit, but were terribly boring company. After racing full-tilt for the last few weeks, keeping up with an eleven-year-old and prepping our house, we were exhausted, so we ended up spending big chunks of each day napping. Dad was hopeful that our behavior might be a sign that we were finally developing some relaxation skills in retirement.



Here is one of Harrison's poems:
Air Boats
Harrison Glover
Zoom!!
45 miles per an hour.
Speed past trees.
Earphones tight and snug.
Still blazing loud.
Yell my name on the top of my lungs.
Not a peep.
All the sudden,
we're in grasslands.
Almost speed of water.
Left,
Right,
Straight.
Wow!!
See a gaitor.
Freeze at once.
Almost run over him.
Driver has before,
never hurts them.
Tons of cold,
Brittle air blowing right on him.
Doesn't flinch.
If he was feeling lucky,
he could of climbed onto the
boat for a free ride.
SCARY!!
Almost back to dock.
Hats gone.
Nowhere in sight.
I spy.
Floating like a tan turtle shell.
Go back.
Snatch.
Got it.
Park.
Blazing sound fades.
Ears dance with joy.
Memories.
Tons of them.
Tons of
fun,
exciting
Memories.