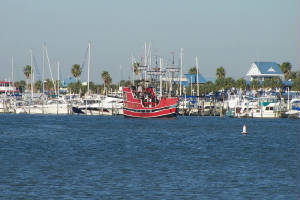 Leaving Clearwater Municpal Marina
December 3, 2005 Clearwater to Otter Key/Lido Key anchorage (near Sarasota)
59.7 miles
We had breakfast with Karen and Frank at the marina restaurant, where leather-skinned anglers hang out and tell fish stories over bottomless cups of coffee, and two eggs, toast and hash browns go for $2.50.
We left the dock at 9:30, cruising beneath a cloudless sky, and enjoyed Florida cruising at its best. The Gulf Coast ICW took us past beautiful custom homes with lush tropical landscaping, and natural mangrove island and sandbar landscapes with shore birds roosting and wading and flying about. We saw 24 species of birds we could identify from the boat, including some favorites we haven't seen since last winter -- roseate spoonbills and wood storks and yellow-crowned night herons.
Sarasota is an impressive city, with lots of high rise buildings in an impressive array of colors and architectural styles. A bright purple building with a roof shaped like a scallop shell dominates the waterfront as you approach from the north. It is a performing arts center. A skyscraper several rows back from the water looks as though it was made of huge topaz blue mirrors with no seams for windows or walls. There are minarets and onion domes and all sorts of fantasy shapes and pastel colors. But, we didn't have time to stop to visit.
Last time we were cruising around Sarasota, we anchored right in front of John and Mabel Ringling's winter estate, Ca'd'Zan. They started building in 1924, and finished in 1926. By the time they were done, they had spent $1.5 million and had an architectural extravaganza combining elements from Doge's Palace in Venice and the tower of the old Madison Square Garden in New York (where Mr. Ringling's circus was a regular attraction).
Dusk at Lido Key
This time we anchored in a serene pool between Otter Key and Lido Key, two islands near the city of Sarasota. Otter Key is a mangrove island seemingly untouched by civilization. Lido Key's shores are lined with private docks and perfectly maintained pleasure craft. Exquisite homes set in immaculately groomed tropical garden settings look out over their docks to the little bay and mangrove island.
Legend has it John Ringling won Lido Key and nearby St. Armands Key in a poker game, and he soon set about developing St. Armands Key into an exclusive enclave of homes and shops for the very wealthy. He built a causeway to St. Armands from Sarasota and opened it in 1926 with the showmanship that made him famous. A parade led the way across the bridge, and his circus band played from a bandstand in the island's trafffic circle. Visitors snatched up lots along the island's rose-colored sidewalks at a frantic pace. Opening day sales totaled over a million dollars, which bought a lot of lots in those days. Today, a single lot on St. Armands or Lido Key goes for over a million dollars.
We, on the other hand, enjoyed the pleasures of this little island paradise from our free anchorage.
Sunday, December 4, 2005 Otter Key/Lido Key to Gasparilla Island
48.5 miles
We enjoyed yet another perfect cruising day, with temperatures nearing 80 degrees beneath a clear blue sky. We saw our daily dolphins, and lots of shore birds on sandbars just outside the channel. We passed ospreys on top of channel marker pilings devouring fish with gusto, while gulls floated below, waiting for scraps to fall. A stork flew over us. Royal terns and Forsters terns swooped and dove in our wake. And, we went the the very last of all the bridges that had to open to allow our passage on the Loop!
Gasparilla Inn
We chose Gasparilla Island for our last stop before Fort Myers, because we had warm memories of the last time we cruised to this lovely little get-away for the rich and famous. The island has been a more laid-back alternative to Palm Beach for affluent socialites since the Gasparilla Inn was completed in 1912. Back then the Morgans, Cabots, Astors, DuPonts and their friends converged on the Inn in their private railway cars during the winter social season.
Today, the rail line has been paved to create a scenic bicycle path that runs the length of the island. But the gracious Inn continues to welcome guests who pay a minimum of $462 per day to hang out there during the social season. (Rate is for double occupancy -- more if you bring kids, want a room with a porch or parlor or if you visit during high season; doesn't include 9% Florida tax, $27.50 per person per day gratuity, 20% service fee added to beverage purchases . . . I guess if you read their rate card and start adding up the numbers in your head, this is not your kind of place.)
Since the season doesn't really start until January, the Inn was nearly empty -- we only saw one non-staff person there as we wandered its public areas, which reminded us of an intimate version of the Grand Hotel on Mackinac Island. The oceanfront golf course had nary a golfer on its meticulously groomed greens on Sunday. Only one of its many tennis courts was in use -- by women in classic white skirted tennis togs.
Since we were there on a Sunday before Social Season (January-Mid-April) and Tarpon Season (mid-April-early June), most of the shops and restaurants in the island's only town, Boca Grande, were closed. But, the ice cream shop was open, so we indulged ourselves there, and ate our cones while window shopping about town. We wandered to the nearly deserted beach, where we collected shells and watched a woman sending her dog out into the surf to chase shells she tossed.
While we were eating dinner aboard Starsong, an elegant 110 foot yacht came cruising up to a private dock next to the marina. Since all its lights were on, we could see the beautifully paneled salon and other interior spaces. The boat even had underwater lights all along its sides, so that it seemed to float in a cloud of light. Dick thought they might actually serve a purpose of helping the crew to see low objects near the boat when docking. Dick looked up the boat on the internet (Hilarium, home port Boca Grande), and found it was owned by an Australian company. The marina staff was discrete, and wouldn't tell any tales. But, later, when we caught up with our friends the Hewtons in Fort Myers, they told us that the boat belongs to Stephen Forbes. He owns that boat and another of similar size in a covered slip next to it, and owns four houses in a row behind the boat docks -- one for him, one for his captain, one for the crew, and one for guests that he doesn't want to host in his own house.
Monday, December 5, 2005 Gasparilla Island to Fort Myers
44.3 miles/6397 total trip miles
We began the day at Loons on a Limb, an unassuming little restaurant that is only open for breakfast. We imagine the name refers to how bankers must have viewed the couple who thought they could make a business of a tiny restaurant only serving breakfast on an island that goes into suspended animation from mid-June through mid-December. They have been in business for over 20 years now, and they make a great premium-priced breakfast.
We were done with breakfast, back on the boat, off the dock and into Charlotte Harbor before 9, and shortly after 9 we got a view of the last lighthouse of our trip, the Boca Grande Light.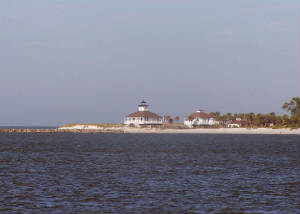 Boca Grande Light
This cottage-style light was one of three lighthouses built at the end of the nineteenth century to guide cattle ships going from ports around Charlotte Harbor to Cuba. Later, the light guided ships carrying phosphate from nearby railroad docks.
The light sits in a lantern house on the roof of the wood shingled keeper's cottage, which is built atop iron pilings. The assistant light keeper's dwelling next door is identical to the keeper's cottage, except that it does not have a light on the roof.
In the mid-1960s shoreline erosion threatened the lighthouse, and the Coast guard built a modern steel skeleton tower to replace it. In a now familiar story, the old lighthouse fell prey to vandals and the ravages of the wind and storms. In 1972 high tides and winds brought waves under the lighthouse, and a portion of it leaned down at a precarious angle. Local preservation groups recognized its historical importance and campaigned for its preservation. The county built a rock jetty to protect it, and the preservation groups raised the money to restore it. The restoration project was completed in 1986, and the Coast Guard agreed to relight it. It is now a working light and a museum open for tours. So the story has a happy ending.
And, our Loop had a happy ending, as well. We pulled into Centennial Harbor at 2:45, and were assigned to the slip right next to the slip we enjoyed last year. Three wonderful members of the marina staff we remember fondly from last year were on the dock to welcome us back and help us tie up. Friends we met here last year stopped by to greet us and to chat. The Hewtons invited us over to Beta Omega for Happy Hour tonight.
We learned that there's a bring your own drink and an appetizer Christmas Party on B dock tomorrow. On Wednesdays some people go to a nearby Presbyterian Church that serves a $5 supper and others go out to dinner together at a different local restaurant each week. The weekly potluck, which was on Wednesdays last year, is on Thursdays this year, so as not to conflict with the church dinner.
So, the festivities continue. We look forward to a winter filled with the warmth of Florida sunshine and fellowship in our home afloat.