November 30 Carrabelle to Alligator Harbor Anchorage -- St. James Island
20.6 miles
We have just discarded our plan to hop in easy segments from port to port along the Big Bend. A narrow weather window looks like it is about to open, and we have decided we need to get as far as possible each day we can move -- we do want to get home for Christmas, after all.
We are getting to a time in the tide cycle when the tidal range is increasing, providing lower low tides than normal. Some of the marinas where we hoped to stop along the way will not have enough depth for us. Another factor complicating our plans is that when we leave Carrrabelle, about ten other trawlers will leave at the same time, and some of the stops we would like to make have limited dock space available. So, the marinas that do have good depth are likely not to have space for us, unless they are really big marinas.
But, that's part of the adventure of boating. So many variables can affect the outcome that even the best-made plans (which are our specialty) end up changing, often on short notice, and often for the better, although our assessment that it was for the better is often in hindsight and sometimes mere rationalization.
So, here we are, anchored out in Alligator Harbor with our friends on Geminellie and Main Course and five other trawlers, planning to get up early tomorrow to make a long run across open water to Cedar Key. We are starting from here, rather than Carrabelle, because we can get out of this spot in the dark more easily than Carrabelle -- there is a wide channel to deep water which will allow us to avoid crab pots or going aground.
After we anchored, we shared a little cocktail hour aboard Starsong while watching dolphins play around our boat as the sun went down. We took the dolphins and the red sky at night as good portents for a safe passage.
Our group of six grilled steaks aboard Geminellie and caught up on each others' news. Geminellie had perfect timing -- they got back from Thanksgiving in Michigan and caught up with us today, just in time to continue on without waiting out weather in Carrabelle. We told them we hung around Carrabelle for a week just to wait for them, but they didn't believe us. Even if we didn't plan for it to happen this way, the weather delay variables worked in our favor to bring us all together again. Although we didn't appreciate our long wait in Carrabelle at the time, it did feel good to be reunited before we crossed the big water.
December 1, 2005 Alligator Harbor to Cedar Key
Rocking and Rolling for 107.1 miles
We set our alarm for 3:15, but, truth be told, we didn't sleep too soundly, and we woke up before the alarm went off. There was no moon to dim the stars, no clouds to obscure them. They filled the sky, but sent precious little light down to meet us on the water. The sea around us was inpenetrably dark, the horizon indecipherable.
We checked the weather on our VHF radio, and the waves were still predicted to be a gentle one to two feet along our course today. It was 4 a.m., time to be on our way. We turned on our radar, GPS and chart plotter, and set our autopilot to steer our course. It could do a far better job than we could with no landmarks to steer to.
For the next two hours, we traced our progress by watching the little boat icon on our chart plotter make its way across the screen. Starsong gently rolled and slid a bit to the side as waves came from behind us and nudged us along. It was a very eerie feeling to be moved by waves we couldn't see. We were rising and falling and skidding in a dark abyss that might as well have been the sky. We thought this must be how a pilot of a small plane flying over mountains at night must feel.
At 5:25 we got to our open water mark, and turned south on a straight course to Cedar Key. After we turned, we found that our heading set us pointing to a very bright and large star right above our bow. The sight of that star before us was far more comforting than we would have expected. It reminded us of one of our favorite star songs, a poem by Robert Frost set to music by Randall Thompson, called "Choose Something Like A Star." The last line of the poem and song is "We may choose something like a star/To stay our minds on, and be staid." That is what we did with that bright star leading us forward through the eerie darkness, until the sun extinguished its light, but gave us a horizon line in trade.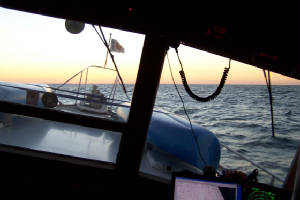 A rocking sunrise
As the sun rose, so did the wind and waves, until we were being tossed about in two to four foot seas, with a rogue six footer thrown in every once in a while. I succombed to my first case of seasickness in over 6,000 miles, and retired to bed -- where I lay in a spread eagled X to keep from rolling off. All around me books, papers, plastic storage boxes and other unsecured unbreakables fell from shelves and slid back and forth across the floor. Through it all, Dick held the helm, steadfast.
After four hours or so, the waves began to subside a bit, and we climbed to the upper helm station, where we could look down on the one to three foot waves, rather than having them at eye level. They were the same waves, but putting just seven feet more distance between us and them made a world of difference in how we felt their impact.
The north wind and all those waves pushed us along so that we got to Cedar Key well before dark. We set anchor a little after 3 p.m., and settled in for a nap. A couple hours later, the five trawlers who had shared our anchorage last night caught up to us, and shared our anchorage.
We included a wish for calmer waters in our evening prayers, and the waves rocked us to sleep.
Friday, December 2, 2005 Cedar Key to Clearwater
83 miles
We hauled anchor at 7 a.m., as soon as we could see well enough to avoid crab traps. The sun came over the horizon and dolphins swam across our bow simultaneously at 7:08 a.m.
Anticipating another day like yesterday, I found some anti-nausea pills my doctor had prescribed before we left on our journey. (I can't explain why I didn't remember I had them aboard yesterday.) Although the day started with two to three foot waves, by late morning they had calmed to one to twos. The combination of my strong prescription and the gentle wave action set me snoozing. Every time I woke up it looked about the same as the last time, so I didn't miss much by sleeping through big chunks of the passage, as far as I could tell.
When I was awake, I helped Dick look for crab pots. Although we were five to ten miles out from shore, the water was only 15 to 25 feet deep, and the crab pot fields stretched along our whole 83 mile journey, with very few clear areas. With all those traps out, it is hard to believe there is a crab with two claws left in the Gulf. The crabbers who catch stone crabs pull a crab from the trap, take off one of its claws, and throw the crab back in to grow the claw back. If they catch a one-clawed crab, they throw it back in.
Dodging the pots took a skill level akin to the skill required to set them in the first place. The floats would sometimes be obscured by waves and the sun reflecting on the water until we were almost upon them. Dick was a master at taking evasive action, and we managed to make it to Clearwater without trailing any crabbing souvenirs in our running gear.
Jim wasn't so lucky. When we got to Clearwater, he knew he had picked up some lines from traps. He dove below Geminellie again and again, each time coming up with more bedraggled rope pulled from his propellers. By the time he was done, he had a pile of over 100 feet of line and a styrofoam float that he had pulled off his propellers.
We celebrated the successful completion of our crossing with dinner at Frenchy's, a beach bar restaurant. It was also the last dinner together for our group of six cruising companions, until we meet again in January. Jim and Ellie are doing a long run in the Gulf again tomorrow, aiming to get all the way to their winter home in Burnt Store in a day. Frank and Karen and we are taking more scenic, and slower, routes along the ICW.



A Few Florida Facts:
On average, 1000 people move to Florida each day.
Florida is the only state that has two different rivers with the same name. The Withlacoochee River in north Florida and a river by the same name in central Florida are in no way connected.
Florida is home to the largest breeding population of bald eagles in the lower 48 states.
Wherever you go in Florida, you are never more than sixty miles from the beach.
Florida has an official saltwater mammal, the porpoise. Historically, sailors have found the sight of porpoises or dolphins near their boat a portent of good luck. Amateurs like us have a hard time distinguishing porpoises from dolphins. The porpoise is smaller and doesn't have the bottle-nose of the dolphin.
Florida also has an offical marine mammal, the manatee. The name may have come from the Latin word, "manatus," meaning "having hands." From a distance the manatee's flippers look somewhat like hands. Another theory is that the name comes from the Haitian word "manati," meaning "big beaver."
The state's freshwater fish is the largemouth bass, and its saltwater fish is the sailfish.
The state flower is the orange blossom, and its official beverage is orange juice.
We think the state bird should be the brown pelican, but the unimaginative legislators selected the mockingbird, a choice they share with a bunch of other states.
The Florida state flag has the same big red X that appears on the Alabama state flag, but Florida has superimposed their state seal over the center of the X. The state seal dates to 1868, and has a Seminole woman scattering flowers beneath a bright sun with a palm tree (the state tree) and a steamboat in the background.
The state song is Stephen Foster's "Swanee River".