October 19, 2005 Euchee Marina to Sale Creek Anchorage
49.0 miles today, over 5,000 miles on the Loop
We all decided that today would be a good day to start heading back downstream. We will be retracing our route all the way back to Pickwick Lake, where we will catch the Tennessee Tombigbee Waterway to head south.
The fall weather is extraordinary. Today the sun shone brightly on us once again, and the temperature rose to the mid-80s.
We took a narrow channel up Sale Creek to get to a quiet little lake, where we rafted our boats together sharing Main Course's anchor. Nearby ashore was a park with a sand beach, a launch ramp, a dinghy dock, and a camping area that was closed for the season. The rest of the lakeshore was wooded with no sign of civilization.
By the time we dropped anchor, we were so hot we decided to hop in for a before dinner swim. Here we were after 5 p.m. in the end of October needing to cool off with a swim! The water was a refreshing 73 degrees, so we accomplished our objective of cooling off pretty quickly. We did paddle around a bit with our noodles to savor the moment, though.
As we ate dinner aboard Geminellie, we watched an orange pumpkin moon rise over the horizon. Sort of reminded us of the words to that official state public school song, "From ev'ry stream and valley green His wondrous art is ever seen . . . "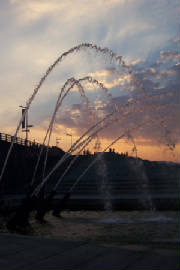 Chattanooga water cannon at sunset
October 20 Sale Creek to Chattanooga
32 miles
We began the day with a walk in the Sale Creek Recreation Area. The campground was closed for the season, which made it a peaceful spot to walk. In season, we imagine this place is very popular, because the waterfront campsites have small docks, so campers can keep their fishing boats handy.
We had yet another sunny and warm day for our short cruise to Chattanooga. We got to town shortly after 2 p.m., and there was plenty of space on the floating docks for us. No worries about rising and falling water levels from the dam this time around -- we just snugged up our lines and took off sight-seeing without a care.
Our first task was grocery shopping. The only grocery within walking distance was a southern urban cultural experience. The store sold every part of the pig but its squeal -- it had a big end aisle display of chitterlings (pronounced "chittlins," Ellie told us), pigs feet, and lots of stuff I really didn't want to look at too carefully. When I went to find boneless chicken breasts, big pink chicken feet were in the case right next to them. All the ladies from the neighborhood had bunches and bunches of greens piled high in their carts. Ours was the only cart without greens or pig parts of any kind. (I take that back -- we bought bacon.)
Dick and I wanted to see Terminal Station, home of the Chattanooga Choo-choo. We hopped on the free electric shuttle that runs every five minutes from the waterfront to the outskirts of downtown Chattanooga, where Terminal Station is located.
When Terminal Station opened in 1909, it was considered an architectural masterpiece, and it was a thriving hub of passenger travel. Its history actually dates back to 1900, when the Beaux Arts Institute of Paris had a competition to design a railroad station. Don Barber of New York City won the competition, and he submitted his winning design four years later when the Southern Railway System was seeking bids for a passenger terminal in Chattanooga. The president of the railroad liked his exterior design, but wanted Barber to alter the interior to imitate a fashionable bank in New York City. Barber complied. The Grand Dome is the signature feature of the station -- a simple but elegant concrete and steel structure with a central skylight rising 85 feet above the waiting area of the of the station -- now the lobby of a Holiday Inn.
Carrying out the railroad theme, hotel guests can stay in a sleeping car decorated in high Victorian style, or eat in a restaurant that serves meals in authentic dining cars.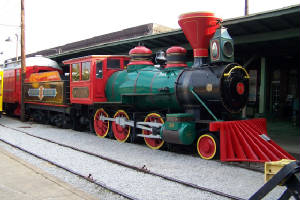 Chattanooga Choo-Choo
Like Cincinnati's larger and more ornate Union Terminal, Terminal Station was boarded up and abandoned when passenger trains stopped service there in the 70s. It, too, came close to being demolished, but found new life as a tourist destination. Unfortunately, the neighborhoods around both stations have not followed their lead in revitalization. Both stations are stand-alone destinations. But, the free electric shuttle buses in Chattanooga are a great way to lure tourists out to the station and its Choo-Choo.
The Chattanooga Choo-Choo is another connection to Cincinnati. The first passenger train leaving Cincinnati for Chattanooga was nicknamed the Chattanooga Choo-Choo. It was operated by the Cincinnati Southern Railroad, America's first municipal railway system When it began service on March 5, 1880, it opened the first major public transportation link connecting the North with the South.
The fancy painted steam engine on display is not the original, but it is like it, and of the same vintage. It serves its purpose, which is more about providing ambiance and a photo opportunity than historical accuracy.
Friday, October 21, 2005
Chattanooga to Shellmound Recreation Area
38 miles
We cruised beneath overcast skies for the first time in a long time. Despite the lack of sun to brighten the colors, we could see that fall had painted many more trees in the few days since last we were cruising this section of the river.
Afternoon rain and thunderstorms were predicted, but never materialized. Instead, after we tied up at the dock, big winds came, blew the clouds away, and left us with sunshine for a while.
The men all set about cleaning their boats and comparing the efficacy of their various cleaning supplies and tools. At one point in this discussion, I expressed skepticism about the ability of any product to clean our fenders, having tried unsuccessfully long ago to find the white hidden beneath all the grime accumulated on them from numerous slimy lock walls and dirty docks. I was treated to a remarkable demonstration. Dick squirted our fender with Jim's miracle cleaner, let it set half a minute and simply wiped away the gray.
Jumping forward in time, I will tell you that when we got to the next lock, Dick would not let me use that fender. It's a good thing he didn't clean them all, or we would have scraped our boat pretty bad on those rough and slimy lock walls.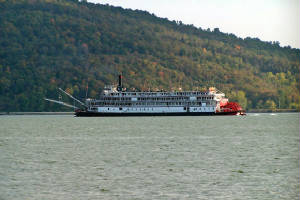 Delta Queen
We decided to take a little hike on the park trail to the Nickajack Lock. When we got to the lock, there was a sign directing us to the visitor center and the observation deck, but both were far behind a locked gate topped with razor wire. Another casualty of 9/11, we guessed.
The Delta Queen paddlewheel riverboat was waiting to lock up when we got there. We didn't have our camera and wanted to get a picture of her, so we walked as fast as we could back to our boat, and had plenty of time to spare. In fact, we sat on Main Course's deck drinking wine while we listened to the Delta Queen's steam-powered caliope play the Tennessee Waltz, Rocky Top, Chattanooga Choo-Choo and other caliope classics while the Queen was rising in the lock.
We got our picture of this classic beauty as she cruised by our dock on her way upriver. The Delta Queen was built in Great Britain in 1927, disassembled and shipped to Stockton, California, where she was rebuilt. She cruised the Sacramento River in California until 1942, when she was commissioned to serve in the Navy. After the war, the Delta Queen was towed through the Panama Canal to the Mississippi River. She has been offering luxury cruises of the Mississippi/Ohio/Tennessee River system ever since.
The Delta Queen is 285 feet long and 45 feet broad. She runs on her original twin oil-fired steam engines, supplying 2,000 horsepower each. The engines drive her paddlewheel, which is 28 feet in diameter and 18 feet wide. Lots of riverboats have fake paddlewheels, but the Delta Queen's paddlewheel actually does propel the boat. As we watched her cruise upriver, with water plumes flying from her paddlewheel and whitecaps on her wake, we had a time travel moment, witnessing a scene that took us back over fifty years in the history of the river.
We had everyone over to our place for dinner tonight. We served corn bread and white chili that we had been simmering in crockpots all day long. Karen brought a salad and Ellie made a chocolate merengue pie. While we were dining, we heard loud country western music, and looked outside to see that a wedding rehersal was in process at the gazebo in the park. The music was their processional.