Painted Bluff
October 12, 2005 Huntsville to Goose Pond Colony Resort Marina, Scottsboro
44.7 miles
We agreed that this was our prettiest day yet on the Tennessee River, including our days cruising scenic Kentucky Lake. The sun burned the haze off the river by mid-morning, and the temperatures climbed to the high 70s. We were cruising through the southern end of the Cumberland Plateau, past colorful rock bluffs in shades of gray, warm tans, and pale yellow to rusty orange. Long low mountain ridges extended along the river.
On our satellite radio we listened to Teri Gross interviewing Harry Connick, Jr, and Branford Marsalis, who have just released an album of duets. Harry Connick, Jr. (whom we heard in concert on this trip while we were tied up to the wall in Ottawa next to the outdoor concert stage) grew up taking piano lessons from Branford's father Ellis Marsalis (who we heard in concert in Bay View, Michigan, while we were at the marina in nearby Petoskey). We added this interview to the ever growing list of incredible juxtapositions that keep connecting, expanding and enhancing the experiences of this voyage.
We docked our boat at the Goose Pond Colony Resort Marina at about 4 p.m. After we got settled, we decided to stretch our legs on a nature path that looped through woods and along the edge of Goose Pond for 2 1/2 miles.
Back at Pickwick Landing State Park we noticed there were many different varieties of oak trees in this area, and we started a collection of oak leaves, which we tried to identify using our field guide to trees. We collected more leaves along the Goose Pond path, and were aided in our pursuit by labels on some of the trees. Thanks to a label, I collected leaves from the willow oak, which has leaves that look like a willow tree, only tougher. Without the label, I would have just passed the tree by, never suspecting it was an oak.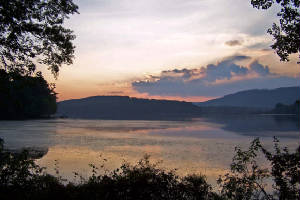 Goose Pond sunset
We enjoyed a serene peach and pink sunset over Goose Pond as we looped back to the boat, then joined our boating friends for a superb dinner at the resort restaurant.
It was yet another perfect cruising day. We are finding it hard to believe our good fortune, as we enjoy day after day of grand weather, beautiful scenery, fine fellowship, good food, and lifelong learning opportunities.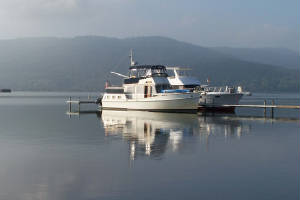 Docked at Shellmound
October 13, 2005 Goose Pond Colony Resort, AL to Shellmound Recreation Area, TN
48.4 miles
We were fogged in again this morning, so we didn't leave until 11. That gave me plenty of time to put together all the ingredients for homemade spaghetti sauce, and get the sauce simmering in the crock pot before we left.
As we cruised through the sunshine and haze, we enjoyed a spectacular mountain ridge landscape on both shores. Hints of fall color were beginning amidst the dominant green of the mountainside foliage.
By the time we tied up at a free dock in the Shellmound Recreation Area of Tennessee it was 5:30, or maybe 6:30 -- we knew we were crossing a time zone somewhere around here, but we weren't sure where.
The spaghetti sauce was done after simmering all day while we cruised, and all we had to do to get dinner on the table was to boil the water for the pasta. We had Geminelli and Main Course over for dinner, and enjoyed yet another grand evening sharing good fellowship and good food.