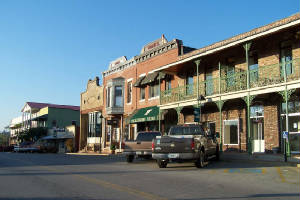 Downtown Clifton
Wednesday, October 5, 2005 Clifton to Pickwick Landing State Park
49.6 miles
We took an early morning walk to Clifton in search of a newspaper and breakfast. Our search for a paper was a dismal failure. One place had a Sunday paper, but nothing more recent, and no ideas about anywhere else within walking distance that a paper could be found.
Our search for breakfast was far more successful, and, as it turned out, we wouldn't have had a chance to read the paper, even if we found one. It seems that the way people learn the news hereabouts is by sitting around the Kountry Kitchen drinking coffee and jawing.
When we walked in the door, a table of four men gave us a glance and stopped talking. The youngest one, a 50ish real estate agent/developer/marina owner, greeted us and struck up a conversation, which he pretty much continued across the restaurant throughout breakfast. He gave us his card, told us all about his marina (usually has the cheapest fuel for miles around, a brand-new facility), his new development next to the marina (all the lots above the 100-year floodline, great location, and going fast), and got all the farmers at his table to tell us what their yearly taxes were (less than $800 for up to 300 acres with seven outbuildings) to illustrate his point about how economical it is to live here.
As we consumed our $2.99 breakfasts -- two eggs, two biscuits and gravy, and choice of sausage, bacon or fried baloney -- he also told us the story of a friend of his in Savannah, a rural area we passed along the river later that day. His friend had a big piece of riverfront land he divided into lots and tried for years to sell at $30,000 per lot. He had few takers, because it was on land below the 100 year floodline. Finally, he sold it to a Florida developer, who did a mailing to people in Florida making $300,000 per year. He set up tents, got 72 real estate agents onsite, and sold all the lots at $50,000-$72,000 apiece in just three and a half hours.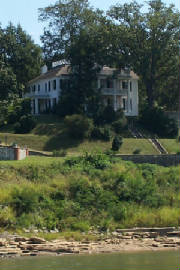 Cherry Mansion
Later that day, when we rounded Savannah Bend, we saw a couple houses built on what we thought was the property described in the story. The generously sized houses were built on concrete pilings raised not just one, but two, stories above the ground.
Of more historical interest, we also passed the Cherry Mansion, built in 1830 by planter David Robinson as a wedding gift to his daughter and her husband, W. H. Cherry. General Grant used the house as his headquarters during the battle of Shiloh, which was fought just a short way upriver. A field hospital in the yard treated wounded soldiers from both sides.
We were sorry that there was no place to tie up for a visit to the Shiloh National Military Park. We could just see a parking lot and a monument from our boat, but the park covers 4,000 acres and stretches for about a mile along the river. More than 100,000 Union and Confederate soldiers fought in the battle of Shiloh, which lasted two days, April 6-7, 1862. By the time the fighting was over, 23,000 men lay dead and dying.
We got to the Pickwick Lock and Dam (named for the nearby town, which was named after the Dickens novel, The Pickwick Papers), waited for it to discharge a load of boats and lower the water to receive us and Main Course, then locked in and rose 55 feet in 18 minutes.
We were tied up at the dock at Pickwick Landing State Park at just a little before 5 p.m. We had been traveling for nearly eight hours. Towboat captains only work six hour shifts. We deserved to go out to dinner.
We joined Frank and Karen from Main Course for dinner at the park lodge. Wednesday night is Crazy Chicken Night at the park lodge. The buffet features chicken in all forms, especially fried -- fried chicken, fried chicken livers, chicken and dumplings, barbecued chicken -- and all sorts of southern sides, like fried okra and black-eyed peas; plus southern desserts, like banana pudding piled high with Cool Whip -- all for $6.95. Can you say pig-out? The place was full of seniors and folks who looked like they made it a regular habit of getting their money's worth at all you can eat buffets. We did enjoy ourselves, and enjoyed getting to know Karen and Frank better. They have a waterfront condo in Fort Myers, our winter port.
October 6, 2005 Pickwick Landing State Park
We enjoyed the park so much, we decided to stick around an extra day. We packed a lunch and took a walk around the harbor looking for a geocache. Then we ate our lunch in a stone picnic shelter built by the Citizen Conservation Corps (CCC) in the 1930s.
We learned about the CCC from a large granite monument near the shelter "dedicated to the honor and memory of the three million members who served in the CCC 1933-42." There were 77 CCC camps in Tennessee. An African American Company named for the poet Paul Lawrence Dunbar served at the camp in this park. The 176 members of the Company built trails, cabins, trailside shelters, guard rails and stone walls. They were provided with food, shelter and medical care, and paid $30 per month, $25 of which was sent home. They left a legacy of well-crafted amenities that continue to enhance the park and serve its visitors.
After lunch we walked to an area marked on the map as an old lodge. We imagined it probably dated back to the early 1900s, like the CCC projects, and thought it would be interesting to see it. We were shocked to find it was a contemporary structure that was being left to ruin. With a little research we learned that it was built in 1972 and abandoned when they opened the brand new lodge in 2001. We thought it was strangely ironic that structures built by "amateurs" in the 1930s were still serving us well, but a 60-room lodge built just 30 years ago was so outmoded that it was left to rot.
Our boating friend Bill McKinnie from Salty Dog, whose homeport is Pickwick, cleared up the mystery when he stopped by later to chat. The explanation was simple politics. It was easier to float a bond issue to build a brand new lodge than to come up with money in the state budget for maintenance of the old one. After enough "deferred maintenance," someone could make a good argument for replacement of the wreck. They wouldn't sell or lease the old lodge to another operator, though, even though there was some interest. Rumor was, the park management was concerned that a private operator might provide too much competition for the new lodge, or could show them up by fixing it, demonstrating that it didn't really need to be replaced.
We enjoyed cocktails with Jim and Ellie on Geminelli, then went to dinner at the lodge with them and the McKinnies. We caught up on all the McKinnies' adventures since we last saw them in the North Channel, and got to know Jim and Ellie better. We look forward to spending a little more time traveling with them up the Tennessee.