September 16 Alton, IL to Kimmswick, MO
42.6 miles
Happy Mayflower Day
Mayflower Day? Thanks to an e-card from thoughtful sister Marcia, who is a great source for things that are both cool and obscure, we learned about this nautical holiday, celebrating the voyage of the Mayflower. We celebrated the day with our own little voyage.
We set up dual navigation stations on the flybridge and below, and turned on our radar, because it looked like rain was imminent as we left. The skies hardly brightened all day, and the temperature never reached 70 degrees, but it never did actually rain on us.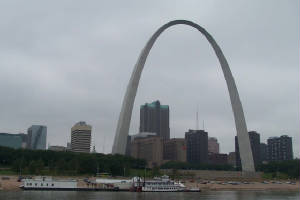 St. Louis
About an hour into our trip, the Missouri joined the Mississippi, and the current promptly kicked up a notch, adding a couple miles per hour to our speed. Barge traffic was heavy, and areas of turbulence and churning water set us dancing. Industrial sites were thick along the banks. We realized the Illinois River was just a little appetizer for the super-sized main course, the Mighty Mississippi.
We sped by St. Louis at ten miles per hour, and took pictures of its iconic arch. There is no place for cruisers to stop near St. Louis -- the current is just too strong, and there are no inlets or other protected areas around.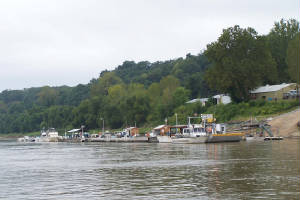 Hoppie's Marina
With this kind of help from the current, we could have gone a lot further, but we stopped at Hoppie's Marina in Kimmswick, because it is a "must stop" cruisers' destination on the Mississippi. The Marina has been in Hoppie's family for 71 years. Hoppie's father not only owned the marina, but starting back in the 1930s he also used to go out every evening and light the kerosene lamps on the navigation channel marks on the river and go out and extinguish them in the morning. The marks weren't automated until around 1970.
Hoppie and his wife Fern worked with Hoppie's father at first, and have run the marina themselves since 1973. They are experts on the rivers, and with all the changes that can occur in water levels and water turbulence, locks under repair or busy with commercial traffic, local knowledge is vital. There isn't another marina for days. So, Hoppie and Fern do an information session in the afternoon to update their guests on what's happening on the rivers, and the best strategies for getting from here down to the Tennessee Tombigbee safely and comfortably. The problem now is low water, and they warned us away from the anchorages that aren't carrying enough water, and gave us lots of other helpful tips.
They also had stories to tell. They pointed to the roof of a warehouse high above us on the steep bank, and told us the river had been that high back in the Flood of '93 -- it was 46.3 feet up, and 30 feet is flood stage. (You can see the building in the marina picture).
I like Fern's story of the first time she ever tied up a boat by herself. The boat was Jim Beam's 80 foot yacht, and she was the only one at the marina when it came in to dock. When she tied it up she was not confident in her work, so she insisted that the captain drop anchor, as well. He did, and when her father-in-law and husband got back and saw the anchor down, they exchanged dumb blonde jokes with the men on the boat. (This was back in the 60s, when men still told dumb blonde jokes.)
We didn't have much time to explore the quaint little town of Kimmswick, but we did walk over for dinner at The Old House Restaurant, located in a big log house dating back to 1770. In its past, it served as a trading post, a tavern and a stage coach stop. Today, it offers creatively prepared and artfully presented food in small candle-lit dining rooms with wide plank floors and log walls. It was like being in Williamsburg, but with much better food.



A little mo' about MO:
Missouri has what I think is the least well-known state capital. Can you name it? I couldn't (or, I thought I could, but I was wrong). Keep reading for the correct answer buried below.
Missouri proudly claims its nick-name, the "Show-me state," on its license plates. Although the origin of this nick-name is not entirely certain, the most commonly cited source is a speech by Missouri Congressman Willard Duncan Vandiver, who served in the U.S. House of Representatives 1897-1903. He made a speech stating, "I come from a state that raises corn and cotton and cockleburs and Democrats, and frothy eloquence neither convinces nor satisfies me. I am from Missouri. You have got to show me."
The state animal is the Missouri mule, adopted in 1995.
The state bird is the bluebird, adopted in 1927.
The state capital is Jefferson City.
The state song is the Missouri Waltz. When Missourian Harry Truman became President and claimed it was his favorite song and played it on the piano, it went from being a commercial dud to selling six million copies. After cleaning up some of the lyrics (written by Jim Shannon) considered racist, it became the official state song in 1929. I believe Missouri is the only state whose state song is a lullaby:
Hush-a-bye, ma baby,
Slumbertime is comin'soon,
Rest yo' head upon my breast
While Mommy hums a tune;
The sandman is callin'
Where shadows are fallin'
While soft breezes sigh
As in days gone by.
Way down in Missouri where I heard this melody,
When I was a little child upon my Mommy's knee;
The old folks were hummin'
Their banjos were strummin'
So sweet and low.