September 9, 2005 Joliet to Ottawa
48 miles
At 8 a.m., we called the lockmaster at the lock just south of Joliet to get an idea of when he could get us through. On the river locks, recreational boats are at the bottom of the priority list. The order goes: 1. government boats (such as law enforcement), 2. boats carrying paying passengers, 3. commercial boats, 4. recreational boats. By calling the lockmaster, we could time our departure to get to the lock at a time we could get through, rather than having to idle about waiting for hours. In this case, we didn't leave until after 10, when the lockmaster said he could get us in about 10:30.
We went under the last of the low bridges, and put our bimini up while waiting to go through our first lock. We couldn't take another sunny day with temperatures in the 90s without the shade provided by our canvas roof.
By the time we got to Ottawa, Illinois, we had gone through three locks, taking us down eighty feet. We had passed from the Des Plaines River to the Illinois River. We had safely met and passed countless tows. We called the captains of each towboat to ask how they wanted to pass, and they would tell us to pass "on the one" or "on the two," or refer to a one- or two-whistle pass. Navigation books can get very complicated when they analyze passing on the ones and twos from all the different directions you and the tow might be going when you meet. But, Dick provided the simple instruction I needed. No matter whether you are passing the tow from behind or head-on, a one whistle pass means move to the right, and a two whistle pass means move to the left. If a tow is coming from behind and says he'll pass on the one, he'll move to the right.
Another bit of river vocabulary that is important for communicating with towboat captains is this -- working boats with barge loads are known as tows, even though most of the time they are pushing, rather than towing, their load. When calling the captain of a boat pushing barges, you call a "tow," not a "barge."
Mural accurately depicting the town's character
Now, on to Ottawa, a very hospitable town where we stayed at a free dock with power. In our brief stay, we learned that the town has at least two claims to fame.
First, it was the site of the first Lincoln-Douglas Debate. In search of dinner, we noticed a historic plaque on an unimposing building along the sidewalk. The plaque said that on this site Lincoln was entertained at the Glover home after the first Lincoln-Douglas Debate.
Across the street in Washington Park, the event was heralded by a large historic marker, plus a fountain with statues of Lincoln and Douglas in the center, a huge rock, and another smaller brass marker. On August 21, 1858, with 10,000 people in attendance, Abraham Lincoln and Stephen Douglas held the first of seven debates. At this debate, Lincoln contended that our founding fathers, in stating that "all men are created equal," did not intend to excluded Blacks from the ranks of "all men," and he argued against the evils of the institution of slavery.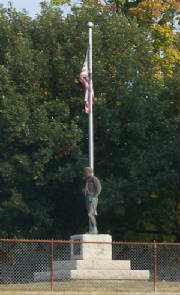 William Dickson Boyce Gravesite Memorial
Ottawa's second claim to fame is that the founder of the Boy Scouts of America, William Dickson Boyce, was an Ottawa native, and is buried here. The monument marking his grave with a bronze statue of a Boy Scout is visible from the River. We saw it as we continued downriver the next morning.
September 10, 2005 Ottawa to South of Chillicothe
61.3 miles
The Illinois River was glassy calm as we left Ottawa. Great Egrets and Great Blue Herons waded in the shallows. We saw a bald eagle high in a dead tree. And, we were thrilled to see white pelicans north of Florida for the first time.
We only passed through one lock today -- Starved Rock Lock. The lock is located next to Starved Rock State Park, where a golden sandstone bluff rises 125 feet, a dramatic departure from the gently sloping shorelines we have been passing since leaving Chicago.
The name of the rock comes from a story of a 1760 battle here between the Illiniwek and the Ottawa tribes. The Illiniwek tried to retreat and defend on the bluff, but the Ottawa were relentless in their attack and trapped the Illiniwek on the rock, where they eventually starved to death.
As five o'clock rolled around, we started seeing White Pelicans flying overhead in V formations, like Canada Geese. White pelicans have a nine foot wingspan, and are wondrous to watch as they fly. Although they look all white when at rest on the water or land, in flight, they have distinctive bands of black feathers beneath their wings that contrast with their white for a most elegant effect. We were entranced as we watched V after V, hundreds of pelicans, flying over us for the next hour or so.
Then, when we were about to turn in to our marina, we saw a breath-taking site. At the end of a sand bar island, over a thousand pelicans were standing so close together that the sand spit looked as though it was covered in snow.
We stayed at Hamm's Marina, south of Chillicothe, simply because it was the only marina around that had enough depth to accommodate our boat, and it was so hot that we wanted someplace to plug in so we could run our air conditioning. Otherwise, we would have just anchored out.
Mr. Hamm is some kind of eccentric entrepreneur. His marina is littered with derelect working boats and river cruise boats. It looked like people might be living in some of them. His on-site restaurant has a view of his big rusty scrap metal piles. He had a good looking towboat named for a wife or daughter docked in a place of honor at the entrance to the marina. There are probably lots of stories here, but we didn't learn them.
Sunday, September 11, 2005 South of Chillicothe to South of Beardstown
Today was our highest mileage day ever -- 95 miles.
Today we passed 4,000 miles on our Great Loop Voyage.
Today was yet another sunny day with temperatures in the 90s. As we passed Peoria, we could see sail boats in the yacht club getting ready for a regatta. A major repair effort of some kind was taking place on Peoria's bridge over the river, and its canvas cover was so well-tailored to the bridge's contours that it looked like a slipcover. The bridge seemed to be a line of demarcation between the pleasant little city of Peoriaon the upstream side and its gritty industrial underpinnings, with big towers and stacks and pipes and barges, on the downstream side.
As we continued down river, there were many spots where the river had sandy beaches along its shore. Children were swimming, families were fishing and picnicking, and personal watercraft cavorted in our wake. We worried about the safety of a water skier in the channel, who fell several times while less maneuverable boat traffic, including a towboat, was nearby.
The drought this summer has been severe, and marinas along the way didn't have enough depth for us. Despite the heat, we had no choice but to anchor out tonight. We found a secluded spot off the channel downstream of Bar Island. R Enchantment was already at anchor there, and Chuck and Jacque invited us over for a drink and story swap. They have sold their house and live aboard their 44' Endeavor power catamaran, with their 30-year-old macaw, Elvis. We enjoyed their company, and a tour of their boat. We had admired this Endeavor model at the Miami Boat Show, and it still is "enchanting."
Every time we think we have met just about all the people doing the Loop this year, we run across someone new. We parted ways the next day, as we decided to do a shorter run than Chuck and Jacque, but we hope to run into them again down the river.
September 12, 2003 Bar Island to Willow Island
55.7 miles
We enjoyed yet another sunny day, with unseasonably high temperatures. A wind from the south was refreshing, but not particularly cooling.
We decided we weren't up for another marathon day, so when we found a nice secluded anchorage behind Willow Island, we dropped anchor at a little before 3 p.m., and enjoyed the rest of the afternoon. If only the river water looked a little cleaner, we would have been tempted to go in for a swim. We settled for cool showers.