September 1-2 Grand Haven to Saugatuck
31.5 miles
Saugatuck is like a little piece of New England plopped down on the shores of the Kalamazoo River and Kalamazoo Lake. The town was settled in the 1830s, and escaped extensive burning, so many of its Victorian era wood frame homes and businesses remain intact.
Today, Saugatuck is home to many artists, whose work is displayed in galleries, and sculptures for sale installed in every little park and green space about town. Stores selling artsy clothes and resort togs abound, along with the usual lakeshore staples -- a book store, ice cream shops, gift shops, and restaurants and bars with patio seating. Yes -- even a knitting store.
We began our visit witrh a lunch recommended by locals -- fried perch sandwiches on the street-side patio of Wally's Bar. Then, well-fueled and armed with a historic walking tour map, we wandered the streets.
Summer is ending up here, and just about all the clothing stores had big sales on their summer merchandise. I haven't bought any clothing since we docked beside the outlet mall in Myrtle Beach, nearly three thousand miles ago, but sale signs were an inspiration to me. A couple hours later, I headed back to the boat, and proudly showed Dick my one big bargain purchase sundress. I am my mother's daughter.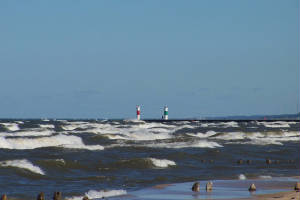 Lake Michigan Friday -- Glad to be ashore
The docks started filling up with boaters celebrating Labor Day weekend on Thursday night. They were trying to beat the big wind and waves predicted on Lake Michigan Friday. Dick helped a couple boaters who docked near us right after the sun set. They zipped over in a flotilla of five fast boats from St. Joseph, our next stop. It took them a couple hours to travel the route we will do in five and a half hours. When we talked more with the friendly St. Joe boaters on Friday, they encouraged us to use their slips at St. Joe's Pier 1000 Marina for the weekend, since they would be celebrating in Saugatuck. Pier 1000 was where we had planned to stay anyway, so we didn't hesitate to take them up on their offer of free parking.
We packed a lot of action into our Friday on Saugatuck. We rode our bicycles for miles and miles. We rode up and down the rolling hilly terrain to beautiful Oval Beach, where we could observe the full fury of the big white-capped waves the winds had whipped up.
We climbed 282 steps to the top of Mt. Baldy, a huge forested sand dune originally named Mr. Baldhead by early settlers when the top of it had no vegetation. In the 1930s they planted trees along the dune ridge to stabilize it. We peeked through the treetops for beautiful views of Saugatuck on one side and Lake Michigan on the other.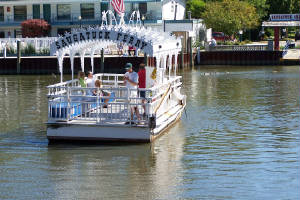 Saugatuck Chain Ferry
After a long looping ride, we took the Saugatuck Chain Ferry across the Kalamazoo River from Douglas back to Saugatuck. The ferry dates back to 1838, and is the only hand-cranked chain ferry left in the country. (A chain runs across the river, and the ferry moves as the crank is turned and a ratcheted wheel pulls the ferry along the chain.)
We went to the Green Market held right across the street from our marina, where we bought locally grown late peaches and blueberries, early apples, and a peach cream cheese streusel for breakfast tomorrow.
Then we were on our bikes to Douglas again, where we lunched at a festive little restaurant with outdoor seating only on the dock next to the S.S. Keewatin, the last of the Canadian Pacific Railroad's Passenger Steamships still floating. The ship is now a Maritime Museum, open for tours, which we couldn't resist, despite the somewhat steep price.
Keewatin means "Blizzard of the North" in the language of Canada's Cree Indians. It was an appropriate name for a ship built to travel between the Canadian Pacific's Georgian Bay and Upper Lake Superior railheads. She was built in Scotland and delivered to Montreal. At 350 feet, she was too big to get through the Welland Canal, so they cut her in two to float her through, then reassembled her in Buffalo before taking her the rest of the way north.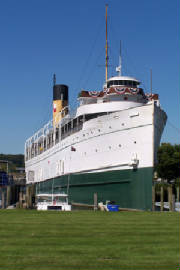 S.S. Keewatin
The Keewatin carried 288 passengers and 86 crew members, offering cruises until 1965. The ship originally was built with an open air bridge. We saw photos of the captain and brige crew bundled up in heavy coats, mufflers and warm hats as they piloted her in chilly weather. In one picture, they even had snow on their shoulders. Our guide said they complained when the ship's bridge was enclosed to accomodate electronic equipment. Authentic Great Lakes mariners prefer to experience all the elements firsthand, they say. We are authentic wimps, with our plastic-encased flybridge.
We got a helpful table setting tip on our tour. The dining room tables and chairs on the Keewatin were bolted in place so they wouldn't fly around in foul weather, but the tables were not constructed with rims around the edge to keep things from sliding off. The dining room staff would soak tablecloths in ice water and put them on the table, with a dry cloth on top. They would serve dinner on hot plates, which would create a suction grip on the tablecloth when the warm plate contacted a cold damp base. Based on personal experience, I would imagine that when the ride was rough enough to require this little suction action trick, the number of people taking their meals in the dining room would be greatly diminished.
We enjoyed seeing the cabins and public areas and imagining life aboard in the glory days of rail and steamboat travel to the great northern resorts. Polished brass, mahogany paneling, Italian hand-etched and painted skylights -- some of her glory has faded with time and neglect, but enough clues to her elegant past remained to fuel our imaginations. And, we didn't have to imagine the beauty of her cruising grounds -- we had been there.