Saturday, June 11, 2005 Adirondack Adventures with Cathy and Chappy
Cathy and Chappy are Cincinnati friends, but they have a house in the Adirondacks and family in the area. Both are "46ers" -- they have climbed the 46 major peaks in the Adirondacks. Chappy was a mining engineer based in the Adirondacks for many years, and was active in Nature Conservancy efforts here at the same time. Cathy was once a science teacher, and has maintained a life-long love of natural science that is contagious. We love being outdoors with Cathy and Chappy, because they are great birders and naturalists, and we always learn a lot and see a lot when we are with them.
They had a full day planned for us, beginning with early morning birding, so we got up early, had a quick breakfast, and were off in search of bobolinks, a new life bird for us. Bobolinks nest in unmown northern fields. We drove to several likely spots with no luck, but persisted and eventually found a field with several bobolinks who obliged us by perching on a fence post and a wire long enough for us to observe them carefully through binoculars and our scope.
We headed on to Lake Placid, where the original plan was to view some of the Olympic venues in passing. When we saw a sign promoting bobsled rides at the bobsled track, Dick couldn't resist. He and Chappy decided to make a bobsled run, with the assistance of a professional driver and brakeman. The sled looked like the ones they use in the Olympics, except that it had wheels rather than runners. The sled ran on the lower half mile of the one mile concrete track used for the 1932 and 1980 Olympics.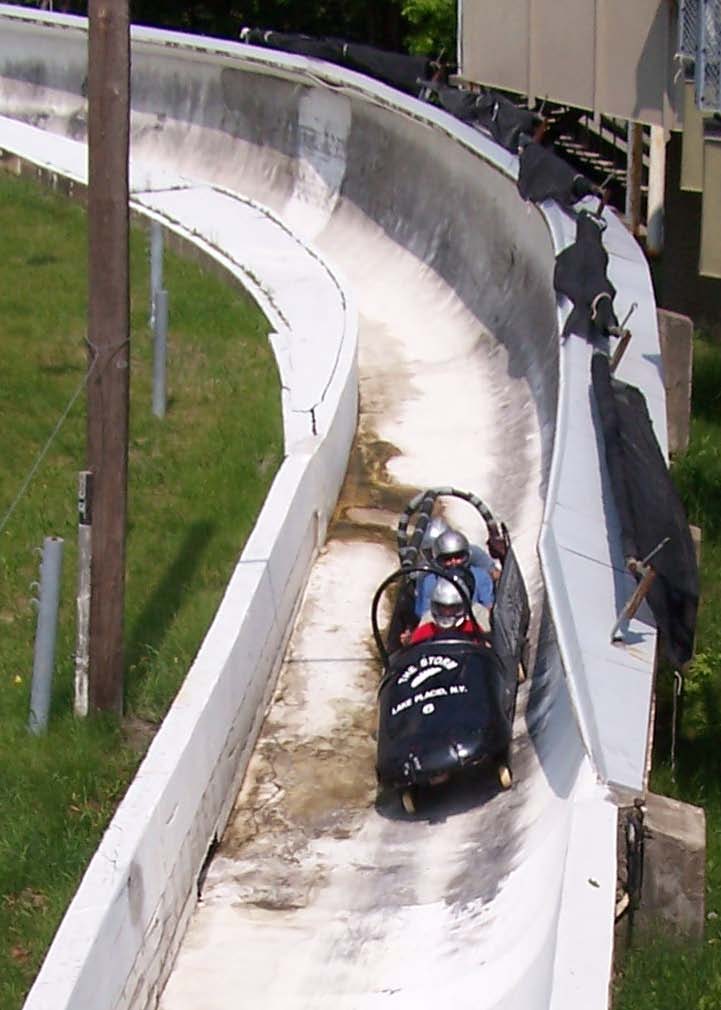 The ride was over in less than 45 seconds. The sled reached a maximum speed of about 45 mph. The winning time for a bobsled competing in the Olympics covering the full one mile course is only about 10 seconds more than their time. Dick says that the speed and the g-forces at the turns were still quite impressive at less than Olympic levels.
After their ride, we all hopped on a bus for a short tour that took us around the bobsled/skeleton/luge venue. The track Dick and Chappy rode has been replaced by a more modern Olympic training track made of gunnite (like backyard swimming pools) with an ammonia-based cooling system that keeps the ice from melting. After they spray the track with enough water to make a thick coating of ice, workers smooth the ice by hand. No machines except snow blowers touch the track. (And, no sleds with wheels.)
Our next stop was Heart Lake and Mount Jo, where we planned to do some hiking. (The last time I was here was an eighth grade Earth Science class field trip.) The heat and humidity discouraged us from our original plan to climb the mountain, but we decided to hike around the lake instead. The birds had retreated from the heat by this time, but we saw lots of wildflowers in bloom. The showiest was the Pink Lady's Slipper. The rarest was a four-leafed trillium (which Chappy calls a quadrillium). The flower was past its bloom, but the four leaves were there. There were many flowers we had not seen before --Canada Mayflower, Blue bead lily, Star flower, and Twin flower (Linnea Borealis).
The sun was baking the balsams along the path so they exuded their fragrance of the Adirondacks with particular vigor.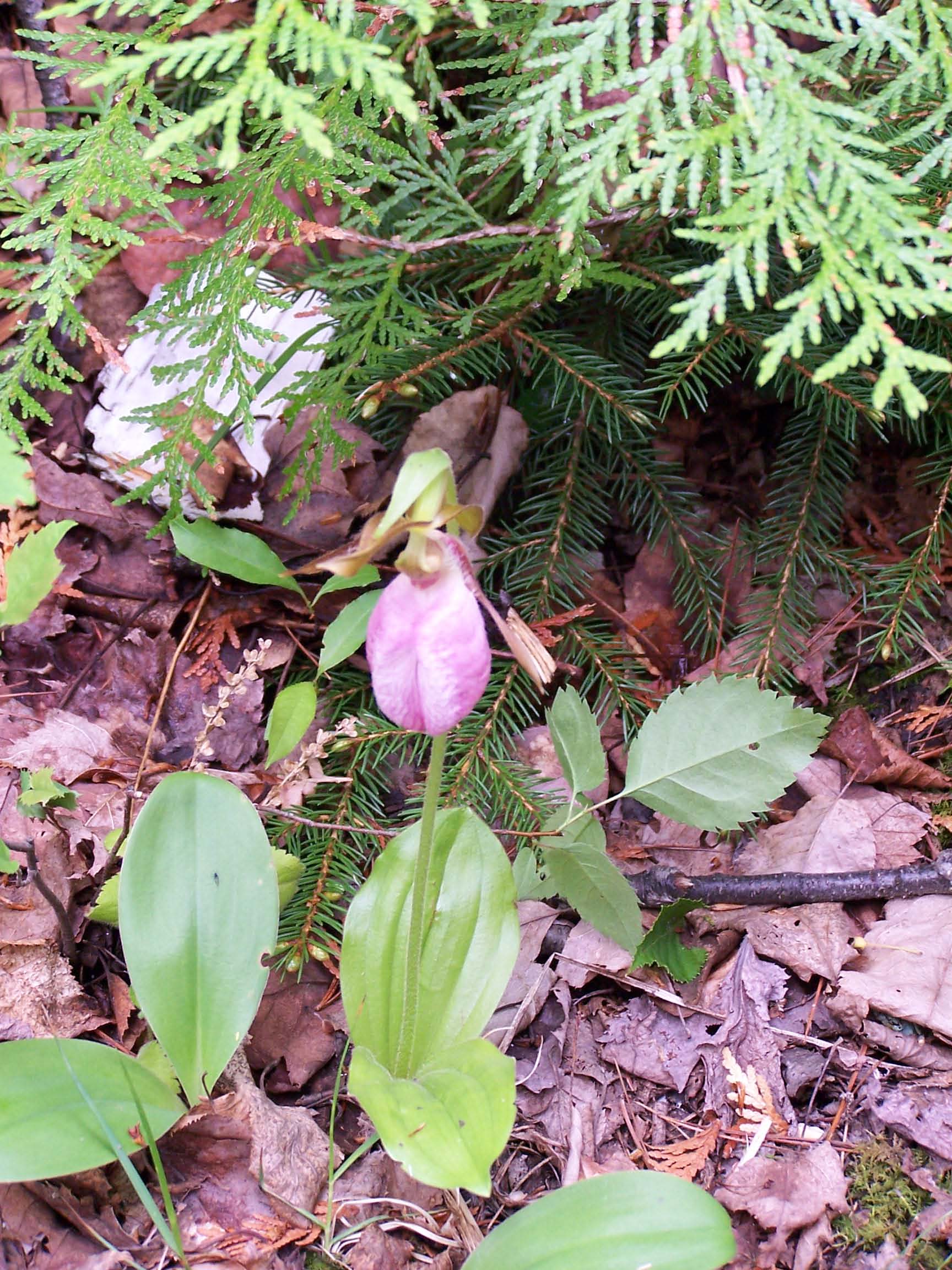 Pink Lady's Slipper
We had lunch in a restaurant in Lake Placid with a view of Mirror Lake, then were on our way again. We had planned to drive up Whiteface Mountain, but the weather was so hazy we could barely see the summit, so we opted out of that plan, but did get close enough to observe its challenging ski slopes and the nearby terrifying ski jump towers.
We stopped at a wine store to replenish our dwindling supplies, and at a supermarket to get fresh produce. Although Westport has two small markets, neither one has much in the way of produce, probably because it is too perishable to handle, especially in the "off season."
One reason it is the off-season here is that all the New York State schools have not let out yet. Another is that it is black fly season. As Chappy explained to us, black fly season lasts from Memorial Day to July 4. Black flies anaesthetize you first, then bite a chunk out of your skin and treat you with blood thinner so they can lap up your blood more easily. When they leave, you are a bloody mess, and then you itch terribly after the anaesthetic wears off. Dick has had just one run-in with a black fly so far. I have had none. We are not sure how we have avoided them so well. Maybe it's the oddly warm weather and all the rain?
But, I digress. We had a very full and wonderful day touring the Adirondacks with Cathy and Chappy. They dropped us off at the boat late in the afternoon, and continued on their way to meet up with family four hours away. We hope they will join us aboard again. They are great adventure companions.
Sunday, April 12, 2005 Westport, NY to Burlington, VT
25.2 miles
For the fourth day in a row, the weather forecast called for fog in the morning and scattered showers building to thunderstorms in the afternoon. We were ready to move on, but had to cruise that magic time between the morning fog and the afternoon thunderstorms.
They may not have much in the way of fresh produce around here, but they do have the Sunday New York Times, so we waited out the fog with a leisurely breakfast while catching up on what's going on in the rest of the world.
At 10:30 we decided the fog showed no signs of abating any further, and visibility was a bit over a mile, so we decided it was safe to leave. We programmed waypoints into our GPS for backup in case our chart plotter went out, since we couldn't count on seeing landmarks along the shore or other aids to navigation.
We made our way through light fog or thick haze all the way to Burlington. The eerie effect was increased by vast quantities of sulphur yellow pine pollen floating on the black surface of the water. The pollen was so thick in spots that as we looked back over our wake, it appeared that our propellers were scrambling eggs.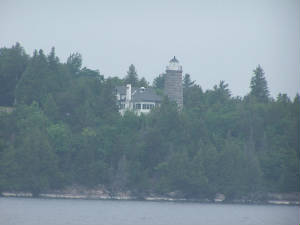 Split Rock Light and Keeper's House
We did see one beautiful historic lighthouse along the way, built high on a rocky cliff on the New York side of the lake called Split Rock. The octagonal blue limestone tower was built in 1867. It is 39 feet tall, but because of the height of the land where it stands its light shines at a height of 100 feet and can be seen for over 18 miles (but not on a day like today). The keeper's quarters were built of wood and flagstone in 1899. A modern skeletal tower replaced tghe light in 1928, and the stone lighthouse and keeper's house were sold to a family in 1931. The family that owns the house now worked with the Coast Guard to get the old stone tower relit, and it became an active aid to navigation again in 2003.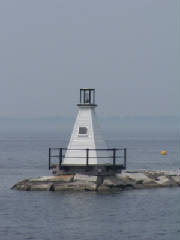 South Burlington Breakwall Light
The Burlington Bay is protected by a long stone breakwater. A 900 foot breakwater was built of marble in 1830, and it was frequently extended, until by 1896 it was 4200 feet long. Lighthouses were placed at the north and south ends of the breakwater in 1857, and they were moved and rebuilt several times as the breakwater expanded. In 1938, they were removed and replaced by ugly skeletal steel towers with automated lights.
As Burlington was working on spiffing up their waterfront over the past decade, a group decided that bringing back the historic lighthouses would improve the view. The original plans could not be found, but working from photos in the archives of the local Maritime Museum, they designed lighthouses to look like the ones that stood here in the past. The lighthouse on the south end looks like the 26 foot towers that flanked the breakwater in 1857. The 46 foot tower on the north looks like the 1890 tower.
We fueled up at the Ferry Dock, then headed for the mooring field behind the breakwater. We had our pick of the mooring balls -- there were only three other boats there. We hooked up and headed to shore to explore Burlington.
If Burlington does not already have an official city nickname, we would like to suggest "Key West of the North." We base our suggestion on: (1)more tattoos, (2)larger tattoos, (3)more body piercings, (4)more unnatural hair colors, (5)more homeless-appearing people, and (6)more retaurants/bars, most with sidewalk seating, per capita than anyplace we have stopped since Key West. Additionally, we saw a Key West quality street entertainer who juggled flaming clubs while riding a unicycle on a wire, and also did gymnastic feats high on a pole holding the wire.
Burlington is different than Key West in one big way -- it is built on terrain that rises somewhat steeply from the shore. It has retained many, probably most, of the elegant stone and brick buildings with ornate cut stone details that were constructed here when it was a thriving port city during the 1800s.
In the mid-1800s Burlington was the nation's third largest lumber port. So much wood was milled here that most of the waterfront was built on sawdust-filled swampy land. When the Chambly Canal was opened in 1843, connecting the US with Canada, the area was in its heyday, at the crossroads of southbound canal boats hauling iron and iron ore, marble, lumber and agricultural products and northbound canal boats hauling manufacutred goods, spirits, coffee, coal, and sugar. In the 1870s, the railroads cut into the canal trade, and the city began a slow decline. As far as we can tell, it is back on an upward swing again.
We had a great afternoon and evening in Burlington. We ate lunch at a waterfront restaurant, strolled the Church Street pedestrian mall, lined with interesting shops, boutiques, bars, retaurants and coffee shops. We immersed ourselves in two used book stores, browsing and even buying, although our bookshelves on the boat are bursting. We checked out several coffee shops to find the one we would patronize the next day for morning coffee and pastries.
Then we headed to dinner at NECI, the restaurant of the New England Culinary Institute. We had an outstanding fine dining meal prepared by NECI students. Perhaps because we are part of their training, the price of our meal was far lower than the quality of the meal merited.
As we walked back to the boat, we searched for a waterfront geocache, and found Burlington's monument to the intrepid explorers dedicated to the search for Champ. We wondered if the Vermont Lottery's logo on the monument held some cosmic meaning in relation to the Champ pheomenon. Are your chances of seeing Champ in some way similar to your chances of winning the Vermont Lottery?
Back on the boat in weather that remained muggy into the evening hours, we took a quick dip in Burlington Bay from our swim platform. Actually, we took two quick dips each. To clarify, we each immersed ourselves in the "refreshing " water for a period not exceeding 30 seconds, got out, and repeated the process after warming up for a few minutes.